I finally got around to a new tutorial! Keep reading to find out how to make marshmallow fondant (two ways!)
My love affair with marshmallow fondant started a couple of years ago. My daughter's second birthday to be exact.
While walking did not take place until around 14-15 months, my daughter was speaking really early. Well before walking age, and because of this we have always found her vocabulary to be crisp and clear. So when I asked her some months in advance of her second birthday what she wanted her cake theme to be, she had no problems saying "Beauty and the Beast." I was ecstatic because it is one of my favorite Disney films and now I had the chance to portray it in cake form. But then that sinking feeling hit. How was I going to complete such a task given my very limited cake skills and no previous experience in fondant?

First step, researching fondant! Now, let me tell you, how to make regular fondant is quite a bit different than how to make marshmallow fondant. It was probably my biggest deciding factor when I chose which type of fondant I would use. Still to this day I have never made regular fondant, and I don't really see it any time soon as we don't care for the taste at all here. Heck, I have never actually worked with regular fondant! I am in the same boat as others, the taste is nothing special and I would rather work with buttercream. But there are those times, like my daughter's second birthday, where fondant had to come into play.
Thankfully, marshmallow fondant turned out to be easy to make and easy to work with! Seriously, just like play dough! I won't lie, I kept my cake design simple the first time I used marshmallow fondant, and also the second and third time I used it. I need to get a feel for it, but have also read that marshmallow fondant is not ideal for 3D shapes... Modeling chocolate is an alternative to both types of fondant and something I look forward to trying in the future.
For now though, let's talk about how to make marshmallow fondant!

Supplies: a bag of mini marshmallows, water, confectioners' sugar, and some sort of grease for your hands (I really mean it, do not forget this!)
Tools: a stand mixer (for one option) or a frying pan for the other. A spatula helps in both cases.
📖 Recipe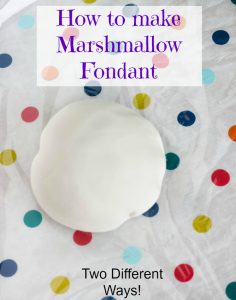 Tutorial: How to make Marshmallow Fondant (Two Ways!)
A tutorial on how to make marshmallow fondant, including two methods. Choose your favorite but rest assure, this stuff tastes better than regular fondant!
Ingredients
1 bag (16 oz/454 g) bag of mini marshmallows
⅛ cup water
2 lbs confectioners' sugar (will probably use less but always good to have extra!)
Grease for your hands (butter or shortening will work here.)
Food coloring if desired.
Instructions
Method 1: Kitchen Aid Mixer
Create a double boiler by adding an inch of water to a small saucepan and placing it over medium-low heat. When the water is just at a simmer (but nothing crazy) place the bowl of your stand mixer on top of the pan and add the marshmallows and water. Stir occasionally until the marshmallows have melted into a smooth paste. Add food coloring now if you are making a large batch of one color. Otherwise, leave as is.
Place the bowl on your mixer and attach the dough hook. Add the confectioners' sugar in small amounts until a stiff ball appears. At this point, you will probably want to mix in anymore sugar by hand as it will be rough on your mixer (I suggest making this fondant in half batches if using the machine.) Knead until a pliable dough appears (you may not use all the sugar depending on the humidity in your house. If the dough feels stiff, you can add some more water or omit adding more sugar.)
Method 2: Stove Top and Hand
Place a large saucepan/frying pan over medium low heat. Add in the marshmallows and water, stirring occasionally until the mixture is smooth and paste like. On your countertop, pour out the bag of sugar and make a large well to pour the hot marshmallow into (make sure the well is big enough or it will overflow like mine did!) GREASE YOUR HANDS. You will be sorry if you do not! Then, working carefully, combine the marshmallow and sugar, kneading until a nice ball forms. This will take some time and you may not use all the sugar, but just keep working (and cursing at the stickiness!) The stickiness will eventually dissipate and you will just be kneading a nice dough (once again, excess sugar is alright and preferred!)
For both methods, wrap the marshmallow fondant in plastic wrap (smaller batches are better.) I keep mine on the countertop but you can also place it in the fridge.
When ready to work with, dust surface with some confectioners' sugar and knead dough to make pliable. If dough is really tough, microwave in SMALL increments, nothing more than 5 seconds max.
Nutrition Information:
Yield:

1
Serving Size:

1
Amount Per Serving:
Calories:

3552
Total Fat:

0g
Saturated Fat:

0g
Trans Fat:

0g
Unsaturated Fat:

0g
Cholesterol:

0mg
Sodium:

25mg
Carbohydrates:

911g
Fiber:

0g
Sugar:

891g
Protein:

0g
Between the two methods, I really prefer getting greasy and mixing the marshmallow in by hand. It saves the hardship on your stand mixer, and it just seems more fun! With your stand mixer, I definitely recommend half batches as not to put too much strain on the machine (the fondant does get pretty stiff.) Everything is trial and error, but essentially if you are finding your mixture getting really stiff, stop adding sugar, and if you think you have gone too far, add some more water. I never use all 2 lbs of sugar, but that is just my environment. When I go to roll out the fondant, I try not to knead more confectioners' sugar into the fondant because that will only make it stiffer. I do, however, sprinkle my surface with a bit of confectioners' sugar to prevent any fondant from sticking when I use the rolling pin. Pick up the fondant often to rotate so you are not left in tears trying to remove it from your counter!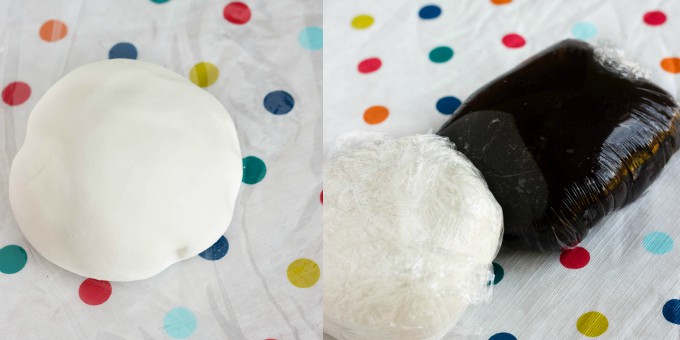 Secondly, when it comes to adding food coloring, you are left with two options. If you need a large batch of one color, add the food coloring into the melted marshmallows before adding the sugar. It will mix in really well. If you need small batches, well, you are mixing in by hand and that may take some time. As you can see from the above photos, to make deep colors such as black, you may have to work in some cocoa powder. I have not perfected the chocolate fondant yet (it was a bit elephant-skin-like in texture but still worked!) but I plan to keep working on it. Also, like buttercream, the colors will deepen as they sit.
I do not sit my batches overnight in the fridge. Room temperature was fine and personally, easier to work with. Marshmallow fondant does not expire until the date on the package of your marshmallows (which is usually a good year or two!) If you find the marshmallow fondant a bit stiff when trying to work with it, place it in the microwave in small increments. I accidentally went too long with my black fondant and it resulted in a sticky mess... Do not go over 5 second intervals!
Like I said, I have not worked much with marshmallow fondant but it is fun! Personally, buttercream is my favorite method and doesn't stress me out as much. But for those occasions where buttercream will not do, give this tutorial on how to make marshmallow fondant a try because you will find yourself adoring marshmallow fondant!
Some ideas of working with marshmallow fondant: