There are so many things I can say about this baked Hawaiian potato casserole! Easy, healthy, and packed full of delicious flavours! I am back continuing my brand ambassadorship with The Little Potato Company! #Creamerpotatoes
This is a sponsored post. I was fortunate enough to receive products and/or monetary compensation from The Little Potato Company. Though products were received, all opinions are my own and I would not recommend a product that I did not enjoy.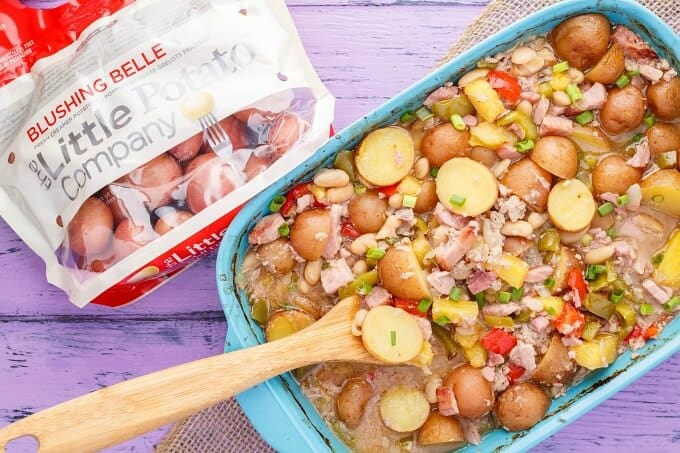 Summer is flying by and while I am a bit sad, I am also really looking forward to having a routine again! I become so disorganized in the summer months!
To help things get back on track, I am keeping my latest Little Potato Company recipe simple!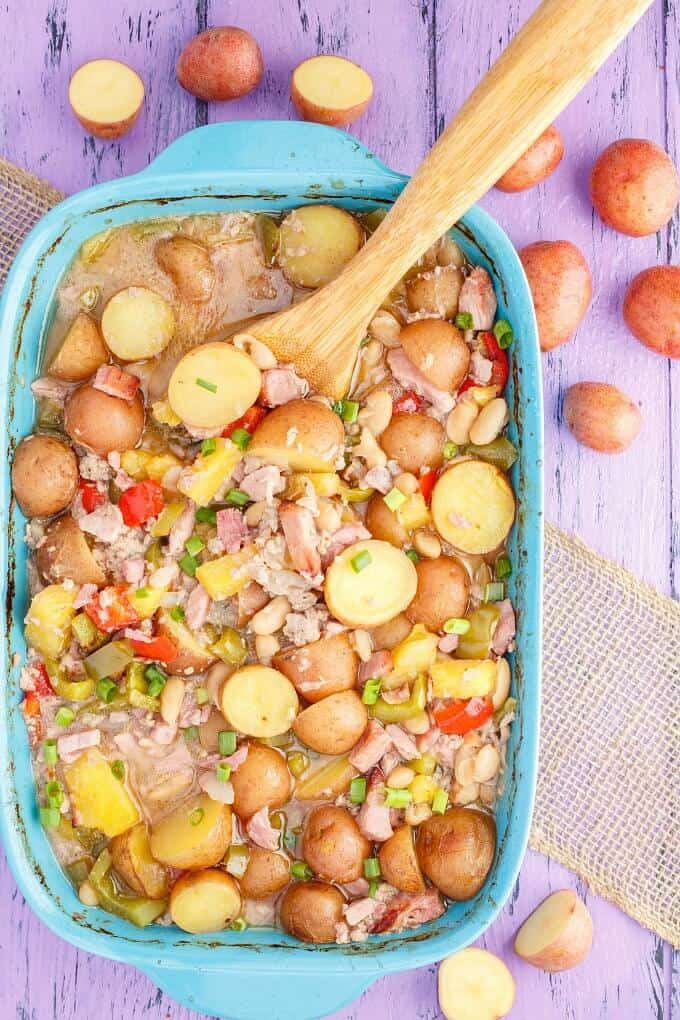 This Hawaiian potato casserole is packed full of nutritious ingredients, including the awesome Blushing Belle Creamer potato varietal! I love the red skin paired with yellow flesh. They have a smooth texture that works really well with the other ingredients in this recipe. On top of that they are an excellent source of potassium, 90 calories per serving, and naturally gluten-free, making for one nutritiously packed meal 😉
Funny enough, naming this recipe proved difficult. There is so much going on here, with little effort, but I did not want to leave any details out.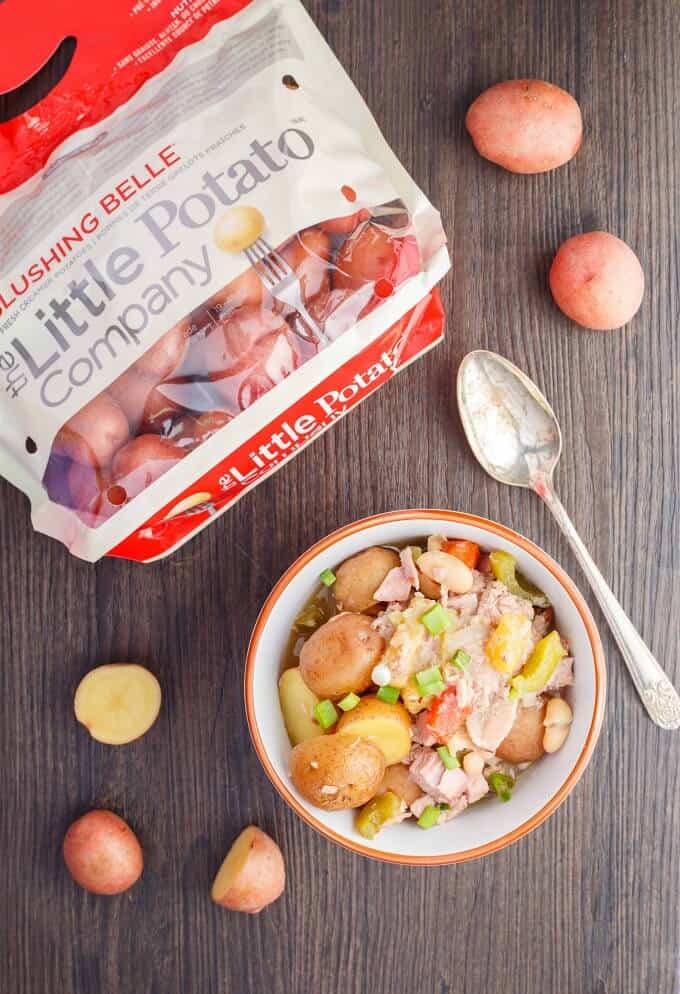 My first thought was Hawaiian potato casserole as that is exactly what it is! But we had a friend over just after I completed taking photographs of the dish. He actually got to eat from the white bowl in my pictures, haha!
Straight off the bat he said "I am only going to have a bite as I have already eaten." Totally cool! Well, one bite turned into eating the entire bowl while raving (bragging rights here!) He said it reminded him of a chili: more-so a sweet chili. Not overly sweet as the only sweet ingredient is pineapple here 🙂
I take this as a HUGE compliment! It was really tempting to name the dish as a chili but I stuck to my original plan!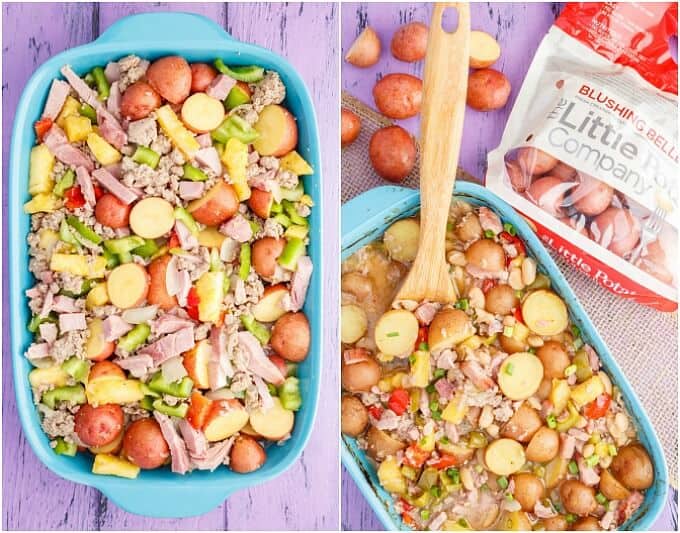 On top of that, once the meal cooled a bit (I like to take my photos when the dish is fresh from the oven,) most of the liquid vanishes (the potatoes soak it up!) So I don't feel it is chili-like in appearance after about 20-30 minutes.
That being said, this Hawaiian potato casserole is a one-pot dish (much like chili!) and really, REALLY simple to make. Throw all the ingredients together and let the oven do the rest 🙂 My husband noted that it would make for a great slow cooker dish and I think he is right! You still want to cook the ground turkey and veggies first before adding them to the slow cooker.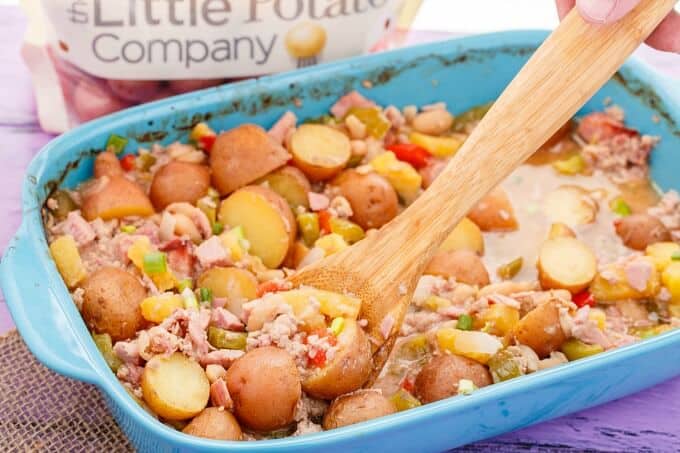 Finally, as my mind is on back-to-school already (nooooooo,) I cannot help focusing on simple weeknight meals. Not only is this Hawaiian potato casserole meal prep friendly, it also utilizes leftovers, makes for a great office lunch, and the kiddos will love it! As always, feel free to customize as I know busy parents are always looking for something nutritious and easy that fits into their family's lifestyle.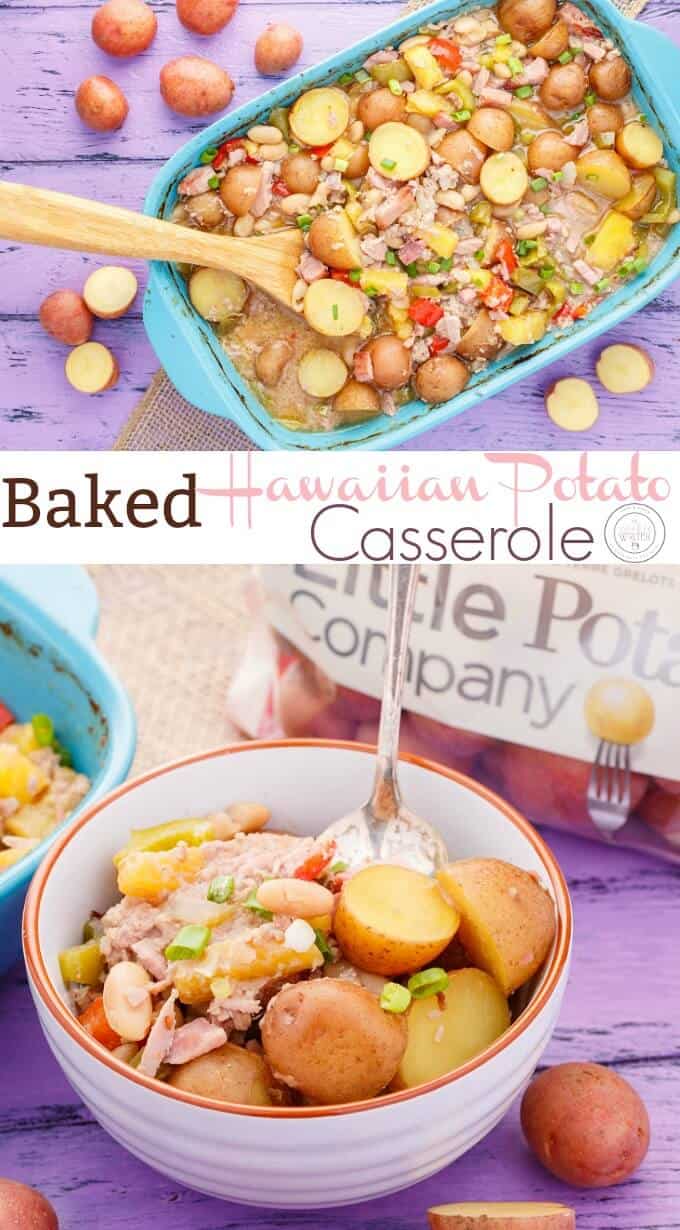 Baked Hawaiian Potato Casserole (GF)
---
A simple one pot recipe that utilizes fresh ingredients, this baked Hawaiian potato casserole is great any day of the year!
15 minPrep Time
1 hr, 10 Cook Time
1 hr, 25 Total Time
Ingredients
1.5 lbs Little Potato Company Blushing Belle varietal, sliced in half
1 lb ground turkey
1 onion, chopped
Salt and pepper
1 garlic clove, minced
8 oz freshly chopped pineapple (canned will work, too: drain juice.)
1 lb cooked ham, roughly chopped
1 red bell pepper, chopped
1 green bell pepper, chopped
2 cups chicken or turkey broth
1 (19 fl oz) can white kidney beans, drained (optional)
Instructions
In a large frying pan over medium-high heat, add ground turkey. Cook for 1 minute and stir in onions, potatoes, and garlic. Season with salt and pepper. Continuing cooking until browned: 7-10 minutes.
Preheat oven to 375F.
Stir in pineapple, ham, red pepper, green pepper, chicken broth, and kidney beans. Toss until well combined (you may have to do this in a large mixing bowl depending on how large your pan is.) Season again.
Pour into large casserole dish (13x9 inches minimum,) cover with aluminum foil, and bake for 20 minutes. Uncover, stir, and continue cooking for another 40 minutes, uncovered, or until potatoes are tender, making sure to stir every 15 minutes or so.
Allow to cool slightly before serving (the liquid will soak into the potatoes creating a thicker sauce!)
Notes
This recipe will work perfectly in a slow cooker! Follow the first step and once complete, transport all ingredients to a 6-quart slow cooker and cook on low heat for at least 6 hours (potatoes will take some time to cook!) Leftover ham from holidays makes for the perfect ingredient here! Cook time may vary depending on size of casserole dish.
7.8.1.2
637
https://thecookiewriter.com/baked-hawaiian-potato-casserole/
Need more Creamer potato recipes?! Here are my recommendations: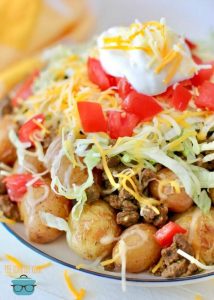 Grilled Taco Potatoes from The Country Cook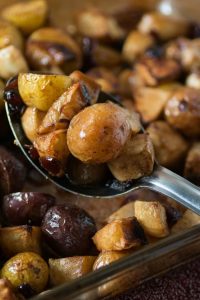 Slow Roasted Potatoes, Turnips & Apples from Noshing with the Nolands
This is a sponsored post. I was fortunate enough to receive products and/or monetary compensation from The Little Potato Company. Though products were received, all opinions are my own and I would not recommend a product that I did not enjoy.
Love this baked Hawaiian potato casserole?! Try some of these recipes: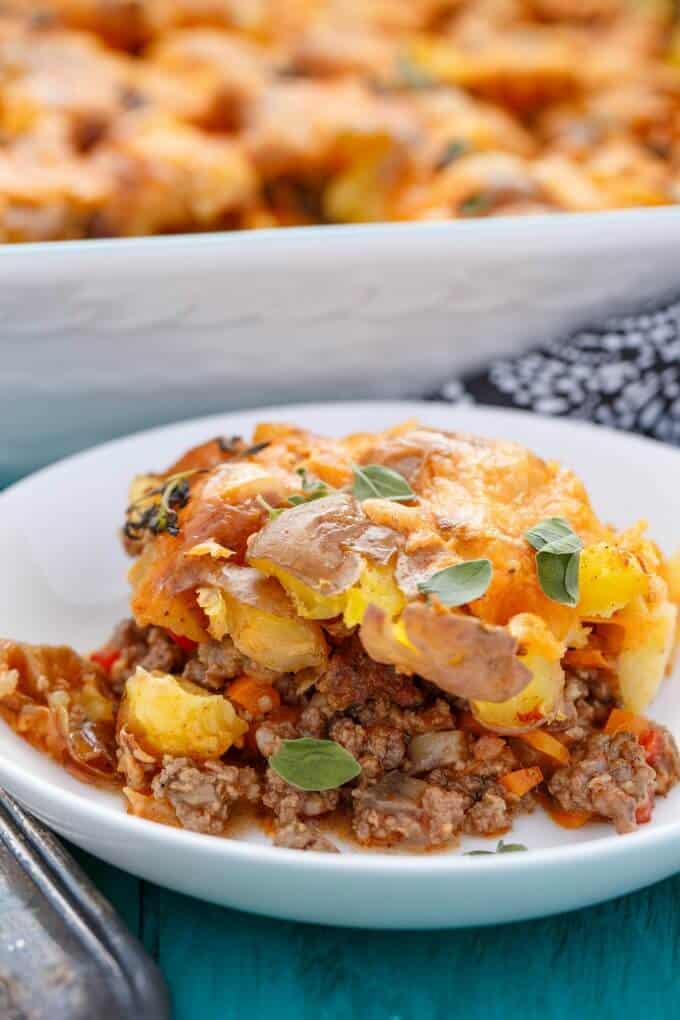 Smashed Potato Shepherd's Pie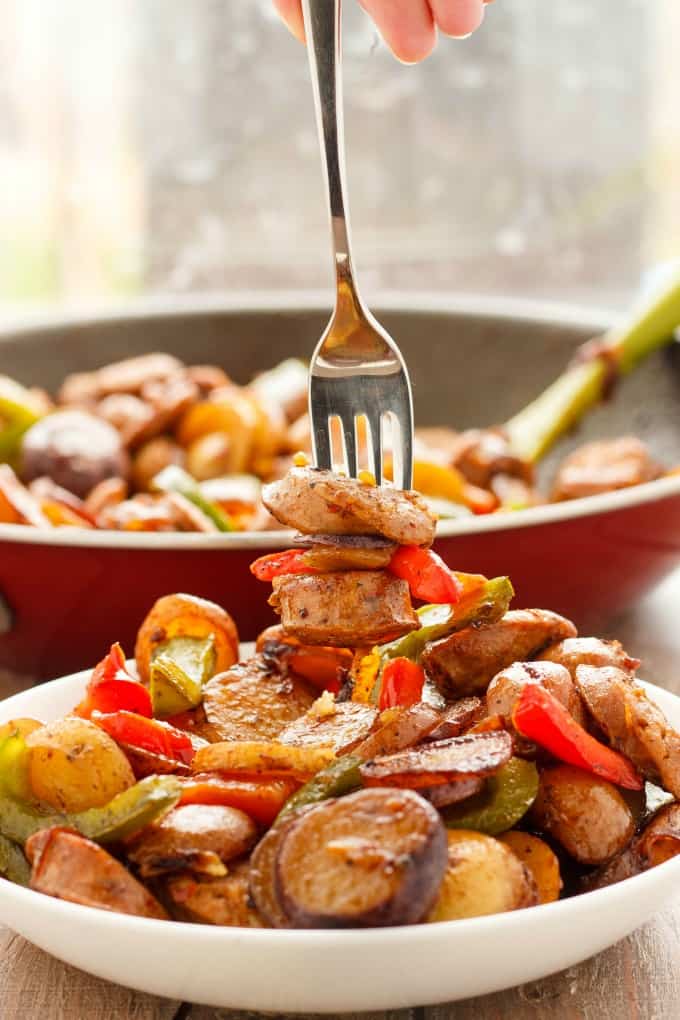 Breakfast Throw-Together Creamer Potatoes with Sausage and Peppers