If you like spicy, you will surely love this Mexican meat loaf with sour cream-chipotle sauce!) Quick, easy, and a great weeknight dinner!
The recipe and photos for this Mexican Meat Loaf have been updated as of January 13 2016.
I feel there are certain foods in the world that get a bad rap, whether from books, movies, or general consensus of the public. You can picture the scene however you like: liver and onions, casseroles, jellied dessert forms. Now, there is nothing wrong with these meals except the fact that they are the usual go to complaint. "Eww, not liver and onions. Gross." Plus, when featured in movies or cartoons, they always make it look as awful as possible. Since I have never had it, I can't vouch for it. But one meal I am familiar with is meat loaf.
I find meat loaf is hit or miss. I have heard people around me say "arg, going to the mother-in-law's and she is making meat loaf." They complain about it being dry and tasteless. There can be many reasons for this: overcooking, lack of seasoning, or even over-working the meat. Either which way, if you throw a large chunk of ground beef into the oven without taking the time to prepare it properly, you are going to have a bad time.
When preparing my meat loaf, I wanted to try something new. Cilantro, avocados, and spiciness came to mind and I knew I wanted to try and create a Mexican meat loaf! The results? Amazing! Both Dan and Girlie inhaled the meal. I find with meat loaf you have to make a side or you will not have any leftovers (and possibly leave people hungry at dinner!) Meat loaf is so simple, as long as you do not over-mix (which results in a touch texture after it is cooked) you should come out with a relatively tasty meal. Like many meals, you need to season your dish! I am so shocked that people don't realize salt and pepper are necessities. Recipes should not even have to include salt and pepper in their ingredients because it should be a natural process of including the two. On that note, I am warning you now, chipotles in adobo sauce are quite spicy! Use with care in this dish, or sub in a jalapeno for a milder result. I love canned chipotles, so they are essential in dishes like this 🙂
Mexican Meat Loaf
---
Kacey
Yields 4-6
A take on the classic meatloaf, using fresh ingredients to create this delicious and easy Mexican meat loaf. Just be careful, the chiptoles can make it quite spicy!
15 minPrep Time
1 hrCook Time
1 hr, 15 Total Time
Ingredients
1 1/2 lbs lean ground beef
3 cloves garlic, minced
1/2 cup milk
1/4 cup salsa
1/4 tsp. black pepper
1/2 tsp. salt
2 tbsp. freshly chopped cilantro
1 avocado, pit removed and diced
1 red onion, diced
1 small carrot, diced
1-2 slices of bread (or 1 cup old-fashioned oats)
1 egg
1 celery stalk, sliced
1/2 tsp. cumin
1/2 tsp. chili powder
1 chipotle in adobo sauce, minced (even just one made the dish quite spicy, so use with care or even sub in a jalapeno instead!)
Sauce:
1 cup sour cream
1/4 cup salsa
1 chipotle in adobo sauce, minced
1 tbsp. freshly chopped cilantro
Instructions
Preheat oven to 350F.
Mix all the non-sauce ingredients together, making sure to mix them well but trying hard not to over-mix the meat. Pour the meat into a meat loaf dish and try to get the top as smooth as possible. Cook for 1 hour and then check to see if the meat loaf is done. If not, continue cooking, checking every 5 minutes until the meat loaf is no longer pink inside (or reaches 160F.)
Allow to cool slightly and pour out excess grease if applicable. Slice and serve.
For the sauce, add all the ingredients into a small saucepan over medium-low heat. Stir occasionally until the sauce is heated through and the ingredients are combined. Pour over top of the hot slices of meat loaf.
7.8.1.2
120
https://thecookiewriter.com/mexican-meat-loaf/
(Adapted from
Betty Crocker Cookbook New Edition
)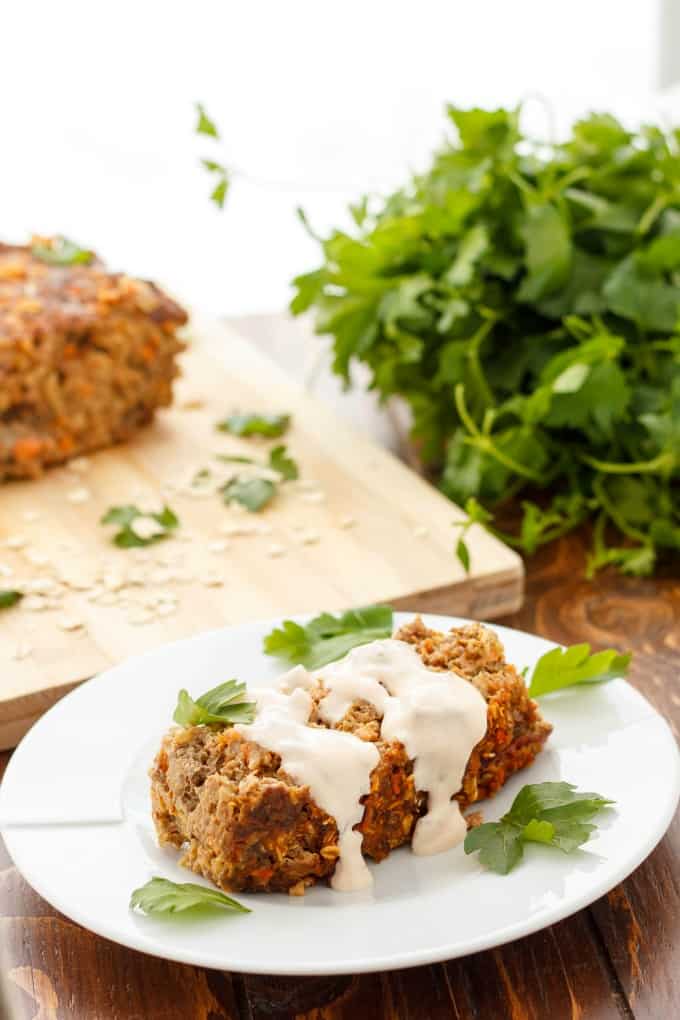 Soooo, of course I was out of cilantro when remaking this Mexican meat loaf, but I substituted parsley no problem! Personally, cilantro works better, but for some (like me) cilantro can taste soapy. Make sure to use oats instead of bread when it comes to a gluten-free version of this dish (I did oats this time around and it work great, but we still prefer the bread method!) I want to try a similar flavour combination the next time I make my vegetarian meat loaf (made with lentils for those who are wondering.) I like stepping outside the box and seeing what I can come up with that is different from the norm. I am sure there are thousands of different meat loaf combinations out there and I cannot wait to try another creation. Perhaps a pizza inspired meat loaf, or my take on a classic meat loaf.