A quick and easy weeknight meal is always desired, and this shrimp and sausage pasta sauce fills that criteria!
I have mentioned before that I do not cook with seafood very often. I would say I have probably cooked salmon once, and when it comes to shrimp, it is the frozen pre-cooked variety. It is not like I am scared to cook it, but I do worry about messing up the dish so bad that the fish/crab/lobster becomes inedible and a waste of money. Plus, in the past it was only my husband who ate seafood so making a huge amount seemed futile. Now that I know my daughter loves seafood I am more inclined to learn and experiment!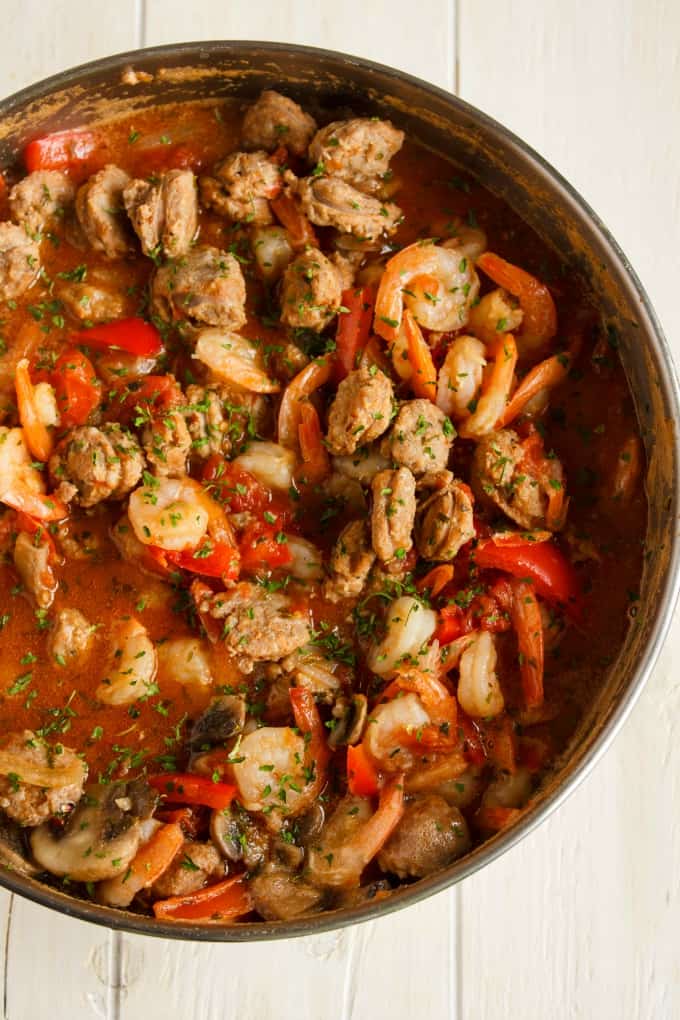 Of course, this shrimp and sausage pasta sauce is my usual route using frozen pre-cooked shrimp, but I mean, I need to start somewhere 🙂 This recipe actually came to mind when I completed my jambalaya and realized I had some extra sausage laying around. Pasta is my go-to when I am in a rush and don't feel like standing in the kitchen forever. Now with school upon us I feel hearty pasta dishes are great for dinner, but perfect as leftovers for lunch the next day. Easily customize it to suit your family's likes (there is always that one person who does not like a certain vegetable!)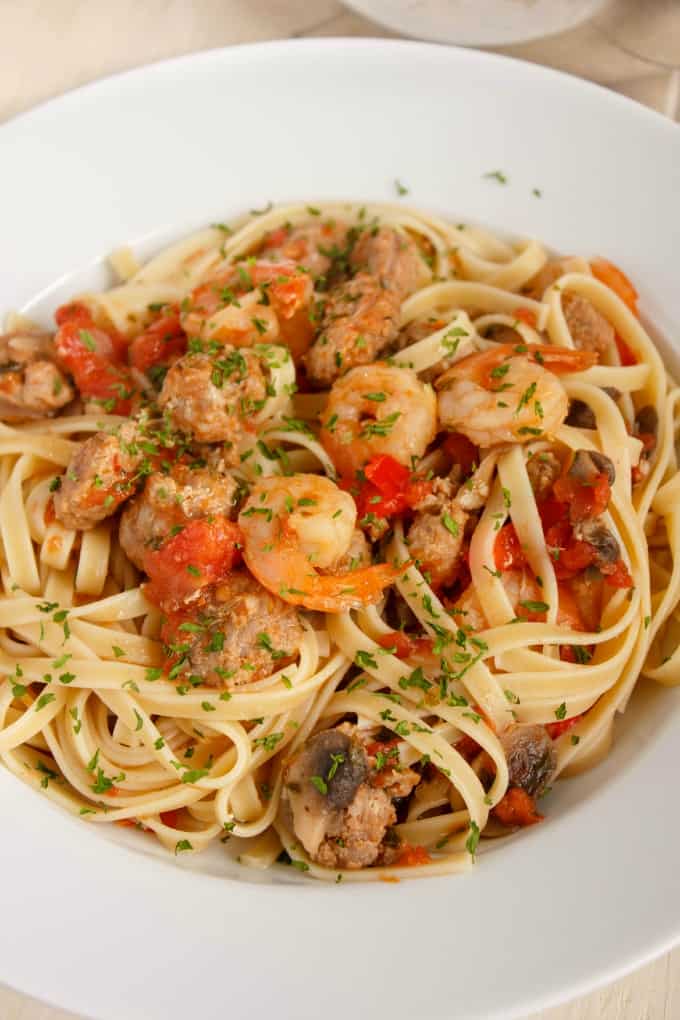 I just realized as I type this that I completely overlooked the whole brown butter aspect to this shrimp and sausage pasta sauce. Brown butter is such a powerful ingredient in cooking, and it is super easy to make! You can make it a day in advance to save time, but I just used it straight from the pot for this meal. This is a great tutorial here, but I have also used brown butter in lemon curd, which can be seen here. If you really do not feel comfortable making brown butter, you can use plain butter, but trust me, brown butter is out of this world! It adds so much! I tend to make it with salted butter and it really brings out the saltiness (not necessary a bad thing.) If you are concerned, go with unsalted butter and add salt accordingly.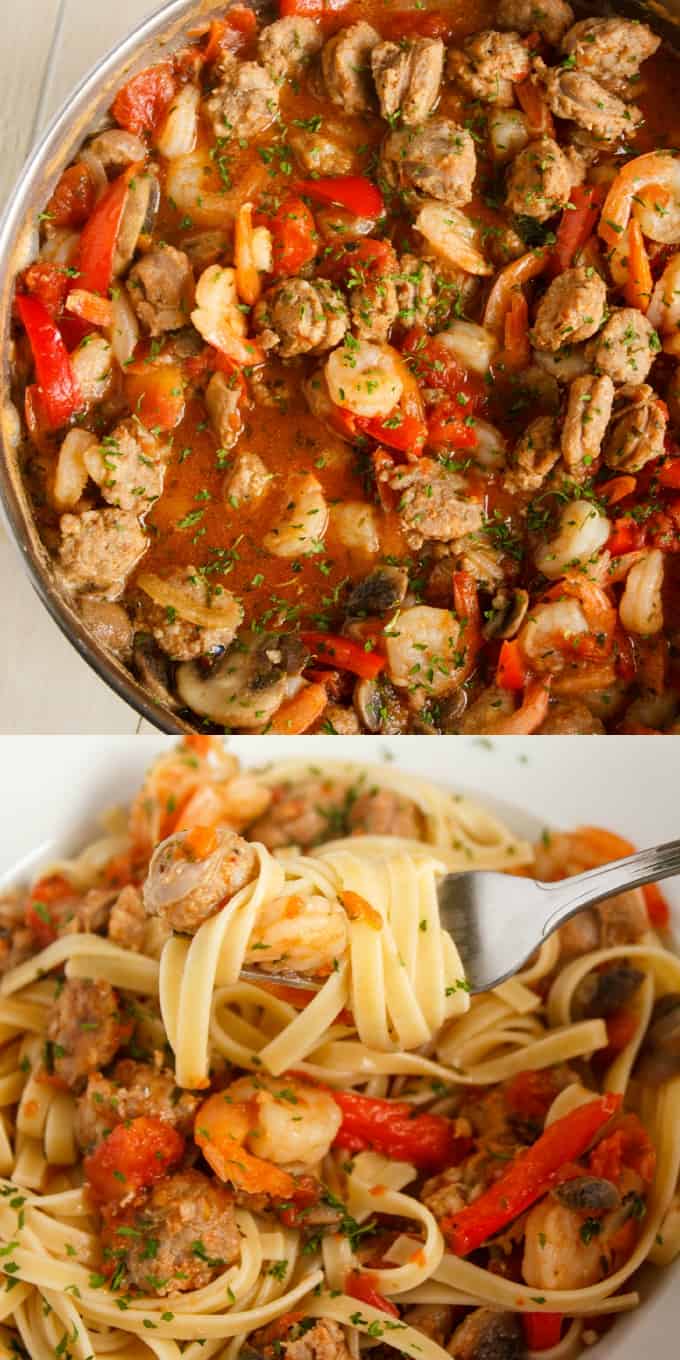 📖 Recipe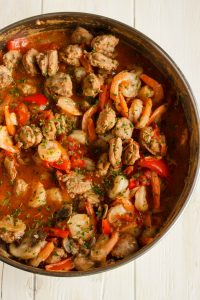 Shrimp and Sausage Pasta
On a busy work night you want something easy, and this shrimp and sausage pasta sauce is exactly that! Hearty and delicious, you will sure to have leftovers.
Ingredients
½ cup brown butter or regular butter (see note in recipe.)
1 (28 oz can) diced tomatoes, drained
1 onion, diced
1 red pepper, chopped
6 sausages, sliced
2 cups frozen shrimp
1 tsp. dried parsley
Salt and pepper
3 garlic cloves, minced
Instructions
*You can use regular butter, but I find brown butter so much more refined! Read the tutorial link in post before attempting brown butter, trust me!
Melt ½ cup of REGULAR butter in pan over medium heat. Cook, stirring often, until the color begins to change. The deeper the color, the nuttier the taste. However, do not go too far or you will burn your butter!
When the color is nice and light amber but still has some time left to cook, add sausage, onion, salt, and pepper. Cook until sausage is just browned, about 5 minutes. Stir in garlic and cook for a minute or aromatic. Stir in pepper, parsley, tomatoes, salt, and pepper. Bring to a boil and reduce heat to a simmer. Simmer for 15 minutes, or until sausage is cooked through. Add in frozen shrimp and cook for 5 more minutes or until heated through.
Serve over pasta and sprinkle with fresh parsley if desired!
**You can use leftover brown butter you have but I would suggest frying the sausage and onion in ordinary, unbrowned butter so you do not burn it.
Nutrition Information:
Yield:

4
Serving Size:

1
Amount Per Serving:
Calories:

658
Total Fat:

56g
Saturated Fat:

26g
Trans Fat:

1g
Unsaturated Fat:

24g
Cholesterol:

284mg
Sodium:

1813mg
Carbohydrates:

8g
Fiber:

1g
Sugar:

4g
Protein:

30g
I am the big pasta lover in the house, while I find Mr. TCW is the rice eater. However, as of late he has been requesting more pasta recipes so maybe I have brought him over to the dark side! Rice dishes are super easy meals as well, but pasta just seems like the crowd-pleaser. Whether it is a simple sauce, or a cream-based, or even maybe even tomato-based, pasta meals will forever have a home in our household!