I swear my body is made up of caramel sauce! If you love it as much as I do, then this tutorial on how to make dry method caramel sauce is for you (no more crystallizing sauce with the boil method!)
Sugar, spice, and everything nice is how the saying goes, right? I always tell people if I can have one food describe me, it would be caramel sauce. Butter, sugar, and cream: all things I love in life and could not live without! These components make up caramel sauce, and I will say that it is probably my favorite dessert topping in the world. I would choose it over chocolate and that says a lot! Then again, my dessert would probably be something chocolate related with caramel sauce poured over top 🙂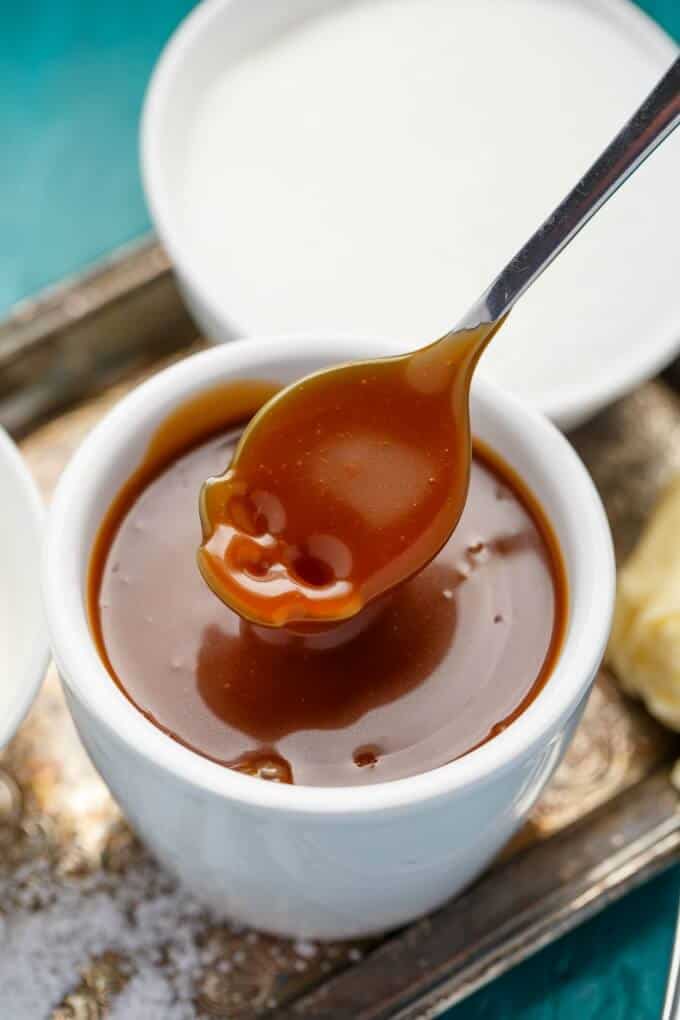 In the past I have spoken about a homemade caramel sauce tutorial. And it has served me well! I do want to revisit it to update my pictures (and use my candy thermometer that I have carefully calibrated.) But I do find for many that they find homemade caramel sauce daunting, especially when you are using the previous method (crystallizing is a big problem in the caramel world and you will see this happen even to the best of chefs.) This dry method caramel sauce tutorial will show you how easy it is to make, and how you need homemade caramel sauce in your life!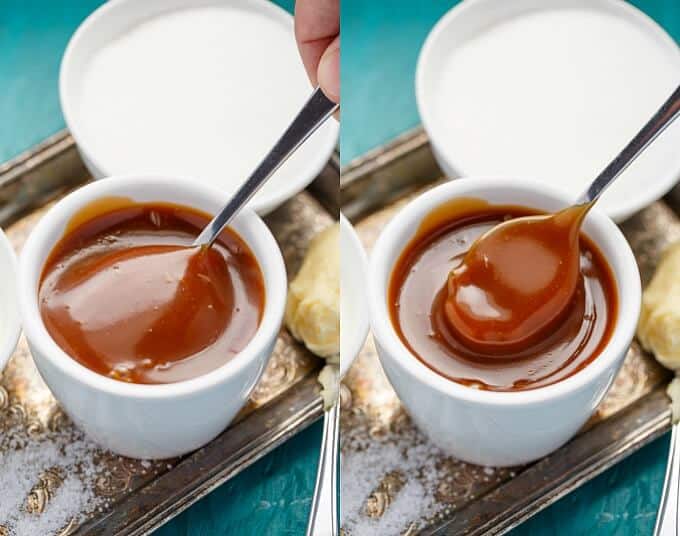 Sugar, butter, and cream. That is all you need. No water! You are actually cooking the sugar over medium heat until it melts down. I really prefer this method because while you may end up with a bit of sugar chunks in the end, they are nothing compared to seized-sauce. To get rid of those pesky un-melted sugar granulates, I shove the sauce through a sieve. Done! Take a look at the step-by-step video below to see what I mean (I cut out the sieve part, but you will see how some sugar just does not want to melt.)
The dry method caramel sauce is a technique I have been using for years (as seen in my naked chocolate cake with cinnamon-rum bananas and caramel sauce) but I am just getting around to posting it (after speaking about it for well over a year!) Now it is time to go back to all my caramel sauce-related desserts and update to this link!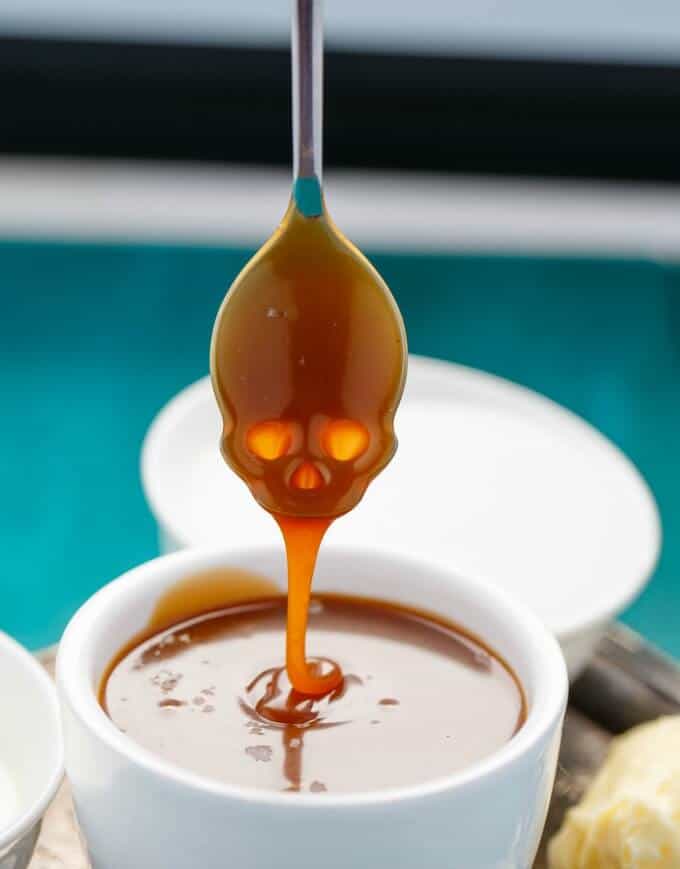 It does take some time to cook, but well worth it. Watching the sugar melt is so fascinating that I never get bored standing at the stove! In the beginning, you do not need to move your sugar around as much, but once it begins to stick and melt, you want to keep stirring quite frequently so you do not burn the batch. And trust me, like any caramel sauce method, you can burn your sauce!!! One second it looks good, then next you are stinking out your house, so you have been warned!
📖 Recipe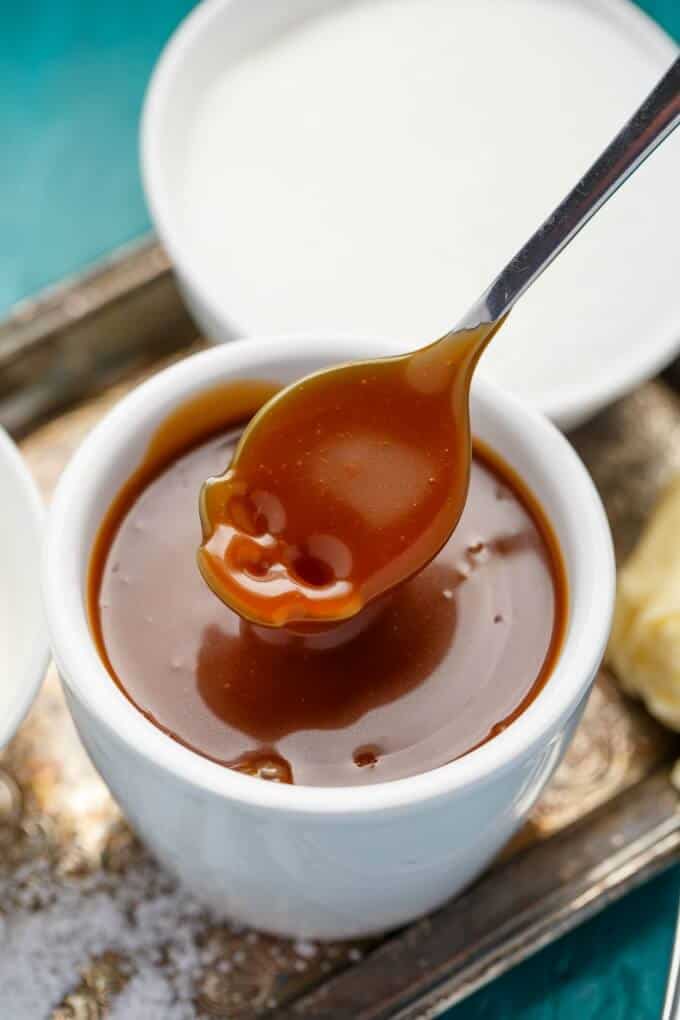 Dry Method Caramel Sauce: How-To Tutorial
Cream, sugar, and butter. The three things needed to make this dry method caramel sauce! And don't forget to watch the tutorial video!
Ingredients
2 cups granulated sugar
9 tbsp, butter, room temperature
1 cup heavy whipping cream
Pinch of salt
1 tbsp. whiskey, coffee-liqueur, etc. (optional)
Instructions
Add sugar to large pan over medium heat. Stir ocasionally until sugar begins to brown and melt. Stir constantly at this point, making sure to scrape well. Once melted (you may have some small chunks of sugar, but that is okay,) and syrup is nicely browned, add one tablespoon butter at time. Make sure to mix butter well before adding the next chunk.
Remove pan from heat and stir, allowing mixture to cool slightly (10-20 seconds.) Pour in cream and stir until combined. Sprinkle with salt and alcohol if desired. Pour through fine sieve to get rid of any junks.
Allow to cool before refrigerating!
Notes
I used to add more butter, but found the oils stayed on the surface. This should be just right! Reheat sauce when drizzling over desserts for easier use.
Nutrition Information:
Yield:

10
Serving Size:

1
Amount Per Serving:
Calories:

341
Total Fat:

19g
Saturated Fat:

12g
Trans Fat:

1g
Unsaturated Fat:

6g
Cholesterol:

54mg
Sodium:

103mg
Carbohydrates:

42g
Fiber:

0g
Sugar:

42g
Protein:

1g
Okay, I feel I kind of lied. Besides butter, cream, and sugar, you may also use salt and some kind of alcohol. Totally optional! But you have heard of salted caramel, eh? My FAVORITE! For this video I did not use alcohol, but it does add nice flavor so feel free to experiment!
Love this dry method caramel sauce tutorial?! Try some of these recipes: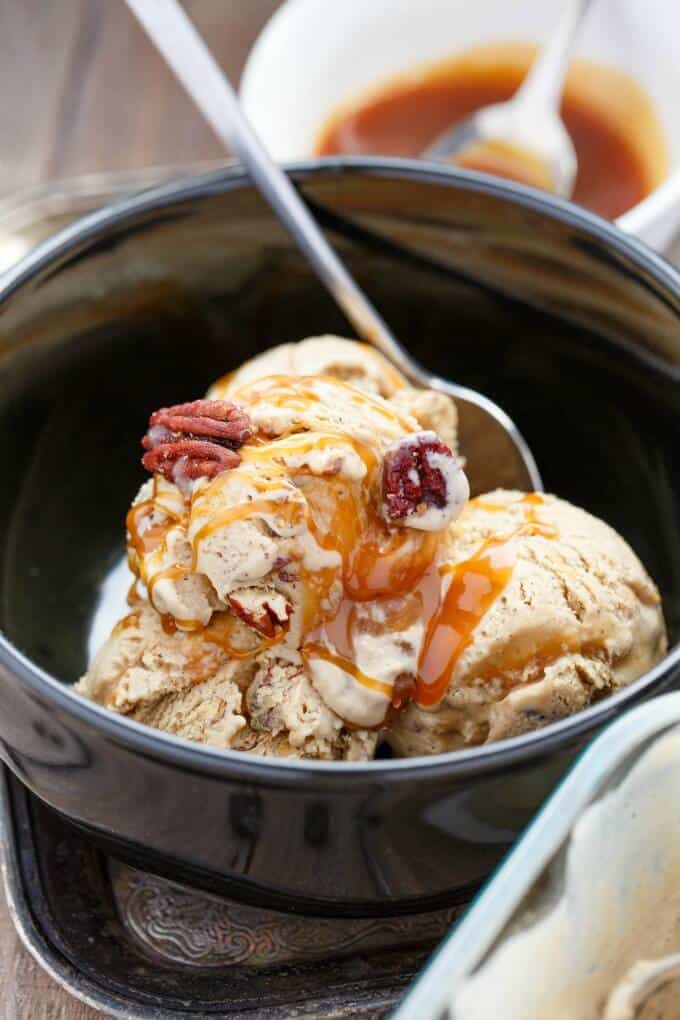 Coffee Ice Cream with Toasted Pecans and a Caramel Swirl