Soft, moist, and oh so delicious, this apple cinnamon bread with caramel is every coffee drinkers' dream! The perfect, guilty breakfast meal 🙂
The photos and recipe for this apple cinnamon bread with caramel have been updated as of September 17th, 2016!
Let me preface by saying today's recipe is more cake-like than bread-like. However, I think it could go either way and I am still calling it a bread! UPDATE: With the changes I have made to the recipe, this apple cinnamon bread definitely represents bread now! I find the texture to be similar to banana bread 🙂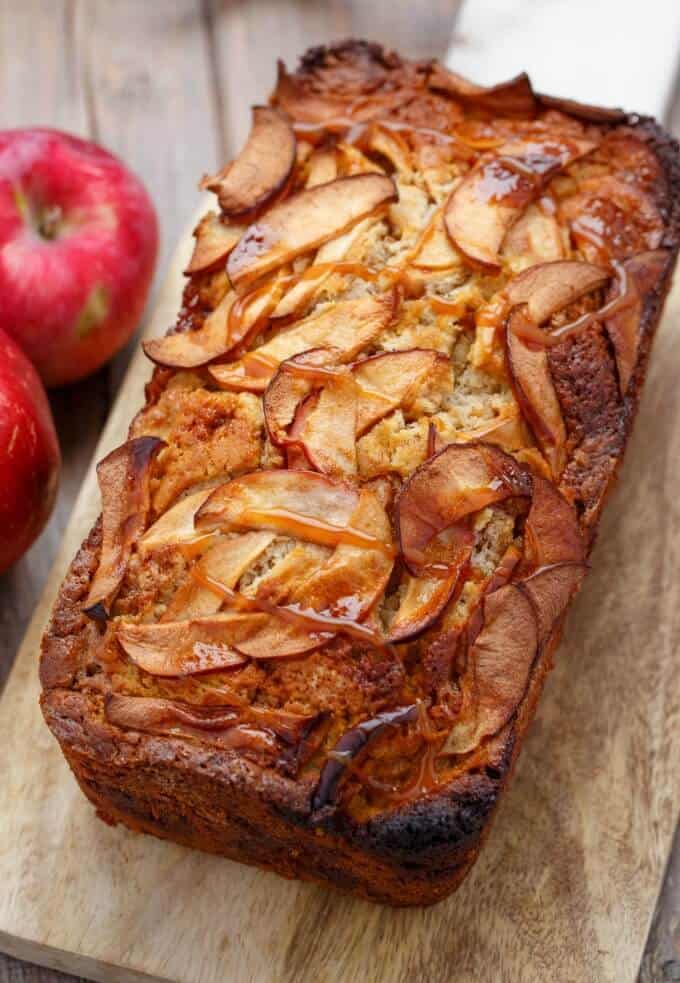 Since my husband surprised me with a new Kitchen Aid mixer over Christmas, I have been wanting to use it big time! The only problem was my receiving it on Christmas day, which was after I had already done all my holiday baking. By that point I did not want to make anymore cookies or cakes (not because I don't love baking, but because I felt like I was going to explode from all the sweets I had ingested!)
My new mixer continued to stare at me. And stare. I finally decided I needed to use him, now! I first made homemade pizza dough. It only seems appropriate since I love pizza. I actually created homemade calzones for the first time and they turned out great. The first question my brother and husband asked was if I noticed a difference in the power of the mixer compared to my classic model. Honestly, I didn't really pay attention because when you use the dough hook, you are only allowed to go to a maximum of speed 2. I figured I would see more of a result when I made buttercream.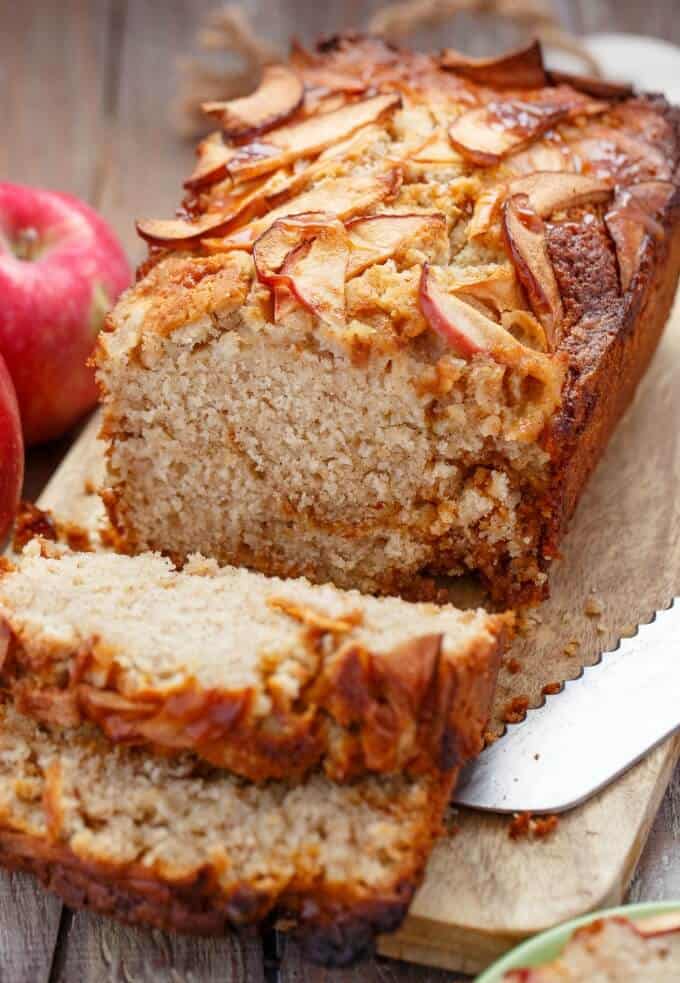 Afterwards I surprisingly got some cake making in (like these awesome Lindor Milk Chocolate Cupcakes with Chocolate Buttercream that I swear are my most favourite creation ever!) That's when I really noticed a difference in power. Finally, I went back to bread making and decided upon this apple cinnamon bread. As I said, it was more cake-like in texture, but Dan thought it paired wonderfully with coffee, deeming it a coffee cake. I still look at it as a bread recipe, but I will let you decide!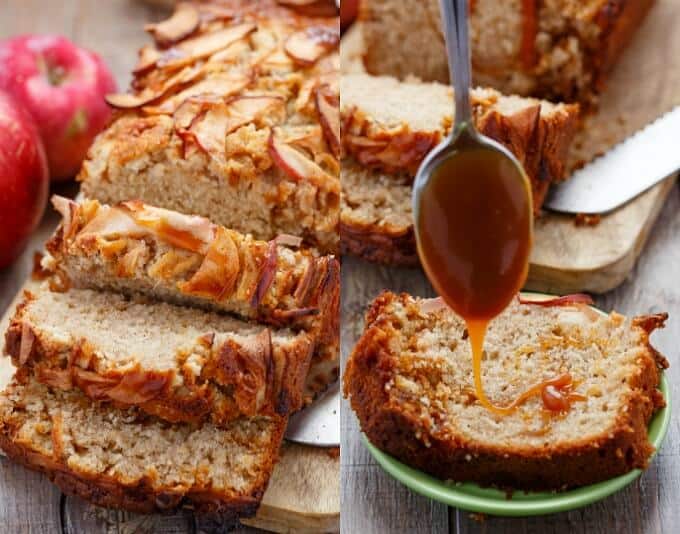 Now, this recipe is very simple and sweet. I reduced the sugar from the original recipe, and might do so again next time. However, that aside, the flavours were perfect. We really enjoyed this apple cinnamon bread. I already have a vegan recipe lined up so keep an eye out for that! As for a gluten-free alternative, that may take me some time as I am still experimenting with the gluten-free flour from Robin Hood.
What should you put on this awesome apple cinnamon bread? Well, it is darn good on its own. However, I loved the addition of some homemade coconut butter. I usually always recommend toasted coconut butter, but find here that ordinary coconut butter helped not to mask any of the delicious apple cinnamon flavour. Dan preferred his with a cup of hot coffee. And Éowyn? She was perfectly fine eating the bread as is!

Apple Cinnamon Bread
---
Kacey
Yields 1
A festive bread that makes your house smell like autumn!
10 minPrep Time
1 hrCook Time
1 hr, 10 Total Time
Ingredients
1/3 cup brown sugar
1/2 cup granulated sugar
1 tsp. ground cinnamon
1/4 tsp. ground nutmeg
1/4 tsp. salt
1/2 cup coconut oil, room temperature
2 eggs, room temperature
1 tsp. vanilla
1 1/2 cups all-purpose flour
1 1/2 tsp. baking powder
1/2 cup buttermilk, room temperature
2 medium apples, one diced, the other thinly sliced
1/2 cup homemade caramel sauce OR store-bought
Instructions
Preheat oven to 350F. Grease a 9x5 inch bread loaf pan (or any preferred size.)
In the bowl of your stand mixer, add the sugars and coconut oil. Beat until light and fluffy, about 5 minutes. Beat in one egg at a time, making sure they are fully incorporated. Mix in vanilla.
Sift together the flour, cinnamon, nutmeg, salt, and baking powder. Alternatively add the flour mixture and milk, starting and ending with the dry ingredients. Mix in diced apples.
Pour half the mixture into your prepared pan. Drizzle with 1/4 cup caramel sauce. Top with remaining batter. Arrange sliced apples on top of the batter. Drizzle with remaining caramel sauce.
Place into the oven and bake for 1 hour to 1 hour 10 minutes, depending on the pan you use (glass and dark pans differ!)
Remove from oven and allow to cool on wire rack. When cool, slice and serve with extra caramel if desired!
Notes
I put the caramel sauce on top of the bread before baking and it began to brown slightly be the end, resulting in bold flavours. If you are worried about burning, you can drizzle the caramel sauce on in the last 15 minutes.
7.8.1.2
232
https://thecookiewriter.com/apple-cinnamon-bread/
(Adapted from
The Happier Homemaker
)
I know I hyped up my new mixer, but it is so amazing! There was nothing really wrong with my classic model. It had been making weird sounds for a while (sounds like the motor is running high and then low without even changing the speed.) My sister gave it to me as a wedding gift almost 5 years ago now, and of course, with my new model, it is only fair I give her my old one (though my brother has been calling dibs on it too so I will let them duke it out!)
Now, apple cinnamon bread is not my first bread, and it will definitely not be my last! Probably my first sweet bread, but awesome all the same. I just find with bread recipes that we can never eat them fast enough (obviously not big sandwich eaters here!) My plan is to start freezing them (whether for myself or others!)
Love this apple cinnamon bread with caramel?! Try some of these recipes: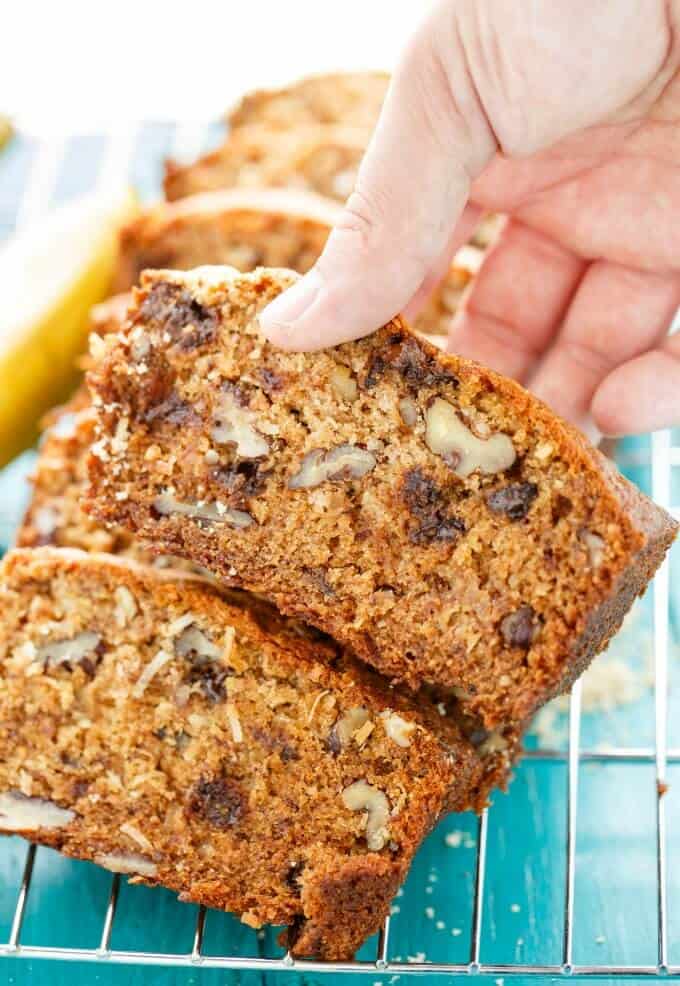 Chocolate Chip Banana Bread with Coconut and Nuts