Not healthy in the slightest, unless you omit that bacon (pshhhhh,) this beer and beef chili in a bacon bowl is the only way we have our meat chili here! Very simple, and can be made in the slow cooker (and finished off in the oven to get that crispy bacon blanket!)
Not too long along I posted my turkey chili in a bacon blanket.
Ever since that creation, my husband has been insisting I make it again, but this time with ground beef (I only used turkey last time because I wanted to use up the leftovers I had on hand.) He went ice fishing a couple of weeks ago and I submitted to his demands! He was so happy with this recipe that he had no problem coming home from his trip and eating the chili for leftovers.
As a vegetarian, this beer and beef chili in a bacon bowl seems like a monstrosity, and yet, I came up with it so that makes me kind of messed... Let's ignore that and just say that I love my husband and know that he loves meat dishes!
I know my brother would be all over this as well, and over the two times I have made this recipe, I have not been able to save him a portion to try. Same goes for my dad, but I would have to omit onions... Still can't believe there are people in the world that hate onions. They add so much flavor to a dish!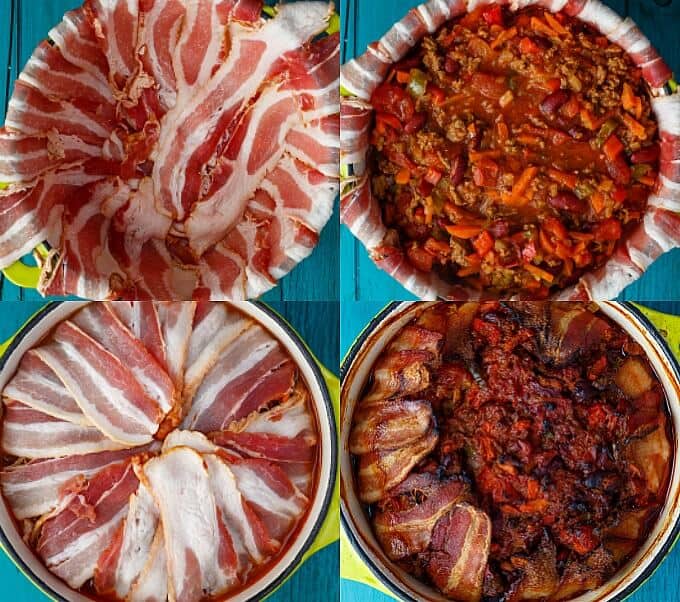 The amount of bacon you use will depend on the size of your dutch oven. Mine is on the smaller side so I used one whole pack of bacon plus a bit of the second. Different cuts of bacon will also affect the amount you use.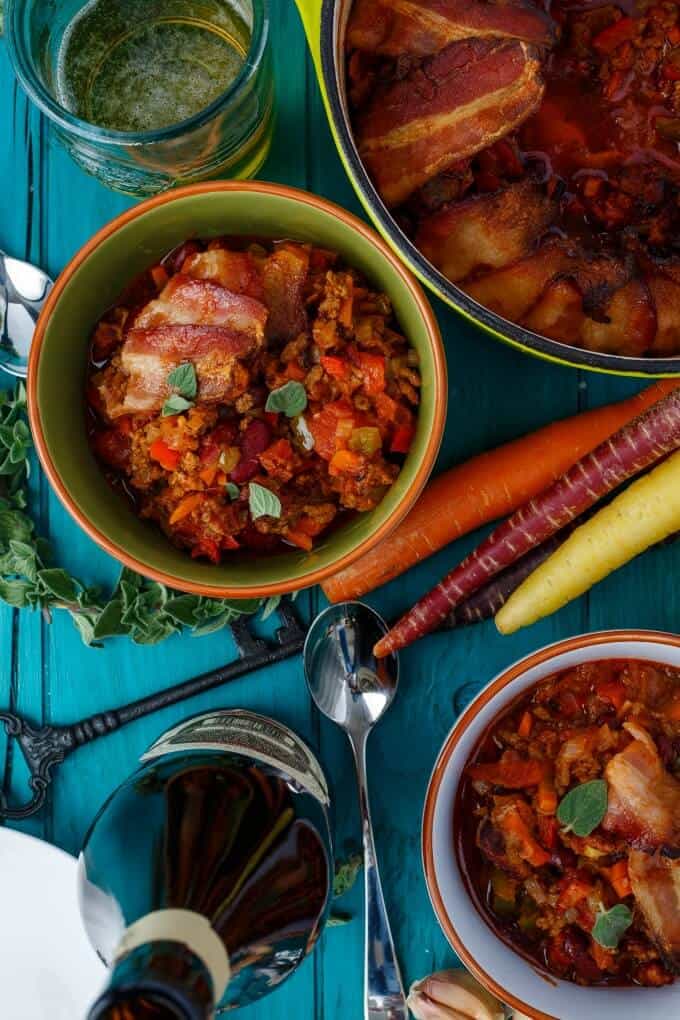 As for the chili: I could just about fit the entire batch into my pan. My chili was a bit liquidity and I knew the bacon would produce grease, so I tried to strain out a bit of extra liquid before cooking it. After the beer and beef chili in a bacon bowl was completed in the oven, I used a ladle to skim off the extra greasy layer that was produced during the cooking stage (do not worry, the bacon flavor did not disappear at all!) No one wants to eat grease...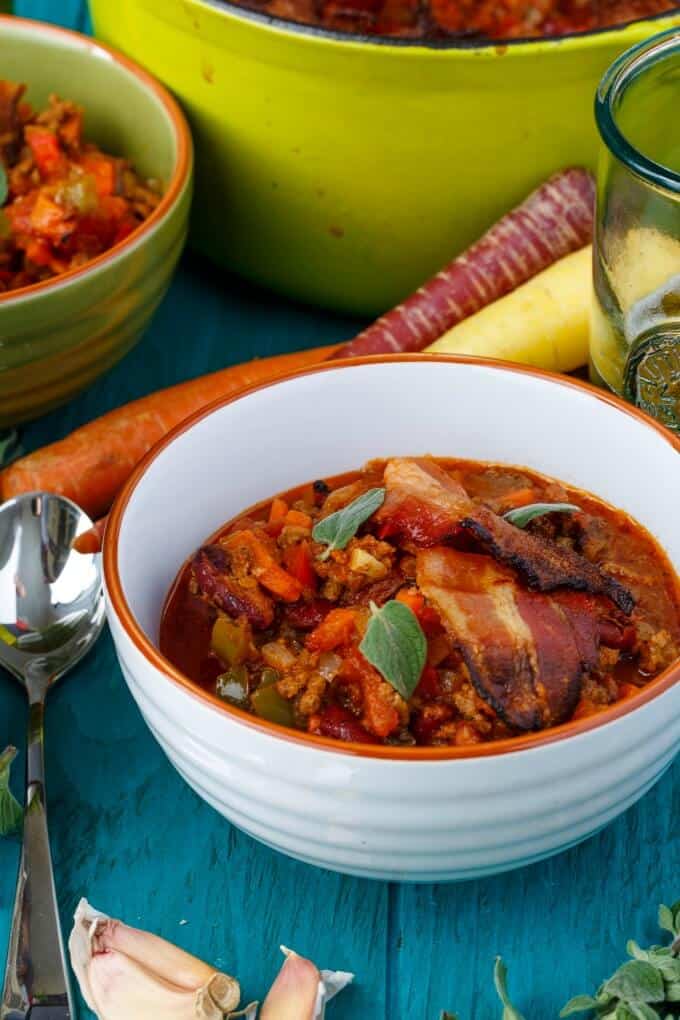 So simple and easy, this beer and beef chili in a bacon bowl can be made in the slow cooker and then transferred to the oven. The first time I made this recipe I made it in the slow cooker, and this time around I was short on time so I made it on the stove. I wanted the chili to sit overnight because just like soups and stews, chili has a stronger taste the following day. You can also make the chili a day in advance and then cook it in the bacon bowl when ready to serve.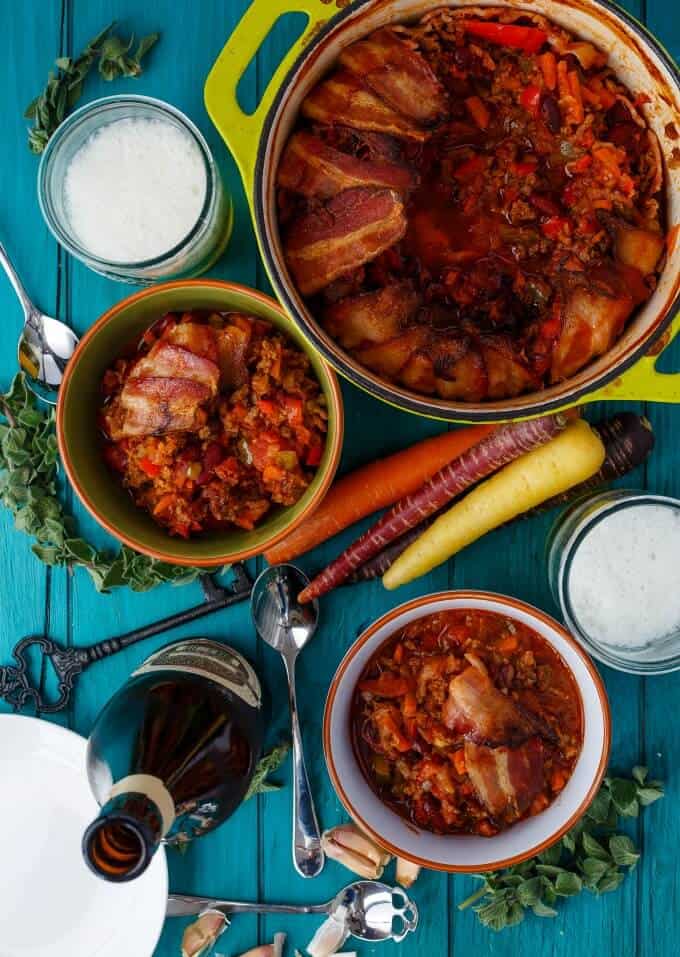 📖 Recipe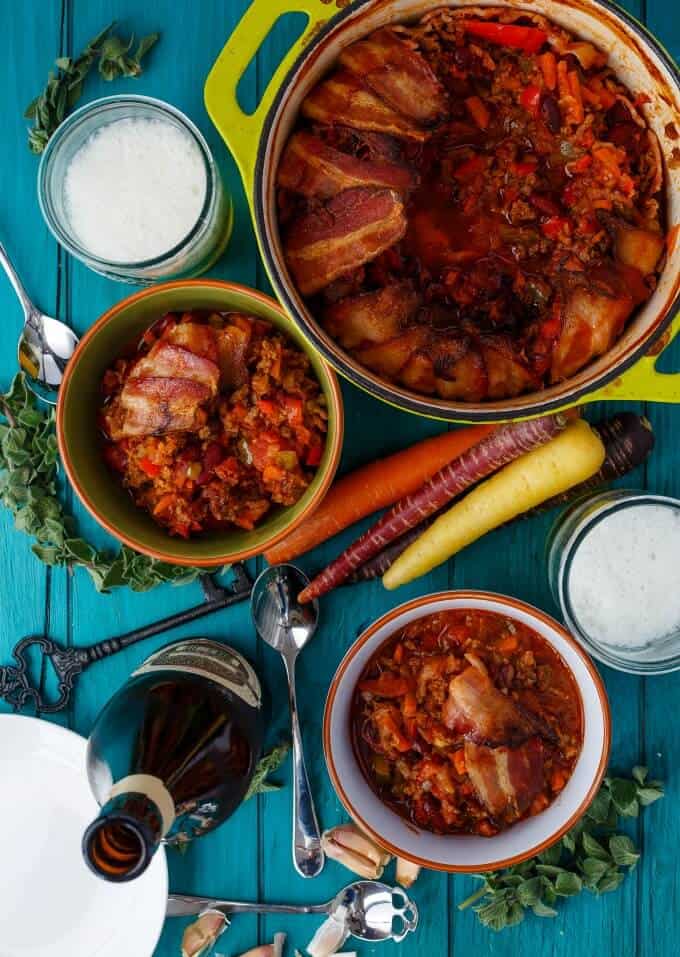 Beer and Beef Chili in a Bacon Bowl
Cook Time:
1 hour
45 minutes
Total Time:
2 hours
5 minutes
Simple and delicious, the chili can be cooked in advance and then baked in the bacon bowl!
Ingredients
1 (28 oz) can diced tomatoes
1 (19 oz) can kidney beans, drained and rinsed
1 tbsp. chili powder
1 tsp. cumin
2 tsp. dried oregano
1 tsp. Hungarian paprika
Salt and pepper
1 bottle of beer (around 375-475 mL)
¼ cup tomato paste
1 red pepper, diced
1 green pepper, diced
2 medium onions, diced
4 garlic cloves, minced
2 medium carrots, chopped small
1 tsp. granulated sugar
500 g bacon slices (more or less depending on dutch oven.)
1 ½ lbs ground beef
Instructions
In a large pot over medium-high heat, add in the ground beef. Cook for 2 minutes and then add onions and carrots. Cook until meat is browned, about 5 minutes. Add in the garlic and cook for another minute.
Stir in the seasonings, making sure to add salt and pepper. Stir in tomato paste and cook for a few more minutes. Add in the beer, tomatoes, and beans. Reduce heat to a simmer and cook, uncovered, for 30 minutes. Add in your peppers and sugar. Taste for seasoning. Cook for another 30-45 minutes, or until veggies are tender-crisp.
Preheat oven to 400F.
Prepare your cast iron dutch oven by layering the bacon slices around the inside of the pan, overlapping slightly. You want to leave enough overhang so when you fold back the bacon, it covers the top nicely. The amount of bacon slices depends on the size of your dutch oven (mine is 2.5 quarts.)
Pour the chili into the bacon wrapped pot and then bring the overhanging slices of bacon over the top to cover the chili (almost like the chili is sitting in a giant bacon cup now.)
Place pan into the oven, uncovered, and bake for 30-45 minutes, or until your bacon reaches desired crispiness. Allow to cool slightly and dig in!
Notes
To make this recipe in the slow cooker, brown your meat, onions, and garlic in a large pan. Add all the ingredients except for the bacon to your slow cooker and cook on low heat for about 8 hours. You will have to finish the recipe in the oven.
Nutrition Information:
Yield:

4
Serving Size:

8
Amount Per Serving:
Calories:

1254
Total Fat:

75g
Saturated Fat:

26g
Trans Fat:

1g
Unsaturated Fat:

42g
Cholesterol:

275mg
Sodium:

2630mg
Carbohydrates:

39g
Fiber:

9g
Sugar:

12g
Protein:

97g
This beer and beef chili in a bacon bowl feeds quite a few people (my husband took the meal ice fishing and easily fed the group of men there.) Serve it with some bread or chips and you have even more filler! I personally like how easy this meal is to make (aside from a lot vegetable chopping!) Also, the chili can be easily customized to meet everyone's needs (cough, cough, my dad's fear of onions.) Basically, make your favorite chili recipe and stick it into a bacon bowl (or bacon blanket as I referred to it in my previous post!)
If you are looking for a healthier chili, please feel free to check out my following turkey chili in a bacon blanket (better omit that bacon though!)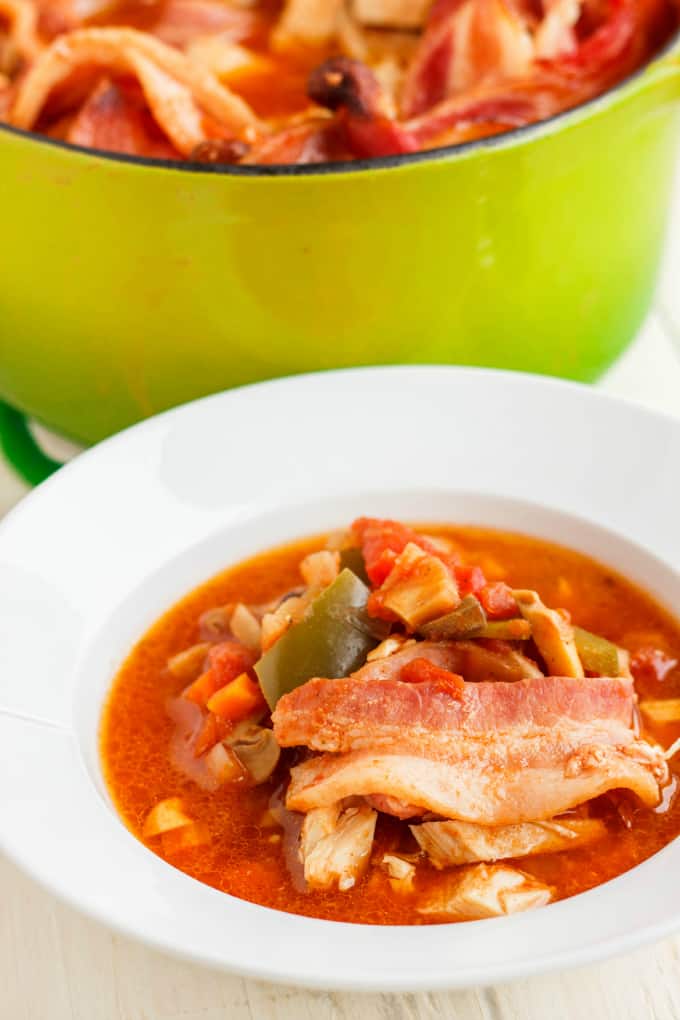 Love this beer and beef chili in a bacon bowl?! Try some of these recipes: