If I had to choose one food to eat the rest of my life, I would probably say pizza.
I love Mexican cuisine, and risotto, and just about anything to do with eggplant and mushrooms, but I find pizza is the most customized food out there. You can add anything you like to your pizza and it would still be a pizza. Heck, I have even made watermelon pizza! Pizza is a meal that anyone can enjoy if you have the right ingredients on hand.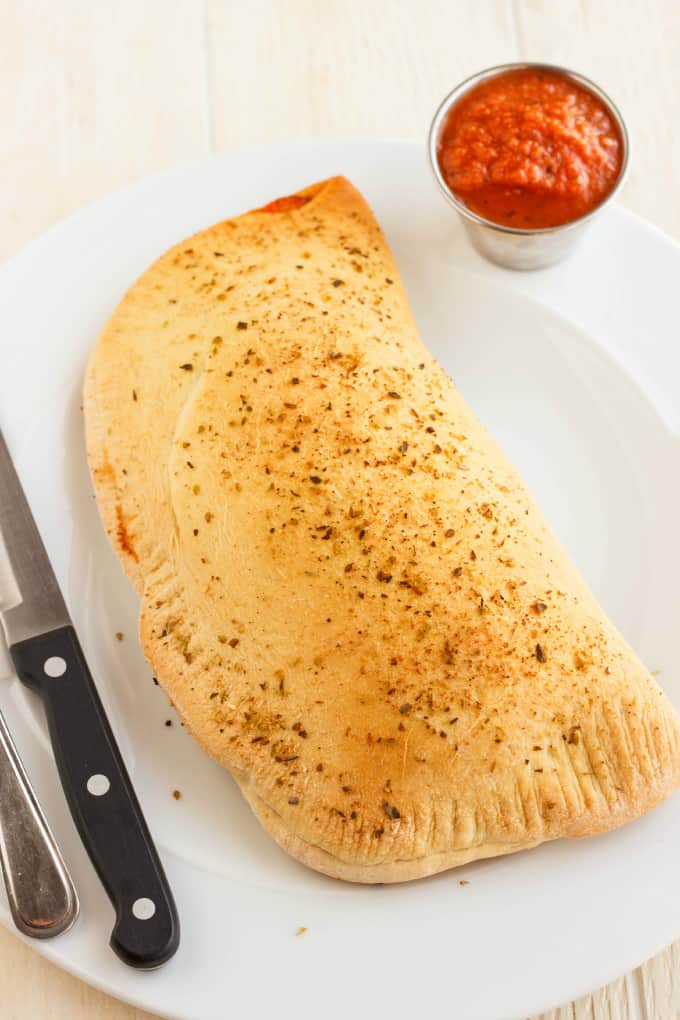 Stepping away from my usual pizza method, I decided to make homemade calzones. They are SUPER easy to make and you can use homemade or store-bought dough. Your toppings can be super simple or extravagant! I opted for simple this time around because we were busy with home renos (still not even close to being done but that is a story for another day.) Plus, most pizza places sell calzones in basic form: cheese and sauce. Any other topping is extra.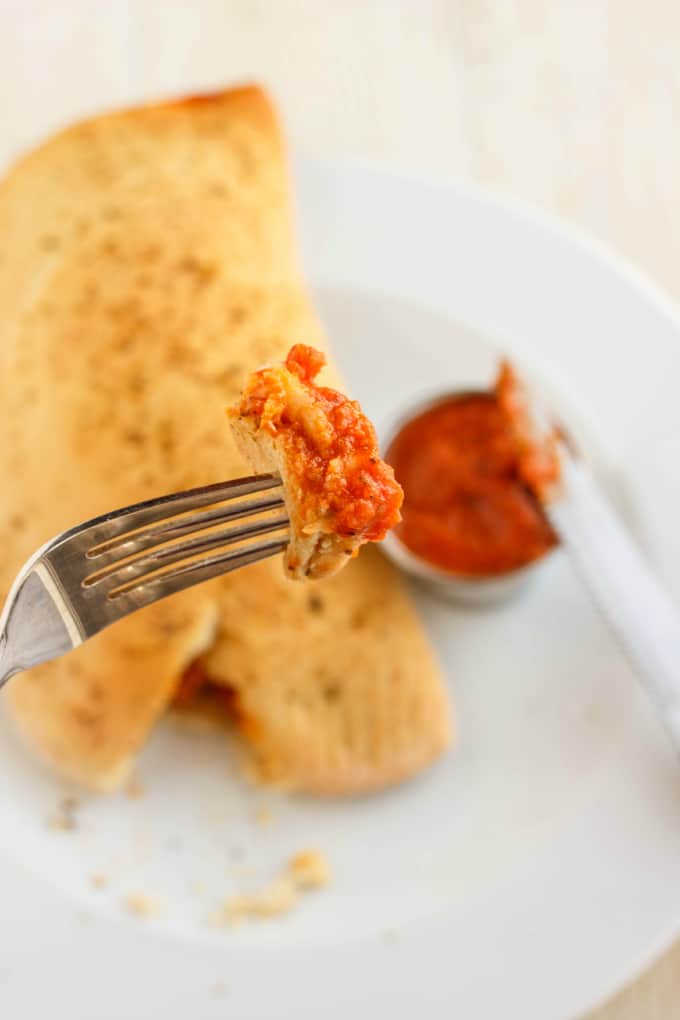 Now, why did I choose to do homemade calzones as opposed to homemade panzarotties? Well, I have mixed reviews on what actually differentiates the two. I thought calzones were baked and panzarotties were deep-fried, but looks like calzones can be deep-fried, too. Usually calzones are smaller than panzarotties and have simpler toppings (cheese and sauce.) I will just call this recipe homemade calzones because I baked them. If you know some other facts that differentiate the two, please share your comments below!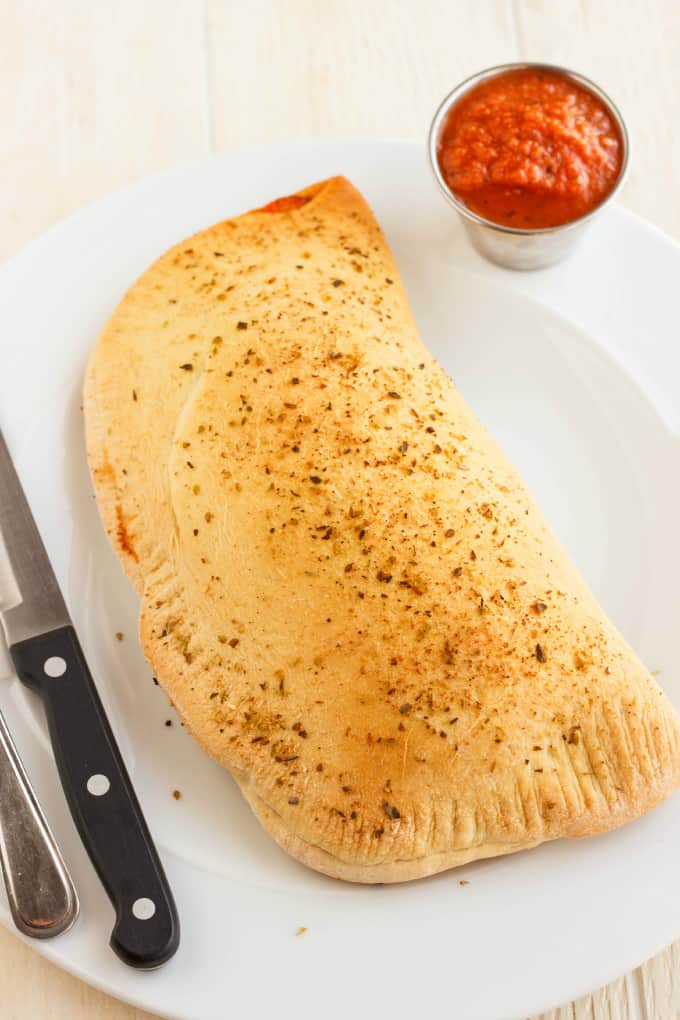 Homemade Calzones
Homemade calzones are very simple to make and can easily be customized to suit any dietary concerns!
Ingredients
1 recipe of homemade pizza dough (or you can use store-bought.)
1 recipe of homemade pizza sauce (or you can use store-bought.)
1-2 cups mozzarella or cheddar cheese, grated
Any other fillings of your choice (veggies, meat, more cheese, etc.)
1 tsp. dried oregano
½ tsp. garlic powder
Salt and pepper
Instructions
Prepare your homemade pizza dough if necessary.
Separate your dough into 4-6 equally sized balls. Roll each out until they are relatively thin and round (do not go too thin or your dough with break.) Spread out sauce onto one half of each dough round. Sprinkle even amounts of cheese onto each. If using other toppings, put them in now. Fold the dough over so it resembles a half-moon (wet the edges slightly to help the dough stay sealed.) Press down edges and use a fork to seal. Lightly grease tops of calzones with butter or oil if desired, and season each with a bit of dried oregano, garlic powder, salt, and pepper. You could also leave them plain.
Preheat oven to 400F. Place calzones onto a baking sheet (may have to work in batches.) Bake for 15-20 minutes.
Serve with extra pizza sauce to dip the calzones into!
Nutrition Information:
Yield:

4
Serving Size:

1
Amount Per Serving:
Calories:

645
Total Fat:

25g
Saturated Fat:

13g
Trans Fat:

0g
Unsaturated Fat:

10g
Cholesterol:

71mg
Sodium:

936mg
Carbohydrates:

74g
Fiber:

4g
Sugar:

5g
Protein:

30g
(Here are my recipes for
homemade pizza dough
and
homemade pizza sauce
!)

These homemade calzones make for a very fast and simple dinner, especially if you are using store-bought dough. Much like pizza, customization is all up to you. I like how each child can have their own mini pizza pocket (common frozen food here in Canada!) Next time I make these homemade calzones I am adding more sauce and cheese. I found I was skimping out worrying that my creations would explode. If you seal them properly, you should have no concerns (but even if they explode, they will still be delicious!)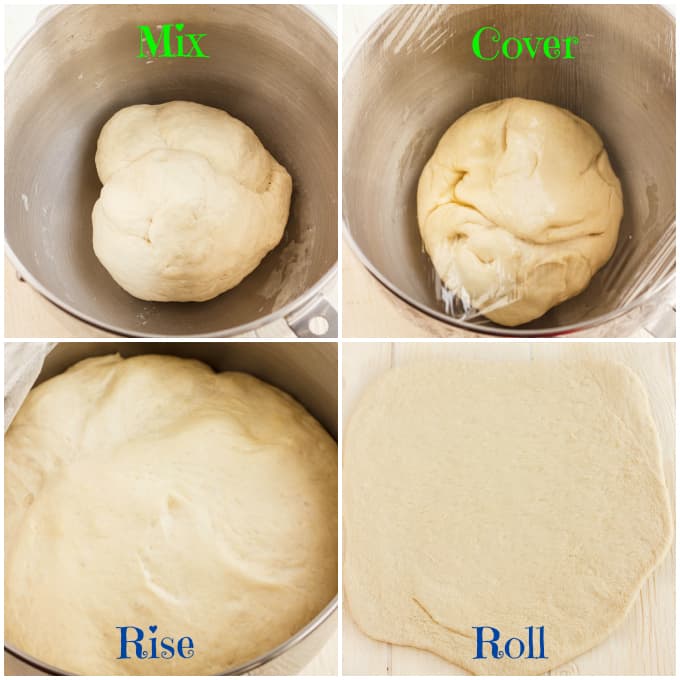 Don't be scared to make your own pizza dough!!! It is so easy, and my recipe uses a no-knead method (though I do like to give it a extra toss here and there to help it out!)
Also check out: