I have a feeling today's post will be something new for a lot of people.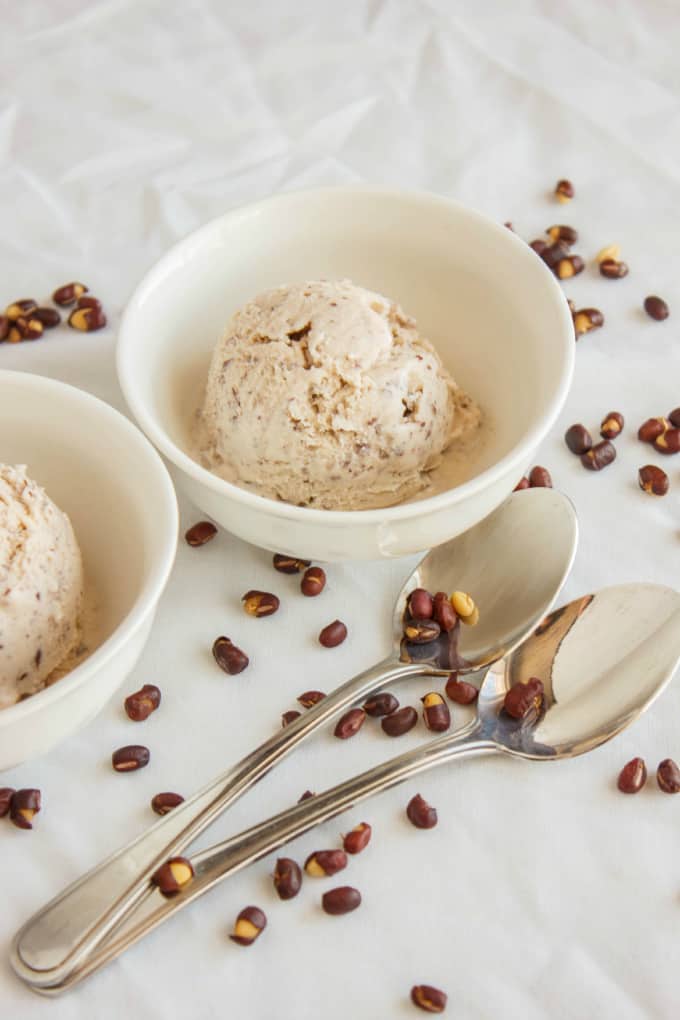 We were first introduced to red bean ice cream at Canadian sushi restaurants. I was hesitant to try it at first because I assumed beans in ice cream would be weird. I had no clue how it would work! Then I pushed my fears aside and gave it a try. Instant favorite! I always order it now when I go, usually with a side of green tea ice cream. My daughter calls red bean ice cream "pink ice cream" and she loves it just as much as me.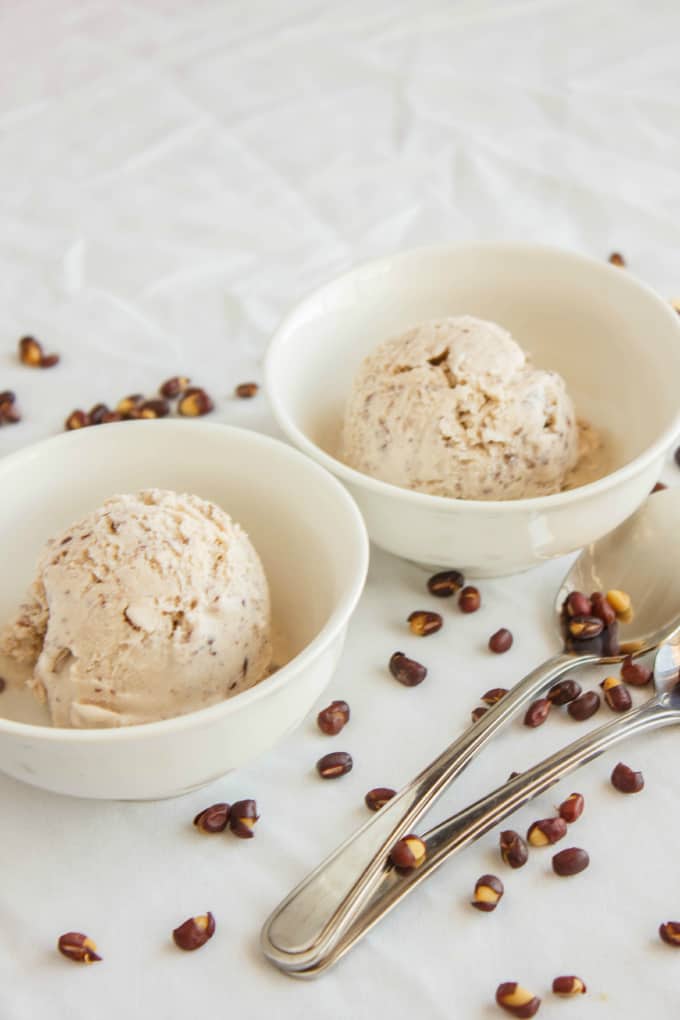 So how does red bean ice cream work and how is it made? You actually make red bean ice cream using red bean paste. I talked about red bean paste in another post, so pop over there to take a look at how to make it. Red bean paste is used in Japanese sweets and the sugar content depends on your own tolerance. I kept mine pretty low in sugar because I knew it was going in ice cream. Next time I will probably add more sugar so it adds a sweeter element to my matcha shortbread cookies with red bean. Since red bean paste is made with azuki/adsuki beans, you may have to make a special order online to grab a hold of the beans (of course after I order mine online, my local grocery store started carrying them!)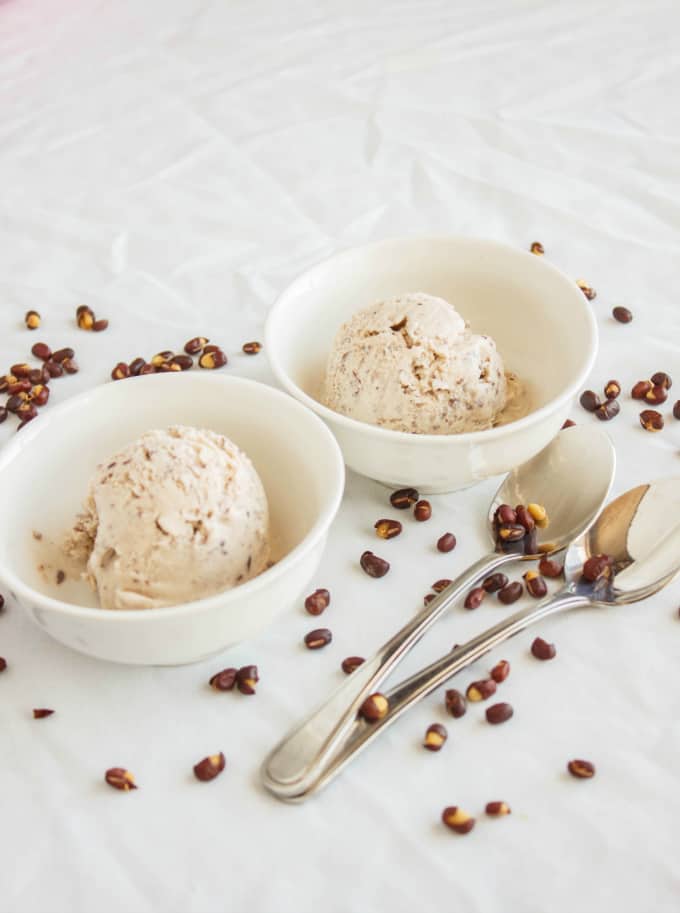 Once you have a batch of red bean paste on hand (or if you are lucky enough to find it at the store, you can use store-bought,) you are ready to make read bean ice cream! Now I no longer have to go to sushi to enjoy red bean ice cream!
📖 Recipe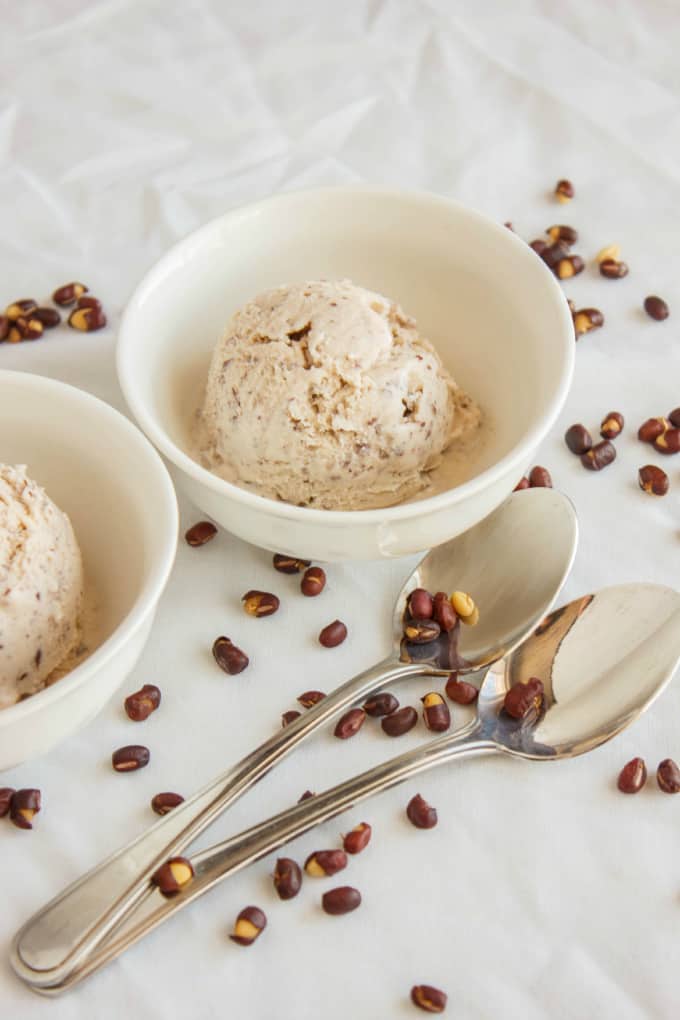 Red Bean Ice Cream
Red bean ice cream is popular at local sushi restaurants. Now you can make your own at home with this simple recipe.
Ingredients
2 cups heavy whipping cream
1 cup milk
4 egg yolks
1 ½ cups red bean paste
½ cup sugar
Pinch of salt
Instructions
Add egg yolks to a large mixing bowl and whisk.
In a medium saucepan, combine 1 cup of cream, milk, and sugar over medium heat. Heat until hot, but do not let boil (and all the sugar has dissolved.). Carefully and slowly pour the hot cream into the egg yolks, whisking constantly so the eggs do not scramble. Continue whisking until all the cream is blended. Transfer the mixture back into the pan and stir in the red bean paste, remaining cream, and salt. Bring up to a hot temperature again, stirring occasionally. Turn off heat, and allow to cool to room temperature, stirring occasionally to keep film from building up. Cool in refrigerator overnight.
To make the ice cream, follow your machines instructions.
When the ice cream is finished churning, transfer to a freezer safe storage container.
Nutrition Information:
Yield:

6
Serving Size:

1
Amount Per Serving:
Calories:

551
Total Fat:

33g
Saturated Fat:

20g
Trans Fat:

1g
Unsaturated Fat:

11g
Cholesterol:

216mg
Sodium:

200mg
Carbohydrates:

57g
Fiber:

3g
Sugar:

46g
Protein:

10g
(Here is the recipe for my homemade
red bean paste
.)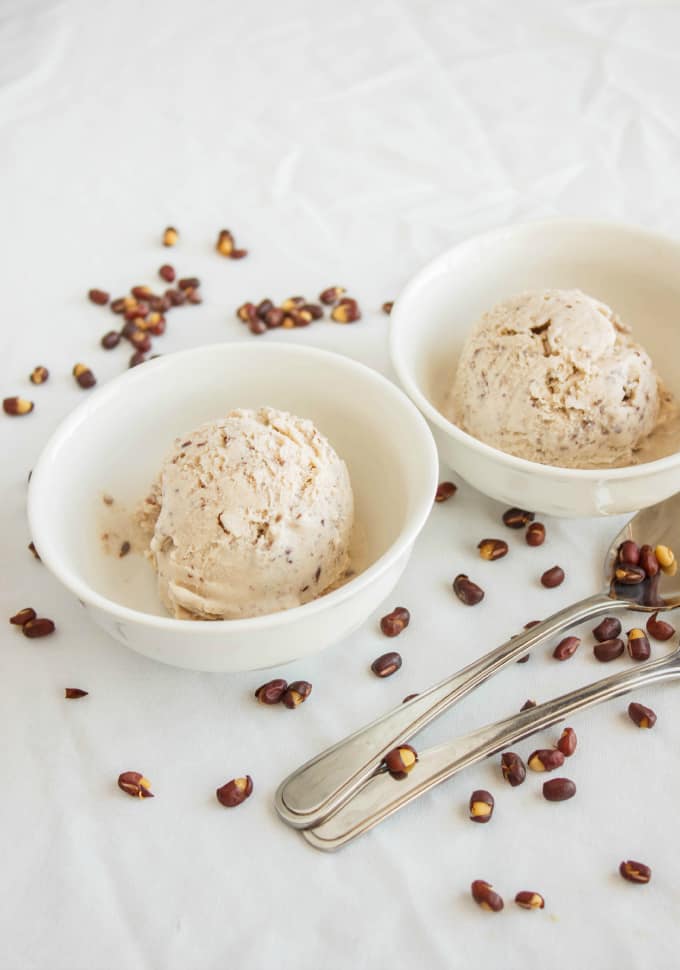 You could easily make a vegan red bean ice cream, similar to the way I made my vegan green tea ice cream. I like to use cornstarch in my vegan ice creams now because it helps create a smooth consistency and helps the ice cream from freezing solid (since vegan ice cream tends to lack fat.) Even in non-vegan ice cream, some people prefer to use cornstarch over egg yolks.