I feel no one else loves artichokes as much as me.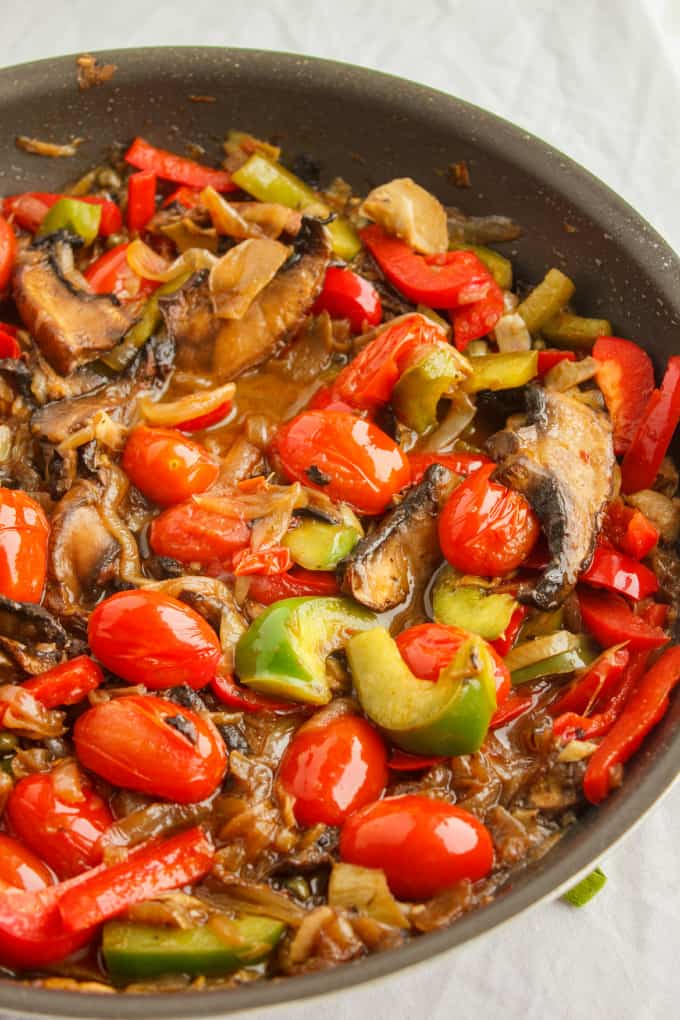 Maybe Mr. TCW, but even then, I feel he enjoys them in the one dish. I personally like them anywhere, any time. On my pizza, in pasta, on their own. Actually, now that I think about it, I love them in my omelettes (our favorite breakfast place has a potato and artichoke omelette.) The thing is though, I love the marinated artichoke hearts. I tried cooking fresh artichokes once and failed. I would like to try it again at some point, but for now, I am sticking with my Kirkland container of artichokes!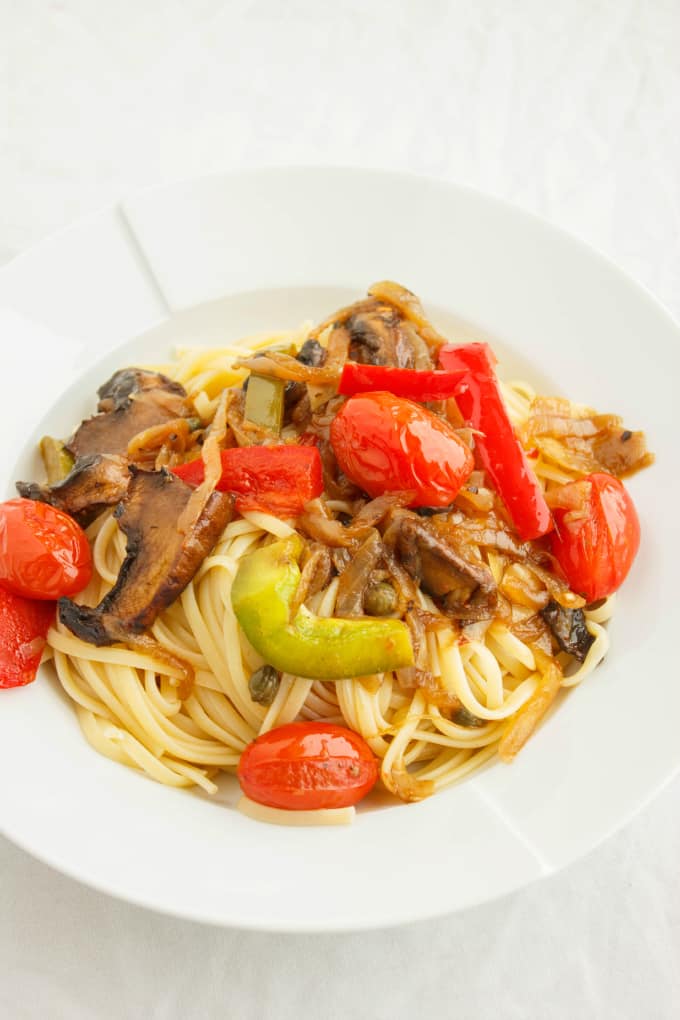 Today's recipe of artichoke hearts, caramelized onions and roasted portobello mushroom pasta is actually completely vegan. Use the appropriate pasta, and the meal is gluten-free as well! I actually put a lot of the marinade from the artichokes to use (because there is nothing more upsetting than throwing away good food!) As always, I tell people, the best deal on jarred, marinated artichoke hearts is Costco. I am in no way affiliated with them but anywhere else I find the jars so small for the price. And the seasoning in the marinade is just right!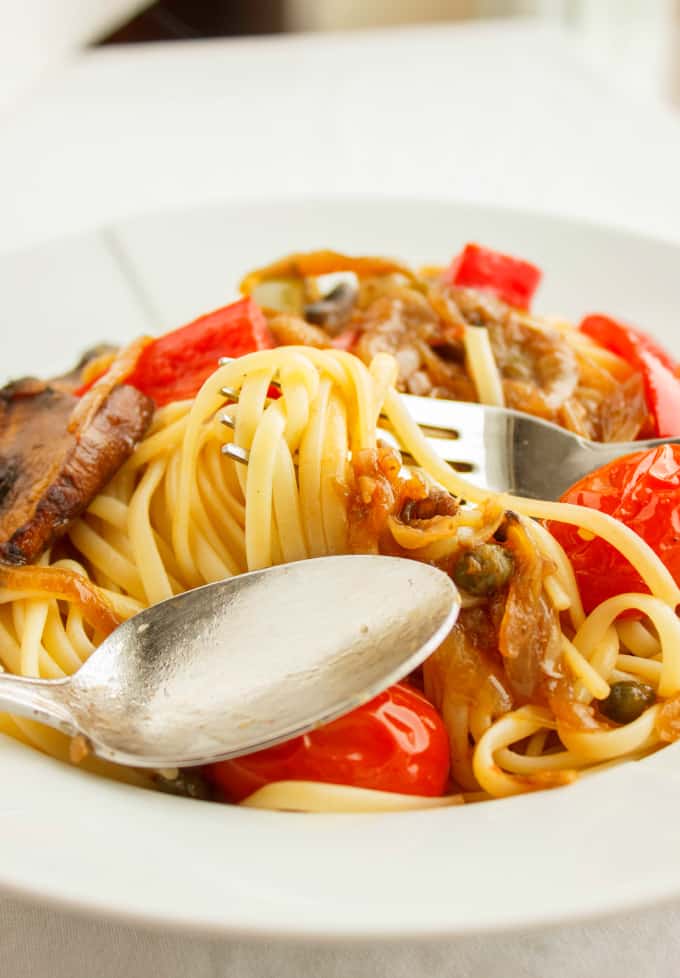 Artichoke hearts really make this roasted portobello mushroom pasta sauce. I have made portobello mushroom pasta before, as it is one of my most pinned recipes, and I find the artichokes add so much more to the dish. I know I cannot convince people to try marinated artichoke hearts, but if you have the chance, TRY THEM! Trust me, they are unique in flavor but in no way gross or unpleasant. My sister actually likes our artichoke heart chicken recipe, but just for the marinade and not the actual artichoke hearts. But at least she tried them!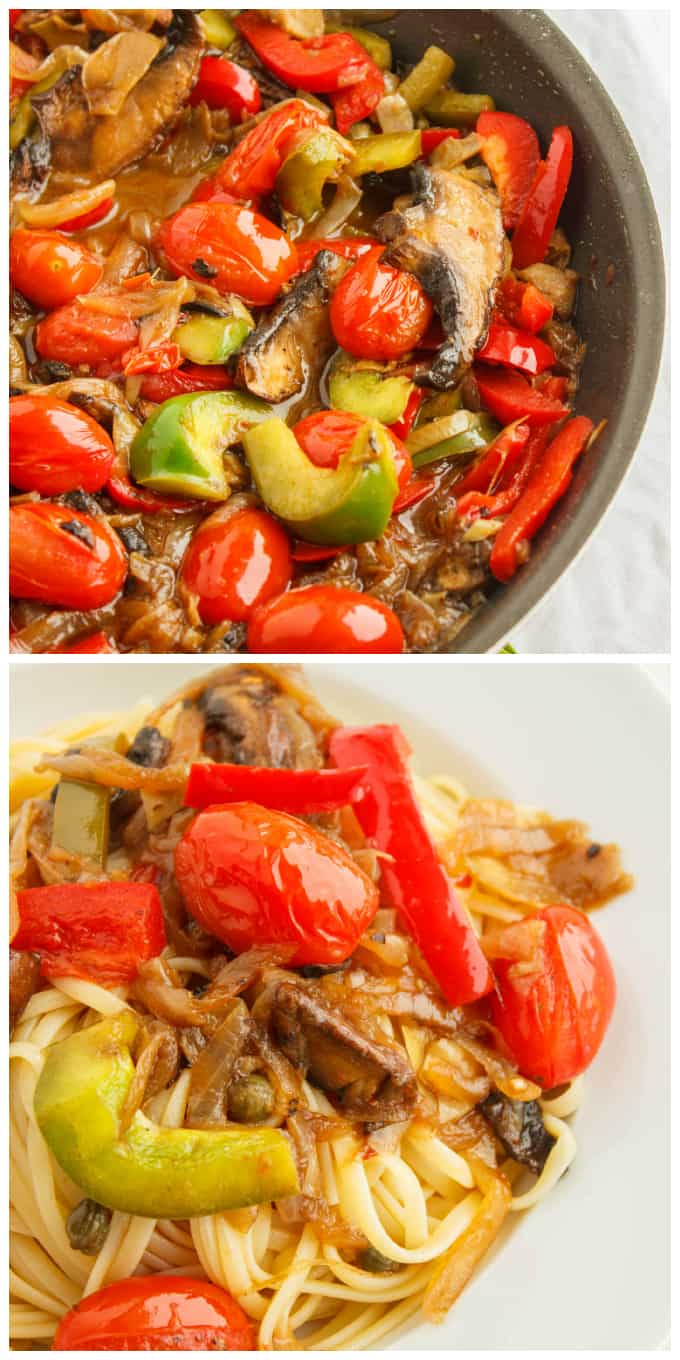 📖 Recipe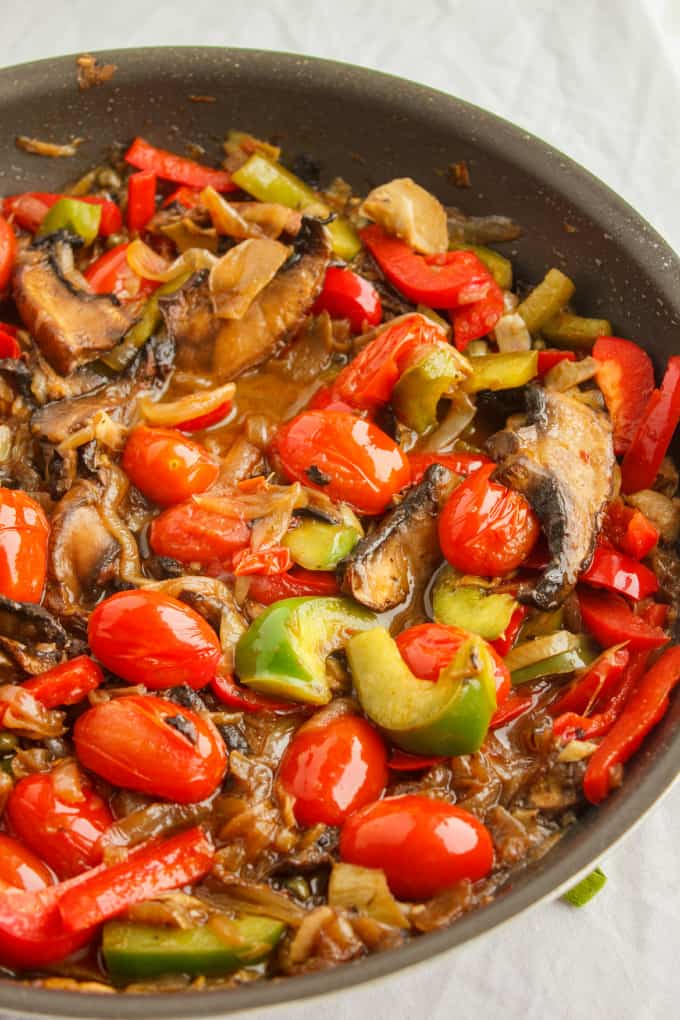 Artichoke Hearts, Caramelized Onions and Roasted Portobello Mushroom Pasta
Hearty, healthy, and surprisingly vegan, this Artichoke Hearts and Mushrooms over Rice recipe is fast, simple, and outstanding in the flavor department!
Ingredients
1 batch of caramelized onions
1 red pepper, sliced
1 green pepper, sliced
8 oz (about 3) portobello mushrooms, sliced
3 garlic cloves, minced
1-2 tbsp. olive oil
1 tbsp. balsamic vinegar
Salt and pepper
¼ tsp. dried thyme
¼ tsp. red chili flakes
1 lb uncooked pasta
1 pint cherry tomatoes
½ tsp. dried oregano
1 tbsp. capers
2 cups marinated artichoke hearts, chopped
½ cup reserved artichoke heart marinade
½ cup vegetable broth
Approximately ⅛ cup balsamic vinegar for deglazing pan
Instructions
*You can make the caramelized onions in advance to save time. When it comes to deglazing your onions, use some balsamic vinegar!
Preheat oven to 425F. Line a baking sheet with parchment paper. Mix together the mushrooms, garlic, olive oil, balsamic vinegar, thyme, chili flakes, salt, and pepper. Spread onto baking sheet in an even layer. Bake for 15 minutes. Remove from oven and set aside.
Make your caramelized onions and deglaze with balsamic vinegar. Pour in the mushrooms, artichokes, tomatoes, pepper, oregano, salt, and pepper. Cook for about 5 minutes. Pour in the capers, reserved marinade, and broth. Simmer for about 10 minutes, or until your peppers reach a semi-crispy consistency.
Boil pasta in salted water. Drain and serve with pasta sauce!
Nutrition Information:
Yield:

4
Serving Size:

1
Amount Per Serving:
Calories:

802
Total Fat:

30g
Saturated Fat:

5g
Trans Fat:

0g
Unsaturated Fat:

23g
Cholesterol:

6mg
Sodium:

2202mg
Carbohydrates:

115g
Fiber:

11g
Sugar:

16g
Protein:

21g
(Here is my recipe for
caramelized onions
!)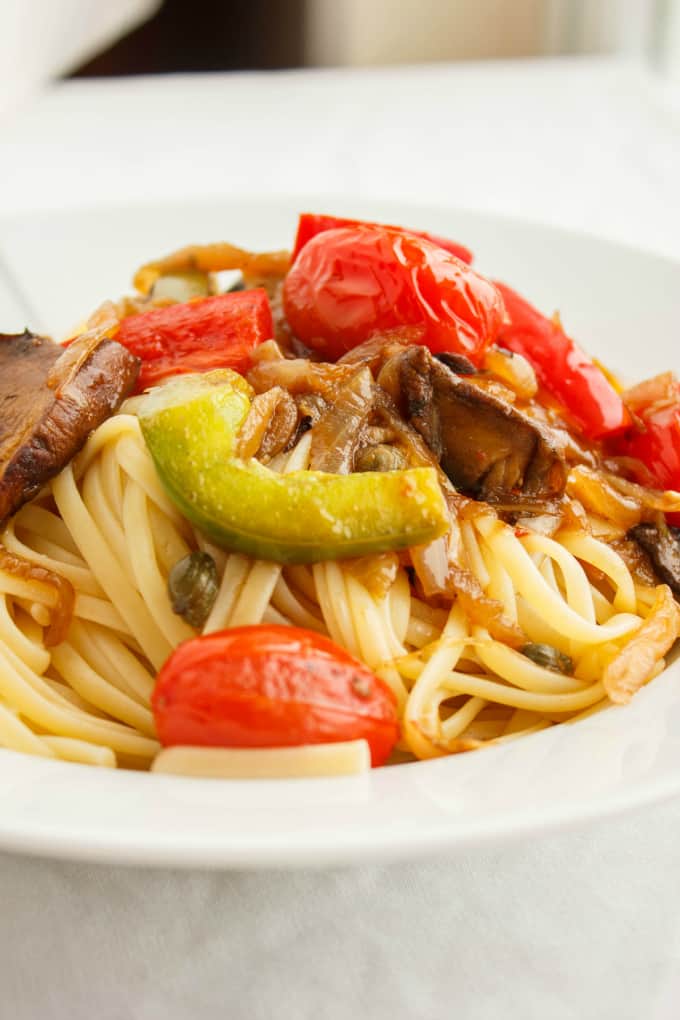 This recipe is based off my husband's recipe of artichoke heart chicken. I love the blend of mushrooms, artichokes, capers, and balsamic vinegar together. It really works well in this roasted portobello mushroom pasta, too. Now that I think of it, the sauce would work perfectly over rice as well! And what I love most about this dish is that it is vegan. While I am not vegan, I know vegans look for hearty and filling recipes that will leave them satisfied. This dish is for you!