Usually when I want to make a large meal that uses up a lot of veggies in my fridge, I make a chili or spaghetti sauce. But sometimes, if I remember to start my pizza dough early enough (it needs two hours to rise,) I will make a gourmet pizza. Homemade pizzas are so much fun because you can put whatever you like on them! And once you find a great pizza dough recipe (or even a good store-bought one,) you will find yourself making pizza more often than ordering them.
This sausage pizza, with onions, green peppers, and bacon was created by my need to use up the open items in my refrigerator. I had already used the sausage and bacon for other recipes, and I did not want the remaining quantities to go bad. As I was creating this sausage pizza, I must admit, it got me thinking about Philly cheese-steaks. If I had steak instead of sausage, this recipe could have easily been a Philly cheese-steak pizza! No worries, the idea is now in my head so the creation will come eventually!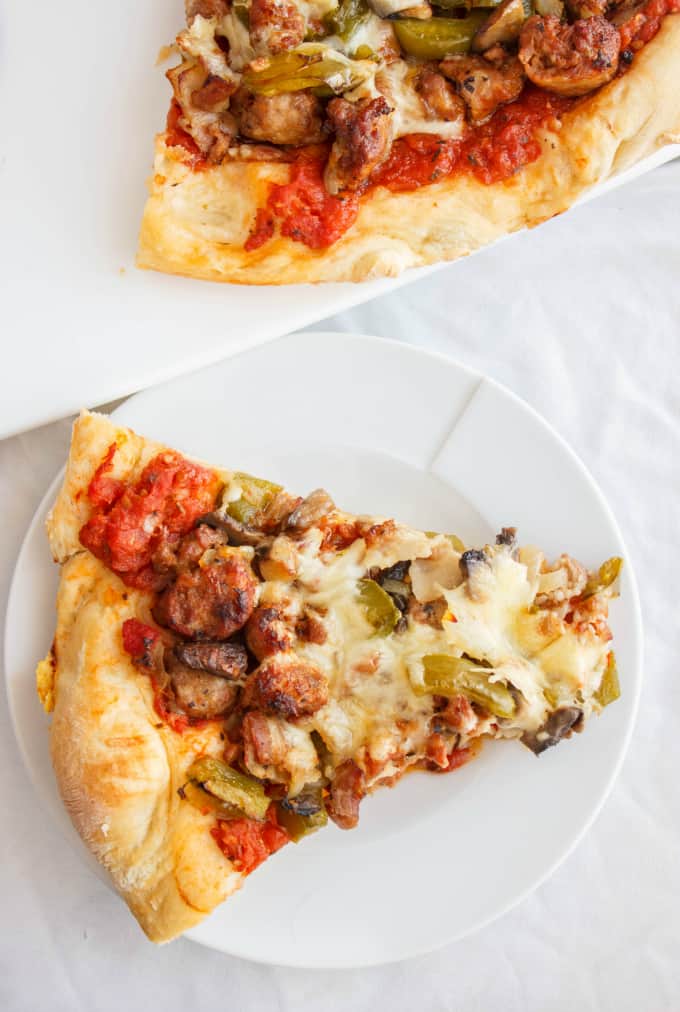 I precooked my veggies with the sausage and bacon. It was a lot for one pan so next time I would probably cook the veggies in one pan, and the meat in the other. Then combine the two. Either way, I recommend cooking the veggies because I find with onions, when put on pizzas in the raw state, they release a lot of moisture and that results in a wet pizza. Then again, I do cut into my pizza way too soon after it comes out of the oven so the juices may have time to clean up while the pizza cools. Who lets a pizza cool?!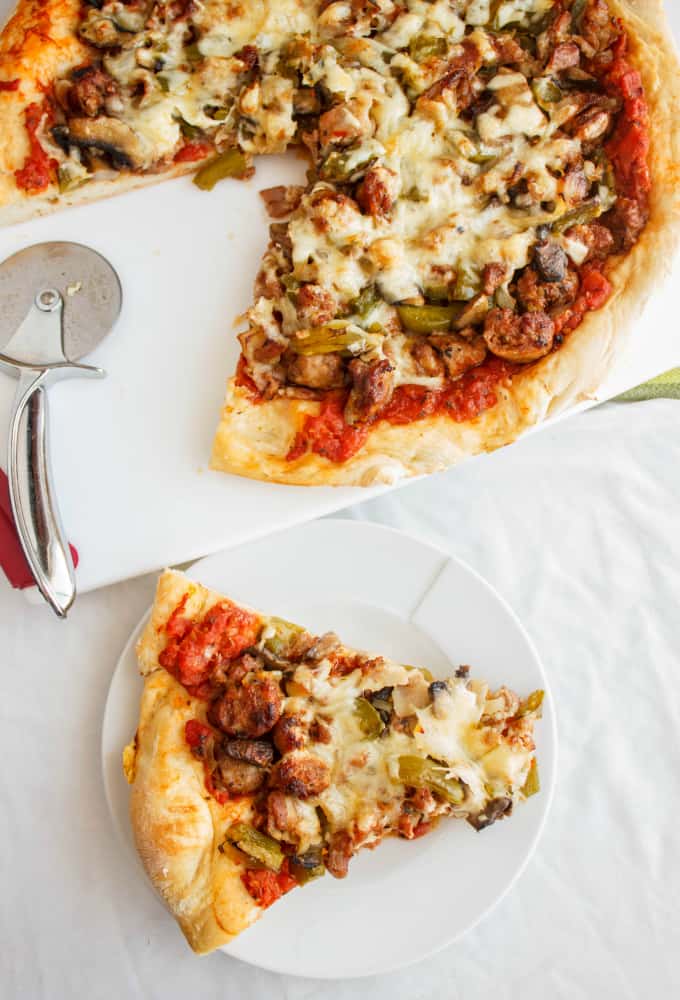 Since there is a lot of toppings on this sausage pizza, it may take a bit extra cooking time. Just keep an eye on it in your oven and it should turn out perfectly! And do not fret if you cannot make pizza dough! Our grocery stores sell the pizza dough at the deli so all you have to do is roll it out at home. Same for the sauce; just buy a canned sauce if you are short on time. I tend to make my homemade pizza sauce ahead of time and pull it out of the fridge when needed.

📖 Recipe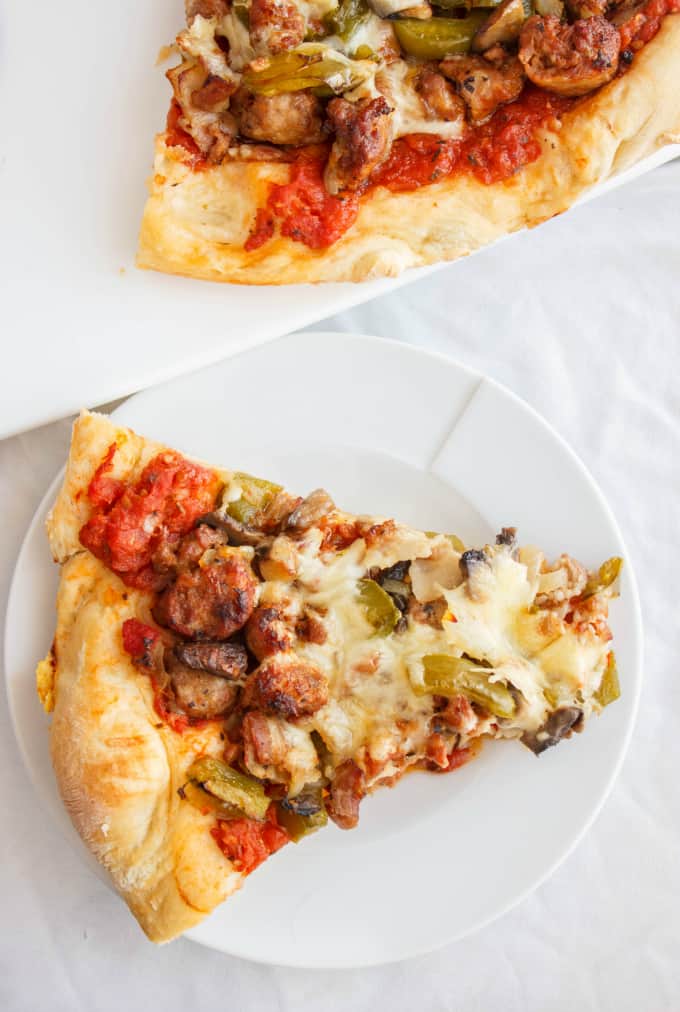 Sausage Pizza with Onions, Green Peppers, and Bacon
This sausage pizza is loaded with onions, green peppers, and bacon! A meat-lovers dream come true!
Ingredients
6 sausages (I used spicy.)
1 green pepper, chopped
1 large onion, sliced
2 portobello mushrooms, sliced
¼ tsp. red chili flakes
1 tsp. dried oregano
2 garlic cloves, minced
6 slices of bacon
Salt and pepper
I batch of homemade pizza sauce (or store-bought.)
1 batch of homemade pizza dough
1 cup Monterrey Jack cheese
Instructions
I make the pizza dough and sauce ahead of time. Recipes can be found below this box. You can also use store-bought items.
Place a large frying pan or wok over medium-high heat. Slice open the sausages and crumble into the pan. Slice the bacon and add to the pan. Cook for a couple of minutes, or until the oils begin to release from the meat. Add in the mushrooms, onions, peppers, and garlic. Season with salt, pepper, chili flakes, and oregano. Cook until the sausage is no longer pink in the centre (and cooked through.)
Preheat oven to 475F.
Smear the pizza sauce onto your pizza dough. Place the meat mixture on top of the sauce (the mixture will have a lot of excess liquid so do not put that liquid onto the pizza or you will result in a soggy pizza! I used a slotted spoon.) Top with cheese.
Place into oven and bake for about 17 minutes, or until crust is nice and golden. Allow to cool for 10 minutes before serving!
Nutrition Information:
Yield:

1
Serving Size:

1
Amount Per Serving:
Calories:

3997
Total Fat:

222g
Saturated Fat:

85g
Trans Fat:

2g
Unsaturated Fat:

110g
Cholesterol:

518mg
Sodium:

7508mg
Carbohydrates:

325g
Fiber:

23g
Sugar:

34g
Protein:

171g
(Here are the recipes for my
homemade pizza sauce
and
homemade pizza dough
)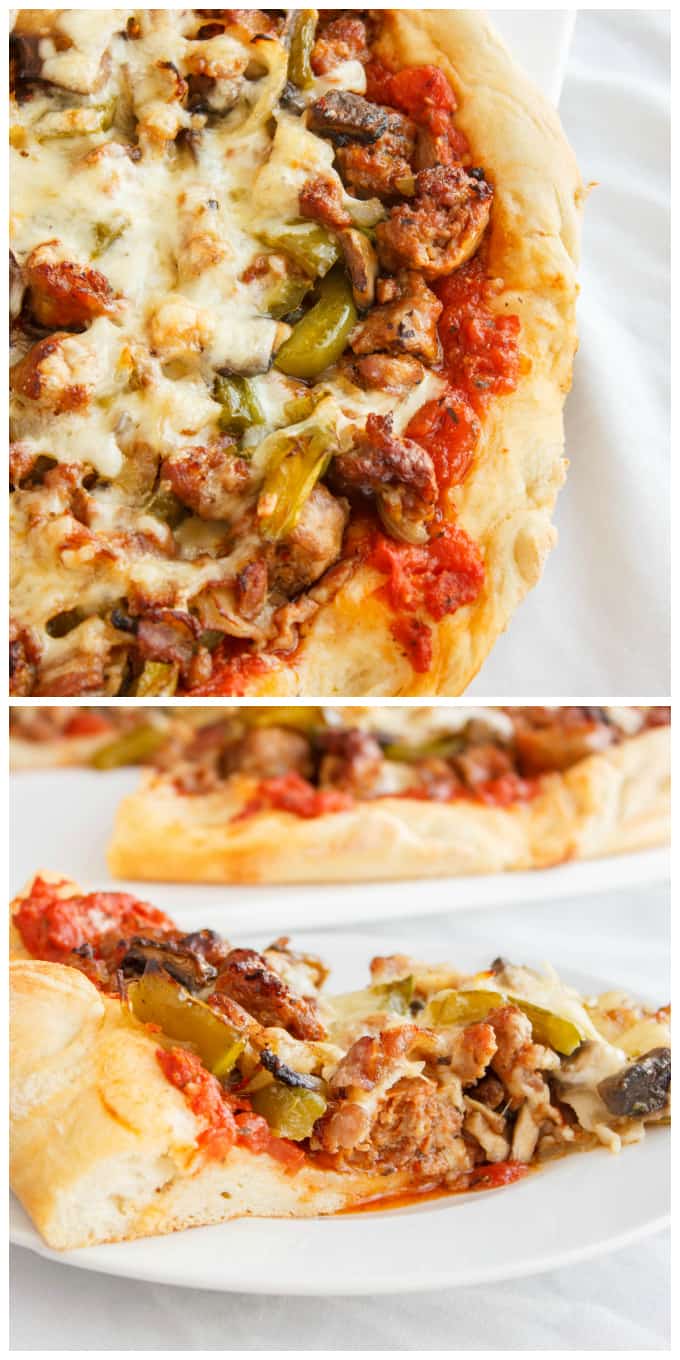 Let's talk about pizza dough. Pizza dough is really easy to make! Especially with a Kitchen Aid mixer. I received a new model for Christmas, so I gave my sister my old one. The first thing she said was "it is my pizza dough machine." I also had a friend receive one for Christmas and she said the same thing! The only drawback I find for homemade pizza dough is remember to make it ahead of time so the pizza dough has enough time to rise before dinner. Otherwise, I have not gone back to store-bought pizza dough since. So easy and easily customized to your liking (I have made herb pizza crusts along with flavoring the dough with different infused olive oils.)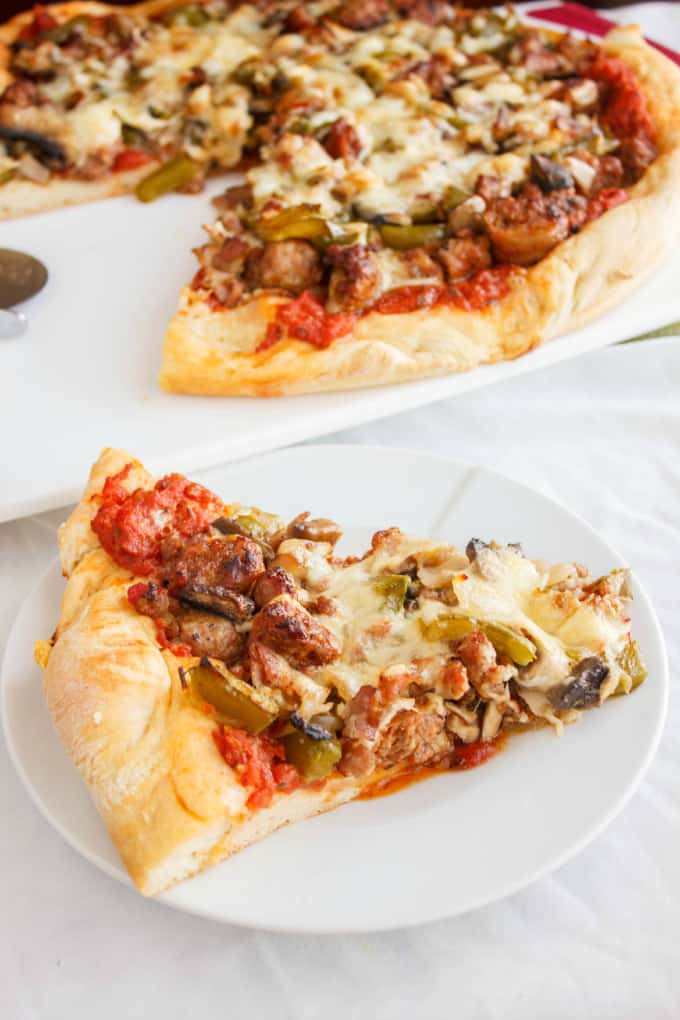 So give this sausage pizza a try and see if you ever order pizza again! Just kidding, I still like the convenience of pizza delivery during a large get together.