I have said it before, and I will say it again: homemade bread is the best!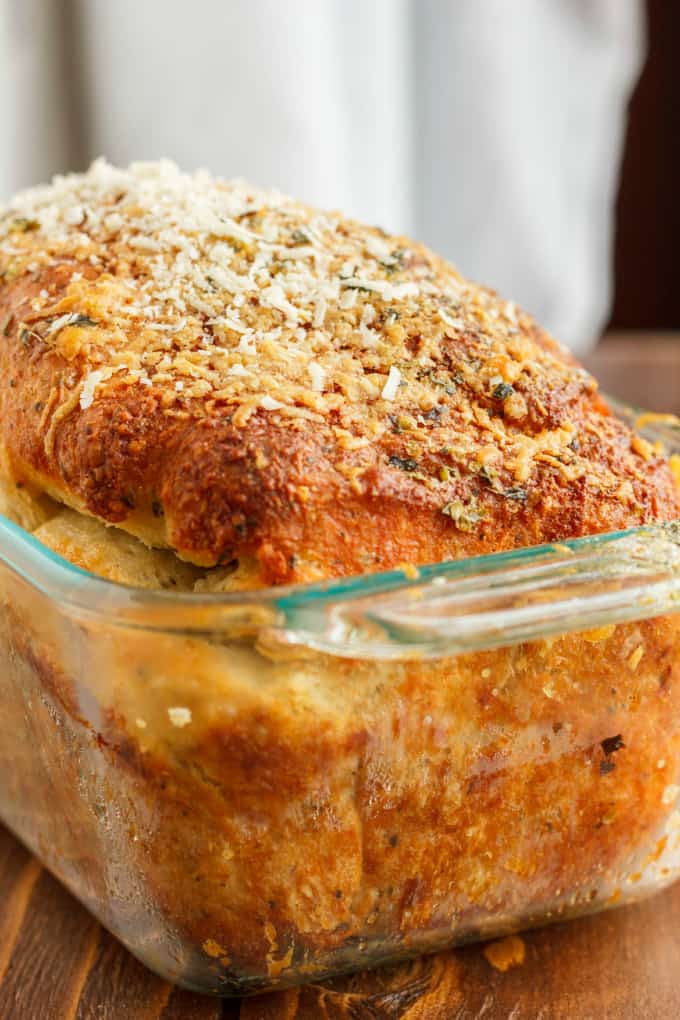 Herb and cheese bread brings me back to my working days at a certain sub shop. I would literally go home smelling like their bread. I hated it. My sister still works there and she hates the smell just as much. I never thought I would make my own homemade herb and cheese bread because I thought the smell would make me sick. Okay, that is an exaggeration but I am sure many of you can relate. This herb and cheese bread is nothing like that of the sub shop, it is 100x better! I could eat it all day, every day! I was so floored with the results that I ate at least half the loaf myself...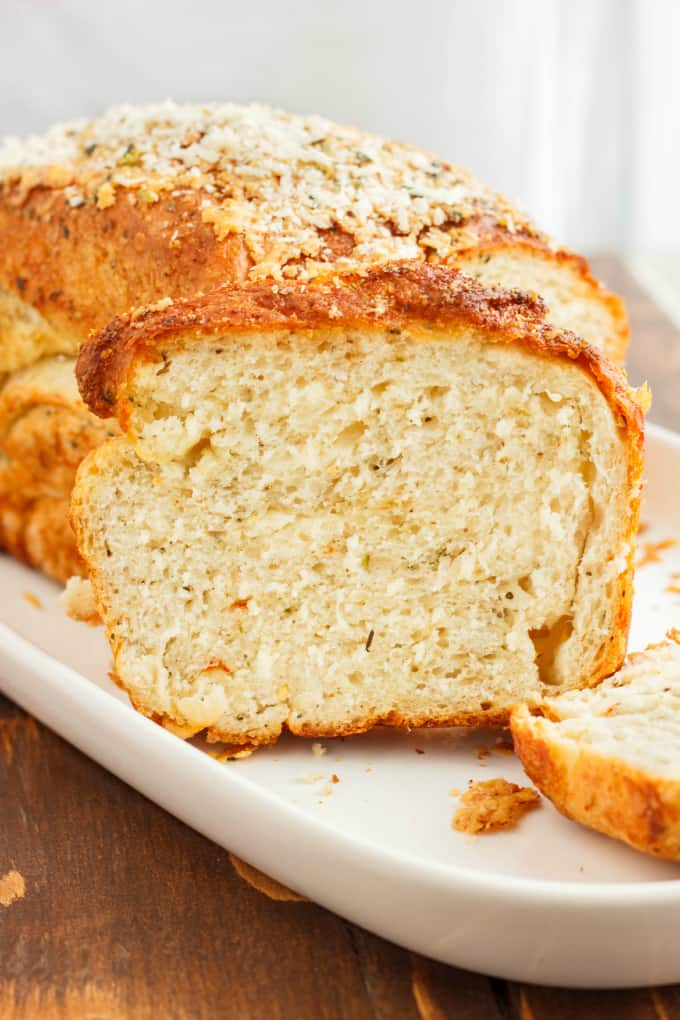 Bread making takes little effort, but sometimes the wait time can be iffy. This recipe has the bread rise 3 times and it goes by pretty fast. Some other bread recipes I have tried have taken longer, but the wait is worth it. With each rise, your bread gets better. Trust me. Even if you are a single person and are concerned about wasting a loaf of bread, remember that you can freeze it! I have heard crazy stories where people will make two loaves of bread because that is what the recipe calls for, and then they will throw out one loaf because they could not eat it all... My sister knew one person who only wanted fresh bread each day, so they would waste the other loaf... Don't even get me started there.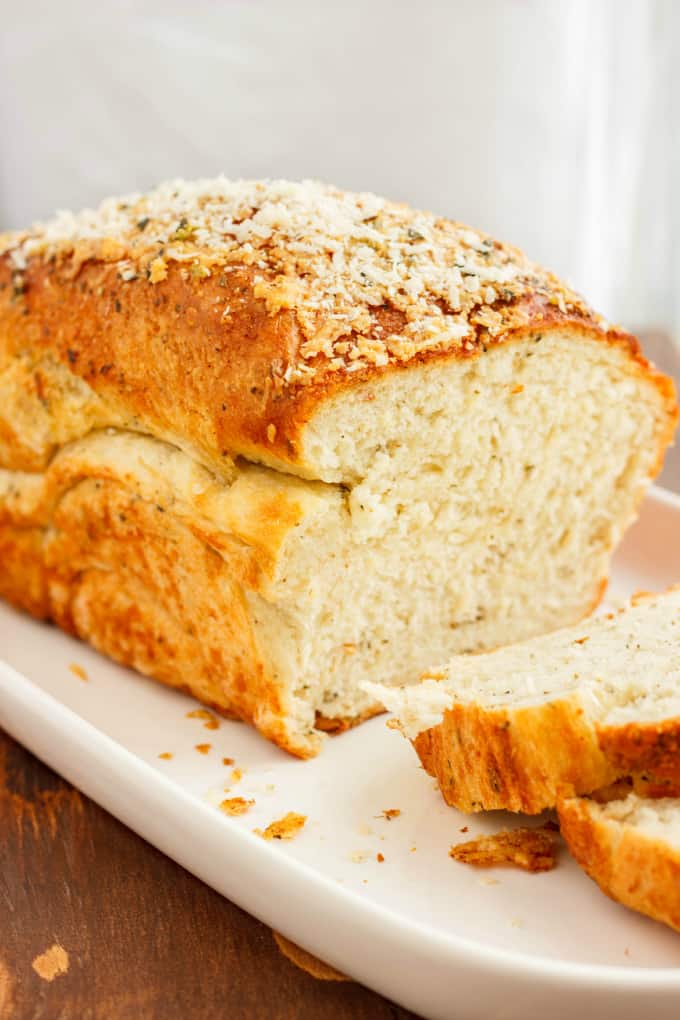 Herb and cheese bread is full of dried herbs and Parmesan cheese. I even topped with the loaf with a herb and cheese butter mixture because I am awesome like that. The flavor combinations are endless, and fresh herbs would be just as great here (I swear, spring will be here one day for me to enjoy good herbs again.) I like adding cooked onions to my homemade breads, but I wanted to keep this recipe simple. Once you try this recipe, you will forever want to play around with bread making.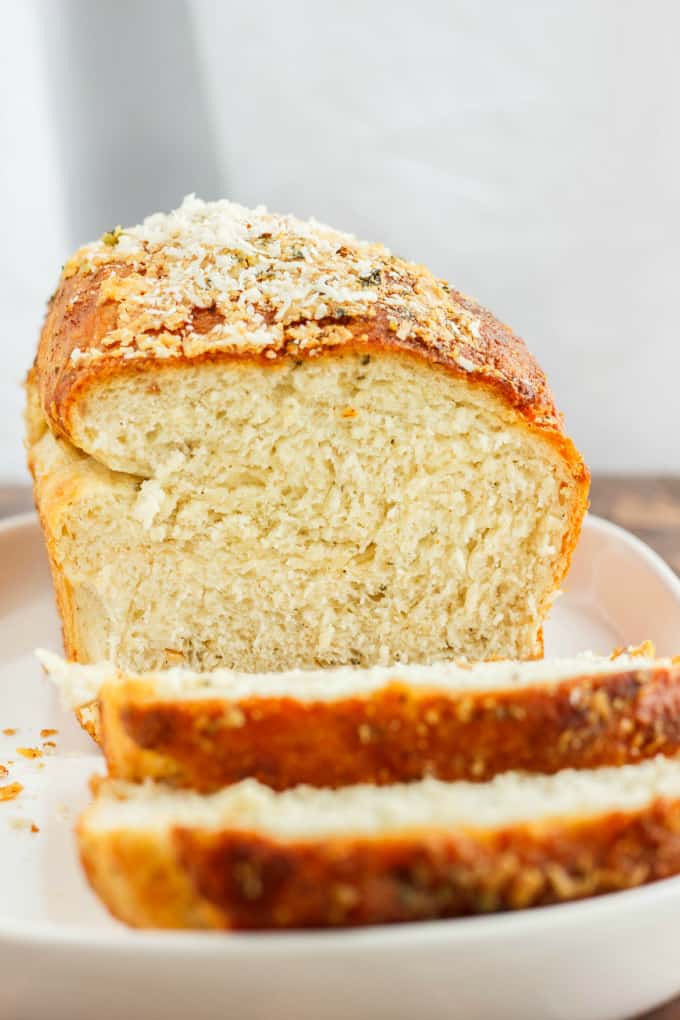 And just to let you know, no bread machine is required!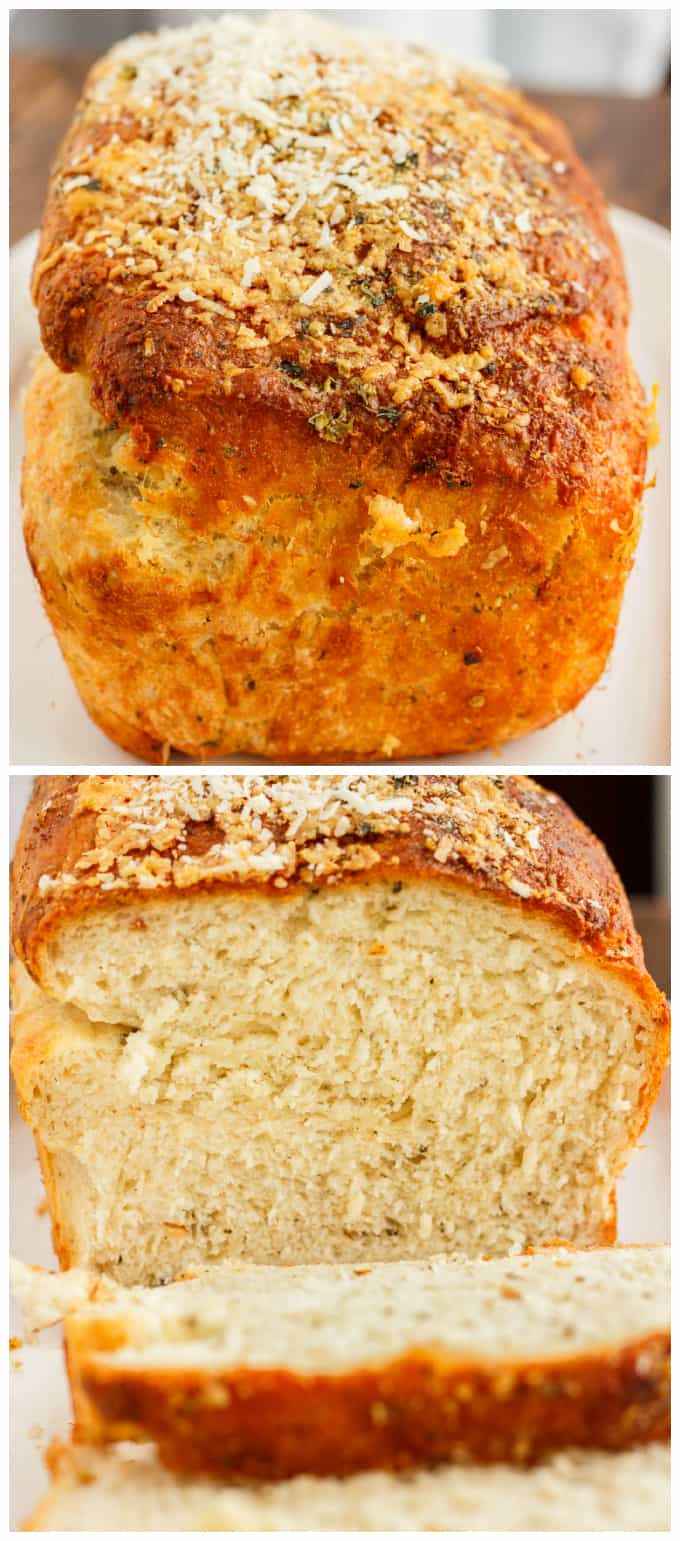 📖 Recipe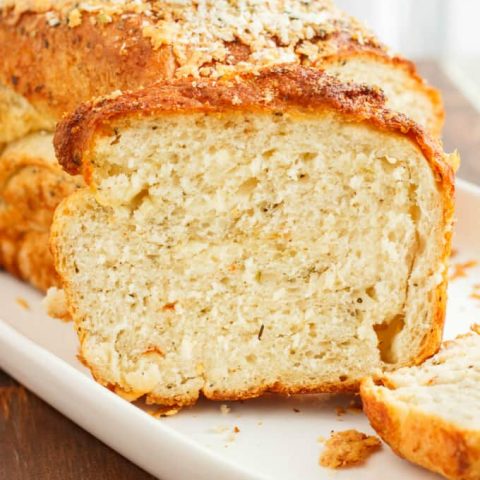 Herb and Cheese Bread
Total Time:
2 hours
40 minutes
Easy herb and cheese bread made fresh for the day. Each rise helps create a tastier bread!
Ingredients
3 cups all-purpose flour
1 tsp. sugar
1 tsp. salt
1 tbsp. baking powder
1 tbsp. dry active yeast
1½ cups very warm water (between 105-115F)
½ tbsp. dried basil
1 tsp. dried oregano
½ tsp. garlic powder
½ tsp. red chili flakes
½ cup grated Parmesan cheese
Oil or butter for greasing pan
Instructions
Sift together the flour, salt, and baking powder. Stir in the spices.
Add sugar and yeast to a small bowl. Add a bit of the warm water and give the mixture a stir. Set aside to activate (5 minutes or so.)
Once activated (you will see the mixture kind of bubble up) add it to your flour mixture. Begin adding the water slowly, only adding enough until all the dough is wet, but not soaking (I had ⅛ cup of water leftover in the end.) Mix in the cheese until combined.
Cover the bowl and allow to rise for 30 minutes. Punch the mixture or stir, and then allow to rise again for another 30 minutes.
Preheat oven to 400F. Grease your bread pan. Transfer dough into the pan and allow to rise again while the oven is heat. You want it to rise to about the top of the pan without going over.
Bake for about 40 minutes and remove from oven.
Allow to cool before slicing.
*Optional. I melted 1-2 tbsp. of butter and mixed in some dried oregano, basil, and garlic powder. I then smeared it on top of the hot bread. I finished it off by topping the bread with more Parmesan cheese!
Nutrition Information:
Yield:

12
Serving Size:

1
Amount Per Serving:
Calories:

157
Total Fat:

4g
Saturated Fat:

1g
Trans Fat:

0g
Unsaturated Fat:

2g
Cholesterol:

6mg
Sodium:

401mg
Carbohydrates:

26g
Fiber:

1g
Sugar:

0g
Protein:

5g
My sister's birthday is coming up and she always complain I do not make good food when she visits (her visits are rare and I am sorry the only meat you like is chicken!) I figure I will cook her up a ton of recipes, including this herb and cheese bread, and give them to her along with her gift. An excuse to cook is never needed on my part, but I will say sometimes we have way too many leftovers here!