My daughter is crazy into pancakes right now. Every morning she asks for pancakes! I don't mind making them, but of course with the blog I find I want to change up the flavors each day so I have something different to photograph.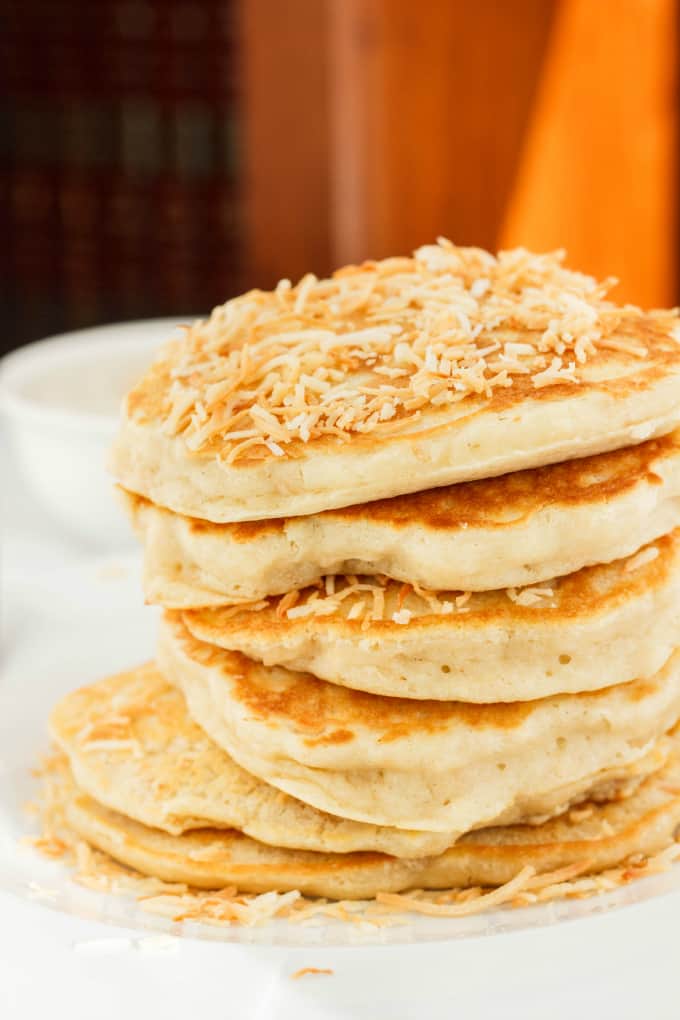 I pinned a coconut pancake recipe years ago, and I finally got around to making it. I did not realize it was based off the popular allrecipes.ca pancake recipe until I made it, and I can see why they are so popular!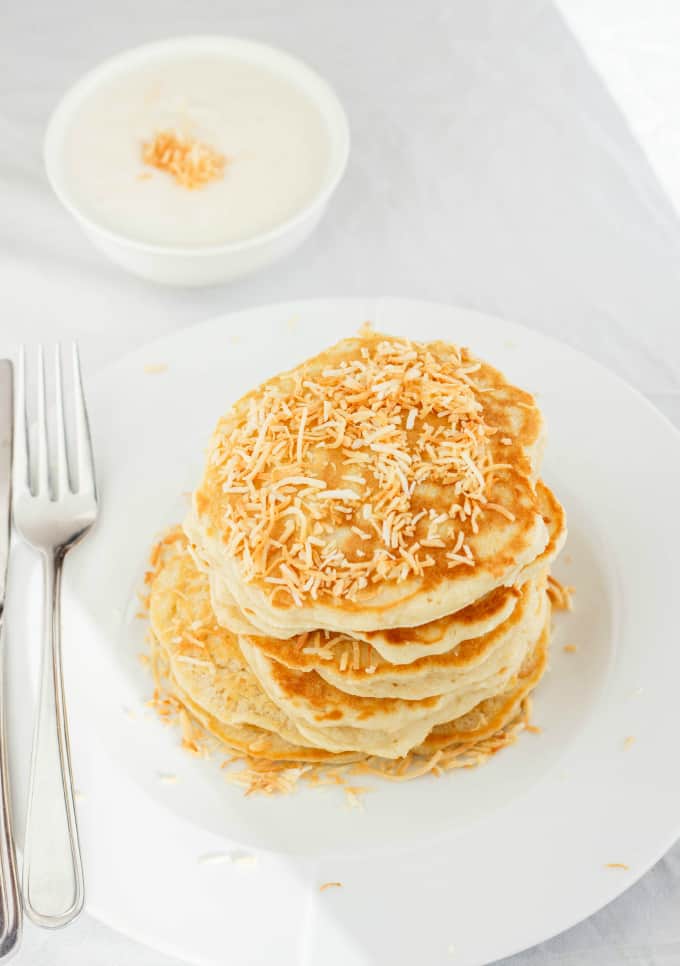 Light, fluffy, and packed full of flavor, this is nowhere near the boxed stuff your family would make. Neither my husband or I are big pancake eaters, but homemade pancakes may be changing our minds. These toasted coconut pancakes were well received by all, and my daughter was so happy with them, she requested them for dinner that night as well! The recipe makes 10 small toasted coconut pancakes, but that was more than enough for my daughter and I. I love how the pancakes don't leave you feeling overly full and provide a nice change from the standard savory breakfast (which I am more partial to.)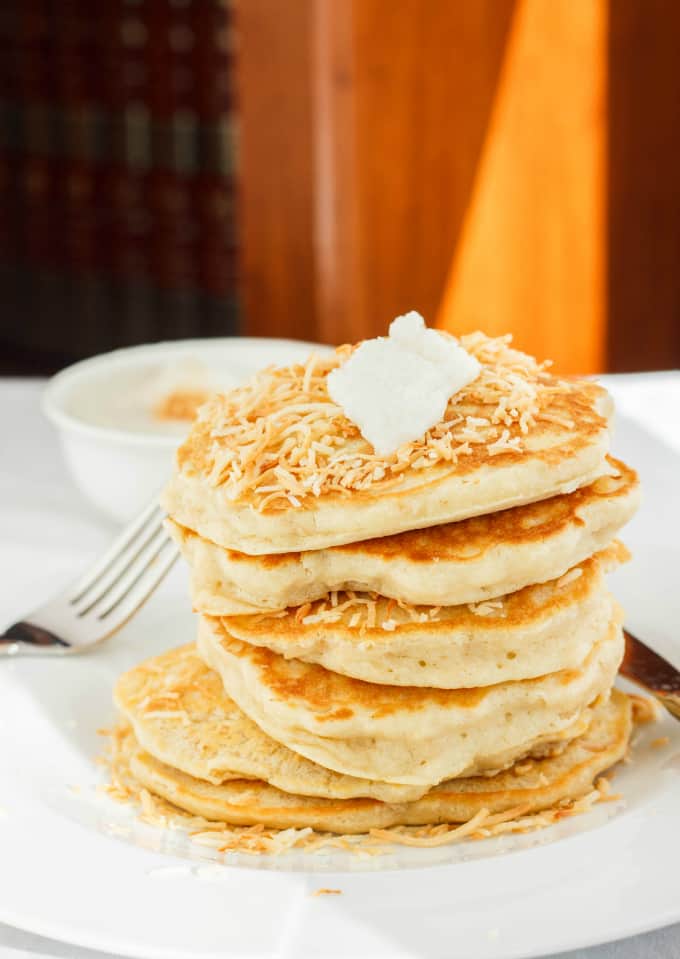 These toasted coconut pancakes contain no cows milk, so if you substitute in an egg substitute such as a flax-egg, you will have a vegan recipe. I have not tried the vegan version yet, but that is my goal the next time kiddo asks for pancakes. I used a mix of coconut milk and coconut cream, but if you cannot find canned coconut cream, you can use all coconut milk. Coconut extract would also work well here over the vanilla, but I did not have any on hand. Even almond extract is something to consider, but I always reduce the amount greatly because almond extract has a strong flavor.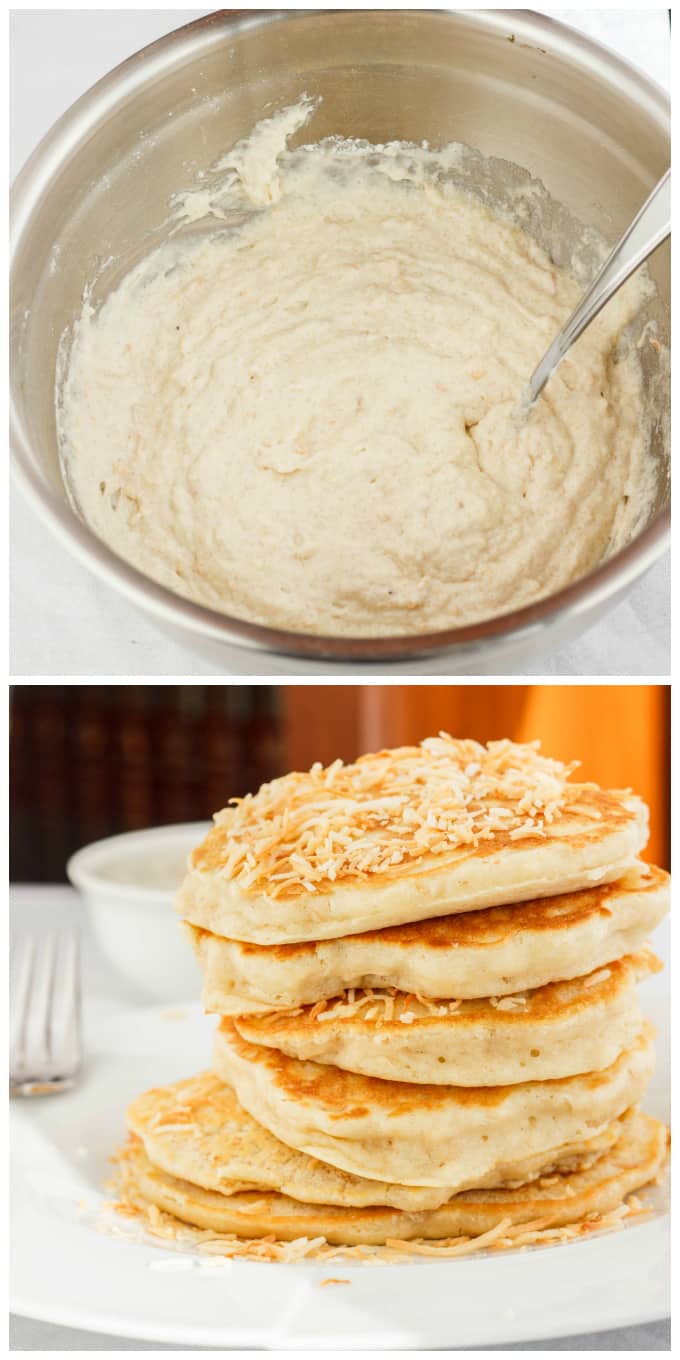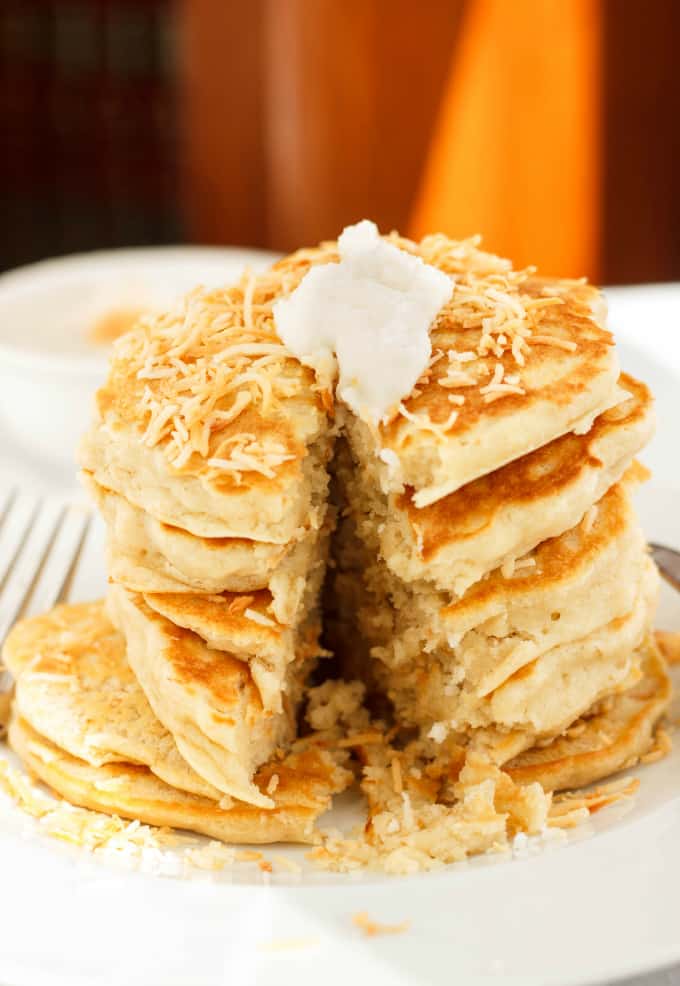 📖 Recipe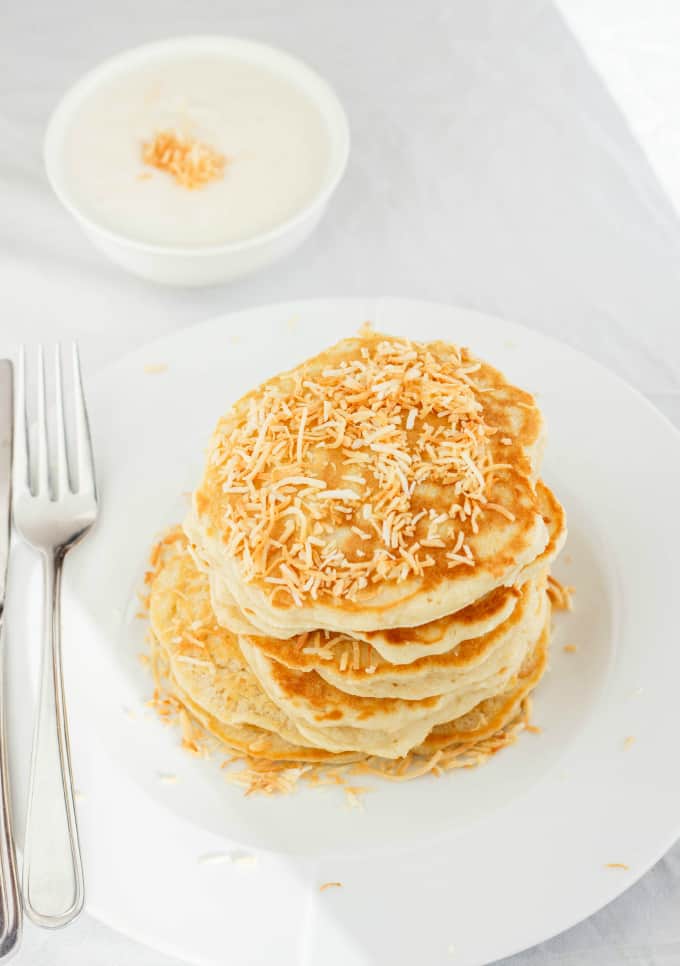 Toasted Coconut Pancakes
Throw away that boxed stuff and try these homemade toasted coconut pancakes instead! The recipe can easily be made vegan.
Ingredients
¼ cup coconut cream
½ cup coconut milk
1 tbsp. vinegar
1 cup all-purpose flour
2 tbsp. granulated sugar
1 tsp. baking powder
½ tsp. baking soda
1 tsp. vanilla
Pinch of salt
1 egg (or an egg substitute for vegan recipe, such as flax egg.)
2 tbsp. coconut oil, melted
¼ cup toasted coconut
Coconut butter (optional)
Coconut oil to cook pancakes in.
Instructions
Mix together the cream, milk, and vinegar. Set aside for 5 minutes. Add in the egg, vanilla, and melted coconut.
Sift together the flour, sugar, baking soda, baking powder, and salt. Slowly mix the wet ingredients into the dry ingredients. Stir in the toasted coconut.
Heat a pan over medium-low heat. Melt some coconut oil into the pan. When nice and hot, add ¼ cup portions of batter. Cook until the one side is nice and golden, then flip. Cook until golden. Place onto plate and continue to no batter remains. Top with more toasted coconut and serve with optional coconut butter!
Nutrition Information:
Yield:

10
Serving Size:

1
Amount Per Serving:
Calories:

189
Total Fat:

11g
Saturated Fat:

9g
Trans Fat:

0g
Unsaturated Fat:

1g
Cholesterol:

21mg
Sodium:

161mg
Carbohydrates:

20g
Fiber:

1g
Sugar:

7g
Protein:

3g
Homemade pancakes are really simple to make, there is no need to buy the boxed stuff. I know a lot of people look for quick and simple meals, but let me assure you and say, it really takes little effort to make homemade pancakes. We have many flavors to share with our readers, so keep an eye out for future pancake recipes!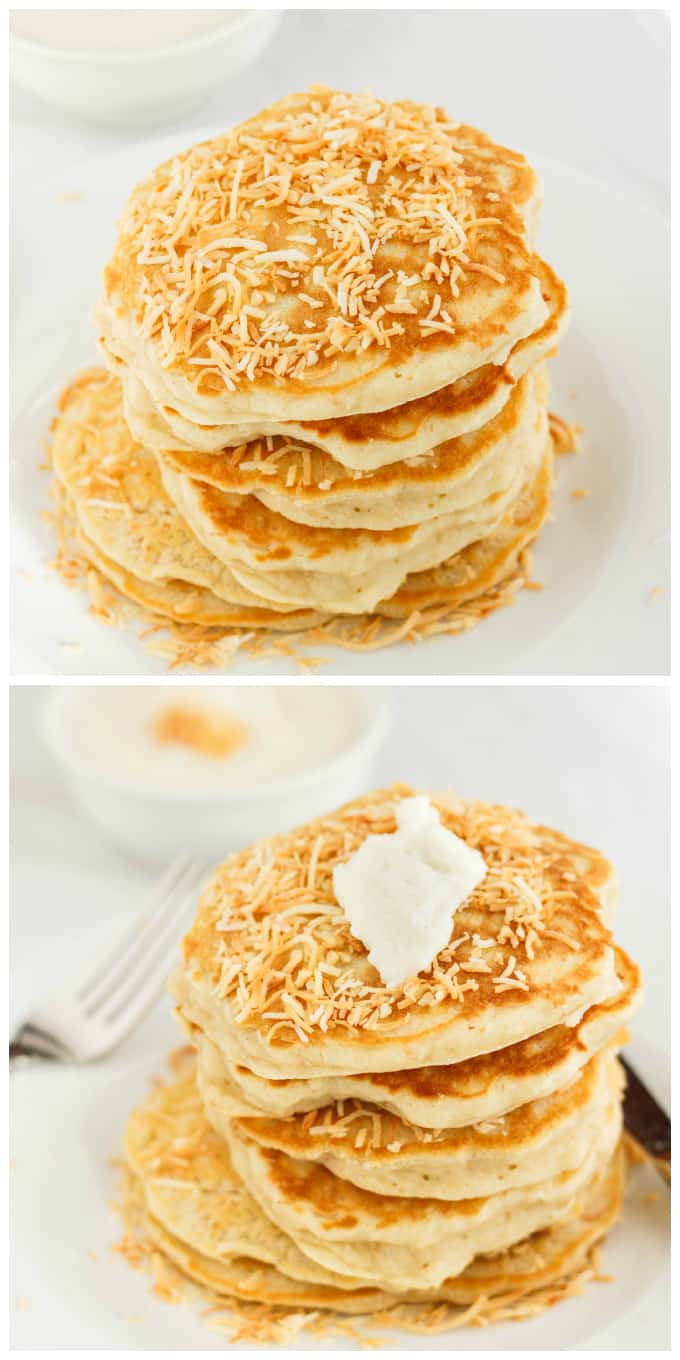 Of course, I made these toasted coconut pancakes before my mother-in-law gave me a bag of toasted coconut chips. They are made with coconut sugar, and the sweetness is so addicting. They would pair perfectly with these pancakes. You can see them on my carrot cake! When I make the vegan version of these toasted coconut pancakes, I am definitely using those coconut chips!