I hate eating cheesecake, but I sure love making it! There is something fun about the process, and that fact that I have a no-fail recipe, I feel absolutely comfortable playing around with the ingredients.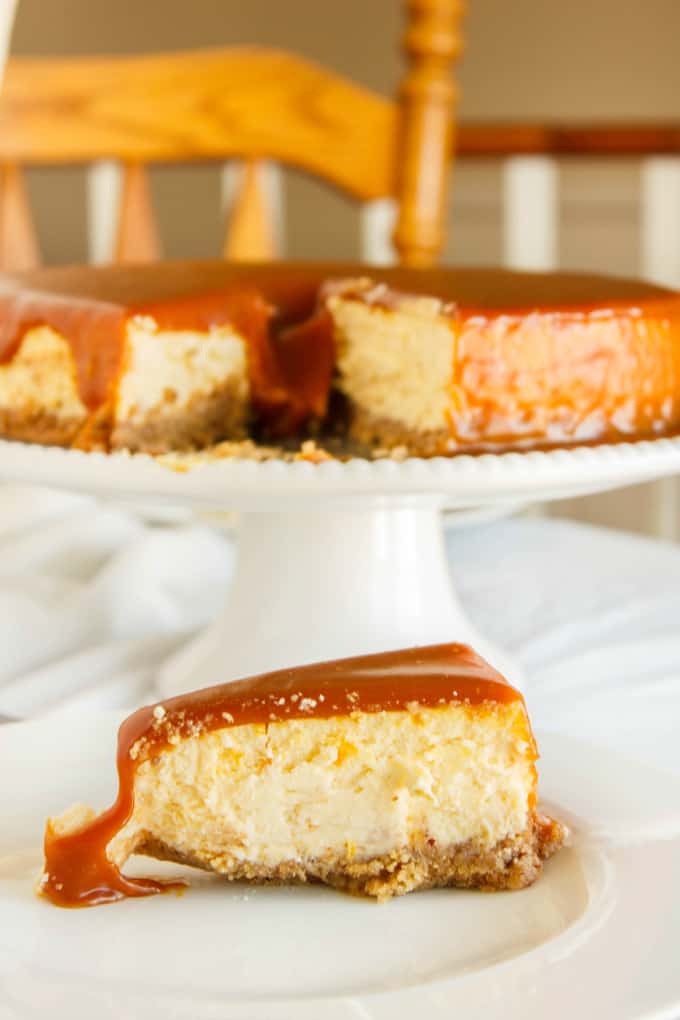 Some of you may remember my New York style cheesecake. That was my first time ever making a cheesecake and as nervous and scared as I was, it all worked out. Then I made a lemon cheesecake topped with candied cranberries for Christmas. I knew I would be revisiting the cheesecake again, and today is the day! This salted caramel cheesecake was made for my sister's boyfriend's birthday. I actually made it on time this year, unlike the New York style cheesecake. However, there were some mishaps along the way.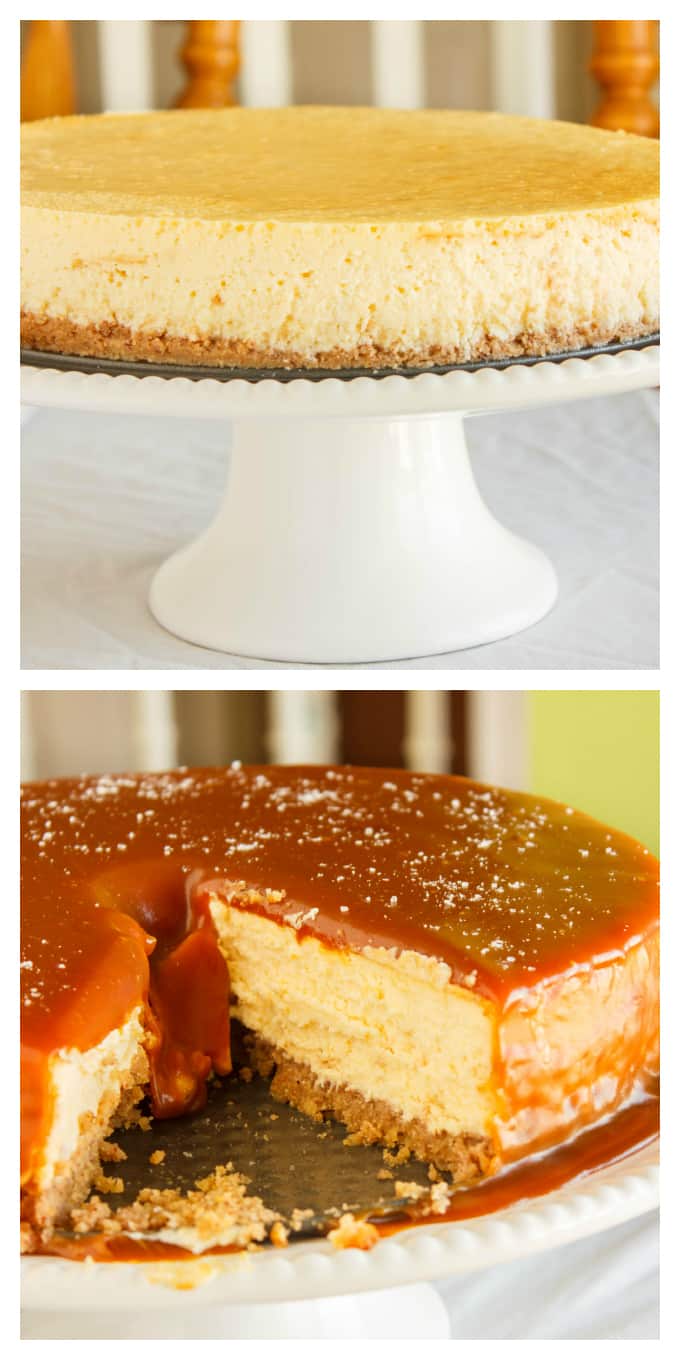 My caramel sauce got a little darker than usual. My family does not mind at all the darker taste, but I was worried about Tyler. I was taking pictures for a tutorial on how to make the caramel sauce by using the dry method for a future post. However, with the salt on top and in the caramel, plus paired with the lime in the cheesecake, all the flavors came together.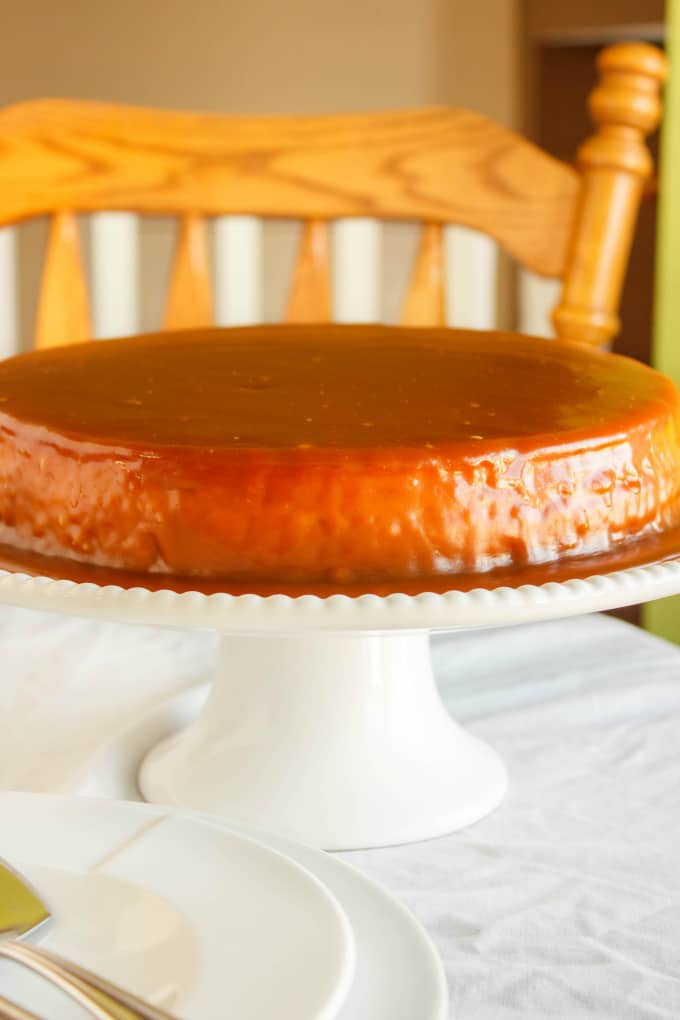 Then there was the mishap of pouring the caramel sauce onto the cheesecake. As seen in previous posts such as my chocolate ganache cake, and coffee-caramel cake, I am pretty good at pouring caramel onto a cake and allowing it to fall gently over the sides. Well, I don't know what happened, but I must have heated my sauce too long in the microwave because it literally coated the entire cheesecake!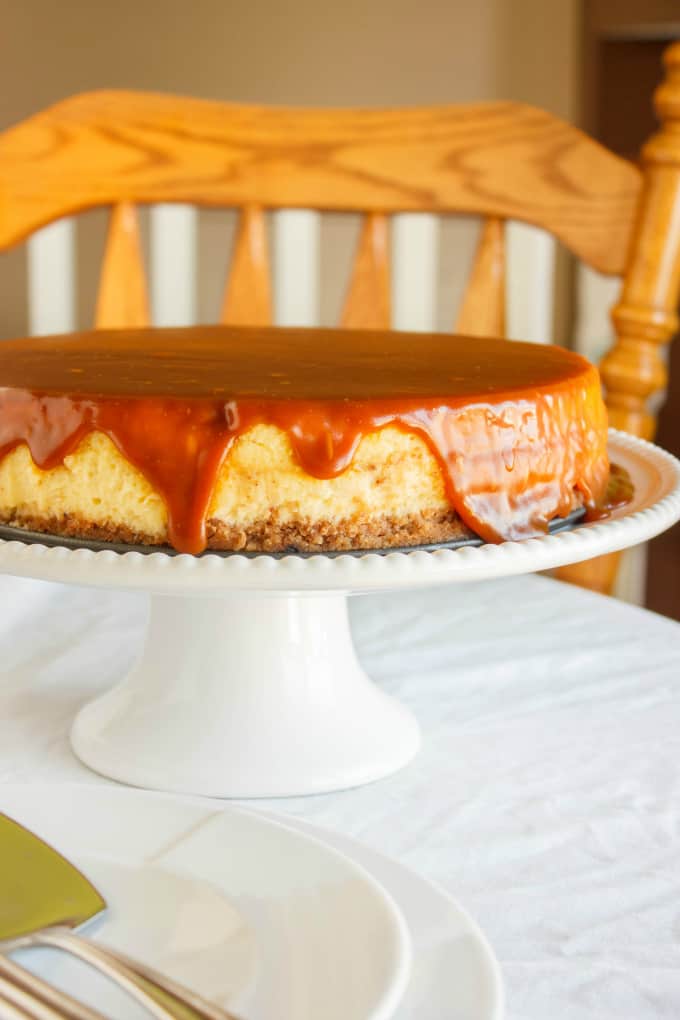 At least one side had what I was going for...
Mr. TCW liked the look of the salted caramel cheesecake, and really, my sister was right, would Tyler really care what the cheesecake looked like?!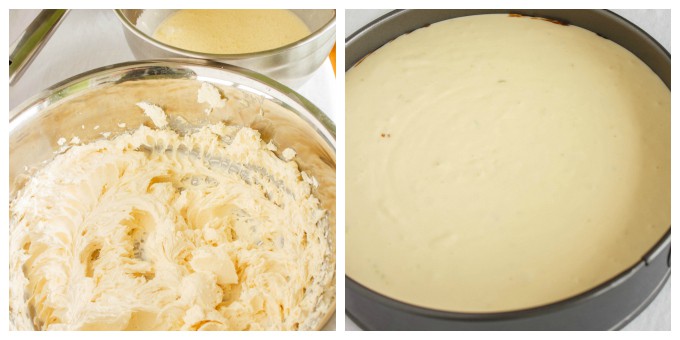 Then the last mishap. The delivery. My poor sister. I forgot to warn her to not have the heat on too high in the van. We have really cold temperatures here in Canada right now so that is hard, but if the heat gets to the caramel, it is going to melt everywhere. And that it did... Supposedly it was all over the van. Sigh. No luck this time around! She wasn't mad and stated she should have known better but I still felt bad.
All that aside, I think this salted caramel cheesecake looked awesome and tasted pretty darn good (for me not being a cheesecake lover!) Mr. TCW enjoyed two slices before I gave the cake away and he loved it. I really want to get a 5 or 6-inch springform pan so I don't have to continue making these 10-inch cheesecakes. They are great for parties but they serve so many people, and let's be real, no one needs a 20 servings cheesecake for their birthday... Or do they?

📖 Recipe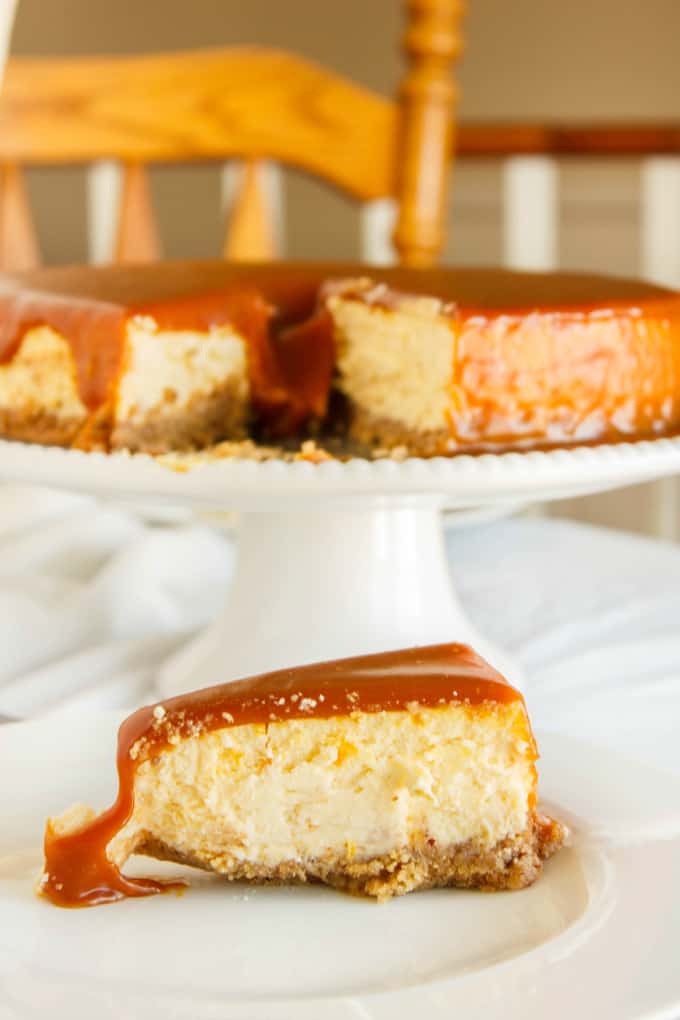 Salted Caramel Cheesecake
Total Time:
3 hours
45 minutes
A heavenly salted caramel cheesecake with a hint of lime, topped with salted caramel and finished off with some coarse salt for added depth.
Ingredients
5 large eggs, room temperature
500 mL container of sour cream, room temperature
3 (250g each) containers of cream cheese, room temperature
½ cup butter, room temperature
Instructions
You can make the crust in advance.
Add ladyfingers to a food processor and process until fine crumbs appear. Pour into a bowl and add pecans to the food processor. Process until finely ground. Add to ladyfingers along with sugar, salt, and butter, stirring until combined. Press crust into the bottom of your 10" springform pan. Bake at 350F for 10-12 minutes. Remove from oven and allow to cool.
*I forgot to grease my springform pan but my cheesecake still turned out. Don't fret, things happen!
Grease the sides of your 10' springform pan with butter (don't worry about the bottom part.) Wrap a couple of layers of aluminum foil around the outside of the bottom of the pan (and about half way up the sides of the pan.) Do not skip this part! Have available another pan that is big enough to hold your 10" springform.
Preheat oven to 300F.
Add the eggs and sour cream into a large bowl and beat well with a hand mixer. *Note, you will see I am not using a stand mixer. You really do not want to over-beat this cheesecake, trust me! In another bowl, add in the cream cheese and butter. Mix with your hand mixer until smooth (no lumps.) Pour this mixture into the sour cream mixture. Beat again until combined and smooth.
Add in the sugar, cornstarch, vanilla, and lime zest. Beat until combined, about 2 minutes (you want a nice, soft batter, but you don't want to over-mix either.) Pour half the mixture over your crust and shake/jiggle the tray for a smooth layer. Drizzle your ¼ or ½ cup of caramel onto that layer. Pour the remaining batter carefully on top of the caramel layer. Place into the larger pan. Fill the larger pan up with hot tap water, just about halfway up the springform pan.
Place into oven and bake for 2 hours and 15 minutes, or until lightly brown (note: start checking the cheesecake around the 2 hour mark but don't stick anything into the cake as it may cause the cake to crack.)
Remove the pan from the oven and transfer the cheesecake out of the water and onto a cooling rack. Leave the aluminum foil on for the first 30 minutes. Then remove the foil and continue to cool completely. Cover and refrigerate overnight preferably.
When chilled, remove the springform pan sides from the cheesecake. Pour on the caramel sauce carefully (I find heating up the caramel a bit helps in this process.) Immediately put back into the fridge to prevent caramel from pooling over the sides. Chill again for an hour. Top with your favorite salt and serve!
Nutrition Information:
Yield:

20
Serving Size:

1
Amount Per Serving:
Calories:

301
Total Fat:

19g
Saturated Fat:

9g
Trans Fat:

1g
Unsaturated Fat:

7g
Cholesterol:

111mg
Sodium:

289mg
Carbohydrates:

31g
Fiber:

0g
Sugar:

23g
Protein:

4g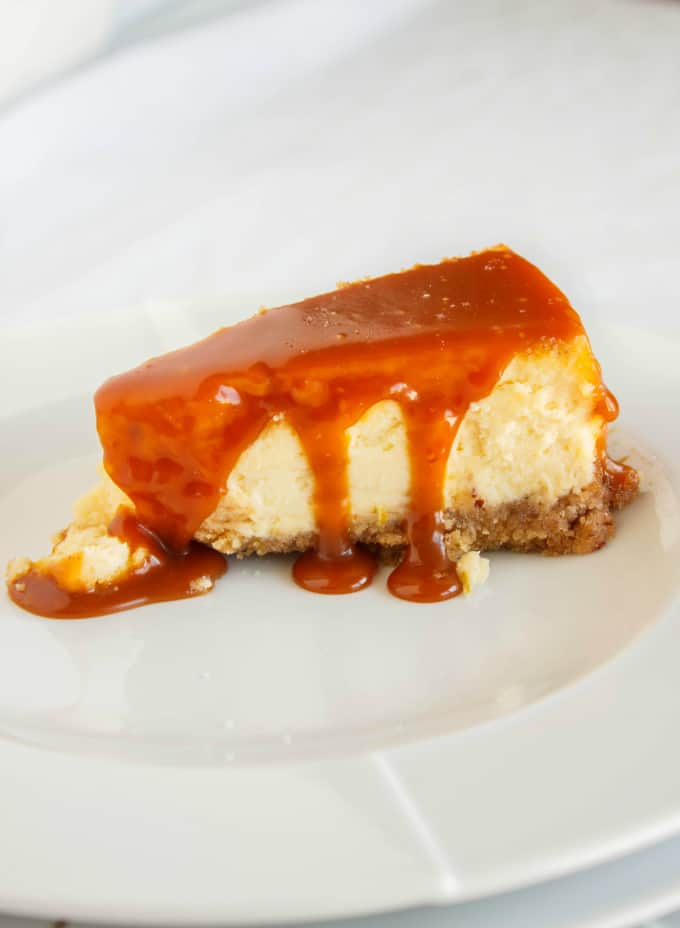 As said above, I did do a tutorial for my dry method caramel sauce recipe. I find it much easier than the wet method, and much less intimidating. Just make sure you are paying attention and not taking pictures! I have a friend who travels the world and she made this caramel sauce for her boyfriend's cake and it turned out perfectly!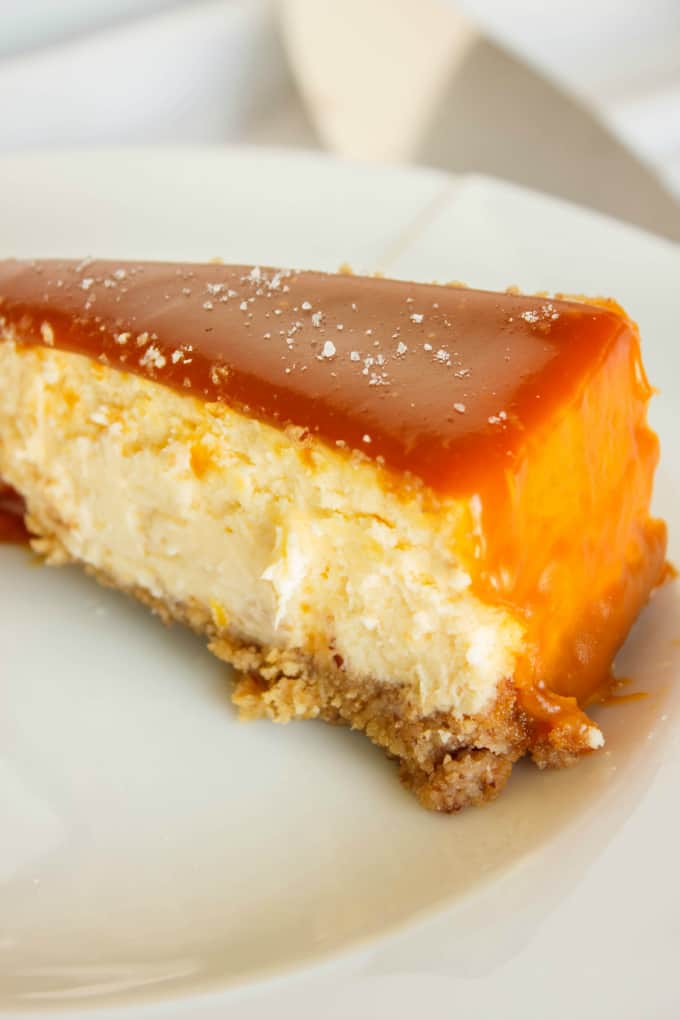 Of course, I was so excited to make this cake that I forgot to grease the pan and forgot to wrap it in aluminum foil! Thankfully I could add the foil afterwards, but some water did leak into the pan. Man, looking back, I had a lot of hiccups along the way, but you would never guess when you look at the pictures of this salted caramel cheesecake! Don't let my mishaps scare you, everyone has a bad day in the kitchen once in a while.