I feel artichokes do not get enough love. The artichoke heart is so flavourful, and the marinated jars you find at your grocery store have completed all the work for you. Cleaning artichokes are kind of a pain, so I will gladly pay extra for the jarred variety. For the best deal, I have found Costco is the place to go (no affiliation at all, just personal preference!) Make sure to grab the jar of marinated artichoke hearts in oil, not water. That oil really helps flavour this dish.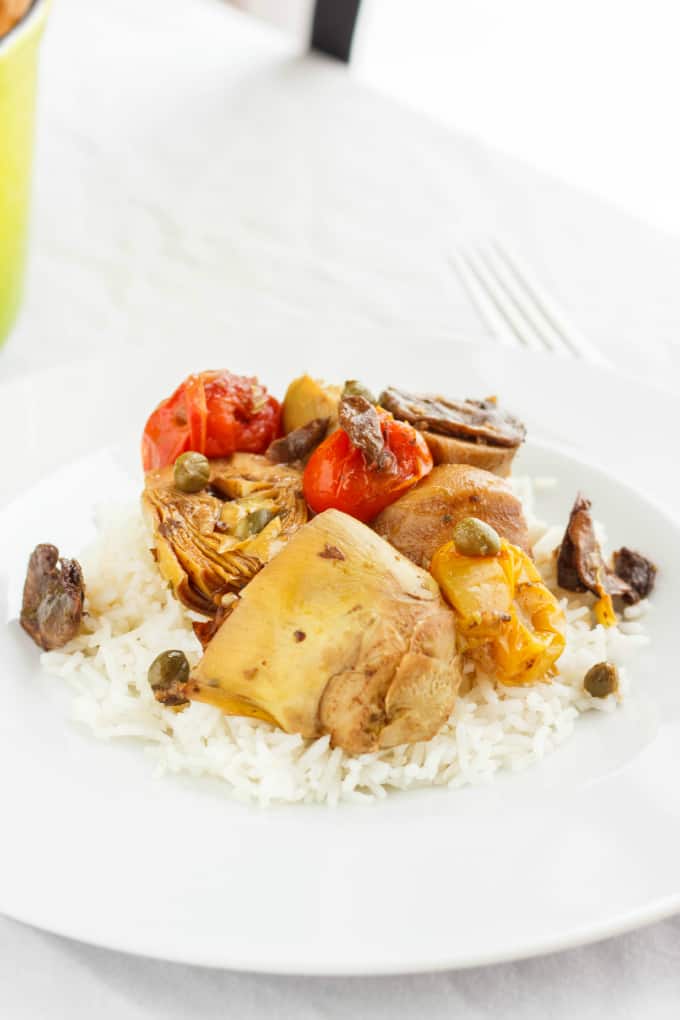 What dish, you ask? Why artichoke hearts and mushrooms over rice! Technically this meal began as artichoke heart chicken, but seeing as I do not eat meat, I have had to get creative. My husband is the one who introduced this meal to me. He would create the dish exactly, leaving out the chicken. I loved it! Heck, I think I was eating it once a week! But I felt it needed more filler. Then Dan brought up the idea of mushrooms and I have not gone back since! If anything, I keep adding more mushrooms! Now even when I make the chicken version for Dan, I include mushrooms to enhance his meal.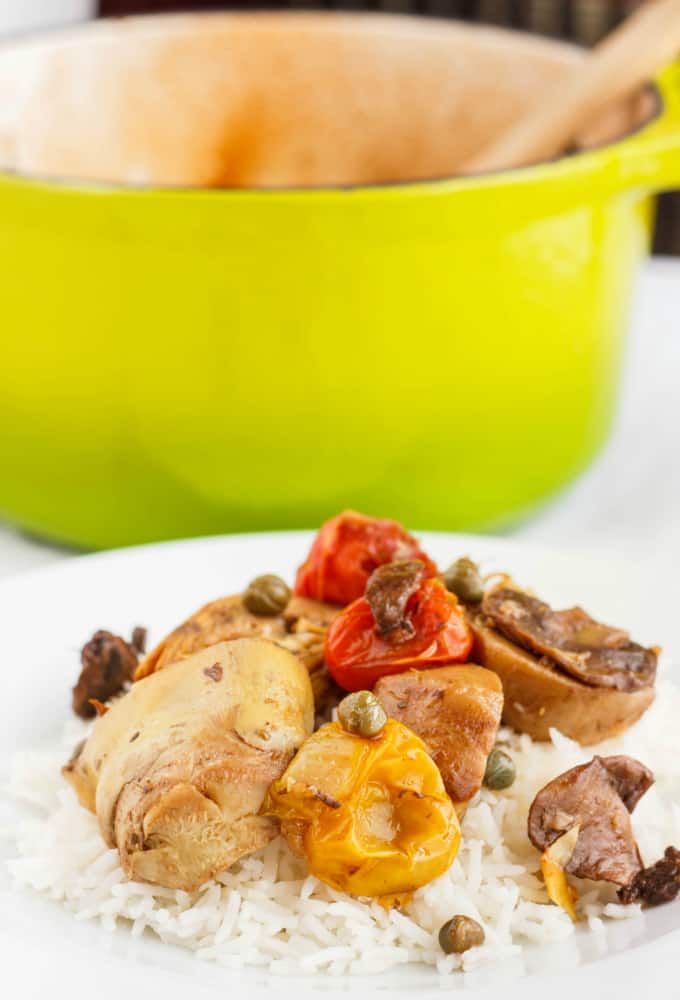 Now, this recipe has been made for YEARS. I do not measure out my ingredients at all, but figure I would provide the best instructions for this artichoke hearts and mushrooms over rice. I used to include extra liquid from the artichoke jar of marinade, but found it was quite oily. Sometimes I will add a bit of the caper juice in, but the mushrooms usually provide enough liquid. For the artichoke heart chicken meal, the chicken releases enough juices to keep the ingredients moist. If you are worried, or would like more liquid for your rice, add 1/2 cup of the artichoke marinade into the pan.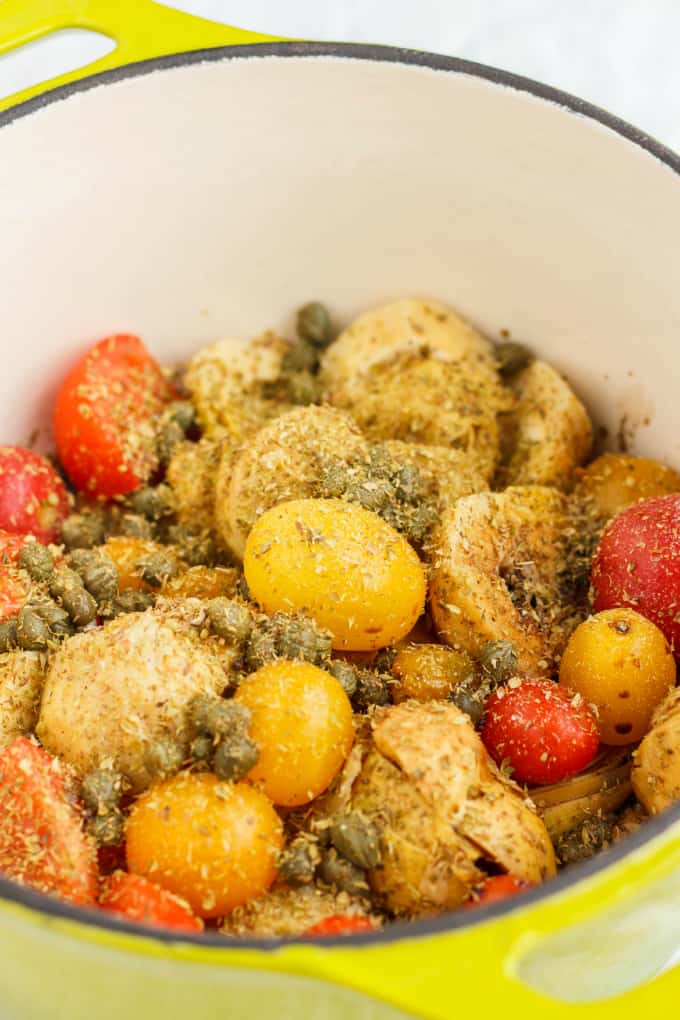 I also used to include butter in this recipe. Now, I don't even notice that it is missing! Plus, it makes the recipe vegan! And just because it is vegan, it does not mean there is any lacking of flavour. If anything, this is one of the most flavourful meals I know of. Just remember, it is all in the artichokes! I will keep suggesting the Kirkland brand ones, but if you have a favourite, I am sure it will work perfectly.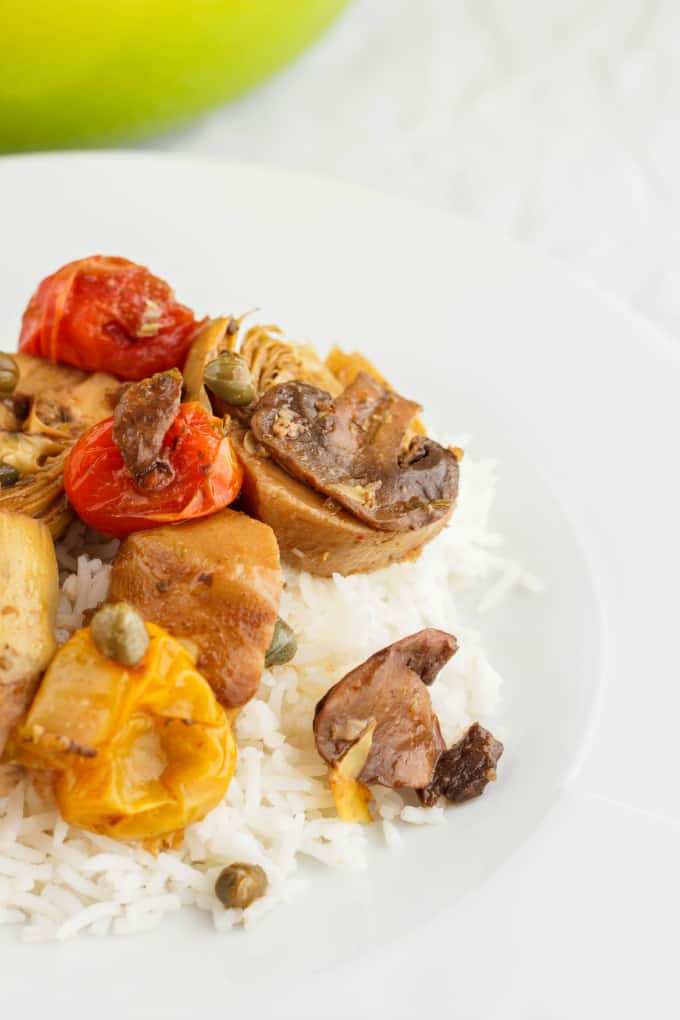 Artichoke Hearts and Mushrooms over Rice
---
Kacey
Yields 6
15 minPrep Time
40 minCook Time
55 minTotal Time
Ingredients
16 oz mushrooms, sliced
4 garlic cloves, minced
1 pint cherry tomatoes
2 tbsp. dried oregano
1 litre jar of marinated artichokes, drained (I use the Costco marinated artichokes in oil, not water.)
1/2 of a 125mL jar of capers, liquid drained
1/4 cup balsamic vinegar
Salt and pepper
Instructions
Preheat the oven 425F. In a roasting pan or dutch oven, layer the following: mushrooms, cherry tomatoes, artichokes, garlic, and capers. Add balsamic vinegar, oregano, salt and pepper.
Toss the ingredients until combined. Place into the oven, uncovered, for 35-40 minutes, or until slightly caramelized.
*In remaining 20 minutes begin to cook rice.
Serve over rice and enjoy!
7.8.1.2
238
https://thecookiewriter.com/artichoke-hearts-and-mushrooms-over-rice/
Fast, easy, and delicious! I should really get around to making the artichoke heart chicken recipe, but I never find the need to since Dan enjoys the vegetarian version as well. Saves me from making more than one meal! But if you want to include chicken, just throw 4 breasts into this dish and cook until they reach 160F internally. Adds a bit more heartiness and provides more leftovers.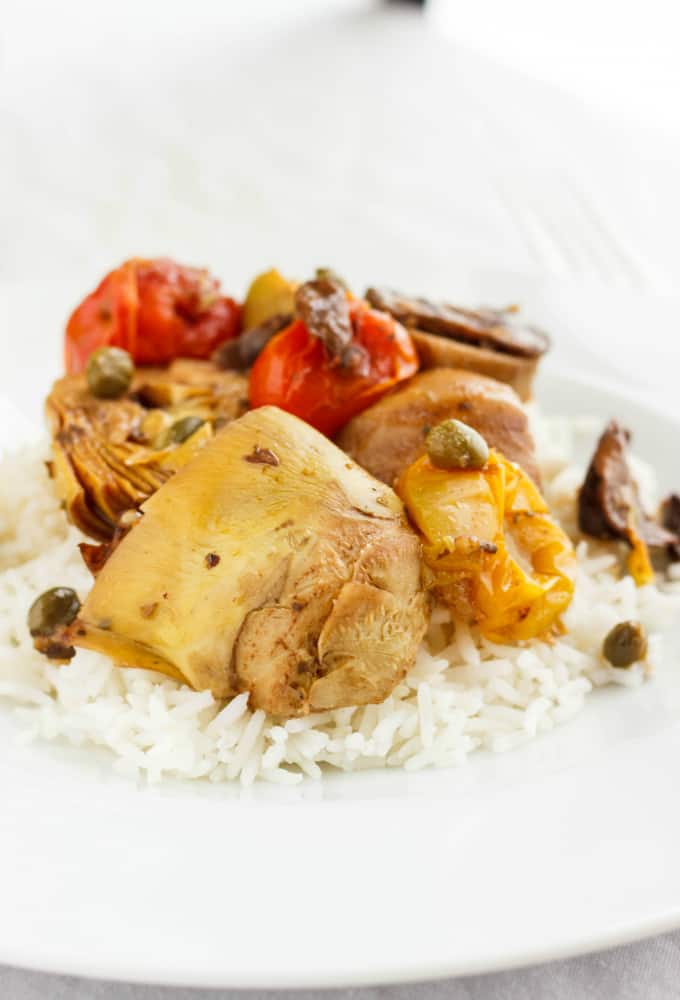 PS. I say this was originally my husband's recipe, but pretty sure I should be giving credit to my sister-in-law. Dan suggests otherwise though…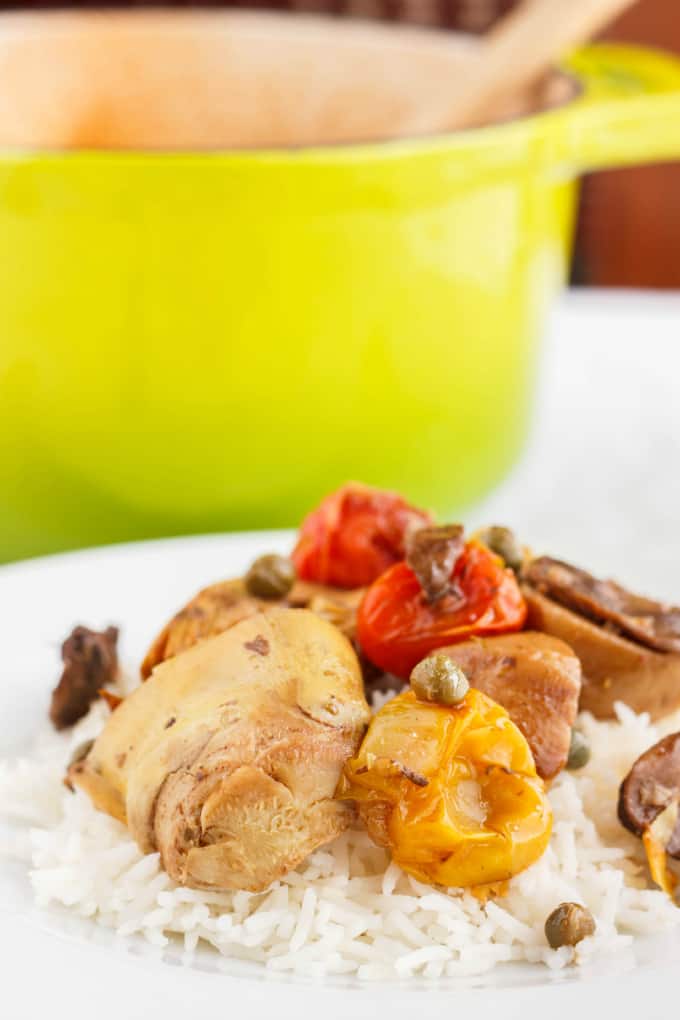 PPS. I love my artichokes hearts and mushrooms over rice or pasta. For the rice, I prefer basmati, but Dan always wants white rice! I will leave it up to you to decide what you serve it with!