Looking for a relatively healthy alternative to traditional lasagna? This eggplant and zucchini lasagna is packed full of veggies and eliminates the noodles altogether, making this dish gluten-free!
I am sure you have all seen them; the zucchini lasagnas around Pinterest with no pasta noodles in them. They always look so delicious and inviting, and lasagna is one of my favorite meals of all-time... So why did it take me so long to create one of my own?!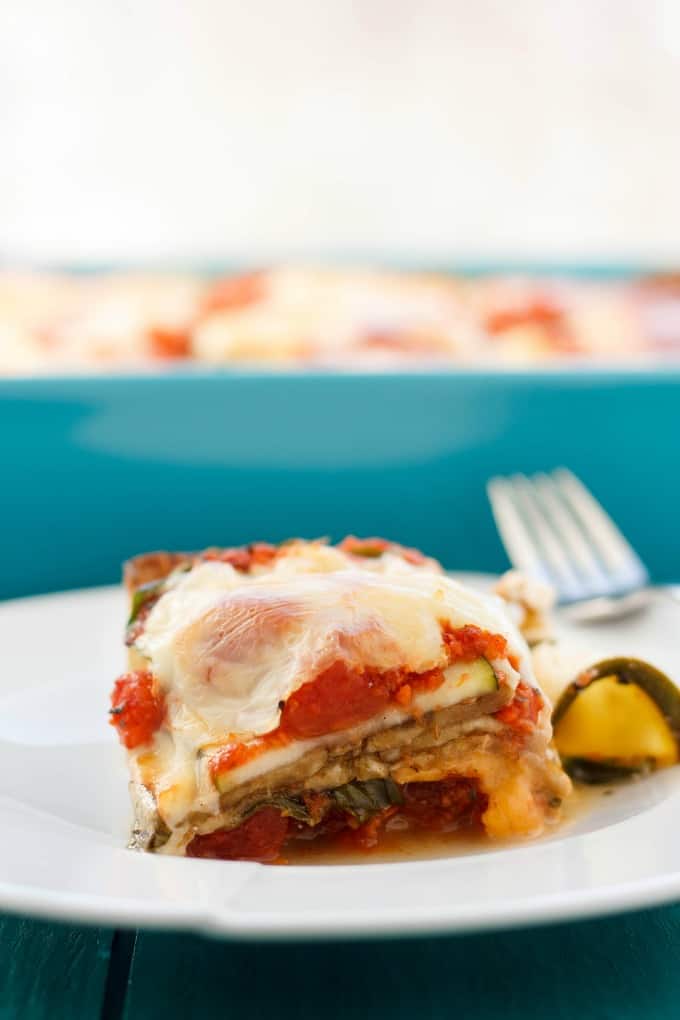 Well, let me start off by saying I have made this eggplant and zucchini lasagna at least half a dozen times and I still end up with excess liquid in my pan!! I do not get it!!! I always slice my two vegetables and salt all sides, allowing them to sit for about an hour to draw out the water from inside the veggies. I then pat down the vegetables and place them into the lasagna. Another time I followed that step but instead of placing the vegetables into the lasagna in a raw state, I pre-baked them in the oven for 5-10 minutes. Still so much liquid! I have even lowered the amount of pasta sauce I use... Oh well, I actually really like the extra liquid because it is full of flavor and I can eat it over rice. But from a blogging point of view, you do not want to show pictures of a meal while it is swimming in water...
However, all the times I have made this eggplant and zucchini lasagna, I have included raw spinach in the recipe. Spinach produces a lot of water and I am starting to think that plays a big part in my excess liquid problem. Another excuse to make this recipe?! Oh no, whatever shall I do... Haha. I have to admit though, remaking this recipe so many times has allowed me to change up things I did not like originally. I used to slice the vegetables quite thick, but now I slice them on my mandolin as thin as possible. Almost paper thin. This way they cook through nicely and they are easier to slice through when serving. Some layers I will double up the veggies depending on how many slices each veggie produces, but it still works out better than cutting them too thick.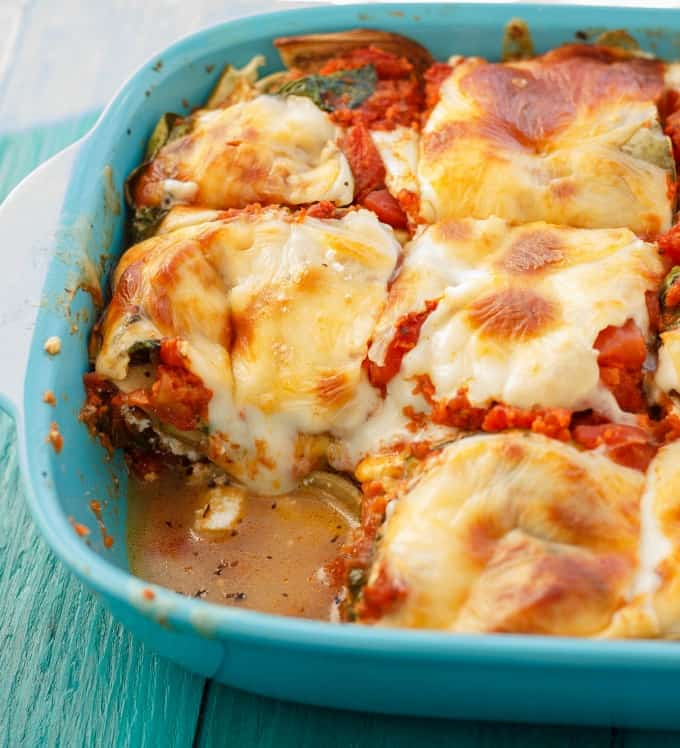 For the tomato sauce, canned stuff will work perfectly fine, but I am partial to a homemade sauce. I try to drain off as much liquid as possible when scooping the cooked sauce over the veggies to help with the liquid problem. I mean, once again, the liquid is so flavorful it is not really an issue, just an aesthetic thing.
I really love this eggplant and zucchini lasagna, as the concept is so neat and it is completely gluten-free! No pasta noodles, only vegetables! I assume you could make this lasagna vegan as well, but I do love cheese a little too much...
📖 Recipe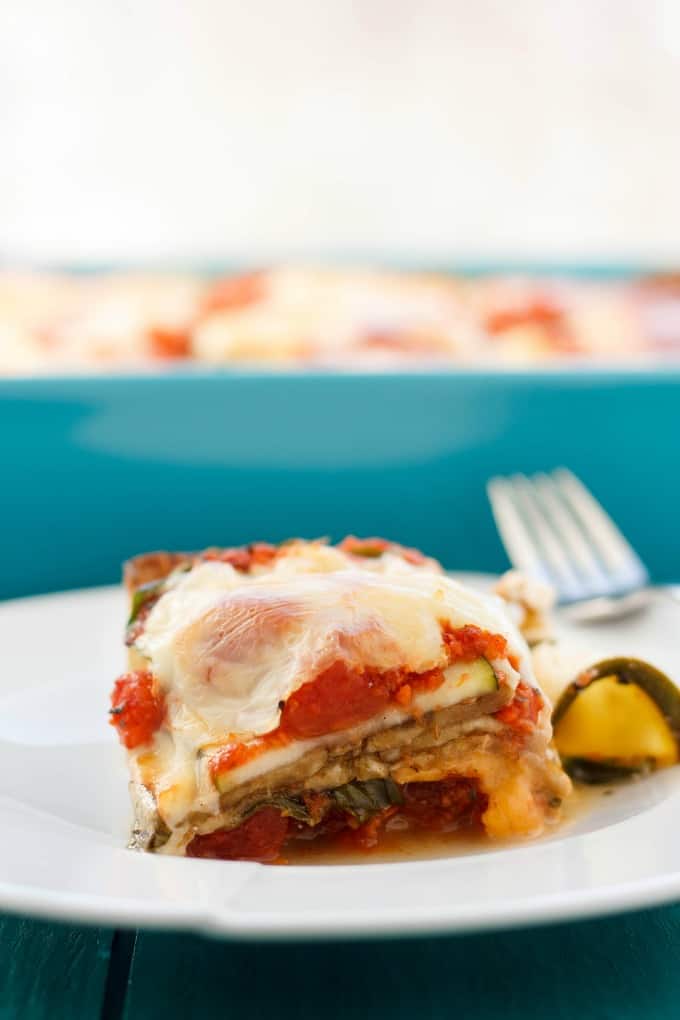 Eggplant and Zucchini Lasagna (No Pasta!)
Total Time:
1 hour
10 minutes
This lasagna can be made using store-bought sauce! Add as many layers as you like: it always changes for me 🙂
Ingredients
1 small eggplant, skin removed
1 large zucchini
Sauce
3 garlic cloves, minced
3 tbsp. olive oil
2 (28 oz) cans diced tomatoes, one drained fully, the other partially drained.
2 tbsp. balsamic vinegar
1 tbsp. brown sugar
2 tsp. dried basil
¼ tsp. red chili flakes
¼ tsp. dried thyme
1 large carrot, processed in food processor until very fine
4 oz fresh spinach
Cheese Layer
½ cup ricotta cheese
½ cup cottage cheese
½ cup + 1 cup cheddar cheese, grated
1-2 cups mozzarella cheese, sliced
Instructions
Place the tomatoes, olive oil, garlic, balsamic vinegar, sugar, chili flakes, basil, and thyme into a medium saucepan. Bring to a boil and simmer for 20-25 minutes, or until most of your liquid has vanished. Stir in carrot and spinach and cook until spinach is wilted.
Veggie Prep
While the sauce is cooking, slice your zucchini and eggplant about ⅛th inch thick (I used a mandolin.) Lay on top of wire racks and sprinkle each side with salt. Allow the eggplant and zucchini to sit for 30-60 minutes, or until much of their water has sweat out. Pat dry with paper towel.
Cheese Layer
In a small bowl, combine ricotta, cottage, and ½ cup of cheddar cheese. Stir to combine.
Assembly
Preheat oven to 375F.
In a 9x13 baking dish, assemble your lasagna. Put a ladle full of sauce on the bottom of the pan and smooth out. Place a layer of eggplant, followed by a layer of zucchini. Top with half the sauce and then add the cheese mixture. Smooth until the layer is covered in cheese. Add another row of eggplant, then zucchini, and then the rest of the sauce. Top with the last of the eggplant and zucchini and smother in cheddar and mozzarella cheese!
Bake, uncovered, 30 minutes. You may need more time depending on how thick you cut the veggies. Allow to cool for 10-15 minutes and then serve.
*If you have the excess moisture issue, just drain out the liquid the best you can. Readers have mentioned pre-roasting your veggies helps reduce liquid.
Nutrition Information:
Yield:

6
Serving Size:

1
Amount Per Serving:
Calories:

354
Total Fat:

24g
Saturated Fat:

11g
Trans Fat:

0g
Unsaturated Fat:

11g
Cholesterol:

58mg
Sodium:

504mg
Carbohydrates:

17g
Fiber:

4g
Sugar:

8g
Protein:

19g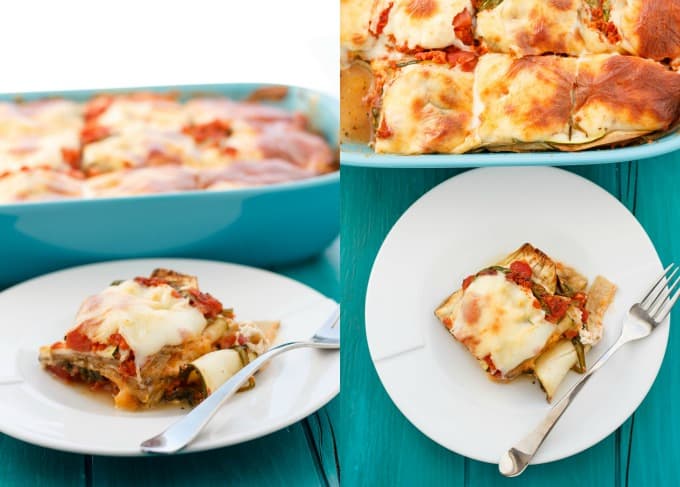 So if you have extra liquid (and from other recipes I have seen, this is quite common,) do not fret. Save that liquid and pour it over rice like my husband did. Granted he is a rice lover, but I thought it was a creative use of leftovers. This eggplant and zucchini lasagna can be customized entirely to your liking. Do not like zucchini? Use all eggplant. Not a cottage cheese lover? Use all ricotta, or omit that layer altogether and use more cheddar cheese 🙂