I have stated my daughter is on a pancake kick, so we have been making endless creations to help quench her cravings.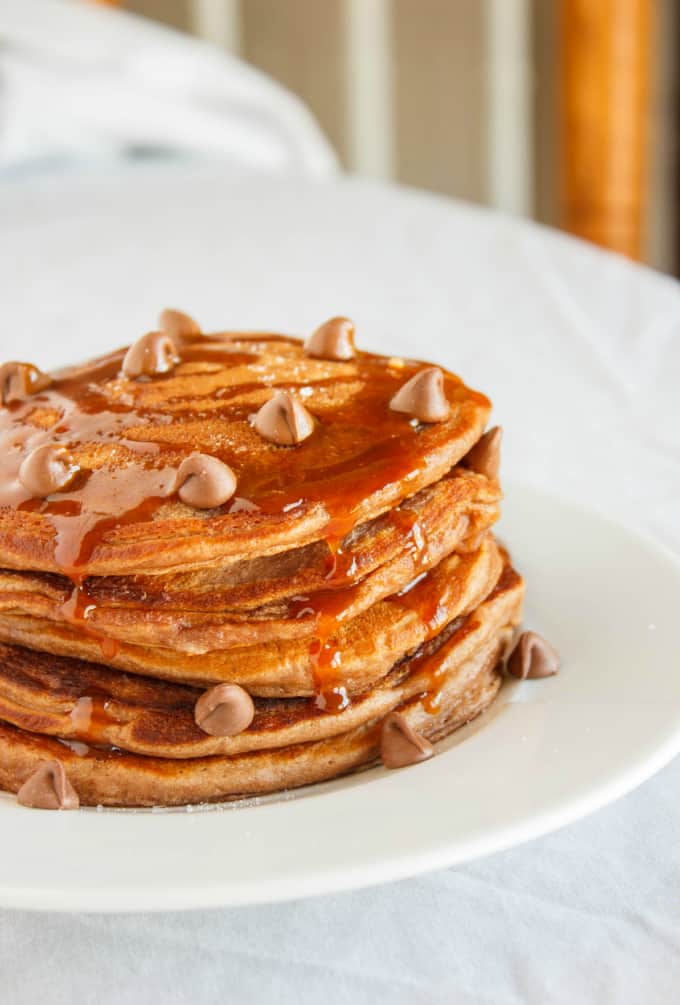 These salted caramel hot chocolate pancakes were created because she wanted chocolate pancakes, and I wanted to use up the leftover caramel sauce I had hanging around. I was also still thinking about my salted caramel hot cocoas and the salted caramel cheesecake I had made. The pancakes were quick to make and while I usually use cocoa powder for chocolate pancakes, I wanted to use the hot chocolate mix you buy at the grocery store for people who have these on hand more so than cocoa powder. Homemade hot cocoa is the way to go in this house, but sometimes even I do not feel like standing over the stove after a long day. Plus, I know people always look for easy and quick recipes, and these salted caramel hot chocolate pancakes are one of those.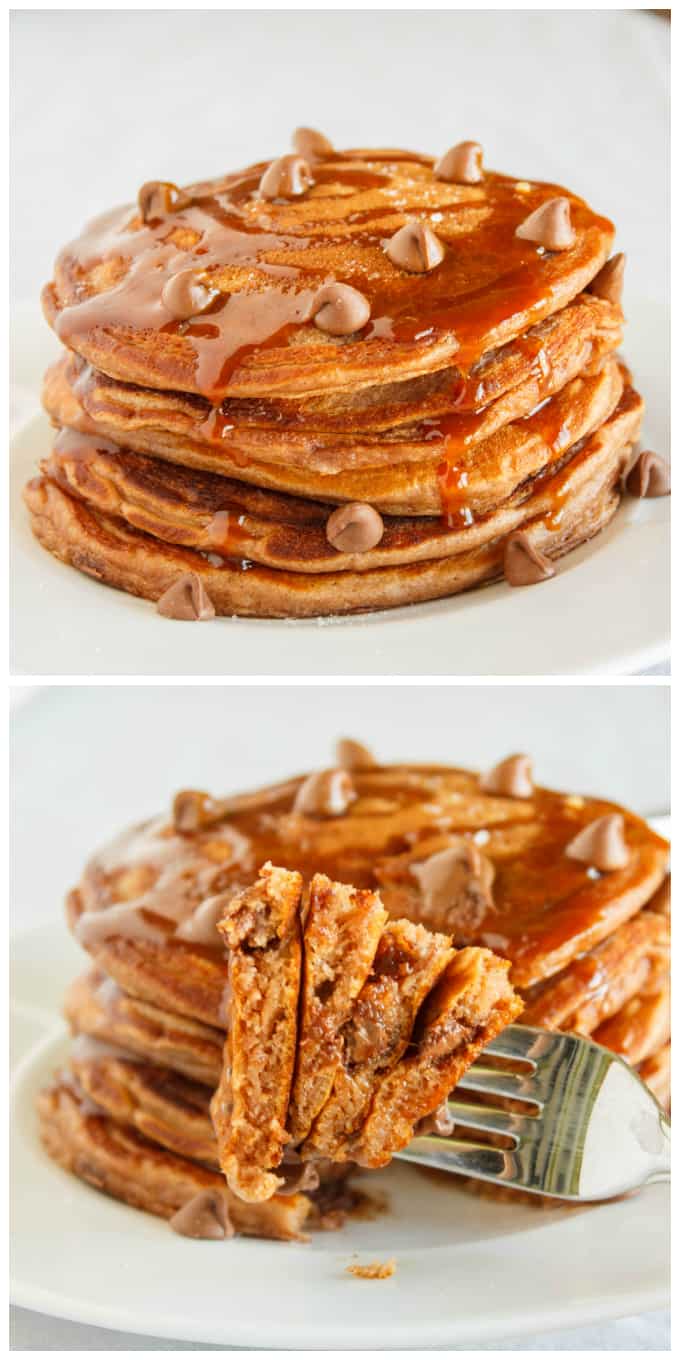 Since you are using store-bought hot chocolate mix, I say adjust your sugar content accordingly. I also put homemade caramel sauce into the pancakes so I knew I only needed a small amount of sugar (I know pancakes can be sweet, but I did not want to feel like I was eating sugar on a spoon for breakfast!!) If you find your pancakes are too sweet, some extra cocoa powder will help balance that out.

📖 Recipe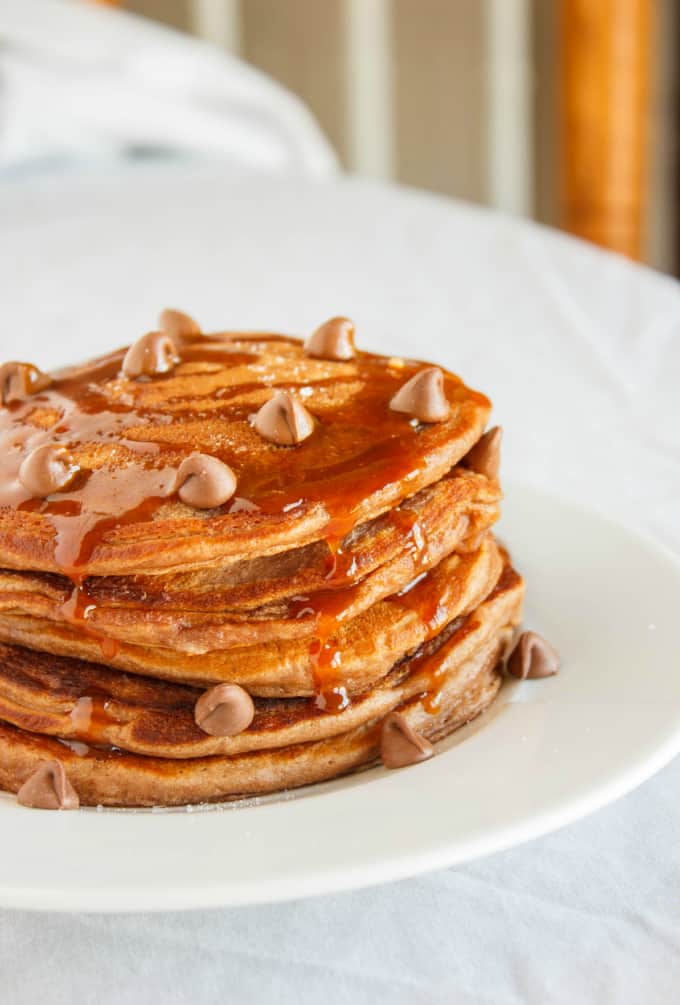 Salted Caramel Hot Chocolate Pancakes
Dessert for breakfast is the way to go with these salted caramel hot chocolate pancakes! Made using hot chocolate mix, these pancakes are done in no time.
Ingredients
¾ cup milk
1 tbsp. vinegar (or use ¾ cup buttermilk and omit vinegar.)
¾ cup all-purpose flour
¼ cup hot chocolate mix (the powdered stuff bought at the store.)
1 tsp. granulated sugar
1 tbsp. caramel sauce
1 tsp. baking powder
½ tsp. baking soda
1 egg
2 tbsp. coconut oil, melted
½ tsp. vanilla
¼ - ½ tsp. ground cinnamon
Extra caramel sauce for topping.
Sea salt or coarse salt for topping.
Instructions
Mix the vinegar and milk together. Set aside.
In a medium-sized mixing bowl add the flour, hot chocolate powder, sugar, baking powder, baking soda, and cinnamon. Stir gently.
Add the vanilla, egg, and coconut oil to the milk mixture. Mix well. Stir the wet ingredients into the dry ingredients and stir in the caramel sauce.
Heat a large frying pan over medium-low heat. Add some coconut oil or butter to the pan and wait until hot. Measure out ¼ cup of batter per pancake and add to the pan. When bottom of golden brown, flip pancake and cook until other side is golden brown. When all pancakes are complete, top with caramel sauce and sprinkle with salt.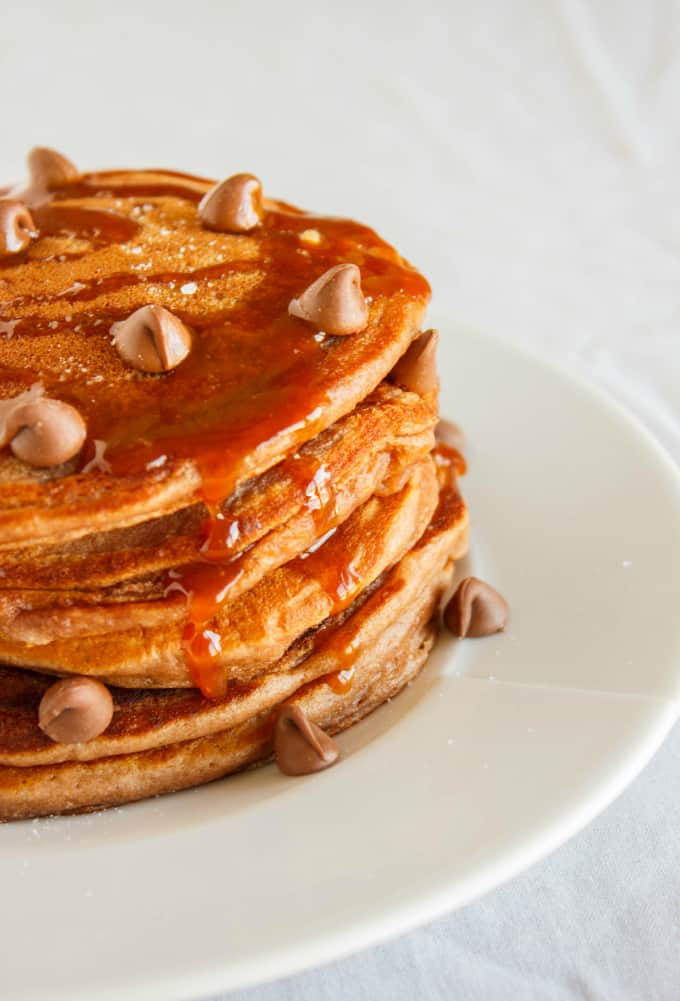 I cannot believe how many pancake recipes we have been going through! I even started working on those banana and oat pancakes again that are gluten-free to change things up (plus, I find those a lot faster to make.) At least she enjoys breakfast. I never had breakfast before going to school and I really do believe breakfast is so important. She will definitely be spoiled with breakfasts such as these salted caramel hot chocolate pancakes!