Who doesn't love potatoes?! Today I present to you my smashed potato shepherd's pie courtesy of my brand ambassadorship with The Little Potato Company.

This is a sponsored post. I was fortunate enough to receive products and/or monetary compensation from The Little Potato Company. Though products were received, all opinions are my own and I would not recommend a product that I did not enjoy.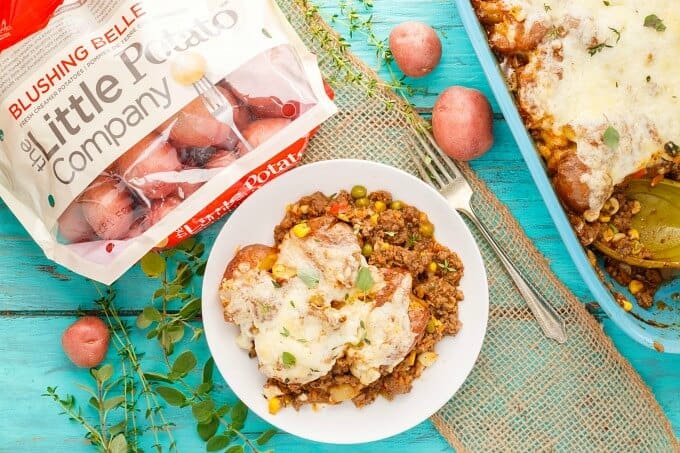 In my childhood, spaghetti, lasagna, and shepherd's pie were traditional meals in our household.
Pretty hearty meals and perfect for a family of five.
However, they were anything but "traditional." My dad dislikes onions to the max. So, not only did our meals contain no onions, he actually strained store-bought sauces to make sure he got rid of all the dehydrated onions... Yeah, I am surprised we are all not picky eaters. Surprisingly, only my mom and dad are the crazy ones when it comes to food. However, had we come out picky eaters, you would know why 😉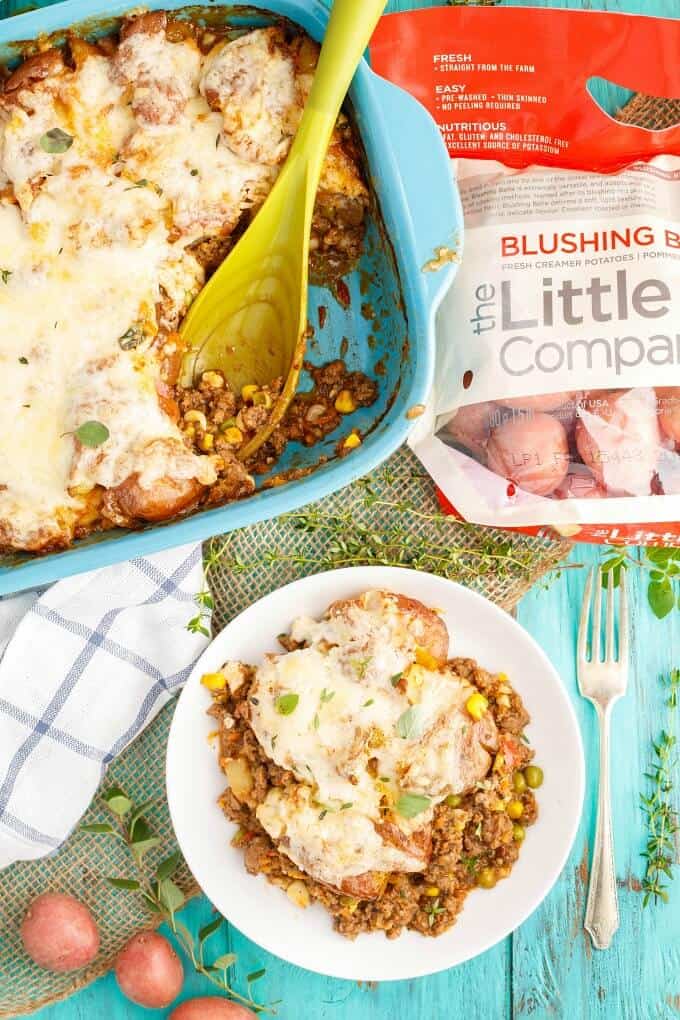 My smashed potato shepherd's pie is nowhere near my parents' creation!
First off, from my research online, I realize this smashed potato shepherd's pie is technically a cottage pie, but my parents have always called it shepherd's pie (shepherd's pie= lamb chunks, cottage pie= ground beef.) Now that that is cleared up, let me explain my parents' version. Nothing wrong with it at all; my brother and sister still love it to this day!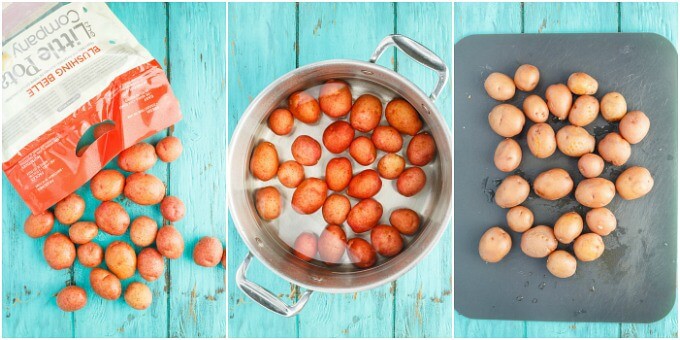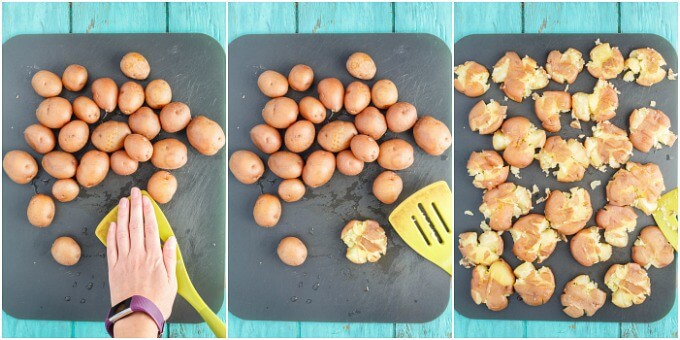 They would brown the ground beef and pour in about 6 cans of Campbell's condensed vegetable soup. They would then add some water to balance it all out, scoop it into a pan, top it with mashed potatoes, and finalize it with cheese. I should really get around to making it their way to show you a quick and easy dinner recipe. UPDATE: My easy shepherd's pie with Campbell's soup recipe is now live! Like I said, nothing wrong with the recipe, just... plain. Nowadays, my brother, sister, and I tend to go for a bit more creative ingredients (thankfully my brother broke away from my dad's instilling of "onions are terrible," and almost loves to cook as much as me!)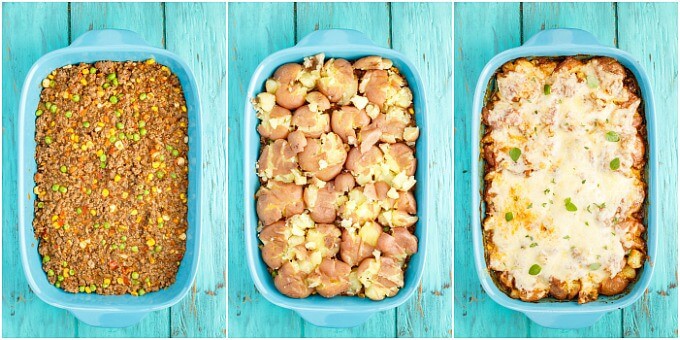 I knew immediately that this smashed potato shepherd's pie would be full of fresh ingredients, and packed full of flavor!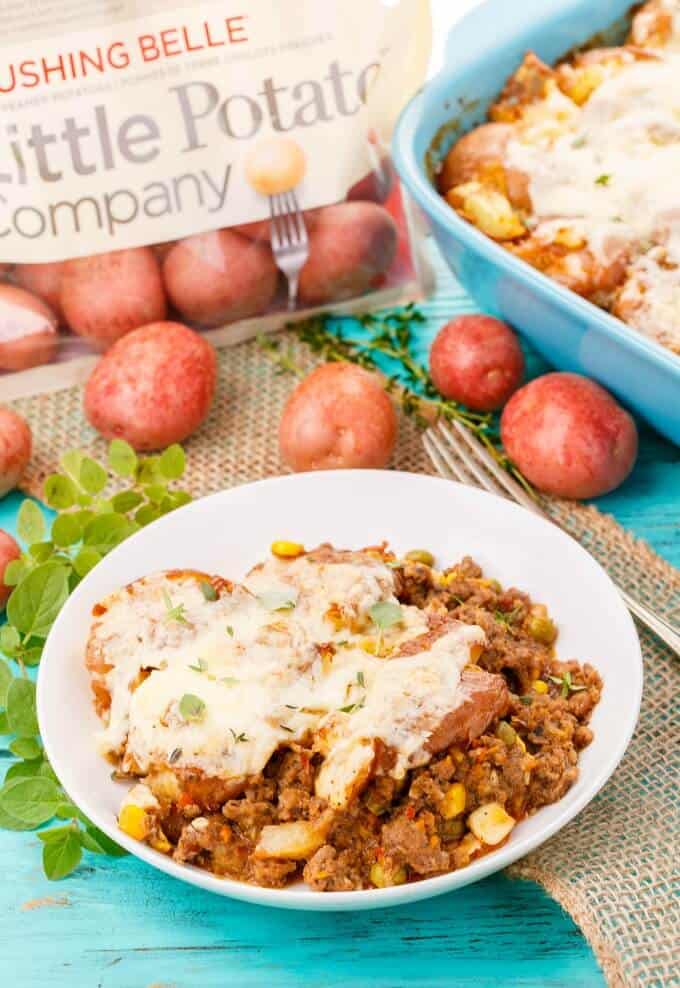 Mr. TCW never complains about beer in his food. Or in his hand while he does house renovations! From previous experience I have worked with beer successfully and thought it would lend great flavor to this dish. According to Mr. TCW? Perfect! He was so happy with this recipe that he had some for dinner and then another helping for lunch that night (working midnight's makes things confusing.) Pretty sure he ate this recipe for 3 days with no complaints!
Then I made myself a vegetarian shepherd's pie and he had it some more, but stated he preferred the meat version (psh, I thought my meatless version was amazing!) He is also a BIG potato lover, so it is no surprise that he ate this meal for days with no complaints. Seriously, he could be full and still somehow eat a bunch of potatoes. It actually terrifies me! So when he heard I would be working with The Little Potato Company and their Creamer potatoes, he was prepared to marry me all over again!
UPDATE: I have made a tutorial video for this recipe! Be sure to check it out!
Now, Mr. TCW always likes hearing "did you know" facts. I have no trouble sharing with him info on Little Potatoes and what Creamer potatoes are.
What are Creamer potatoes? Creamer potatoes are NOT baby potatoes.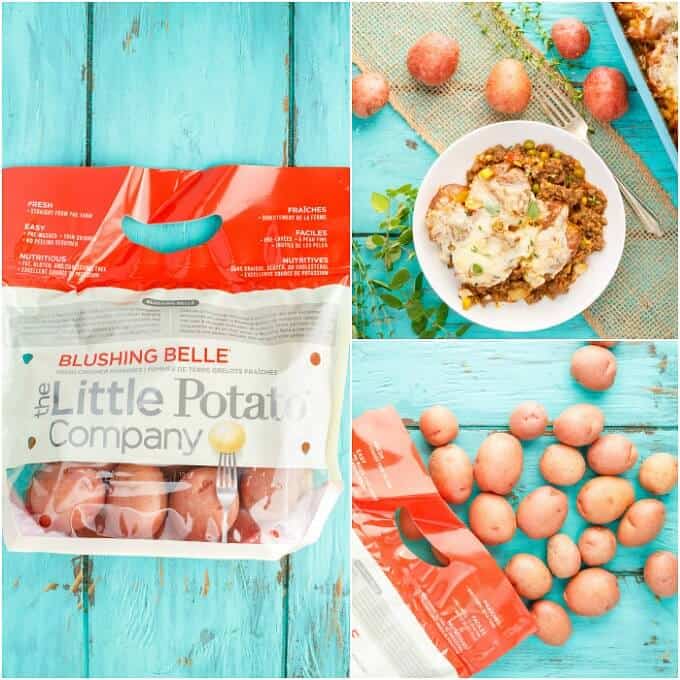 Don't worry, I was mistaken, too, at first. Creamer potatoes are actually mature potatoes that are just little. They are picked at full maturity for maximum flavor, and the best part? Bite-sized potatoes with no lacking of flavors or taste! I have used a wide varietal of Little Potatoes, and they are true to their facts: the Creamer potatoes are buttery, tasty, and packed full of nutrients! This smashed potato shepherd's pie recipe has been made numerous times now, the first time with Baby Boomer, and this time around with Blushing Belle.
I chose the Blushing Belle for a couple of reasons. The first being the color of the potato. I loved the red outside and yellow flesh. Secondly, Blushing Belle are easily adaptable and great for roasting and mashing (which are common in shepherd's pies.) I love all the Creamer potatoes that The Little Potato Company offers, and I highly suggest checking out all their products (ever worked with Something Blue potatoes before?! They have a beautiful blue/purple skin and I cannot wait to try them!)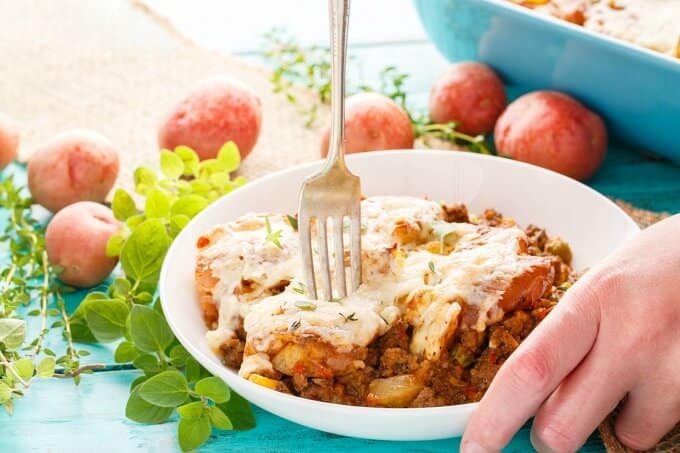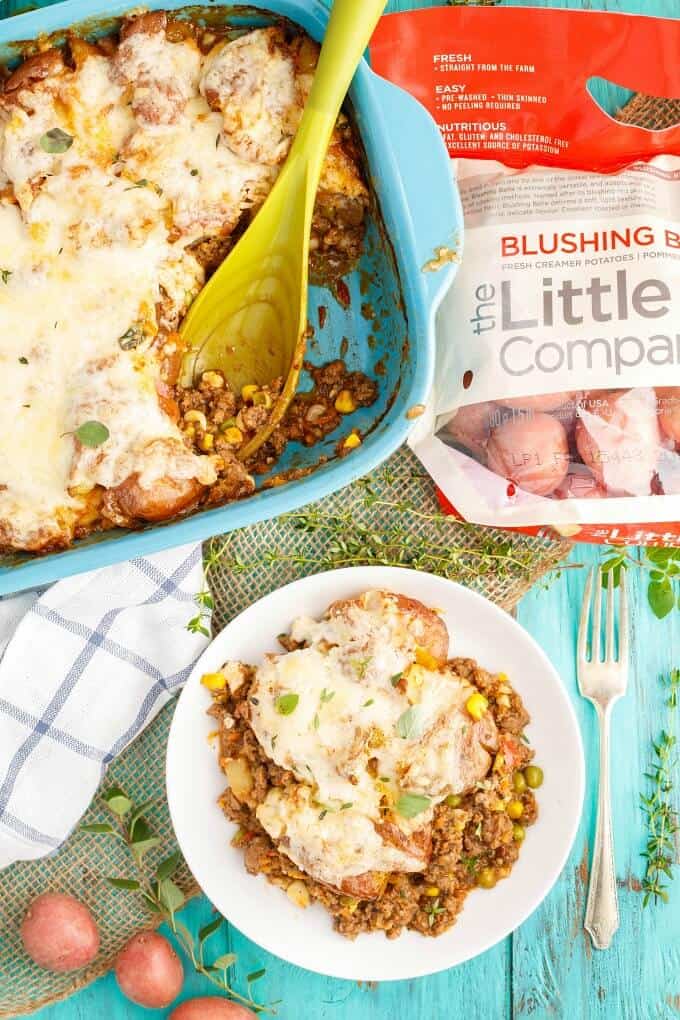 Smashed Potato Shepherd's Pie (Cottage Pie)
Total Time:
1 hour
10 minutes
A hearty and delicious dinner that will surely be welcomed as leftovers! This smashed potato shepherd's pie is perfect for those looking for something fancier 🙂
Ingredients
Salt and pepper
⅛ tsp. cayenne pepper OR ¼ tsp. paprika
1 ½ cups grated cheddar cheese
Filling
2 lbs lean ground beef
1 large onion, diced
1 celery stalk, diced
1 large carrot, diced
4 garlic cloves, minced
4 oz mushrooms, diced
1 red pepper, diced
½ cup frozen peas
½ cup frozen corn
½ tsp. dried thyme
½ tsp. dried basil
1 tsp. dried oregano
1 cup beer OR beef broth
1 tbsp. Worcestershire
1 tbsp. tomato paste
2 tbsp. all-purpose flour (use gluten-free flour for GF meal.)
Salt and pepper
Instructions
Smashed Potatoes
Add potatoes to a large pot of salted water. Bring to a boil and cook for 7-10 minutes, or until just fork tender. Drain and rinse with cold water to stop them from cooking. Using a spatula, place the flat end over one potato at a time and press down with your hand to "smash" them.
Filling
NOTE: To save time you can place your veggies into a food processor to chop them finely (don't go overboard as they will turn to mush!)
In a large frying pan over medium-high heat, add your ground beef . Cook for 2 minutes and stir in onion, celery, carrot, garlic, mushrooms, and red pepper. Cook until all meat has browned, about 8-10 minutes. Drain excess grease. Season with salt, pepper, thyme, basil, and oregano. Stir in flour, Worcestershire, and tomato paste. Cook for 3-5 minutes, stirring frequently. Pour in beer (or broth if using in place of alcohol) and scrape any bits from the bottom of pan. Simmer for a few minutes and add corn and peas.
Assembly
Preheat oven to 425F.
Pour the filling into a large casserole pan (9x13.) Top with smashed potatoes. Sprinkle with salt, pepper, and cayenne (paprika for the non-spicy version.)
Place into the oven and cook for 10 minutes, uncovered. Sprinkle cheese on top and continue cooking for another 10-20 minutes, or when potatoes are nicely browned.
Allow to cool slightly and serve!
Notes
You can save time prepping vegetables by adding them to a food processor. Just be careful not to process too much or everything will be mush. For people who do not want to use alcohol, beef broth is a great substitute! Any kind of cheddar cheese will work here (we prefer a sharp, old, white cheese.)
Nutrition Information:
Yield:

6
Serving Size:

1
Amount Per Serving:
Calories:

618
Total Fat:

28g
Saturated Fat:

13g
Trans Fat:

1g
Unsaturated Fat:

12g
Cholesterol:

163mg
Sodium:

624mg
Carbohydrates:

33g
Fiber:

4g
Sugar:

5g
Protein:

55g
This meal is fast and easy, as long as you prep all your veggies in advance. Not a beer lover? Omit it altogether! Gluten allergy? Use cornstarch instead of flour and make sure you choose a gluten-free beer. Also, omit the cheese topping and this meal is completely dairy-free (the Creamer potatoes are so buttery on their own, you won't need any other dairy here!) How awesome is that?!
Instead of using the smashed potato route, you could easily mash these Creamer potatoes. I wanted to be different and let's be honest, mashing these potatoes would taste just as good, but then we do not get to see the versatile nature of these Creamer potatoes (and we would hide the uniqueness of which is the Blushing Belle.)
This is a sponsored post. I was fortunate enough to receive products and/or monetary compensation from The Little Potato Company. Though products were received, all opinions are my own and I would not recommend a product that I did not enjoy.
Love this smashed potato shepherd's pie?! Try some of these recipes: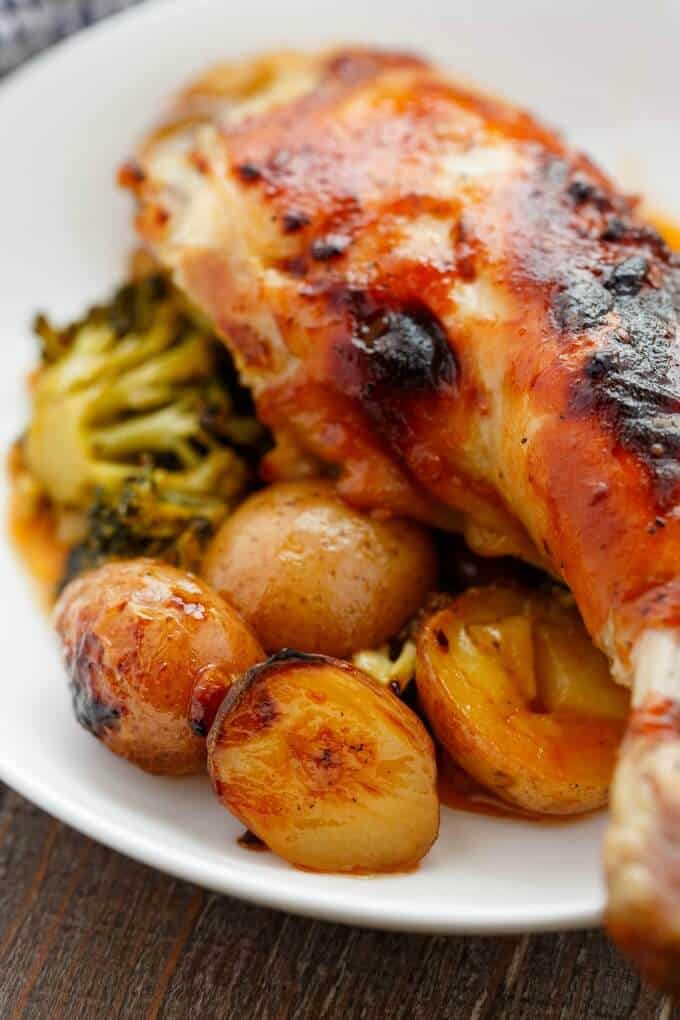 General Tso's Potatoes and Chicken