I love mushroom recipes. One of my favorites is my roasted portobello mushrooms in a cream sauce. I could eat it all day, every day. Heck, I have adapted the recipe to suit so many other cravings (looking at you baby potatoes.) My mother-in-law has been grabbing me a lot of mushrooms and I was trying to be creative with my recipes. I remembered an older recipe on my blog, portobello mushroom pizzas, and knew I wanted to create my own version that was more "grown up."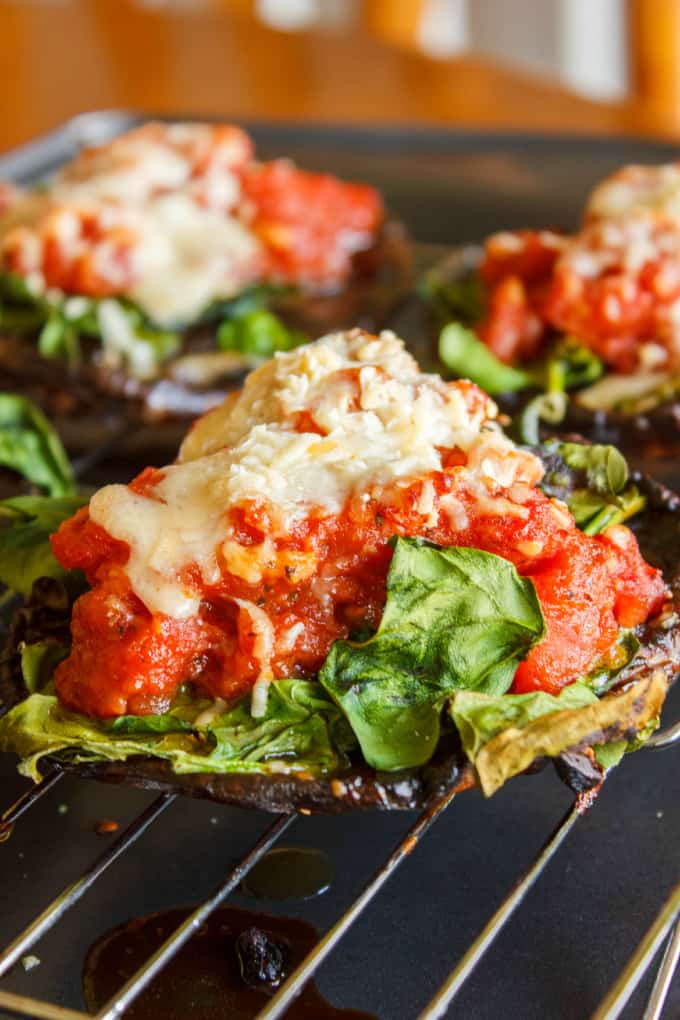 These portobello mushroom pizzas were quick, easy, and packed full of flavors! I love the use of fresh spinach over frozen spinach in this recipe. Marinading the the mushrooms is essential to me, and precooking the mushrooms a bit to release their moisture helps to prevent soggy pizzas. I used my homemade pizza sauce recipe, but any store-bought sauce will do. While the portobello mushroom pizzas are gluten-free, you have to omit the cheese to make the recipe completely vegan (which, come on, is super easy and there is enough flavor in these mushrooms that you will not even notice it is missing!)

Now, just a heads up, cooking time varies on the thickness of your mushrooms. I prefer thinner portobello mushrooms usually, but for these pizzas, I did not mind a thicker cut. I bet this recipe would work well on the BBQ, too. Come the nicer weather, do not be surprised if you see a BBQ version of these pizzas!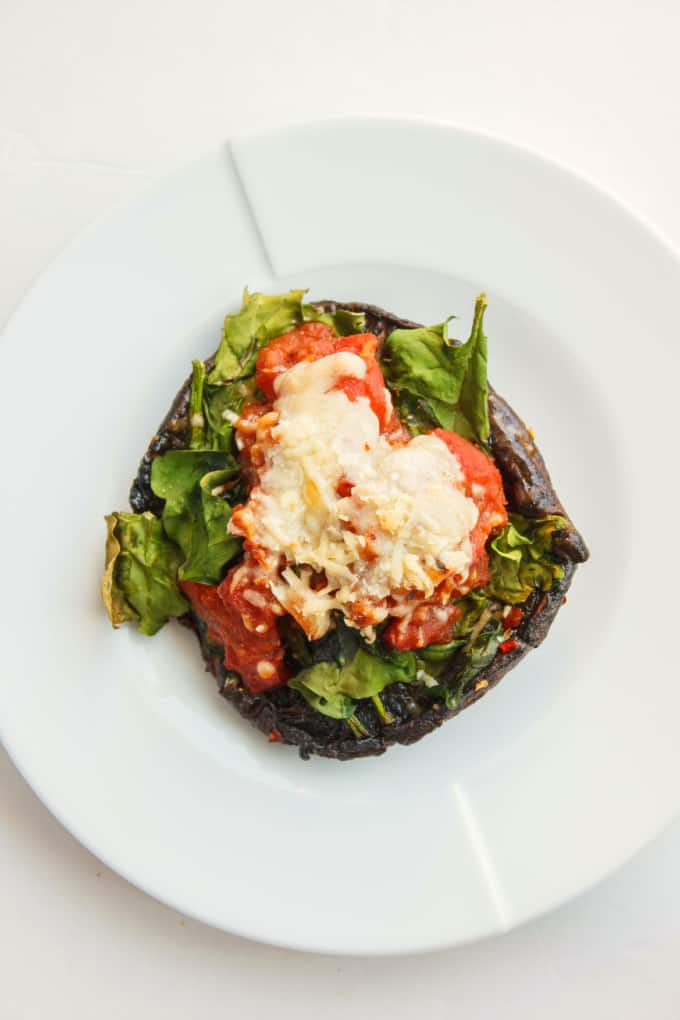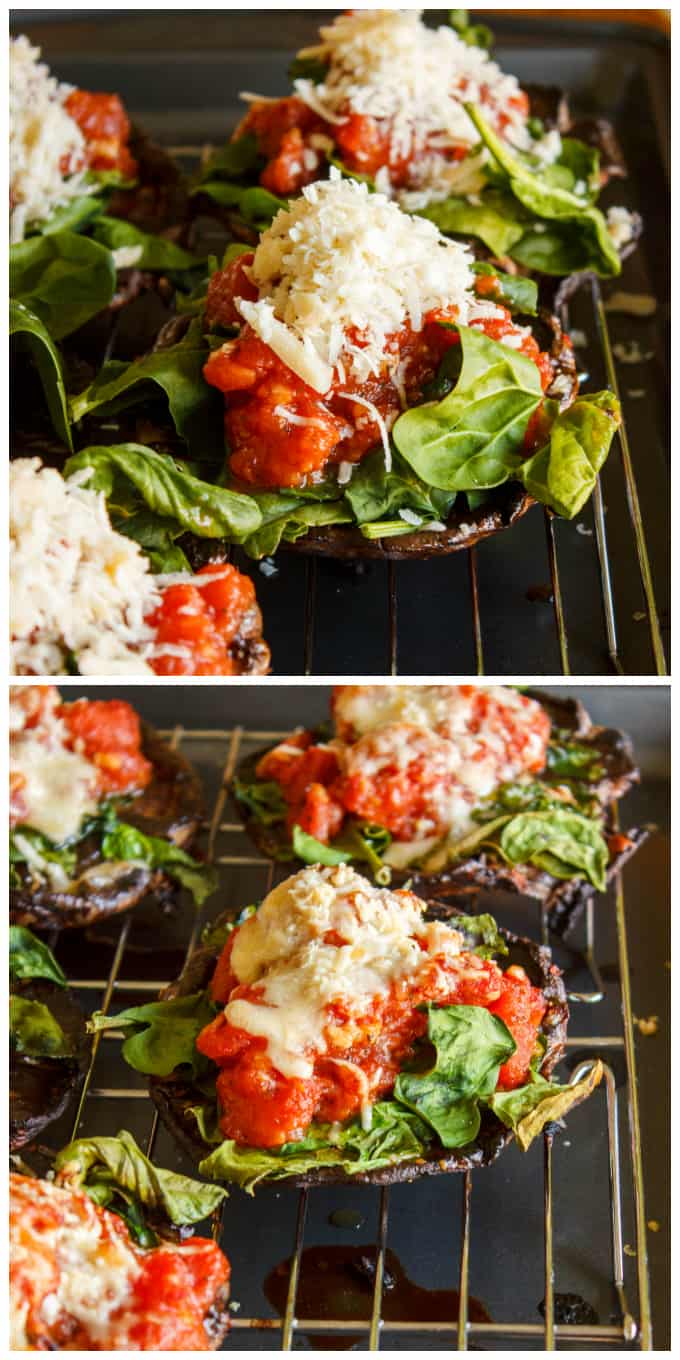 📖 Recipe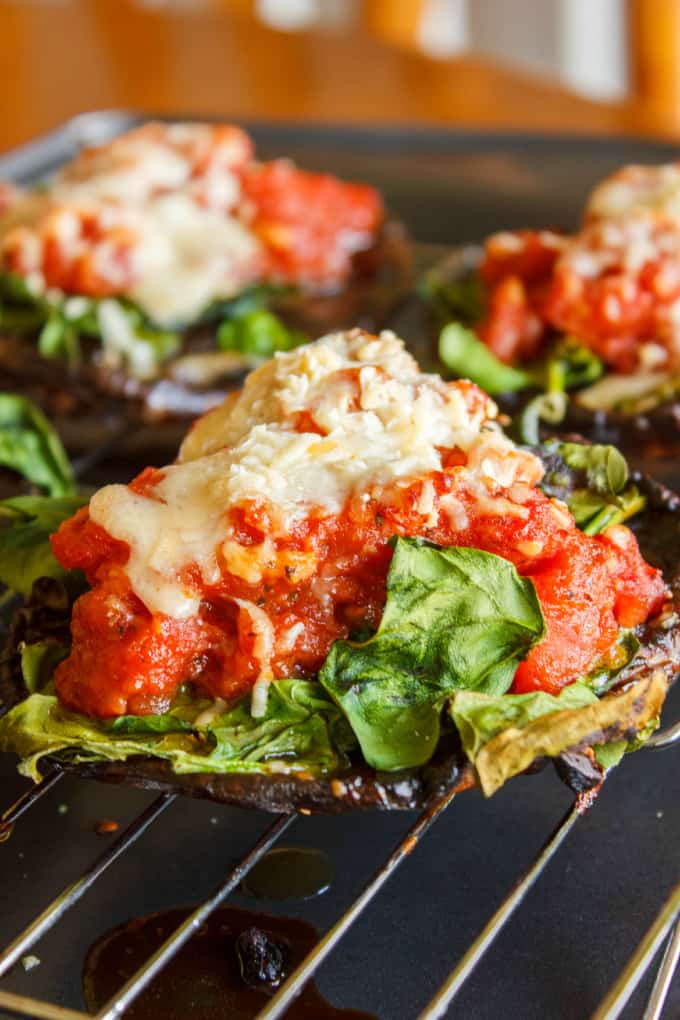 Portobello Mushroom Pizzas
These portobello mushroom pizzas are gluten-free and can easily be made vegan by omitting the cheese!
Ingredients
5 portobello mushrooms (16 oz), gills and stems removed
Fresh spinach
2 garlic cloves, minced
2 tbsp. olive oil
2 tbsp. balsamic vinegar
¼ tsp. red chili flakes
Salt and pepper
Pizza sauce (I used my homemade recipe.) or store-bought.
Parmesan cheese, omit for vegan recipe.
Instructions
Mix the olive oil, vinegar, garlic, chili flakes, salt, and pepper in a large Ziploc bag. Toss in the mushrooms and allow to marinade for a couple of hours minimum.
Preheat oven to 375F. Place a cookie cooling rack on top of a baking sheet. Place mushroom caps stem side down. We want to cook the mushrooms like this to drain any excess moisture out first. Place into oven and bake for 10 minutes. Remove from oven and turn right-size up. Add spinach, pizza sauce, and cheese. Place back into the oven and cook for another 5-10 minutes, or until cheese is nice and melted, and mushrooms are cooked perfectly.
Nutrition Information:
Yield:

5
Serving Size:

1
Amount Per Serving:
Calories:

133
Total Fat:

8g
Saturated Fat:

2g
Trans Fat:

0g
Unsaturated Fat:

6g
Cholesterol:

5mg
Sodium:

217mg
Carbohydrates:

11g
Fiber:

2g
Sugar:

3g
Protein:

5g
Ahh, I hate writing up blog posts after cooking a recipe like this one because I begin to drool and wish I had more of the amazing food! Sigh, such torture. But since they are so easy to make, I am sure these portobello mushroom pizzas will be on our menu again soon.