Chicken, potatoes, a recipe your Little Chef can create: This general tso's potatoes and chicken recipe is soooo easy to make that my 4 year old daughter helped me create the video! Get ready to use The Little Potato Company's Microwave Ready Packages as I continue my brand ambassadorship!
I am alive!
I kind of took an unofficial break from the blog for the past week. Summer was supposed to be my downtime, occasionally revisiting old recipes to update photos and such. However, things picked up pretty quick and I found my summer becoming more daunting. We had new doors and windows being put in and I finally said enough! My sister and I used that time to do a huge shop (10 hour day but don't worry, we did a bunch of aimless stuff in between!) and then cook a bunch of meals for back to school! Yay! So by the end of last week I had a bunch of new recipes and a ton of new windows and doors!!! Win for me!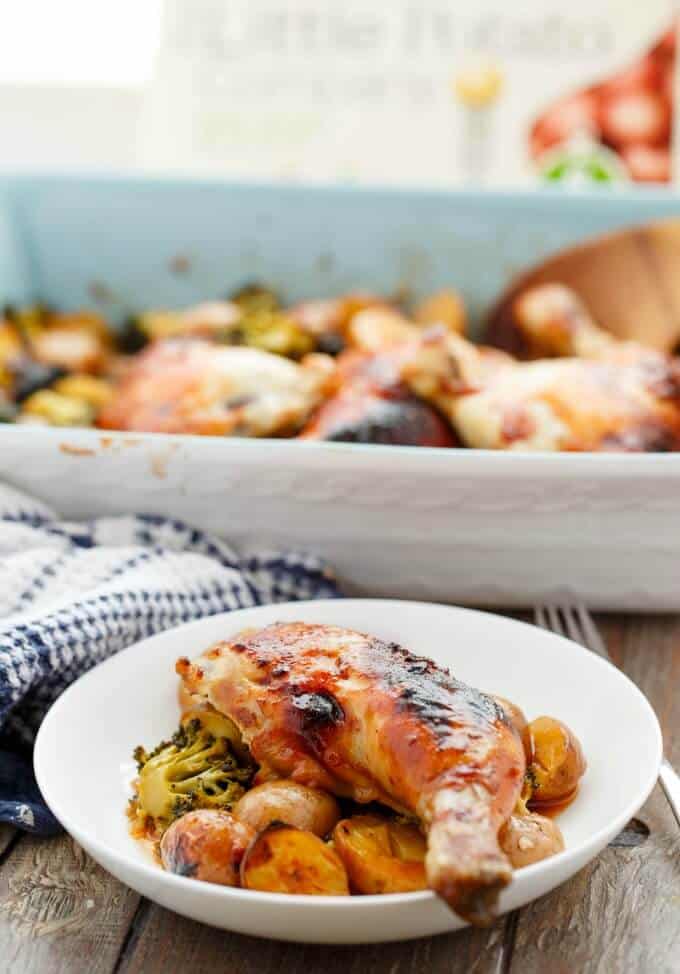 Okay, moving on. I had the opportunity to work with The Little Potato Company again. I have really been enjoying the twists on classic recipes and decided to go with general tso's potatoes and chicken. General tso's is nothing new here. Heck, it is probably my brother's, husband's, and my (with broccoli instead of meat!) favorite Chinese food takeout dish. We have come to adore it at home and I thought 'why not add potatoes?' Genius! These general tso's potatoes and chicken were super easy to make and can be proven by the YouTube video I made starring my 4-year old daughter 🙂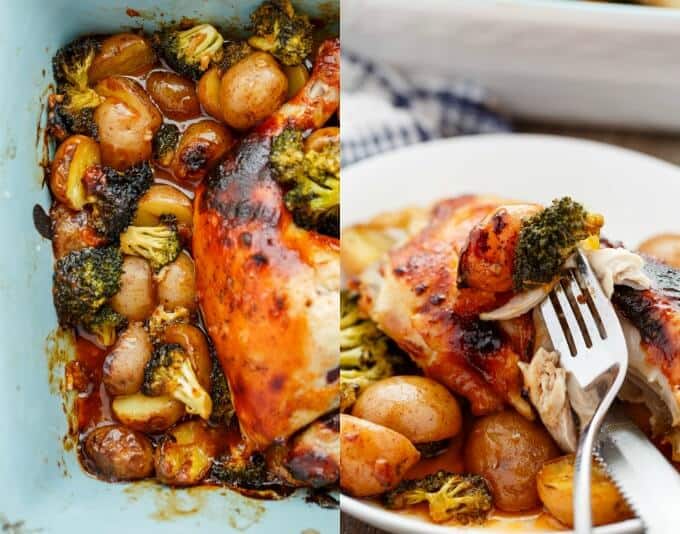 General tso's potatoes and chicken is one of those recipes that can be quickly thrown together, especially if you utilize store-bought, pre-made ingredients. Personally, I love the homemade route, so I made my own sauce. However, there is no shame in using store-bought sauce. Just find your favorite brand and pour over-top of the meal! As for the potatoes, well, that is an easy one! To speed up the cook time, I used The Little Potato Company's Garlic Parsley Microwave Ready Package. No need to wash the potatoes; just stick the container in the microwave for 5 minutes and you have soft potatoes! This way your potatoes are able to crisp up in the oven with the chicken with no fear of under-cooked potatoes. Of course, you can use any of their other products (I find them so interchangeable!) but you will want to microwave, boil, or steam those potatoes first.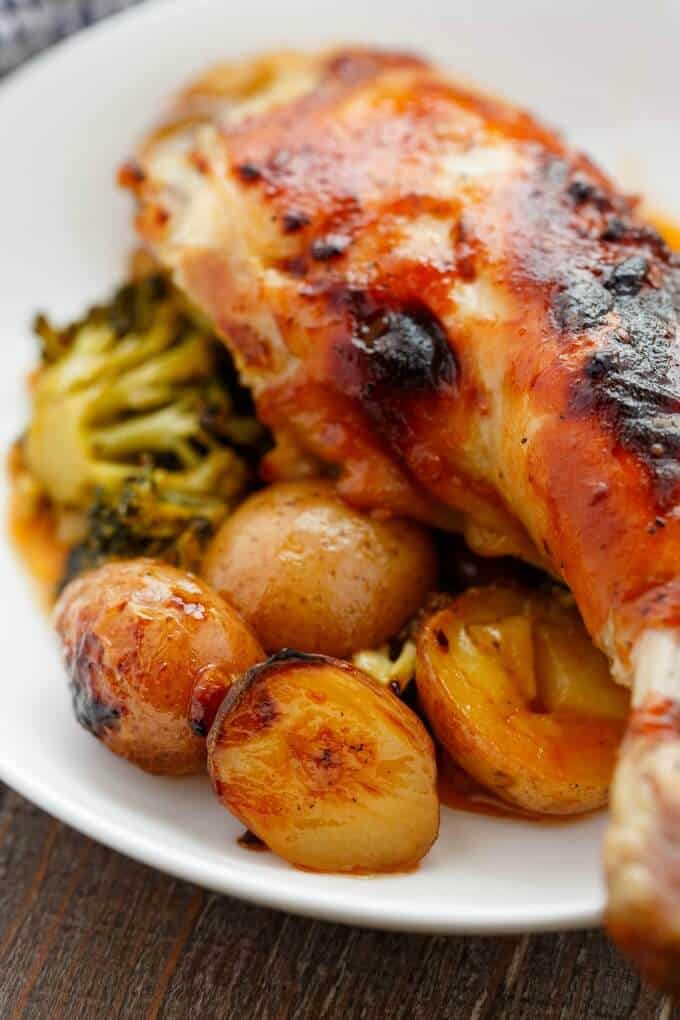 But why can't I just throw the raw potatoes into this general tso's potatoes and chicken recipe? I mean, you could. I tend to do it often, but potatoes are meant to be cooked twice! Perfect french fries? They are often double-fried, or at least partially cooked first. Potatoes like that method. It leads to a crispy outside, but a perfect inside! If you want to cook them in with the chicken with no pre-boiling, go ahead, but you will want to chop those potatoes small!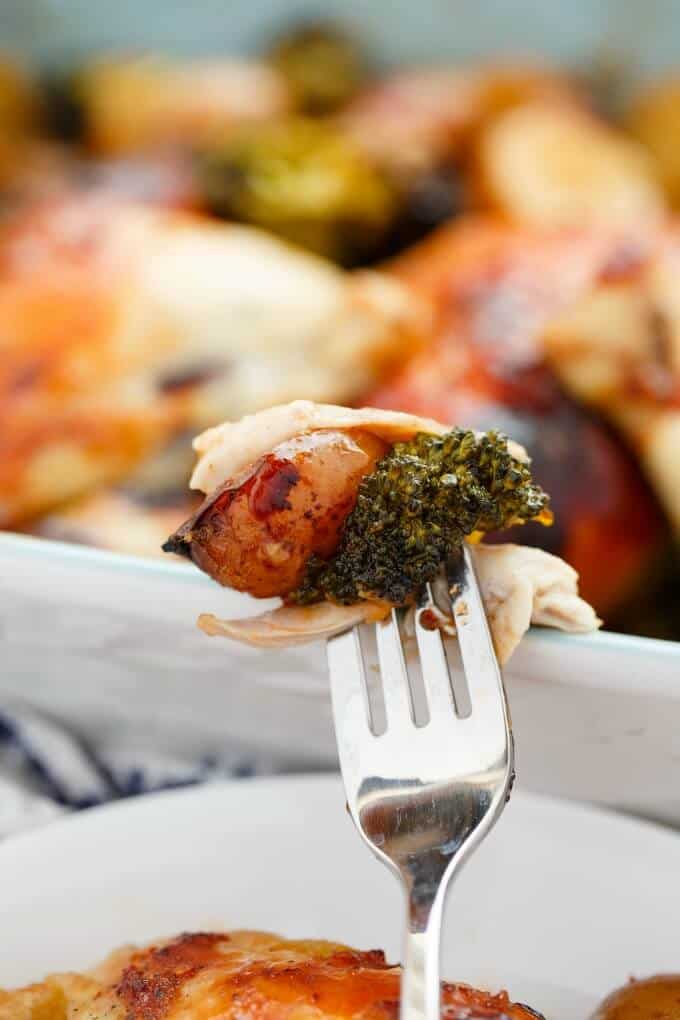 📖 Recipe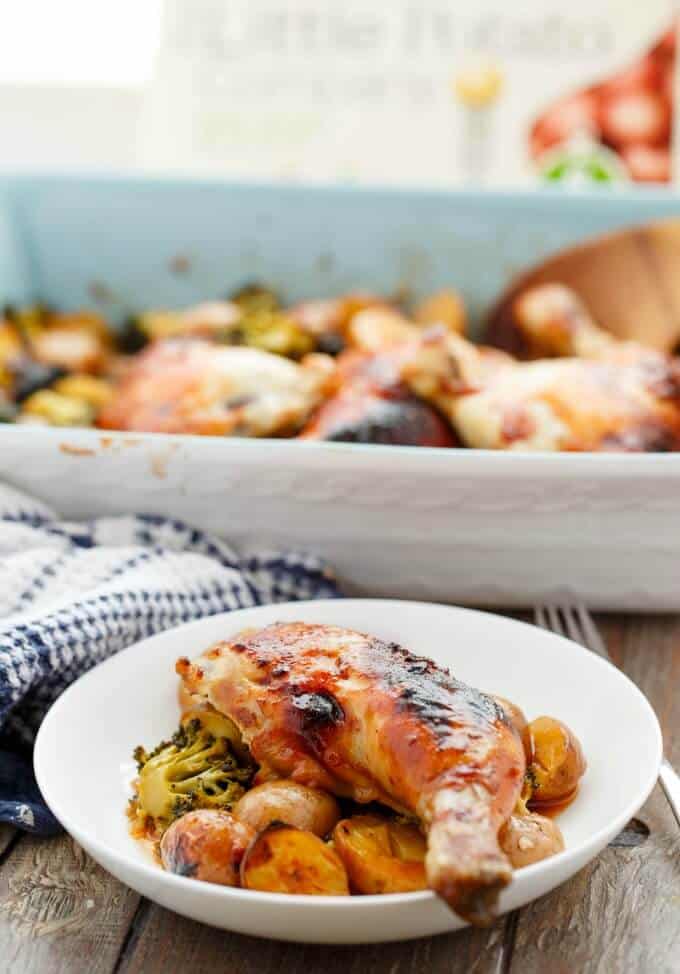 General Tso's Potatoes and Chicken
I love homemade general tso's sauce, but the bottle stuff would work just as well here! Use your favorite chicken cut, but just adjust cook-time accordingly. Oh, and you may want to double the sauce recipe if you love saucy foods!
Ingredients
2 ½ lbs chicken leg quarters (or cut you prefer)
1 lb broccoli crowns, cut into florets
1.5 lb Little Potato Company's Creamer Potatoes (I used theirmicrowave ready packages.)
2 tbsp. vegetable oil
¼ tsp. crushed red pepper flakes
Salt and pepper
1 (375 mL) jar general tso's sauce OR recipe below.
Sauce
1 tsp. vegetable oil
¾ cup chicken broth, divided
1 tbsp. tomato paste
2 tbsp. soy sauce (can use GF here)
2 tbsp. rice wine vinegar
1 tsp. sesame oil
3 tbsp. granulated sugar
4 garlic cloves, minced
1 tsp. freshly chopped ginger
Salt and pepper
Instructions
If making your own sauce, add vegetable oil into a small pan over medium heat. When hot, stir in garlic and ginger. Cook for 1 minute, or until aromatic. Stir in tomato paste and cook for 30 seconds, stirring constantly. Add ½ cup of broth, soy sauce, vinegar, sesame oil, sugar, salt, pepper, and some red pepper flakes if desired. Bring to a boil and simmer for a couple of minutes. Mix cornstarch with remaining broth and add to sauce. Simmer for 3-4 minutes. Remove from heat.
Prep
Follow directions on microwave ready package. If using a bag of little potatoes, poke holes in each potatoes and microwave on high until soft, about 10 minutes. Toss broccoli and potatoes with some oil.
Add potatoes to the bottom of a large casserole or baking dish. Add broccoli. Season with salt, pepper, and red pepper flakes if desired. Toss.
Add chicken evenly. Season again.
Pour sauce over top, spreading evenly. Place into 425F oven for 15 minutes. Stir potatoes and broccoli. Cook for another 10-20 minutes, or until chicken is cooked through and reaches 160F (may take more or less time depending on how small/large your chicken are.)
Notes
You can broil chicken if necessary but the oven temperature should crisp that skin.
Nutrition Information:
Yield:

4
Serving Size:

1
Amount Per Serving:
Calories:

326
Total Fat:

24g
Carbohydrates:

2g
Protein:

22g
My daughter had a blast with the Little Chef program courtesy of The Little Potato Company. The program spans a wide range of ages, so don't let that get to you. Having your child in the kitchen at any age is fantastic! For more guidance of what your child can do in the kitchen be sure to check out The Little Potato Company's Little Chef age appropriate tasks and recipes. Don't worry if they cannot do it all. I am there to help my daughter the entire time and with this general tso's potatoes and chicken recipe, she was glad to just be of help! They even find tasks (she asked to open the oven door so I could put the food in which was totally okay with me!)
This is a sponsored post. I was fortunate enough to receive products and monetary compensation from The Little Potato Company. Though products were received, all opinions are my own and I would not recommend a product that I did not enjoy.
Love this general tso's potatoes and chicken recipe?! Try some of these recipes: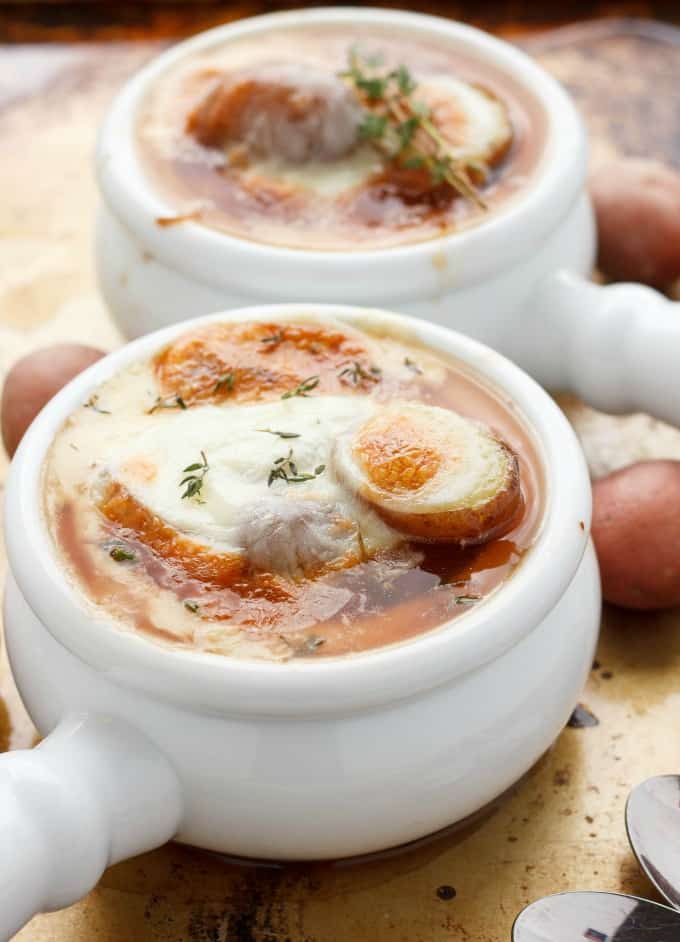 French Onion Soup with Potatoes