Just because the cold weather has passed, doesn't mean we cannot enjoy this French onion soup with potatoes! A great gluten-free alternative as I continue my brand ambassadorship with The Little Potato Company!
I am so excited about my post today!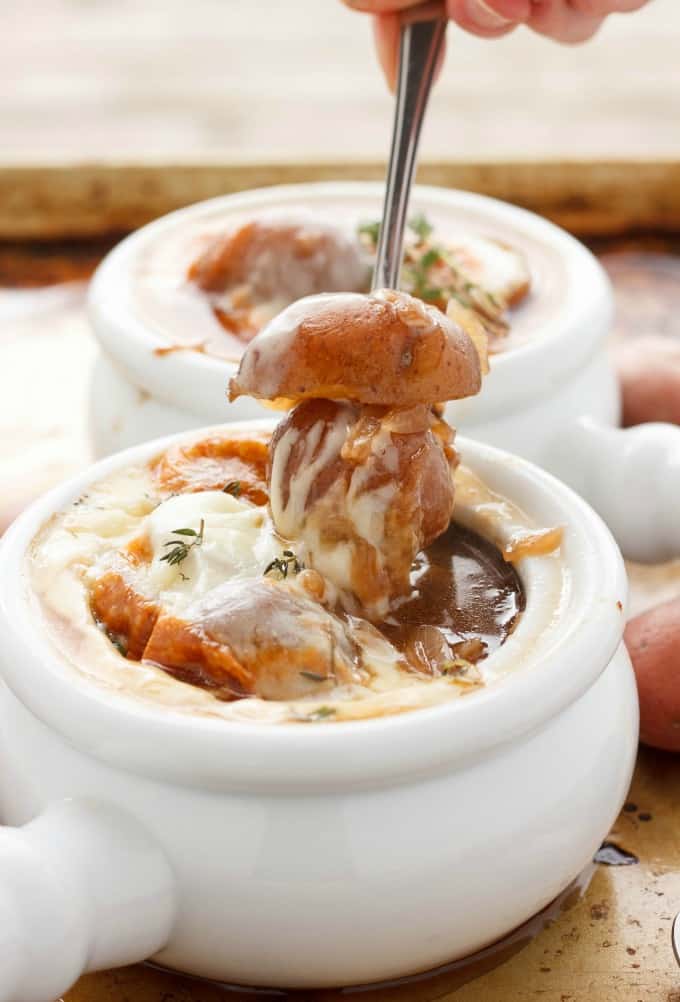 My husband LOVES potatoes. Pretty sure he could eat them with every meal. He enjoys soups, too, but finds that they don't tend to keep him full while working. Understandable: I can easily inhale 5 bowls of soup myself! So it got me thinking. What kind of soup could I make that would leave him satisfied?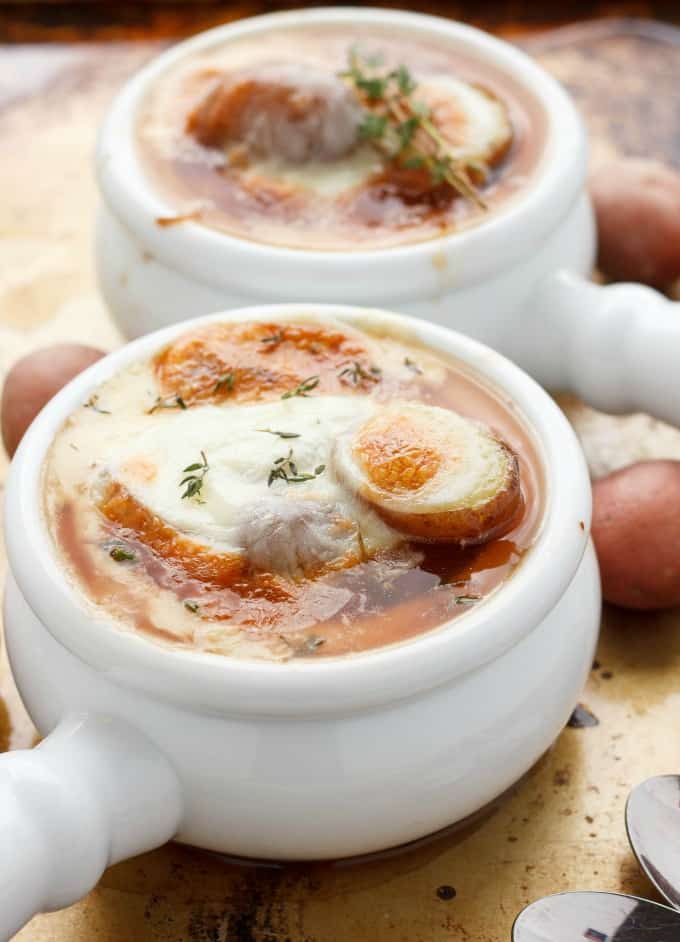 The answer? French onion soup with potatoes! Why haven't I thought of this sooner?! Not only is it a great, hearty soup, but it also eliminates the bread portion, making this meal completely gluten-free. Sure, you could sub in gluten-free bread but I have tried my mother-in-law's and I think I will stick to the traditional stuff 🙂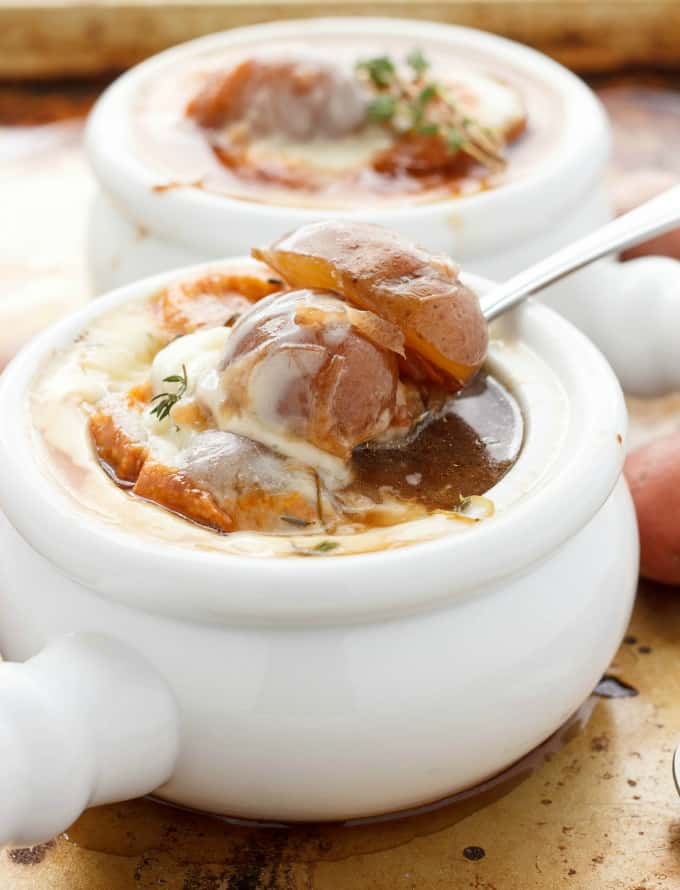 I decided to go with the Blushing Belle varietal here because I love the color it adds (reminiscent of bread) and they have such a wonderful flavor. I totally forgot to slice them in half before I boiled them, but that just left me with the task of halving them while still hot (which I do not recommend!) Still hoping to find that Something Blue varietal because I KNOW they would have looked awesome here!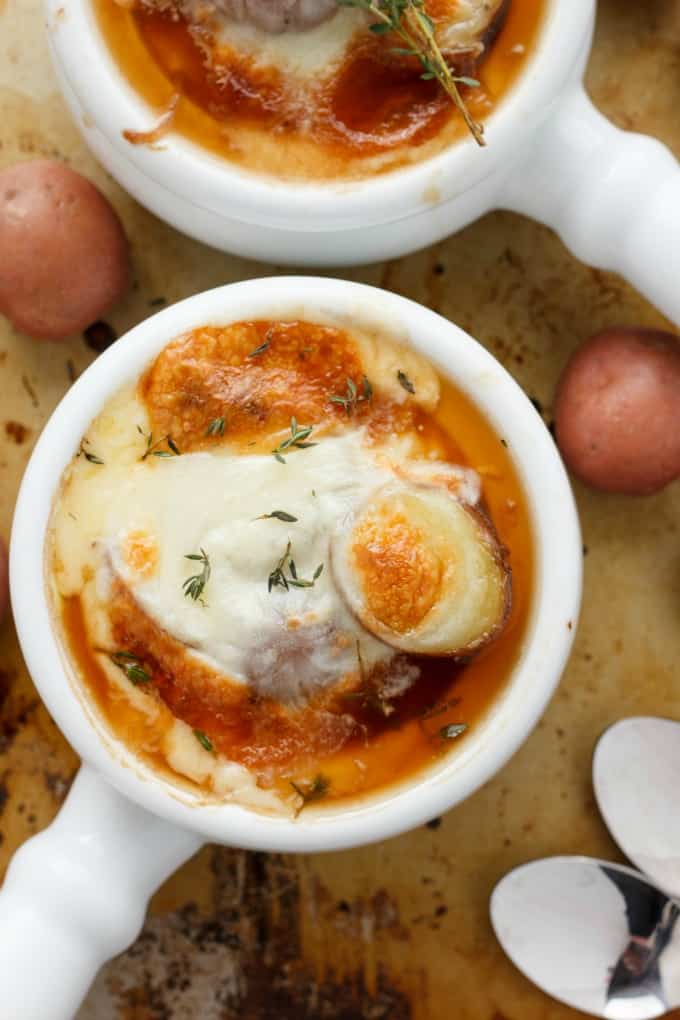 📖 Recipe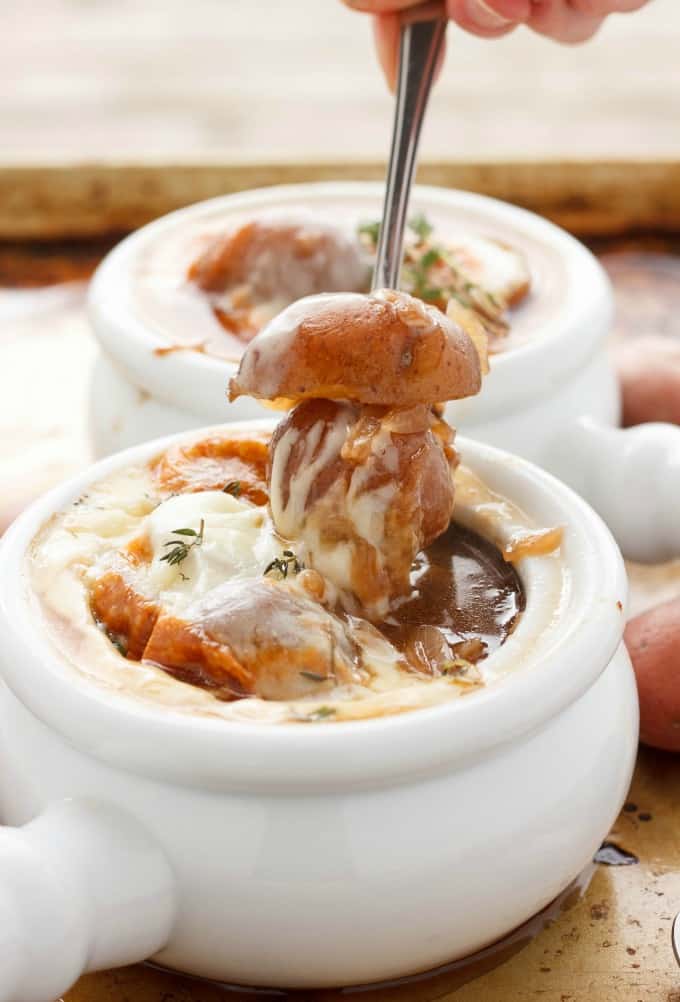 French Onion Soup with Potatoes
To reduce cooking time, try and boil your potatoes while you are caramelizing your onions. It will save you time and effort! Sub in vegetable broth for a vegetarian recipe!
Ingredients
1.5 lbs Creamer potatoes, halved (I used Little Potato Company's Blushing Belle)
1 cup Gruyere or mozzarella cheese, grated or sliced
1 tbsp. butter
Salt and pepper
½ cup red wine (or sub in broth)
4 cups beef or vegetable broth
¼ tsp. ground thyme OR 1 tbsp. fresh thyme
Caramelized onions
5 large onions (about 1.5 lbs)
3 garlic cloves, minced
2 tbsp. olive oil
1 tsp. granulated sugar
Instructions
Add potatoes to a large pot of salted water. Cook until tender, about 10-15 minutes. Drain. Add in butter, salt, and pepper.
Soup
Add a large pot or saucepan to the stove over medium-high heat. Add oil and when hot, stir in onions. Cook for about 7-8 minutes, stirring frequently, until beginning to brown. Add salt, pepper, and sugar. Continue cooking for another 5-8 minutes, or until onions are caramelized to your liking (the longer you cook them, the deeper the flavor.) Stir in garlic and cook for 30 seconds.
Deglaze pan with wine (or broth,) making sure to scrape the bottom of the pan when stirring to get all the brown bits. Cook for 2 minutes or until wine is cooked away. Pour in broth and thyme. Bring to a boil, reduce heat, and simmer for 15 minutes.
Preheat broiler. Divide soup between 4-6 oven-safe soup bowls. Top with potatoes and cheese. Broil until cheese is melted and golden. Serve with fresh thyme if desired.
Nutrition Information:
Yield:

4
Serving Size:

1
Amount Per Serving:
Calories:

1196
Total Fat:

76g
Saturated Fat:

41g
Trans Fat:

1g
Unsaturated Fat:

29g
Cholesterol:

243mg
Sodium:

781mg
Carbohydrates:

48g
Fiber:

3g
Sugar:

10g
Protein:

75g
Of all the recipes I have made for The Little Potato Company, this one is a really close call for first place! My husband said he prefers the potatoes in his soup over the bread (and who wouldn't?!) And do not fret about buying Gruyere cheese. I know it is the standard pairing with French onion soup, but let's be honest, it can be quite pricey. I used a ball of mozzarella here and there were no issues whatsoever. If you think about it, this French onion soup with potatoes is actually a cost-effective meal that takes cheap ingredients and turns them gourmet!
This is a sponsored post. I was fortunate enough to receive products and monetary compensation from The Little Potato Company. Though products were received, all opinions are my own and I would not recommend a product that I did not enjoy.
Love this French onion soup with potatoes?! Try some of these recipes: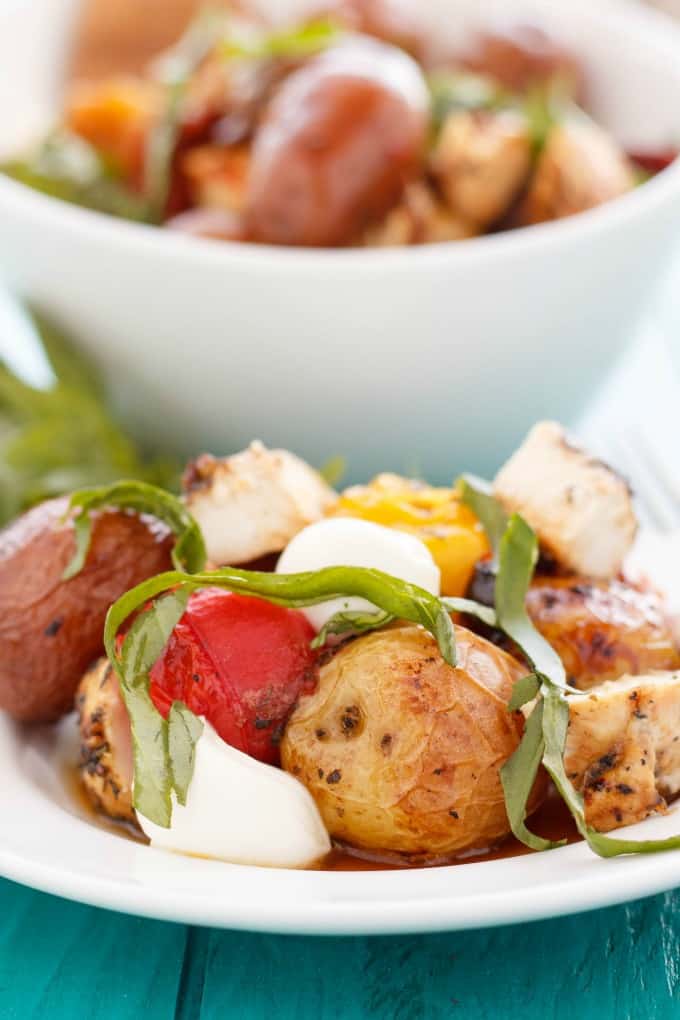 Roasted Potato and Chicken Caprese Salad