Around Easter time, hard boiled eggs are a dime a dozen so why not whip up something awesome like these sour cream, chive, and bacon deviled eggs!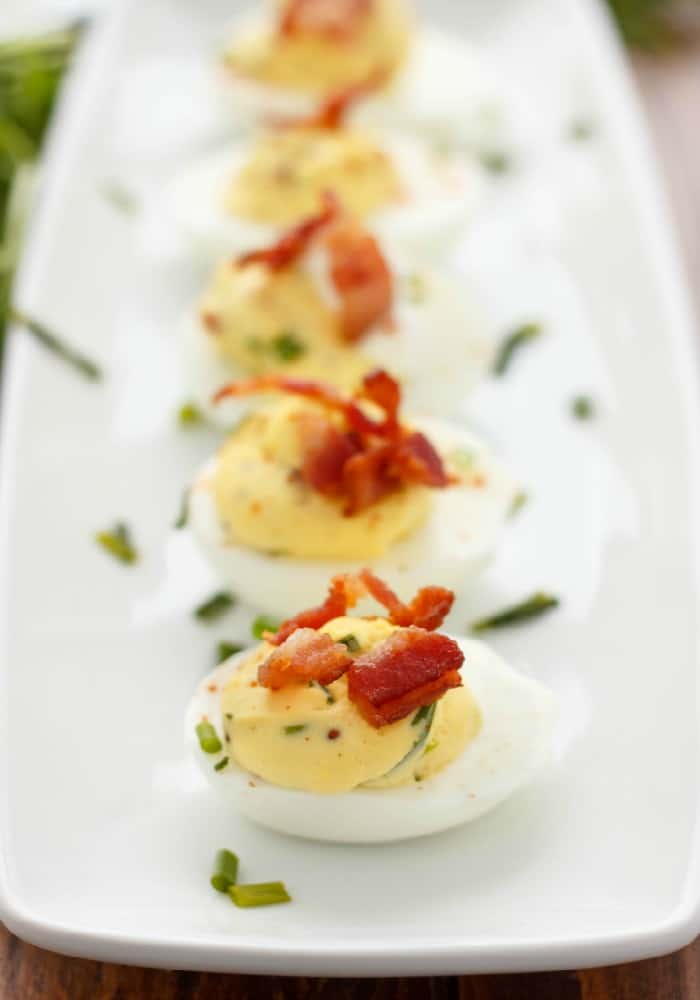 Let's be honest: kids love decorating eggs for Easter. I whipped up a dozen eggs the other day for my daughter to paint and she was thrilled! They never seem to tire of it, which means more and more hard boiled eggs…
Sure, we could prick a hole into the shell and drain out the egg, but children are far from delicate and I know for a fact I would end up with more broken egg shells and one sad child.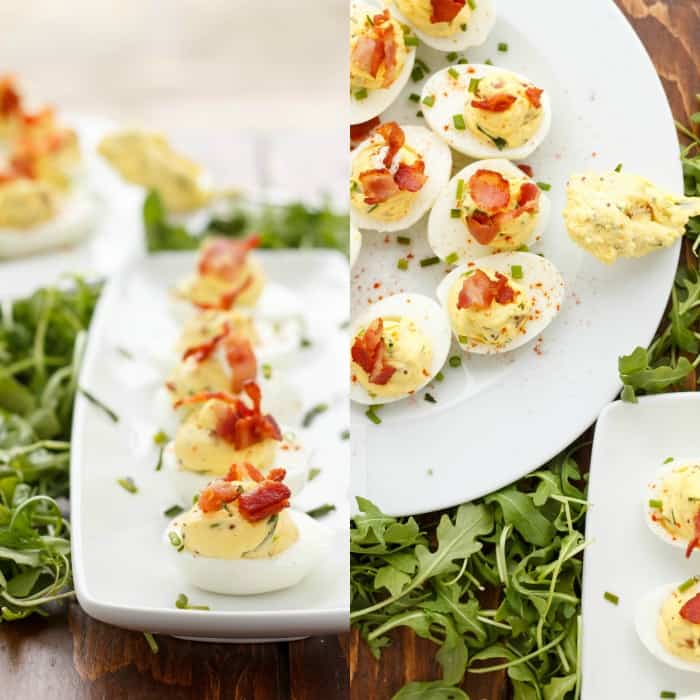 To utilize the MANY leftover hard boiled eggs (I could only eat so many!) I decided to go with a spin on a classic: sour cream, chive, and bacon deviled eggs! That's right, this is not your grandmother's recipe!
Sadly, I am the only one who actually likes hard boiled/deviled eggs in this house so both my daughter and husband passed up on these. Since I included bacon, the vegetarian in me could not enjoy these, but my neighbor was more than happy to take these off my hands! He also let me know that any future deviled egg creations were more than welcome in his house 🙂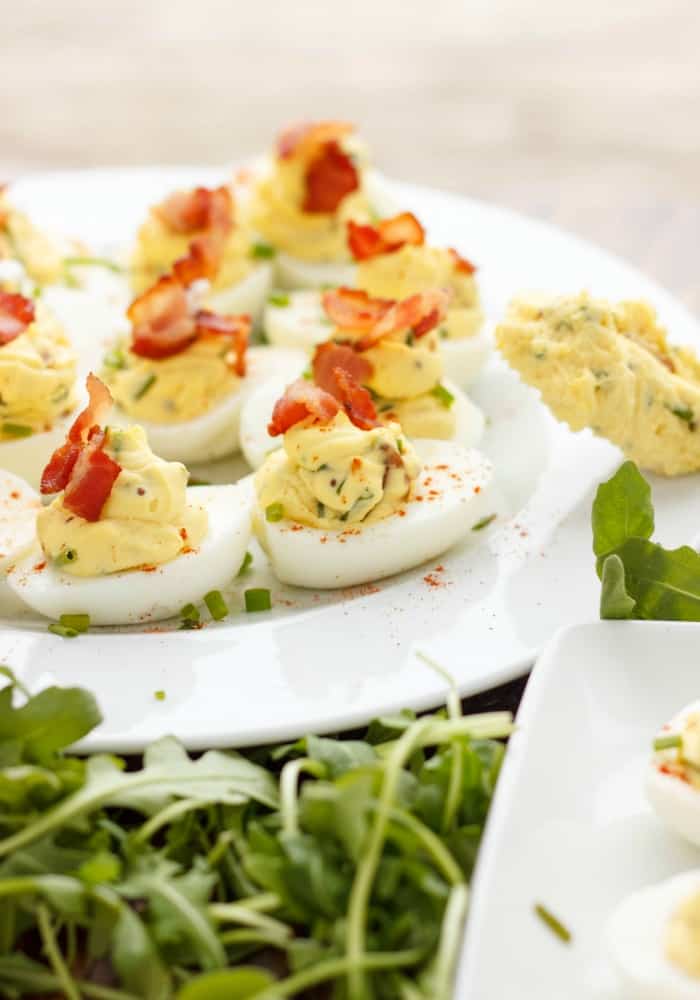 Now, as awesome as these sour cream, chive, and bacon deviled eggs turned out, I had one heck of a time peeling the eggs. Arg, I was so frustrated in the end. Usually I have this amazing technique and it all works out for the best; but I guess because I did not peel them right away and allowed them to sit overnight in the refrigerator I created some sort of breeding ground of terrible, resistant shells! Let's put it this way, but the end of peeling I was tempted to throw in the towel and re-boil another dozen!
Aside from that small hiccup, deviled eggs are super easy to make. Everyone has their preferred method when it comes to the boiling of the eggs, but I find I really like Martha Stewart's technique. I have used it various times now and my eggs have always come out perfect (no green color or under-cooked eggs.) However, when it comes to these sour cream, chive, and bacon deviled eggs, use the method you are most comfortable with!
📖 Recipe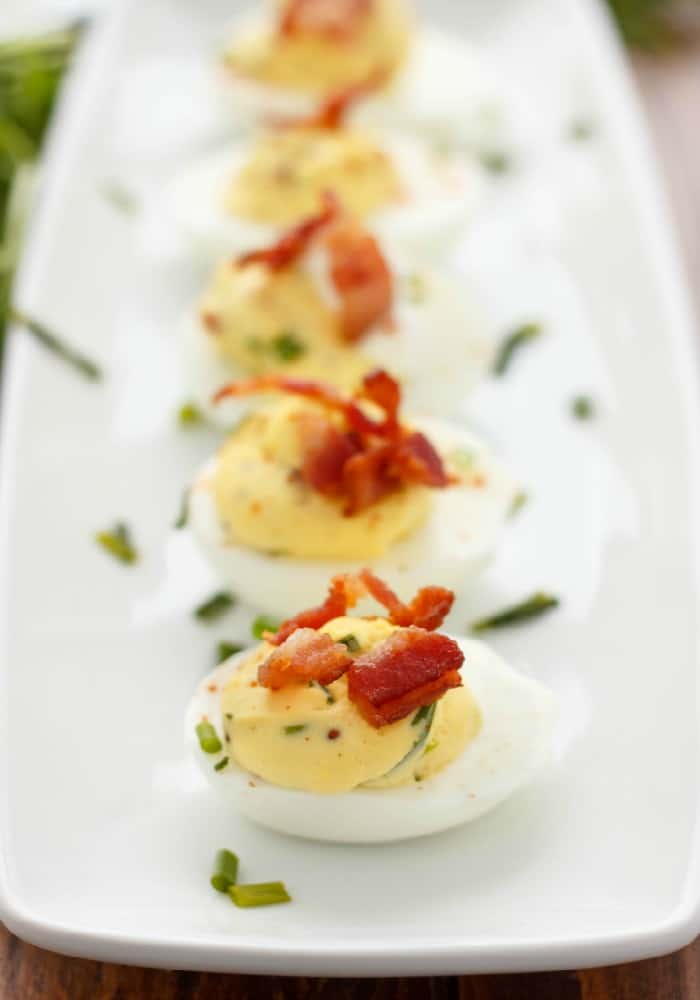 Sour Cream, Chive, and Bacon Deviled Eggs
The creaminess of the filling all depends on how much mayonnaise you like to add (some likes lots, some prefer less!) Reserve some bacon and chives for garnish!
Instructions
Remove the yellow yolk from each egg and place into a medium-sized mixing bowl. Add in mayonnaise, sour cream, chives, mustard, salt, pepper, and cooked bacon. Stir until well combined.
Place mixture into a piping or sandwich bag. Snip off corner and pipe mixture into each egg white.
Season with paprika if desired. Garnish with extra chives and bacon!
Chill in refrigerator until ready to serve.
Nutrition Information:
Yield:

24
Serving Size:

1
Amount Per Serving:
Calories:

63
Total Fat:

5g
Saturated Fat:

1g
Trans Fat:

0g
Unsaturated Fat:

3g
Cholesterol:

97mg
Sodium:

102mg
Carbohydrates:

0g
Fiber:

0g
Sugar:

0g
Protein:

4g
See this recipe on Julie's Eats & Treats where I am a contributor!
Love these sour cream, chive, and bacon deviled eggs?! Try some of these recipes: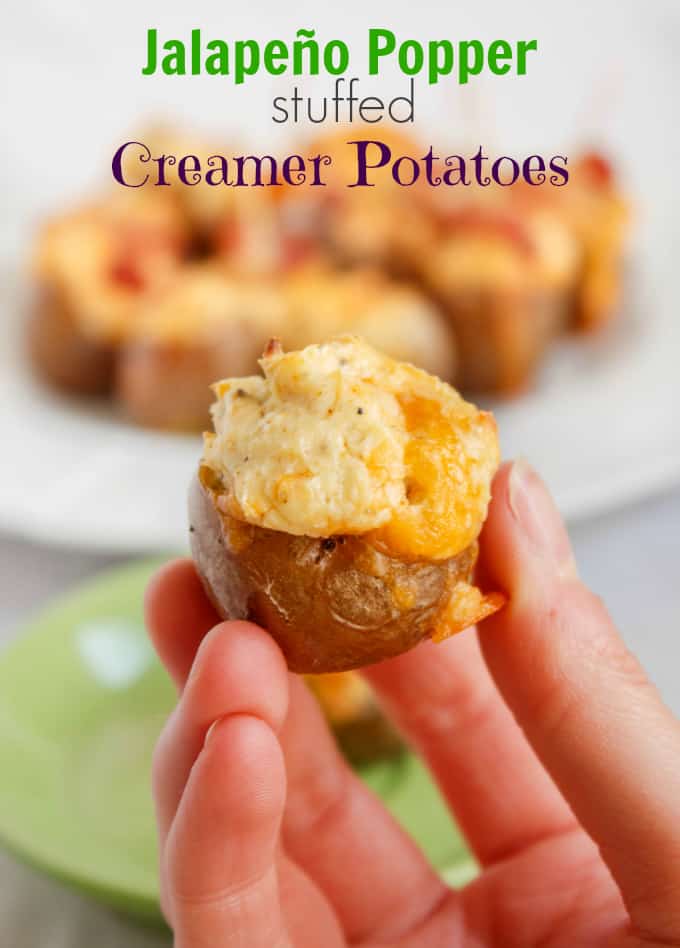 Jalapeno Popper Stuffed Creamer Potatoes