Simple and decadent, these white chocolate shot glasses with strawberry mousse are SUPER easy to make and can be made in advance!
Let me tell you, with all this nice weather kiddo and I have been super busy. Outside every day, soaking up the sun, playing with friends, you name it. By the end of my day I am exhausted and the minor sun burn does not help. Thankfully my daughter has my husband's genes and tans nicely. I, on the other hand, tend to burn and then go back to paleness... Thank you, genetics!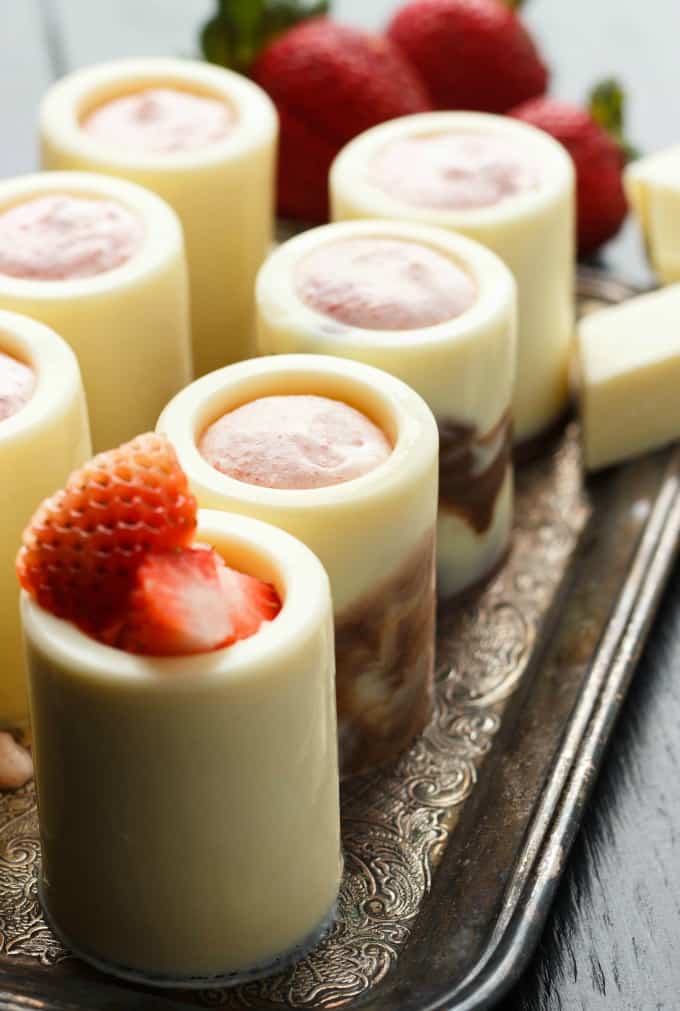 In light of all our busyness, I have turned to some simple desserts for Mother's Day. My chocolate shot glasses with peanut butter mousse have become super popular on the blog and I knew I had to revisit this cute contraption sooner than later. And what a fun flavor combination! These white chocolate shot glasses with strawberry mousse are made using Wilton's shot glass molds (no affiliation.) I consider this recipe no-bake and it can be completed in a matter of minutes (but you have to wait for the shot glasses to firm up!)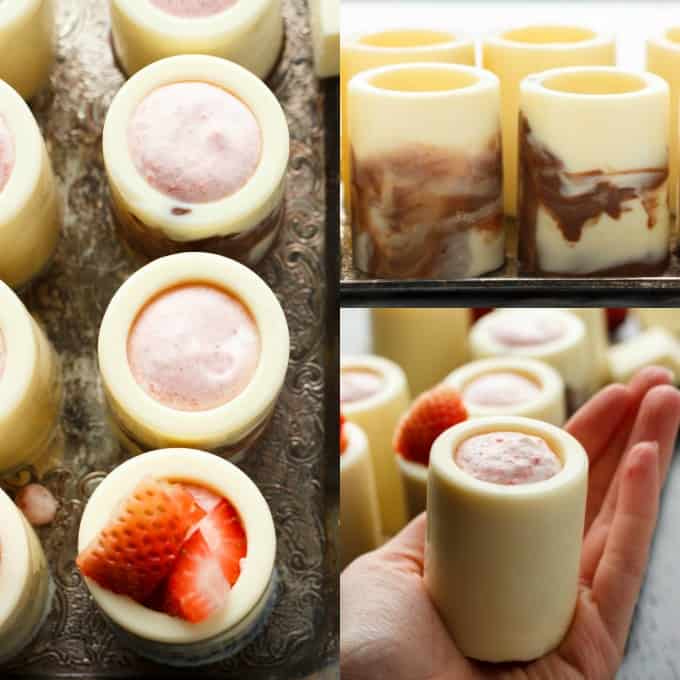 Now, white chocolate tends to be a bit more difficult to work with over other chocolate types. Just melt your chocolate in short intervals and be patient. When they firm up they will hold together wonderfully and that soft mousse on the inside will pair so nicely with the chocolate. And that mousse? It is only 2-ingredients! That's right, I cheated and did not go totally homemade for once but I really love the ease here AND it totally reminds me of these skinny frozen peanut butter whips that I taste-tested from The Creative Bite a while back!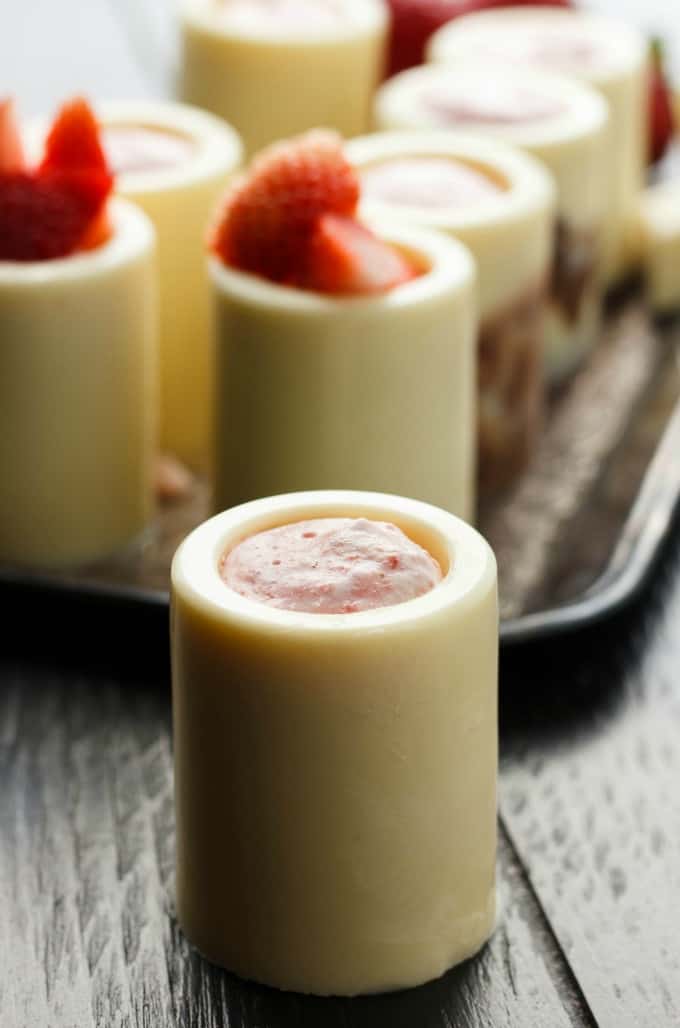 If white chocolate is not your thing, any other type should do. I actually tried my hand at making marbled chocolate shot glasses and loved how they turned out! My mom enjoys dark chocolate so I would definitely use that here for her. Me? Milk chocolate all the way! I actually did not even get to enjoy one of these white chocolate shot glasses with strawberry mousse but my husband's coworkers left some raving reviews 🙂
📖 Recipe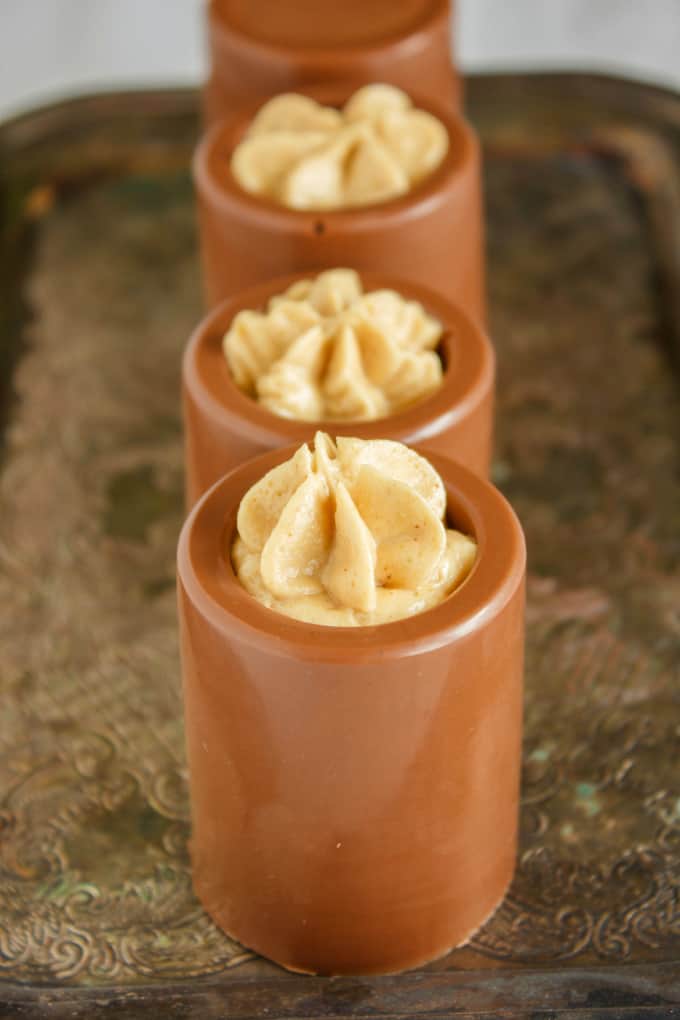 White Chocolate Shot Glasses with Strawberry Mousse
These white chocolate shot glasses are super easy to make, but remember that white chocolate is much more delicate to work with. Keep refrigerated until ready to serve so they do not melt. If you find the mousse too loose, add in more Cool Whip, but it tends to firm up in the fridge.
Ingredients
1 lb white chocolate
¼ cup dark chocolate (if wanting to go with the marble effect)
¼ cup coconut oil
Mousse
¼ cup freshly pureed strawberries
1 cup fat-free Cool Whip
Fresh strawberries
Instructions
Add white chocolate and coconut oil to a microwave-safe bowl. Melt in small intervals until smooth. Pour into shot glass molds. Place into refrigerator for a couple of hours to firm up (I prefer to leave mine overnight.)
Remove from mold and place into refrigerator.
Combine the pureed strawberries and Cool Whip with a spatula. Pipe or spoon into chocolate glasses and garnish with a strawberry if desired.
Keep refrigerated until ready to serve!
Marble Effect
Melt dark chocolate with 2 tsp. coconut oil. Fill shot glasses ¾ths of the way full with white chocolate, and then pour in some dark chocolate. Use a toothpick to swirl around. Finish off with more white chocolate if desired.
Nutrition Information:
Yield:

8
Serving Size:

1
Amount Per Serving:
Calories:

424
Total Fat:

28g
Saturated Fat:

18g
Trans Fat:

0g
Unsaturated Fat:

7g
Cholesterol:

14mg
Sodium:

60mg
Carbohydrates:

42g
Fiber:

1g
Sugar:

39g
Protein:

4g
Three days of Mother's Day recipes down, two to go! Who knows, maybe I will do another Mother's Day week full of recipes if I have the time (because we need to show appreciation to our mothers!) Knowing my mom she will point out how I made all these desserts but she never actually got to see any in person...
Love these white chocolate shot glasses with strawberry mousse?! Try some of these recipes: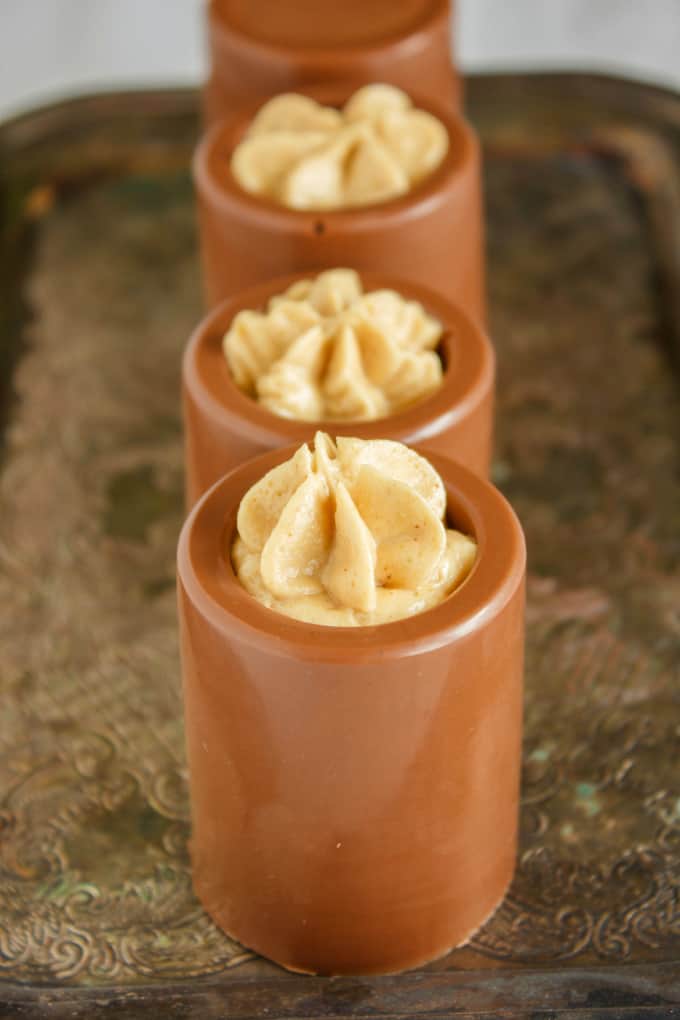 Chocolate Shot Glasses with Peanut Butter Mousse