Mother's Day is all about mom, so why not treat her to this simple skillet apple cake with cinnamon oat topping!
Have I mentioned how much I love my cast iron pans?
Seriously, every kitchen should have one. Or two. Heck, even three!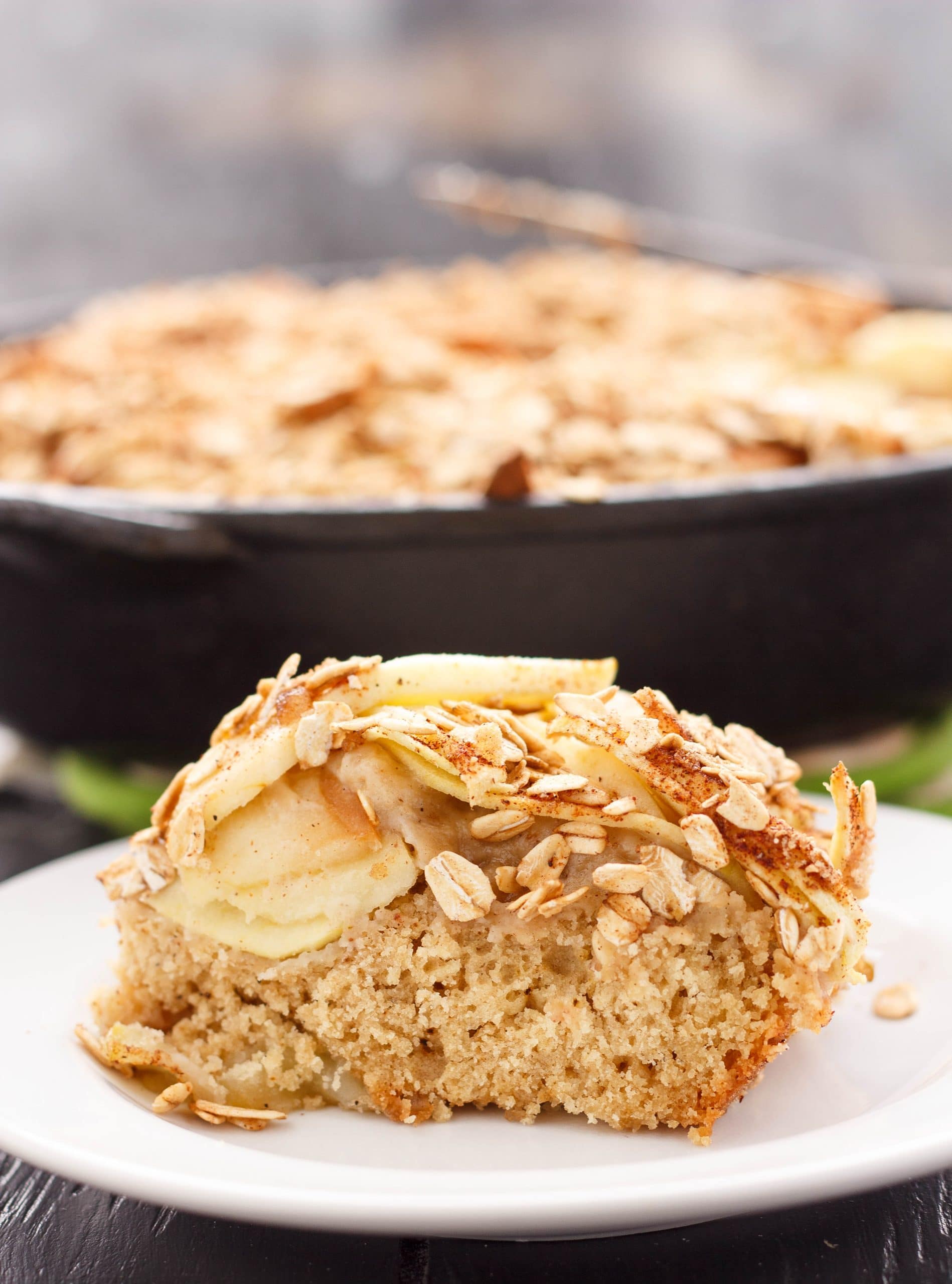 As I use them more often I cannot help but think of recipes that revolve around these awesome pans. Today's skillet apple cake with cinnamon oat topping is made entirely in a cast iron pan and yields a soft and moist cake that no one can turn down! Just thinking about it has my mouth salivating...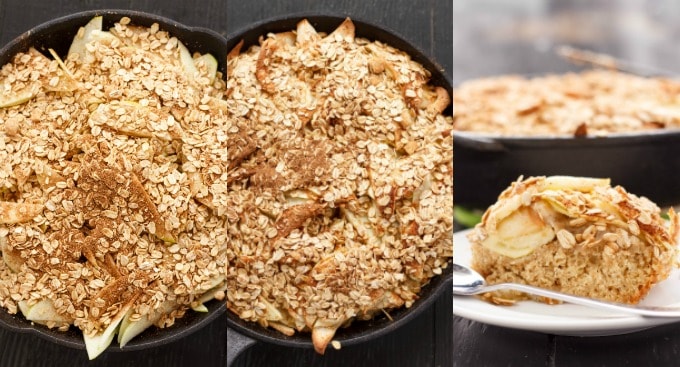 Funny story when it came to this skillet apple cake with cinnamon oat topping. I guess I had used the skillet previously for a bacon dish. I am pretty darn good at keeping those pans cleaned and seasoned but that bacon flavor must have just stuck on because when I took a bite of the cake to try, I tasted a slight hint of bacon... Not that this is a bad thing at all! Bacon and apple pair perfectly together, but my vegetarian heart was so sad. My husband, on the other hand, loved it! Future cake idea incoming?!
Don't fret if you do not have a cast iron pan (but get on buying one!!) You can make this cake in a baking dish. Of course, adjust cooking time accordingly but I just go by the ole toothpick trick (aka, having it come out clean when testing the cake.)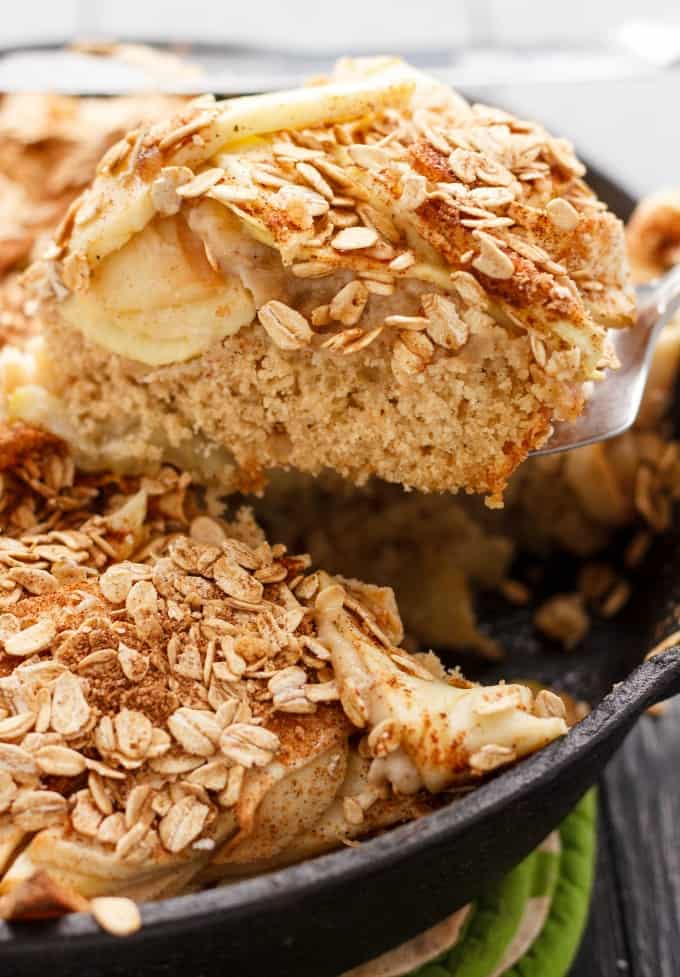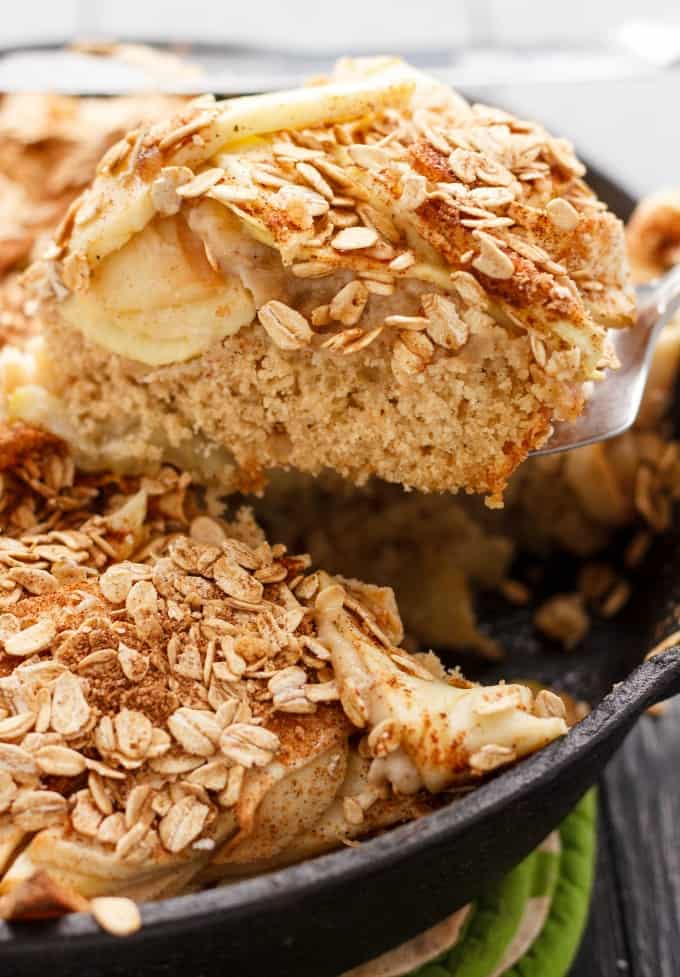 Skillet Apple Cake with Cinnamon Oat Topping
Total Time:
1 hour
5 minutes
This cake is extremely easy to make and can be served right from the pan! The cake batter may look like there is too little, but when it bakes it will fill the pan nicely.
Ingredients
2 cups cake and pastry flour (it is one flour type.)
1 tsp. baking powder
½ tsp. baking soda
⅛ tsp. salt
¾ cup brown sugar
⅛ tsp. ground cloves
¼ tsp. ground nutmeg
½ cup buttermilk, room temperature
¼ cup melted butter
1 egg, room temperature
1 tsp. vanilla
Topping
3 Granny Smith apples, peeled and sliced thin
¼ cup butter
¾ tsp. ground cinnamon
1 tbsp. brown sugar
½ cup old fashioned oats
Instructions
Sift together the flour, baking powder, baking soda, salt, sugar, cloves, and nutmeg in a medium-sized mixing bowl.
Whisk together melted butter, egg, and vanilla until really well combined. Pour into flour mixture and mix until just combined.
Preheat oven to 350F. Place ¼ cup (non-melted) butter into cast iron skillet.(8 or 10-inch works well.) Place into oven and wait until butter fully melts. Use a brush to baste up the sides of the pan. Add in ⅓ of the apples to the bottom of the pan. Pour cake batter over top (I have a 10-inch pan so my cake was a good inch away from all the sides.) Top with remaining apples.
Topping
Combine pats, sugar, and cinnamon. Sprinkle on top of apples.
Place into oven and bake for 45-50 minutes, or until toothpick comes out clean. Allow to cool slightly before serving!
Nutrition Information:
Yield:

10
Serving Size:

1
Amount Per Serving:
Calories:

439
Total Fat:

20g
Saturated Fat:

8g
Trans Fat:

0g
Unsaturated Fat:

10g
Cholesterol:

82mg
Sodium:

399mg
Carbohydrates:

61g
Fiber:

2g
Sugar:

38g
Protein:

5g
I so wish I had added chopped pecans or walnut to this dish. OMG, caramel sauce drizzled over top would be soooo amazing! Yes, I really need to make this again, and soon!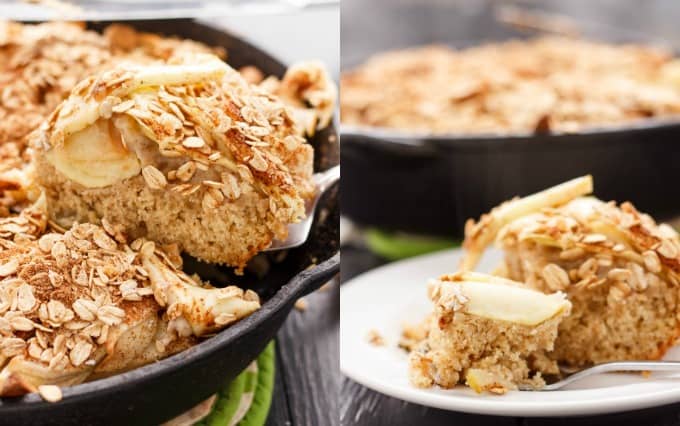 And there we have it; one week of Mother's Day recipes down! I may do another full week starting Monday, but after that I would like to get back into my three-day schedule 🙂 I don't know how I used to post every day in the past!