Summer is coming to an end, and with back to school upon us I thought I would close off with an awesome beverage: homemade roasted lemonade! Packed full of flavor with just a bit of extra effort, this drink is sooooo worth it!
Today's post was totally last minute!
I had another post lined up. Even went so far as typing it up and scheduling it for today. But my daughter has been asking for homemade lemonade for a loooooong time (she kept eyeing Big Bird's Lemonade in the Sesame Street Cookbook.) I finally got my hands on some lemons and we went to work! Me being me, I wanted to do something different. While she was off playing video games I quickly placed these lemons into the oven. Absolutely worth it! The house smelled like lemons AND made them so much easier to work with! Let me explain.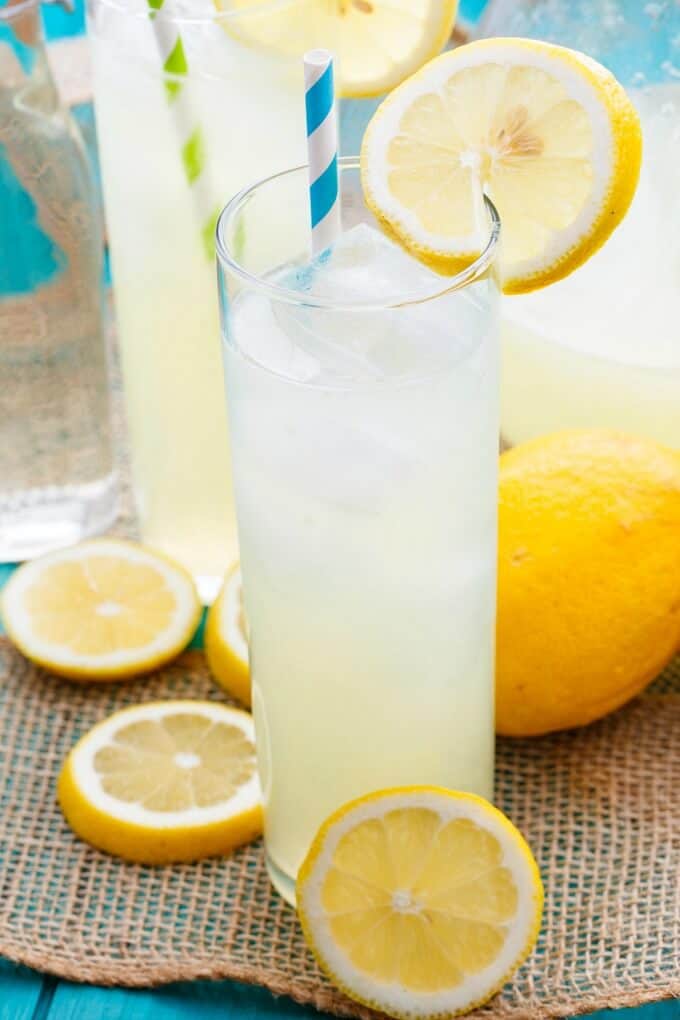 We had just got back my juicer from my mother-in-law and I planned to use it entirely for this homemade roasted lemonade. I put a couple through the machine but it was not turning out to my liking. I finally just decided to squeeze them by hand before I wasted anymore juice and I was floored with how easy they were to juice! Roasting them softened them greatly, yielding a ton of juices! I was banging my head against the counter when I realized how many lemons I had wasted. Sigh. It happens to everyone. Thankfully we got enough juice to make almost 2 whole cups of lemonade, haha. It was kind of funny seeing how fast this roasted lemonade disappeared!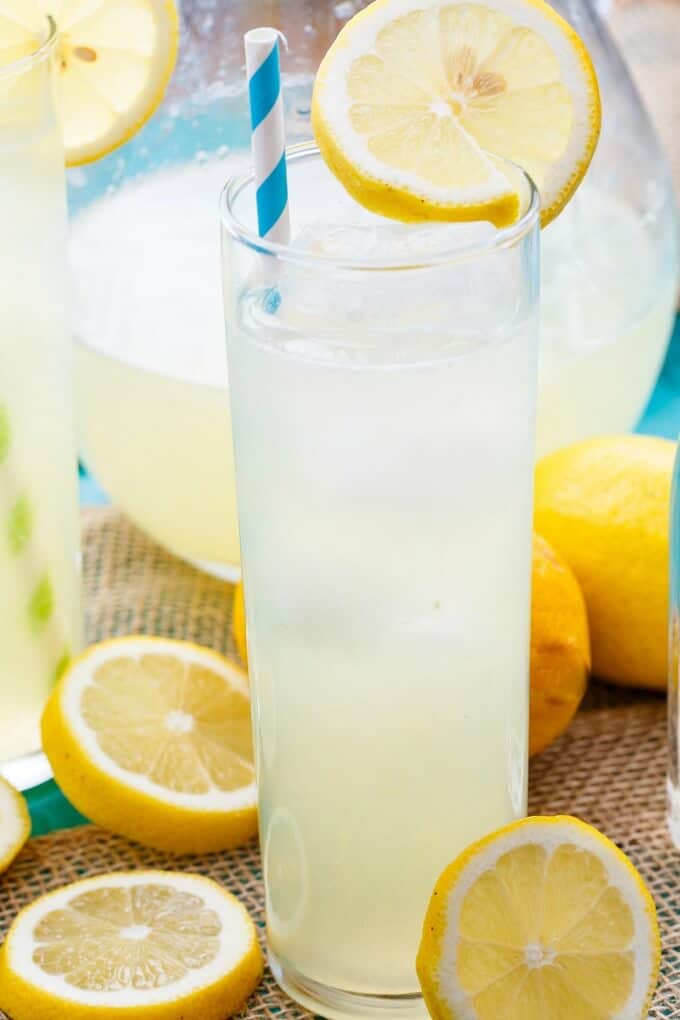 Do you have to roast the lemons? I guess not but I really noticed a difference in taste and texture when it came to this roasted lemonade. I juiced my lemons through a fine sieve to catch any seeds. Then I used a spoon to mash as much of the lemon pulp through, without it being pulpy (if you know what I mean.) Adding the simple sugar to the mixture only enhanced everything, creating an almost thick-like beverage. I cannot even describe it but I LOVED it! Almost like drinking a meal... Okay, bad description but man, was it good! My daughter offered me the last bit of her drink which I thought was so sweet. Then the next day came and she asked for another glass... Guess she didn't realize that I only made 2 cups and not a whole pitcher! Regrets!
Rest assure though, this homemade roasted lemonade is going to be in our fridge all autumn long (it can remind us of summer without all the hot temperatures!)
📖 Recipe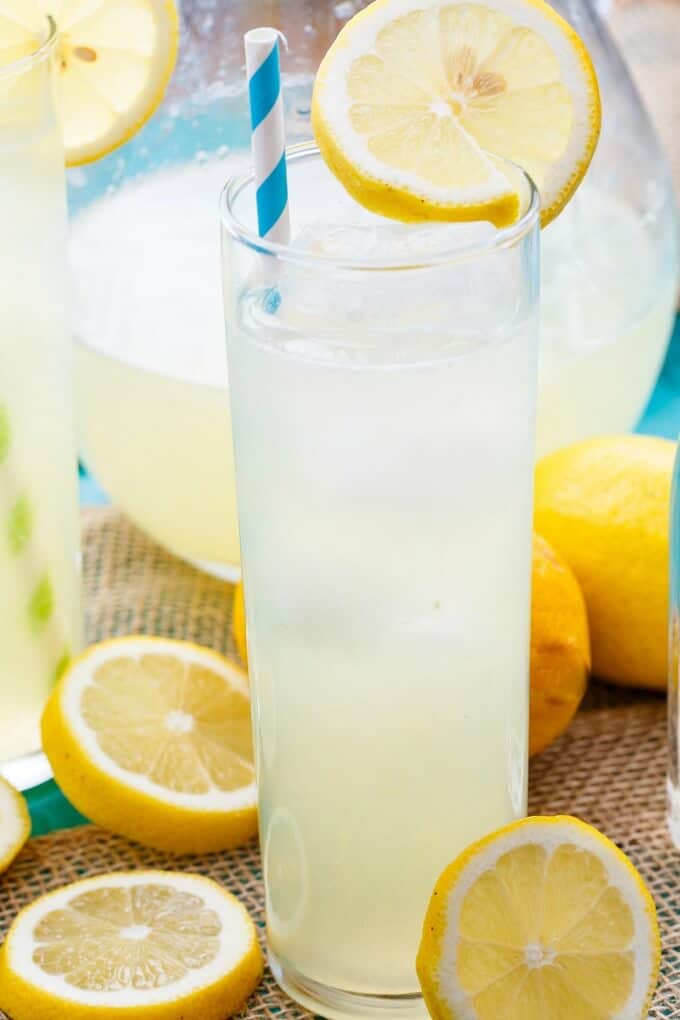 Homemade Roasted Lemonade
A fantastic summer beverage, but perfect for autumn when you just want something sweet!
Ingredients
Simple Syrup
2 cups water
1 ½ cups granulated sugar
Lemonade
3 lbs lemons, sliced in half
Pinch of salt
3 cups cold water + more if desired
Instructions
Preheat oven to 425F. Place lemons into a shallow baking dish, cut side up. Place into oven and bake for 15-20 minutes, or until lemons are lightly browned. Set aside to cool.
Simple Syrup
While lemons are roasting, combine water, salt, and sugar in a small saucepan over medium heat. Stir occasionally until sugar has dissolved completely (no need to boil.) Remove from heat to cool.
Assembly
Squeeze lemons through a fine sieve. Combine 1 cup of freshly squeezed lemon juice with 2 cups simple syrup mixture (I add half a cup of simple syrup at a time to the lemon mixture until I reach my desired sweetness!) Pour in cold water. Adjust sweetness accordingly (more water or simple syrup.)
Serve over ice!
Notes
You can see in the photos that my lemons sat in a browned liquid. That will be quite bitter so try and wipe excess off lemons so it does not end up in your drink
Nutrition Information:
Yield:

4
Serving Size:

1
Amount Per Serving:
Calories:

389
Total Fat:

1g
Saturated Fat:

0g
Trans Fat:

0g
Unsaturated Fat:

0g
Cholesterol:

0mg
Sodium:

52mg
Carbohydrates:

107g
Fiber:

10g
Sugar:

83g
Protein:

4g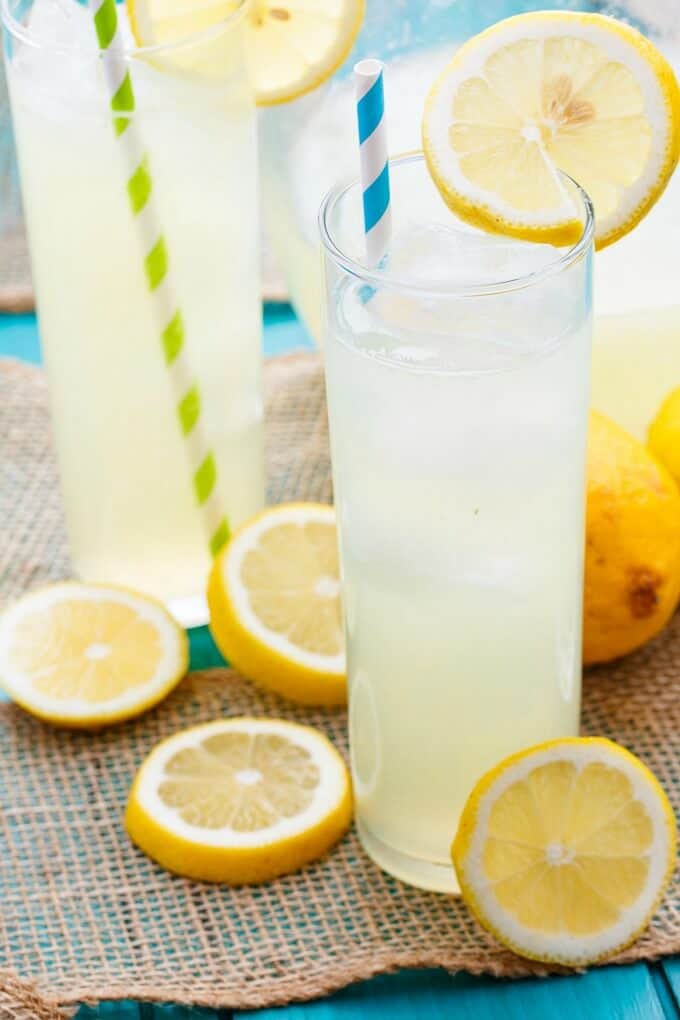 Next week is all about back to school! It is sneaking up on us fast, and thankfully I am 99% prepared for my daughter to enter senior kindergarten. Backpack here, new clothes, some lunch ideas. Now we just have to get her back onto a proper sleep schedule and we are all good (I hope!)
Love this homemade roasted lemonade?! Try some of these recipes: