You don't need to stick to one method with these broiled grapefruit mojitos! The grapefruit can also be baked, roasted, or grilled!
The photos and recipe for these broiled grapefruit mojitos have been updated as of June 12th, 2017!
School is out and we are busier than ever. You can see why these broiled grapefruit mojitos are needed… 😉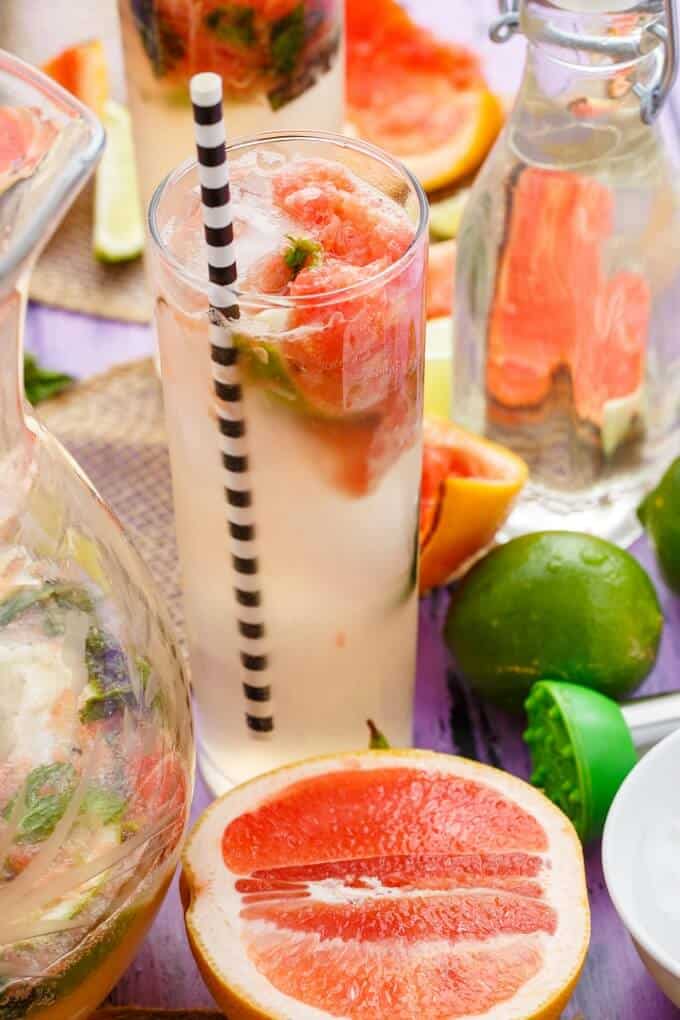 We enjoyed the long weekend by visiting family. Canada Day was cold and wet! The first time we see rain in months and it has to fall on the holiday… The joke was that I brought the rain since every time I visit the weather is cold and dreary. In my defense, we really did need some rain but it didn't have to be that weekend! Thankfully the rest of the weekend was great and we all ended up having a ton of fun.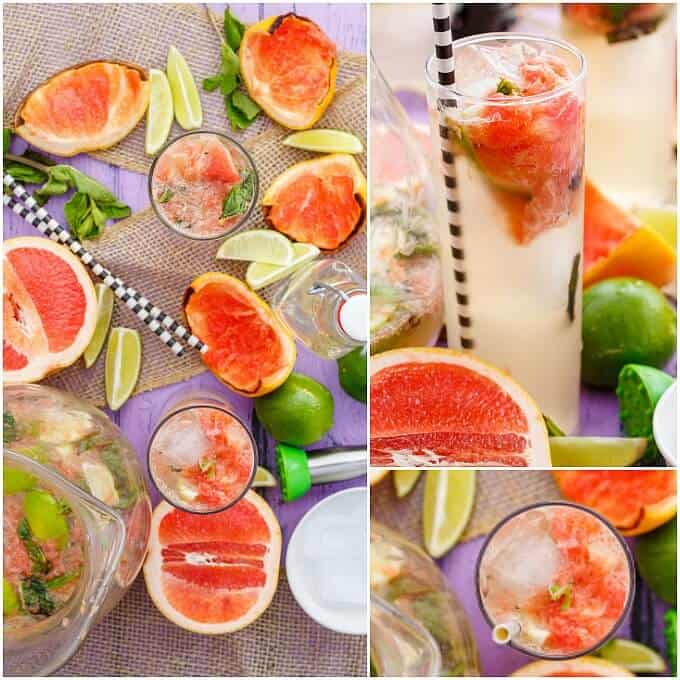 I actually made these broiled grapefruit mojitos the day before we left. The idea had come to me a while ago and it seemed like the perfect time to get around to it. I had my taste-testers give me their honest opinion (that meant leaving the rum out initially) and let's just say we all agree that these are our favourite mojitos at the moment! That's right, even more-so than the mixed berry mojitos I recently posted. My daughter has always been a grapefruit fan, but only if it is transformed. That means broiled or cooked in some way. I wasn't all too surprised when she downed her drink in a matter of seconds 🙂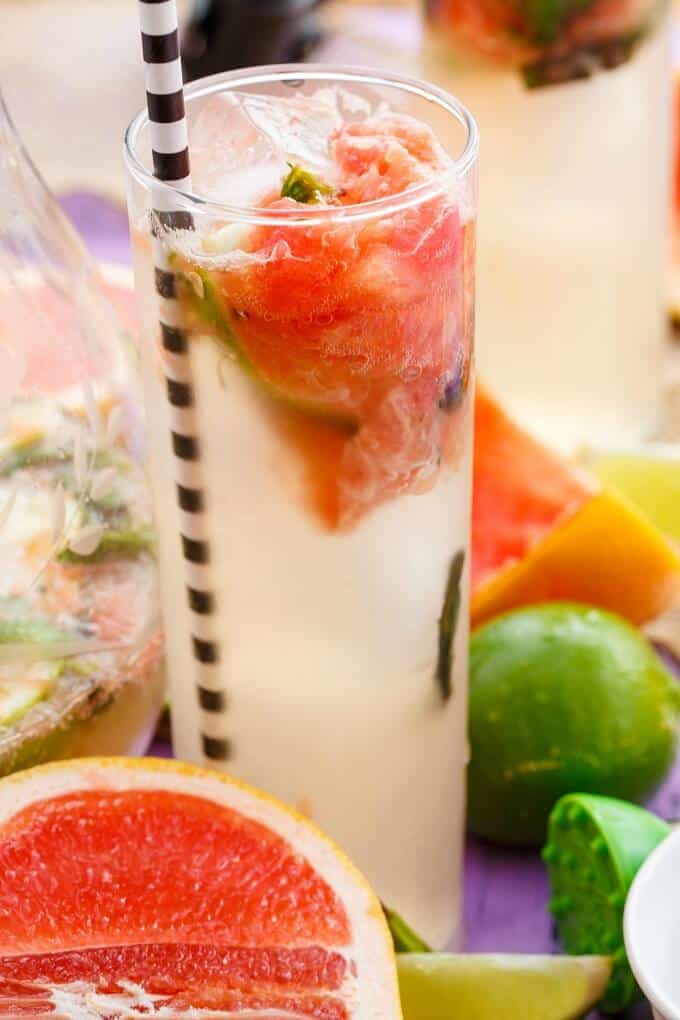 My favourite way to eat grapefruit is broiling it with coconut. The idea of adding coconut to a mojito sounds amazing, and actually, Megan from With Salt and Wit has created these awesome toasted frozen coconut mojitos that you may be interested in! I know I cannot wait to try them! So while I did broil the grapefruit for this recipe, you could cook it however you see fit. Just imagine a hot day, BBQing some food, and grilling some grapefruit for mojitos… Yes, please!

Broiled Grapefruit Mojitos
---
Kacey
Yields 4
The addition of grapefruit makes for a really refreshing summer drink!
8 minPrep Time
10 minCook Time
18 minTotal Time
Ingredients
1 lb (2 medium/large-sized) grapefruits
1 cup simple syrup
1 cup white rum
1 bunch (30 grams) mint leaves, removed from stems
2 limes, sliced into wedges
3 cups club soda
Instructions
Halve each grapefruit. Place onto baking sheet and stick under broiler. Broil until surface is caramelized to your liking. Remove from oven and set aside to cool. When cool, cut out flesh and squeeze any juices into pitcher.

Drink

Add limes and mint to a large pitcher. Using a muddler, crush limes until all juices have been released. Add grapefruit pieces and muddle some more. Stir in syrup and muddle a bit more.
Pour in club soda and rum. Mix until combined.
Serve over ice in tall glasses!
Notes
Simple syrup is created by combining equal parts sugar and water in a small saucepan over medium heat until the sugar has dissolved completely (no need to boil!) Remove from heat and allow to cool completely.
7.8.1.2
443
https://thecookiewriter.com/broiled-grapefruit-mojitos/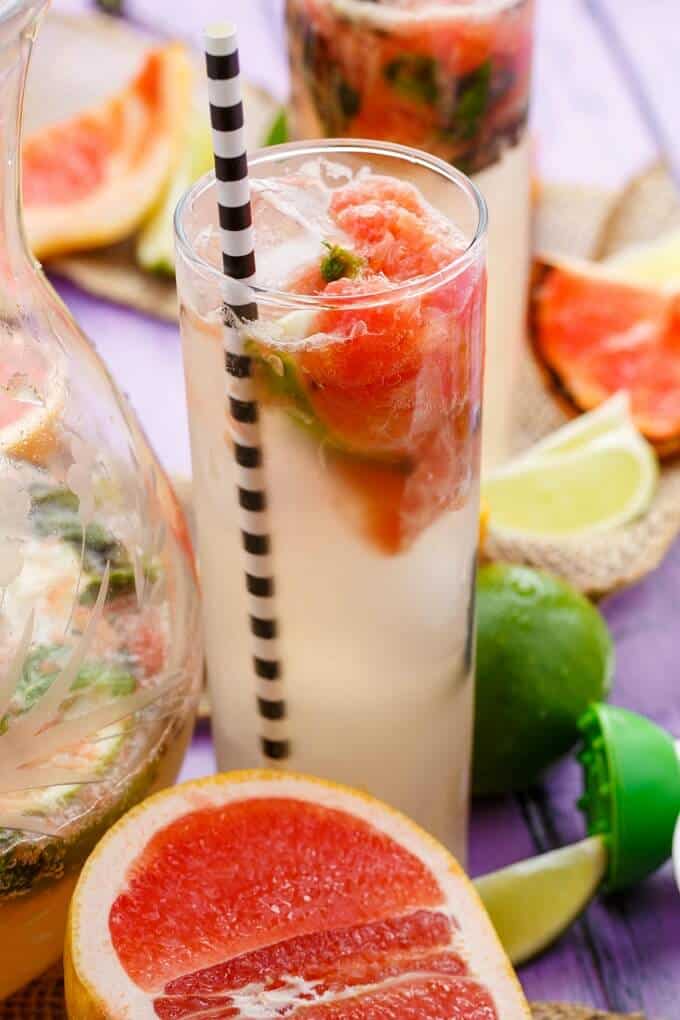 I guess it is time to change up the weekly recommendations! So exciting since the Steam summer sale just ended and I grabbed a handful of new games! Not so exciting is the fact that our AC is not working so these mojitos are SOOOOO needed!
To see last weeks choices, visit my Three Ingredient Strawberry Frozen Bites post. And don't fret! I am saving all these recommendations into an excel spreadsheet so you can always looks back 🙂
Song: Va Fangool! by Nephew. I have to thank Guardsman Bob for this one. When I was watching his League of Legends stream he had this on his playlist and I was blown away! Half in English, half in Danish. But there is just something so catchy about the song (and the video is an interesting one!)
TV Show: Frasier. I love my sci-fi's, but Frasier always holds a special place in my heart. It is probably my most re-watched show as it never gets old. One of those ones where you feel they don't really have any bad episodes, though, I will admit the later seasons get a bit slower.
Movie: The Ghost and Mrs. Muir. I am a sucker for older movies, and this one is no exception! We have some Rex Harrison mixed into a weird story that just keeps you focused. My daughter has a hard time with black and white movies but maybe she will love them one day like I do!
Book: Oryx and Crake by Margaret Atwood. As a Canadian, Atwood's books are used all the time in literature courses. I am not a huge fan, but Oryx and Crake is one of my favourite of all time. It has now been made into a trilogy but I have never read the rest. The book on its own is a haunting dystopian novel that really makes you think and wonder what the future will hold.
Video Game: Tropico 4 and Tropico 5. (Leaving the same as last week!) I LOVED Tropico 4. Running my own country, politics, the environmentalists hating me. Heck, one of the few games I have 100% achievements in Steam. It is just all around fun and while Tropico 5 has its pros, I find Tropico 4 pulls ahead 🙂 Still get to run your own country though! The communist seem to love me…
Love these broiled grapefruit mojitos?! Try some of these recipes: