You don't need to stick to one method with these broiled grapefruit mojitos! The grapefruit can also be baked, roasted, or grilled!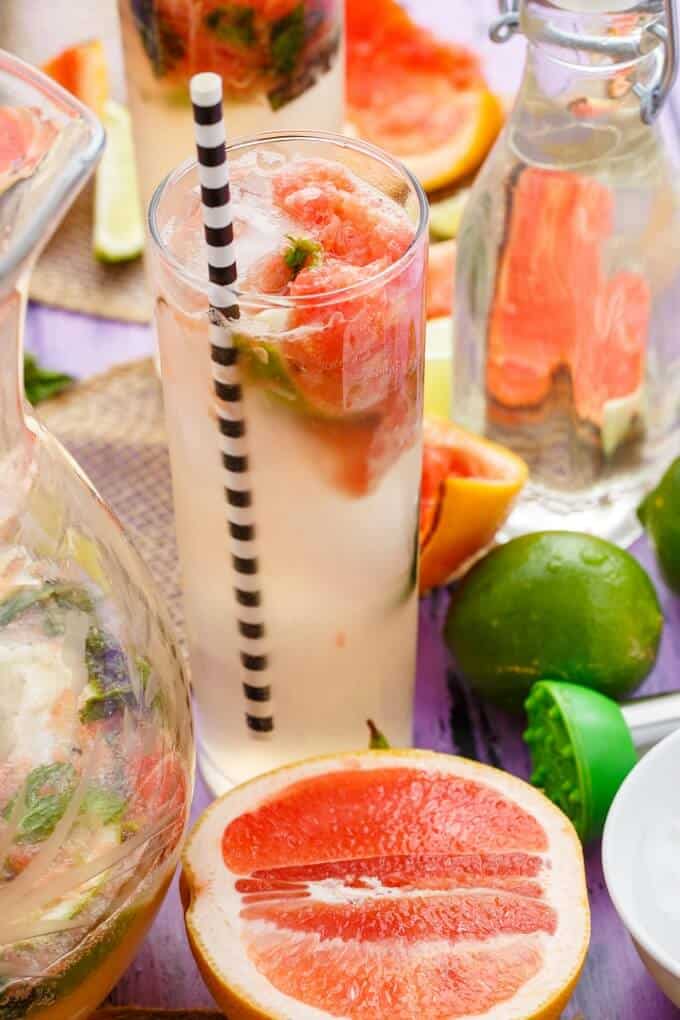 School is out and we are busier than ever. You can see why these broiled grapefruit mojitos are needed... 😉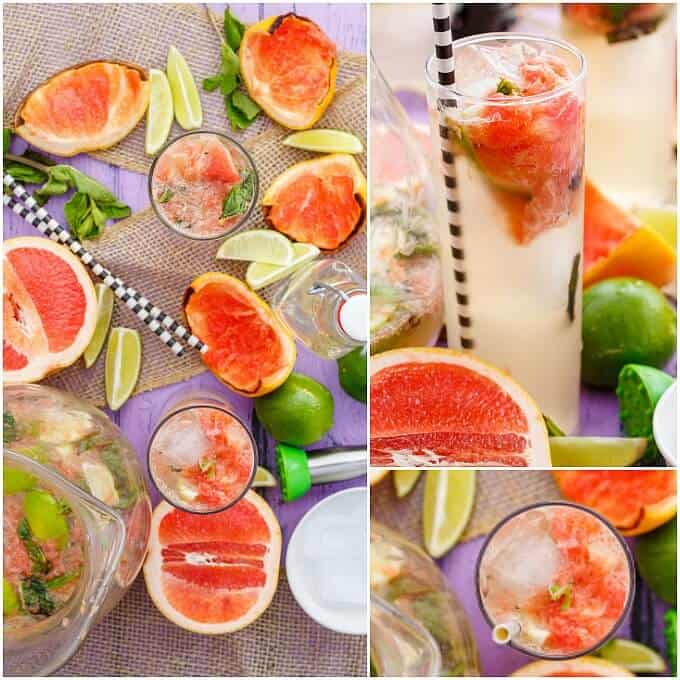 We enjoyed the long weekend by visiting family. Canada Day was cold and wet! The first time we see rain in months and it has to fall on the holiday... The joke was that I brought the rain since every time I visit the weather is cold and dreary. In my defense, we really did need some rain but it didn't have to be that weekend! Thankfully the rest of the weekend was great and we all ended up having a ton of fun.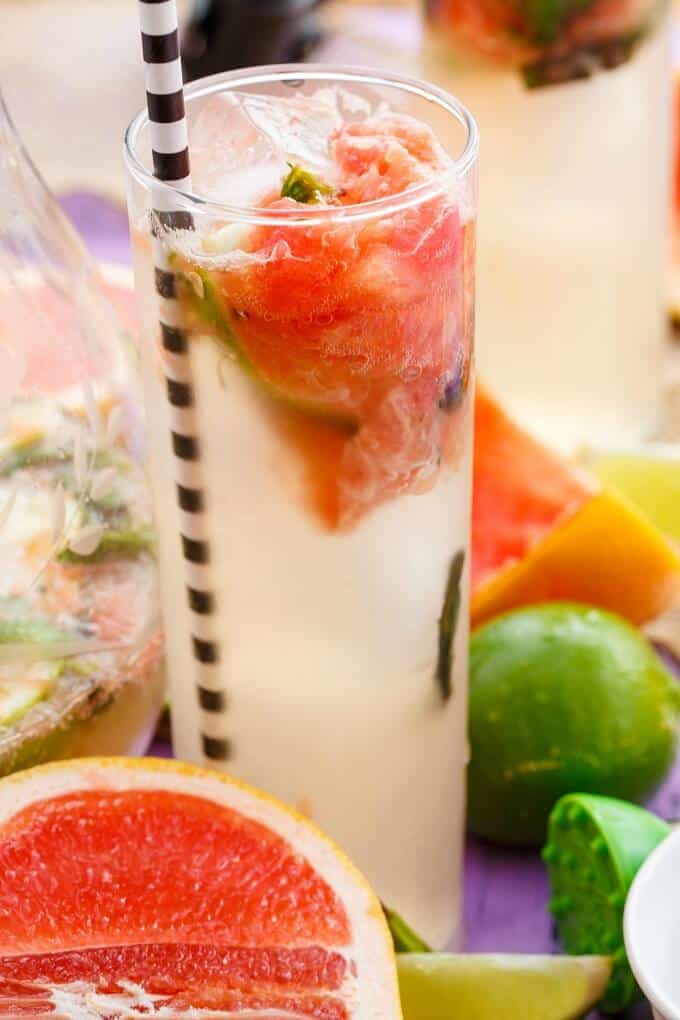 I actually made these broiled grapefruit mojitos the day before we left. The idea had come to me a while ago and it seemed like the perfect time to get around to it. I had my taste-testers give me their honest opinion (that meant leaving the rum out initially) and let's just say we all agree that these are our favorite mojitos at the moment! That's right, even more-so than the mixed berry mojitos I recently posted. My daughter has always been a grapefruit fan, but only if it is transformed. That means broiled or cooked in some way. I wasn't all too surprised when she downed her drink in a matter of seconds 🙂
My favorite way to eat grapefruit is broiling it with coconut. The idea of adding coconut to a mojito sounds amazing, and actually, Megan from With Salt and Wit has created these awesome toasted frozen coconut mojitos that you may be interested in! I know I cannot wait to try them! So while I did broil the grapefruit for this recipe, you could cook it however you see fit. Just imagine a hot day, BBQing some food, and grilling some grapefruit for mojitos... Yes, please!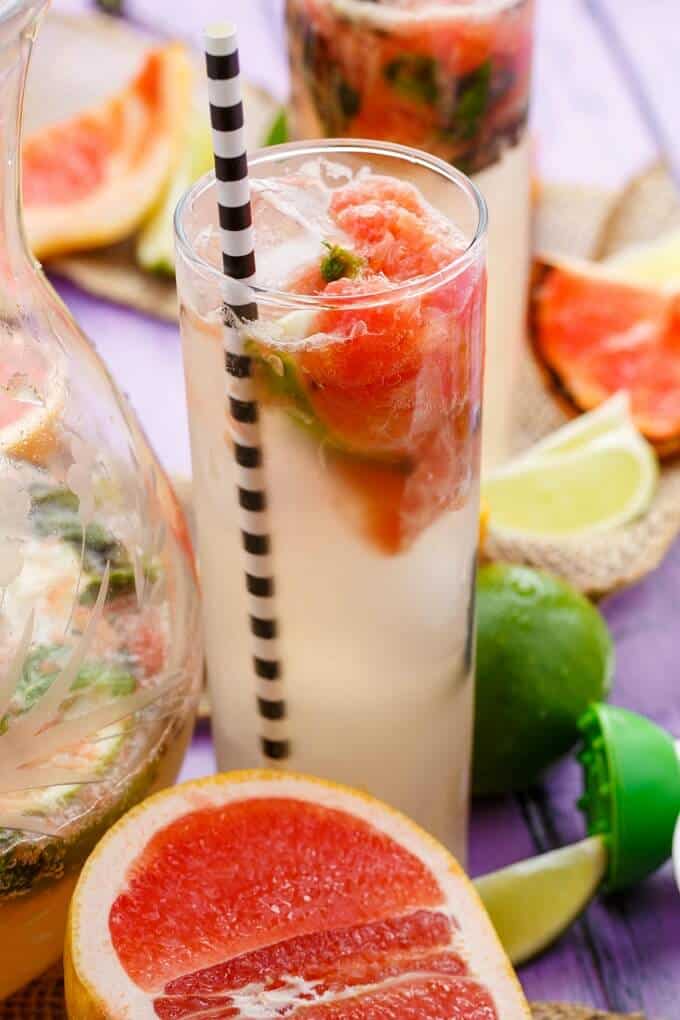 📖 Recipe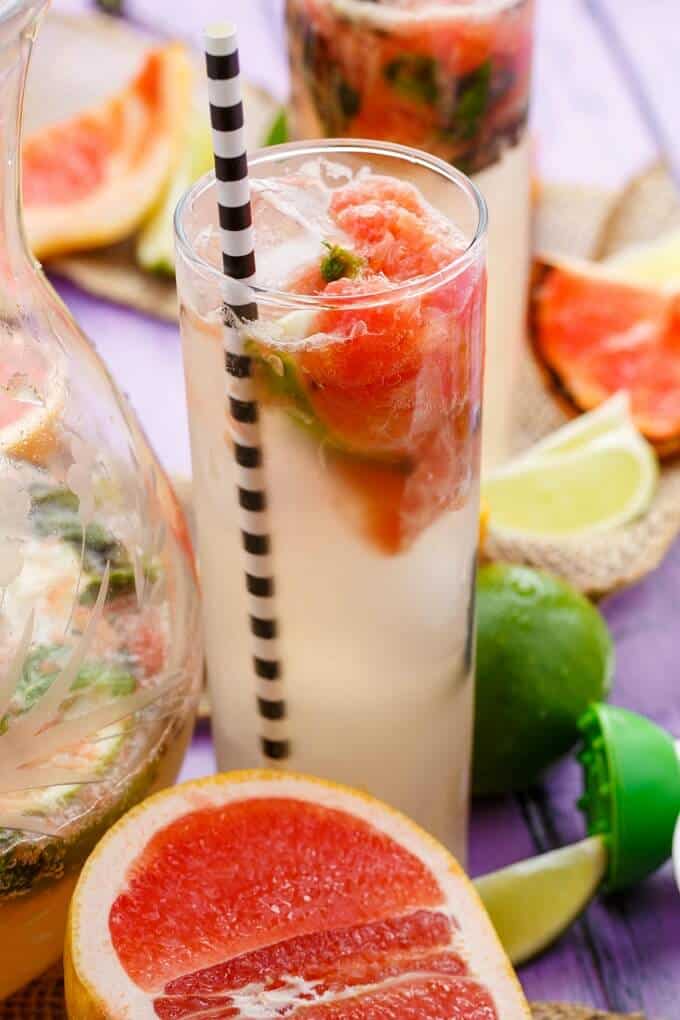 Broiled Grapefruit Mojitos
The addition of grapefruit makes for a really refreshing summer drink!
Ingredients
1 lb (2 medium/large-sized) grapefruits
1 cup simple syrup
1 cup white rum
1 bunch (30 grams) mint leaves, removed from stems
2 limes, sliced into wedges
3 cups club soda
Instructions
Halve each grapefruit. Place onto baking sheet and stick under broiler. Broil until surface is caramelized to your liking. Remove from oven and set aside to cool. When cool, cut out flesh and squeeze any juices into pitcher.
Drink
Add limes and mint to a large pitcher. Using a muddler, crush limes until all juices have been released. Add grapefruit pieces and muddle some more. Stir in syrup and muddle a bit more.
Pour in club soda and rum. Mix until combined.
Serve over ice in tall glasses!
Notes
Simple syrup is created by combining equal parts sugar and water in a small saucepan over medium heat until the sugar has dissolved completely (no need to boil!) Remove from heat and allow to cool completely.
Nutrition Information:
Yield:

4
Serving Size:

1
Amount Per Serving:
Calories:

256
Total Fat:

0g
Saturated Fat:

0g
Trans Fat:

0g
Unsaturated Fat:

0g
Cholesterol:

0mg
Sodium:

4mg
Carbohydrates:

41g
Fiber:

1g
Sugar:

38g
Protein:

0g
Love these broiled grapefruit mojitos?! Try some of these recipes: