Whether lounging at the pool or just trying to beat the heat, a kiwi whiskey sour will take your mind away from everything 🙂
This is a sponsored post. I was fortunate enough to receive products and monetary compensation from Zespri. Though products were received, all opinions are my own and I would not recommend a product that I did not enjoy.
How has your summer been?!
Ours has gone remarkably well. Done some small traveling, eating some good food, trying to enjoy life. And then something negative has to sneak in and try and ruin all your fun. Our AC decided he wanted to take a break with the heat warning in affect. Not good. How were Mr. TCW and I supposed to drink and play video games all night in a sweltering house?! Thankfully it all worked out and the handy husband deserved many of these kiwi whiskey sours after repairing our machine for less than $30.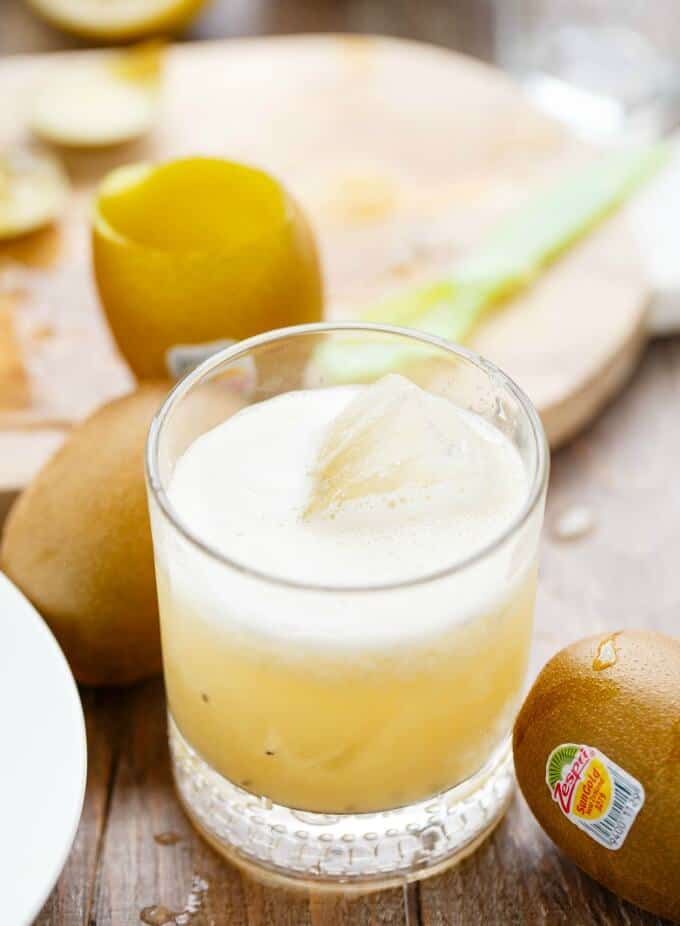 Wait, wait. Did I say kiwi whiskey sour? Yes I did! Zespri sent me some of their SunGold Kiwifruit and let's just say that we went for bold flavors with this recipe! A traditional whiskey sour is a sipping drink and how strong the drink is all depends on how much whiskey you add. Personally, I am not looking to get obliterated, so I found adding mashed kiwi via the cut & scoop method really enhanced the flavors in this drink without hiding anything. I was thinking about an amaretto sour with SunGold Kiwifruit, but think it definitely would have been masked by that amaretto flavor.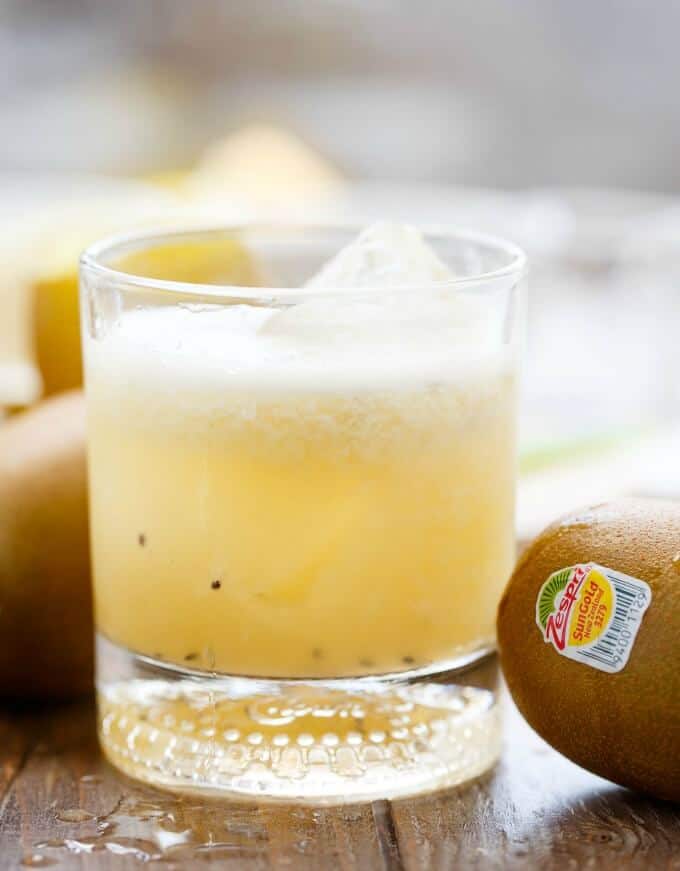 For many, a recipe needs to be quick and easy, and I know from my own experience that I am usually only willing to try a drink recipe if it contains recognizable ingredients and requires minimal equipment/effort. This kiwi whiskey sour fit the bill perfectly! I did have to borrow a cocktail shaker from my neighbors, but placing two equal size cups together would work as a make-shift shaker. Otherwise, you are good to go, and this recipe really works well with the whole cut & scoop method when it comes to kiwis. My husband sliced the top off the kiwis and removed the flesh easily with a spoon. You can see it all here in the YouTube video I made specifically for this recipe! This is to prove how easy the recipe is 🙂
Zespri SunGold Kiwifruit was super easy to work with, I did not even have to bring out my food processor to puree the fruit! My husband just mashed the fruit by hand (as seen in the video) and placed the puree directly into the cocktail shaker. We had a lot of fun putting together these kiwi whiskey sours and may have indulged while enjoying our gaming night 🙂 Kind of thinking of whipping up another load as I type this...
📖 Recipe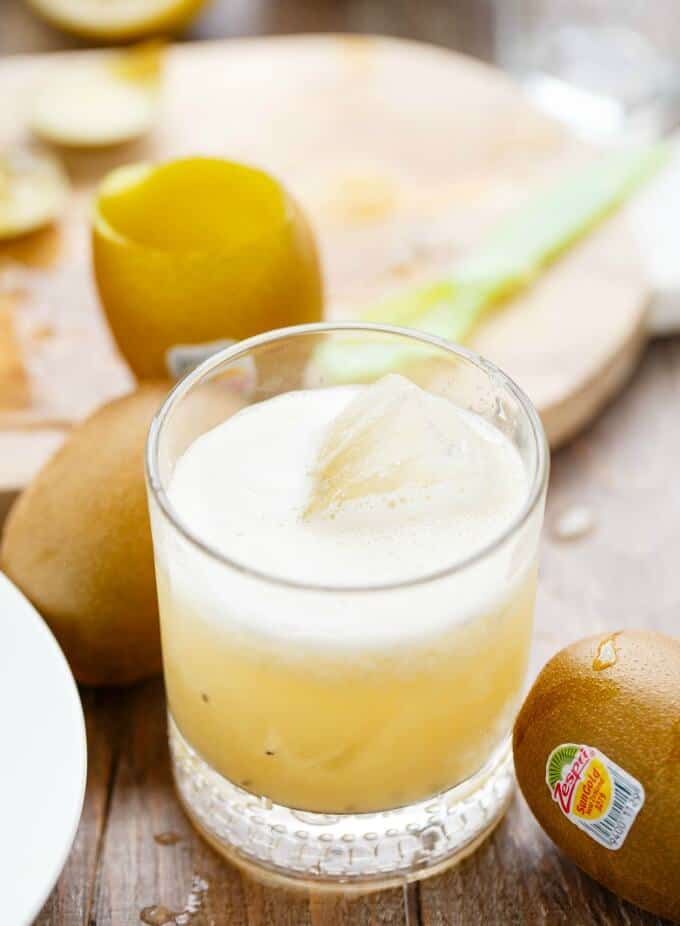 Kiwi Whiskey Sour
A blend of fresh kiwi really brings out the flavor of these whiskey sours! You can always increase the whiskey to ½ a cup for a stronger drink!
Ingredients
2 Zespri SunGold Kiwifruit, peeled and mashed or pureed (about ¼ cup)
⅓ cup whiskey (bourbon is the common element)
¼ cup freshly squeezed lemon juice
⅛ cup simple syrup*
Instructions
*Simple syrup is created by combining equal parts sugar and water in a small saucepan over medium heat until the sugar has dissolved completely (no need to boil!) Remove from heat and allow to cool completely.
Drink
Fill a cocktail shaker (or makeshift one) half way with ice. Pour in whiskey, lemon juice, simple syrup, and mashed kiwifruit. Place lid on and shaker vigorously for 30-45 seconds.
Add ice to a small whiskey glass. Strain beverage into cup and serve immediately.
Nutrition Information:
Yield:

1
Serving Size:

1
Amount Per Serving:
Calories:

315
Total Fat:

0g
Saturated Fat:

0g
Trans Fat:

0g
Unsaturated Fat:

0g
Cholesterol:

0mg
Sodium:

20mg
Carbohydrates:

47g
Fiber:

3g
Sugar:

39g
Protein:

2g
I like the use of SunGold Kiwifruit here as opposed to the Green Kiwifruit for a couple of reasons. One: the SunGold varietal seems sweeter to me and it really helped with this recipe since I cut back on the lemon juice (which would result in a strong alcohol taste!) Secondly, the color is just beautiful and only enhances the natural beauty of a whiskey sour. And then there are the seeds which float gently in the glass 🙂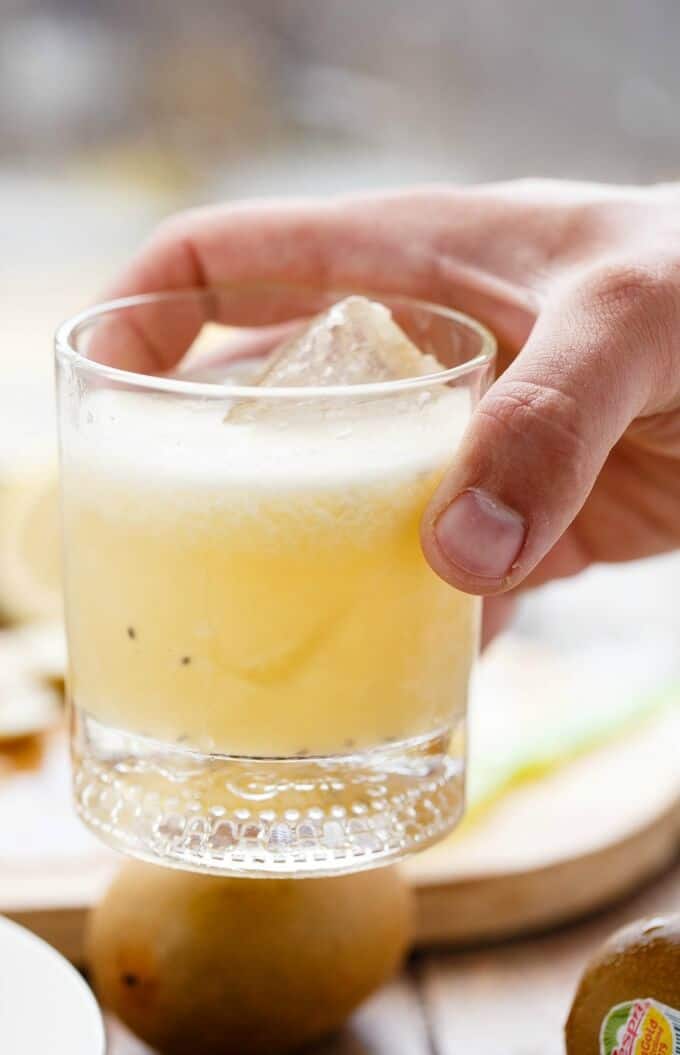 Zespri SunGold Kiwifruit can be found at your local grocery stores from May to October. I know I will be grabbing more as my original plan was to make a kiwifruit mojito. Zespri already has a recipe for those on their website, so be sure to take a look because you know how much I praise mojitos! Hmm, a kiwifruit mojito would be so refreshing and packed full of Vitamin C, E, potassium, and fibre. Did you know two kiwifruit cotain about the same amount of fibre as a bowl of bran flakes?! Yeah, I'll take the kiwi, please 🙂