Cool and refreshing, these lighter watermelon mojitos are the perfect summer beverage and can be made with or without alcohol!
It is HOT.
I shouldn't complain too much since we have AC (Mr. TCW fixed it for less than $30!) however, even though it is cool inside, I haven't had the crazy urge to cook. The heat just sticks, and since I walk Rex every day, I get a taste of that heat no matter what. We need a way to cool down and these watermelon mojitos are the perfect way!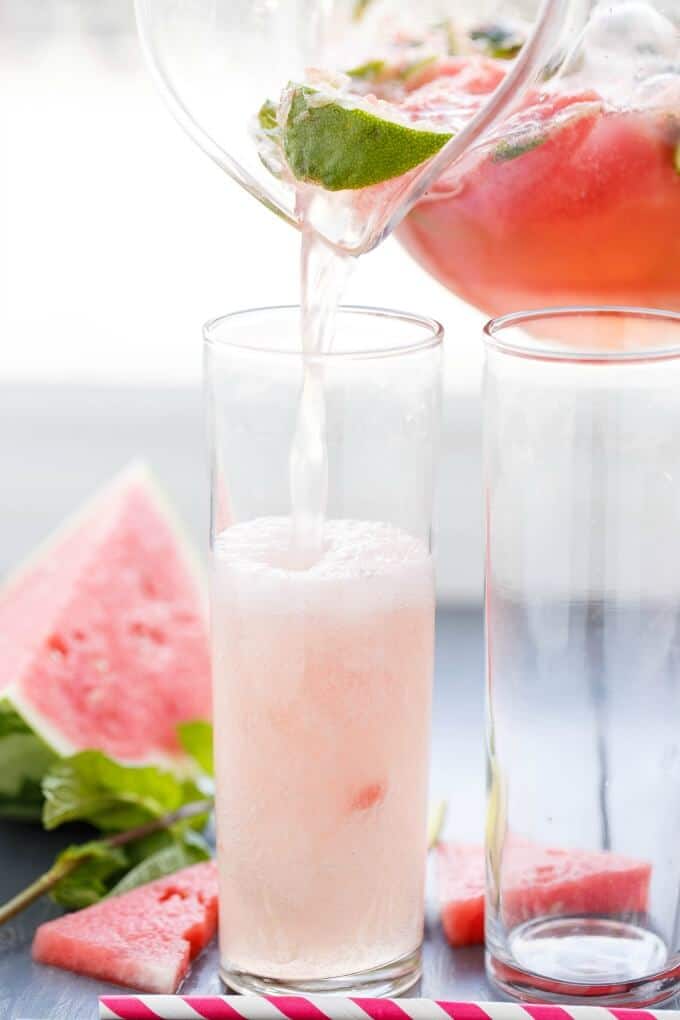 We had some extra watermelon hanging around and while I am all for eating it, the idea hit me after I made my broiled grapefruit mojitos. I kind of wish I broiled the watermelon, but with such hot days, I do not want that oven on! These watermelon mojitos are super easy to make and require little work. I prefer making my mojitos with simple syrup (which can be made in advance,) but mixing in sugar and water works well, too. Simple syrup, however, gets rid of the grainy sugar texture in this beverage.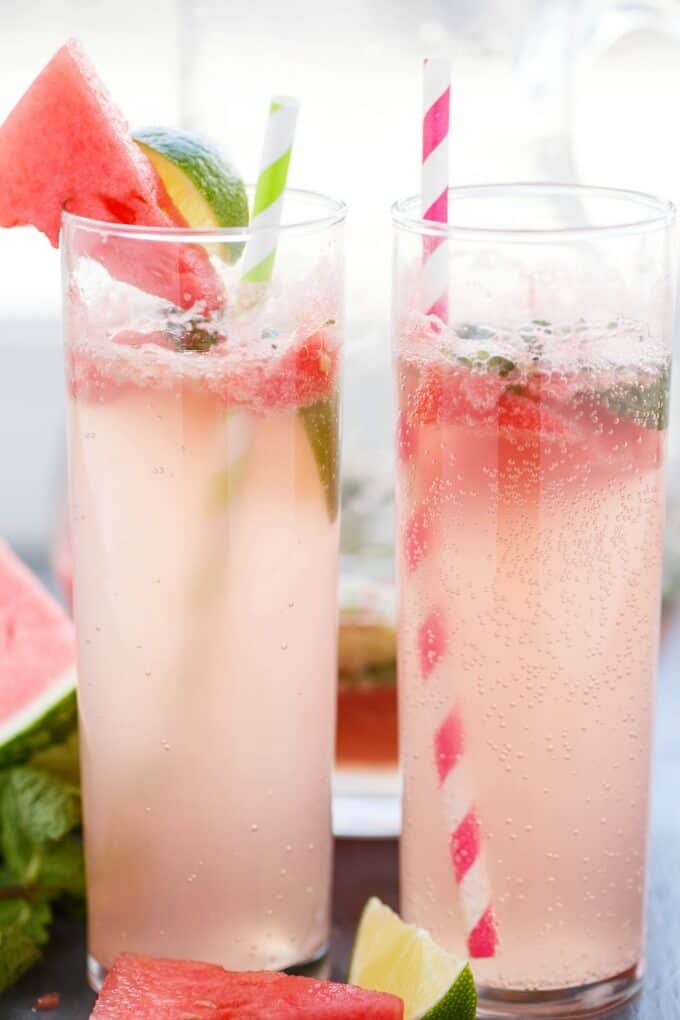 I love, love, love the colors in this drink! It just looks like summer! Almost like a pink lemonade but without the tartness 🙂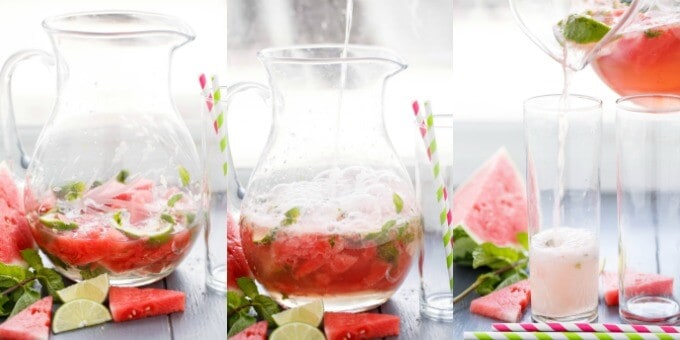 Another plus when it comes to mojitos is the fact that you can choose whether or not you want to add alcohol. For this photo shoot I actually had no rum in these beverages because I knew my daughter would want a glass. However, alcohol definitely makes these watermelon mojitos a fun drink (and you won't know what hit you!)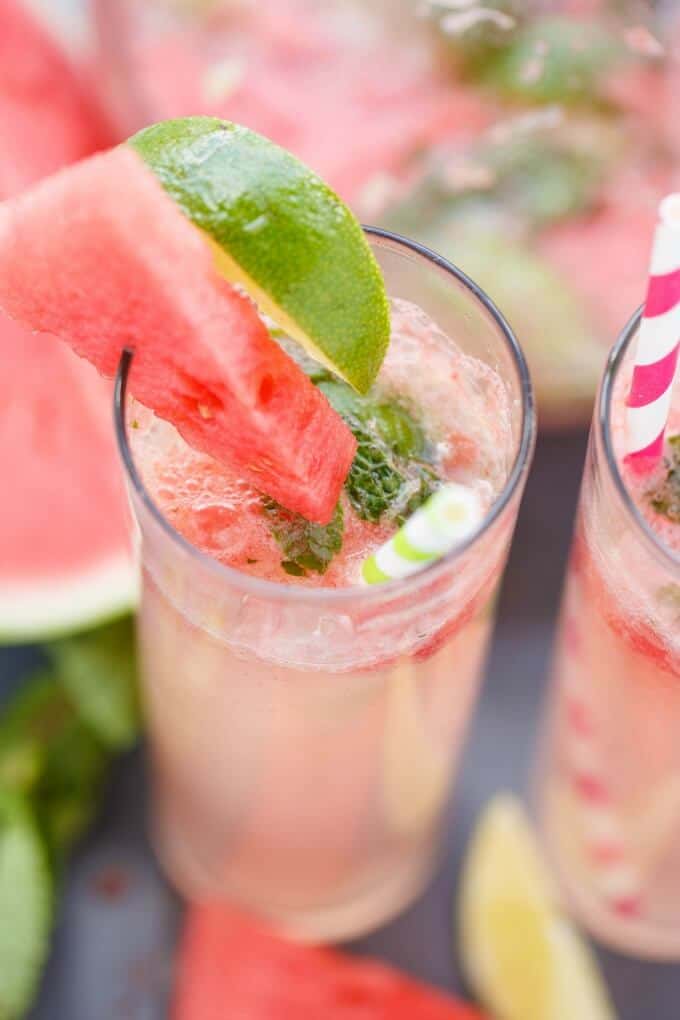 📖 Recipe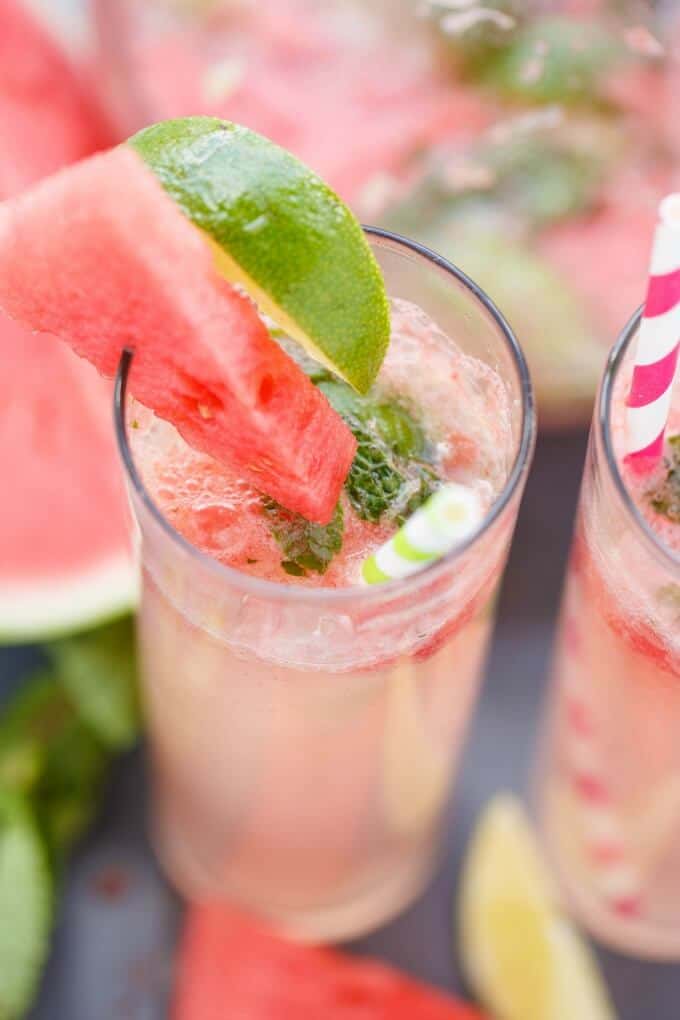 Watermelon Mojitos
A light and refreshing summer drink!
Ingredients
2 cups chopped watermelon
1 cup simple syrup
1 cup white rum
1 bunch (30 grams) mint leaves, removed from stems
2 limes, sliced into wedges
3 cups club soda
Instructions
Drink
Add limes and mint to a large pitcher. Using a muddler, crush limes until all juices have been released. Add 1 ¾ cups of watermelon and muddle some more. Stir in syrup and muddle a bit more.
Pour in club soda, rum, and remaining chunks of watermelon. Mix until combined.
Serve over ice in tall glasses!
Notes
Simple syrup is created by combining equal parts sugar and water in a small saucepan over medium heat until the sugar has dissolved completely (no need to boil!) Remove from heat and allow to cool completely. I usually do 1:1 ratio.
Nutrition Information:
Yield:

4
Serving Size:

1
Amount Per Serving:
Calories:

279
Total Fat:

0g
Saturated Fat:

0g
Trans Fat:

0g
Unsaturated Fat:

0g
Cholesterol:

0mg
Sodium:

4mg
Carbohydrates:

47g
Fiber:

1g
Sugar:

43g
Protein:

1g
Okay, I think that is enough drink recipes for the summer. I know I will be sipping on these for the next little while (and who wouldn't?!) We enjoying BBQing throughout the summer, but I won't lie, I just do not care to photograph BBQ recipes. I mean, I coulllllld. But I am usually starving when the food is done and don't have the patience to hang around and wait 🙂
Love these watermelon mojitos?! Try some of these recipes: