Bundt cakes are all the rage again, so give this blueberry boy bait bundt cake with toasted coconut a try! The glaze is optional, but does add a fun touch 🙂
It is HOT! I think I said that last week. Or was it this week? Becoming a blur with these temperatures.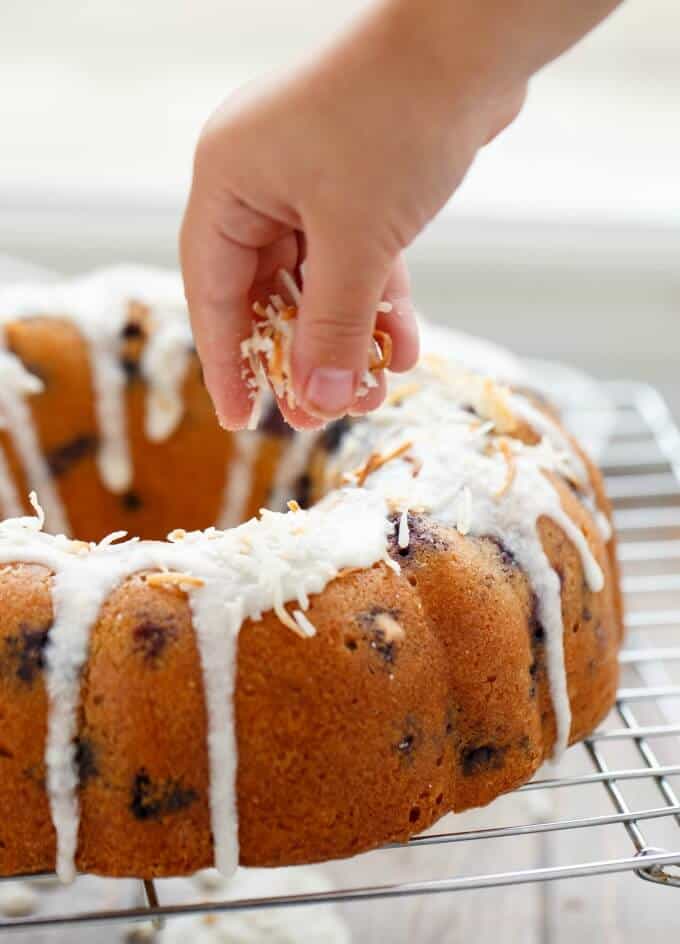 While many are not thinking about baking a cake, my family and friends had no issues eating this cake when I brought it up to the park a couple of weekends ago! It is a spin on my traditional blueberry boy bait recipe, but instead transforming it into bundt form (and adding toasted coconut!) While I did make this blueberry boy bait bundt cake with toasted coconut while the temperatures were cooler, even if I had to heat up my house more-so, it would be sooooo worth it! This recipe wins over everyone! So many people I know who do not like fruit in their desserts and they had no issues with this cake. Not one complaint. Heck, even the toasted coconut won them over.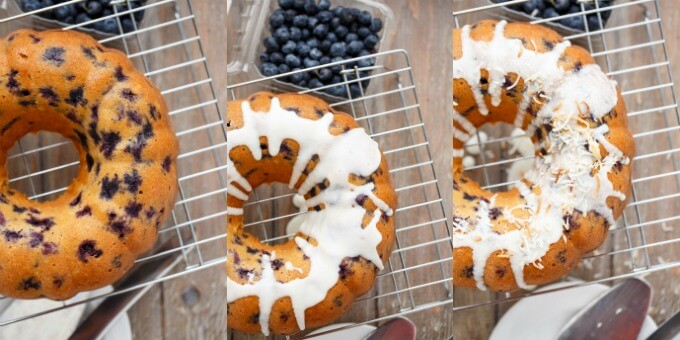 The glaze is simple on top, and personally, not overly needed since the cake is perfectly sweet, however, adding the icing on top allows for the toasted coconut to stick, and who doesn't like icing?! I actually mixed some toasted coconut into the cake as well because, hey, why not?! There is no going wrong with this recipe: whether you keep it plain, add the glaze, or add the coconut, you are sure to have noooo complaints whatsoever (except maybe for the chef who is preparing this blueberry boy bait bundt cake during a heat warning!)
📖 Recipe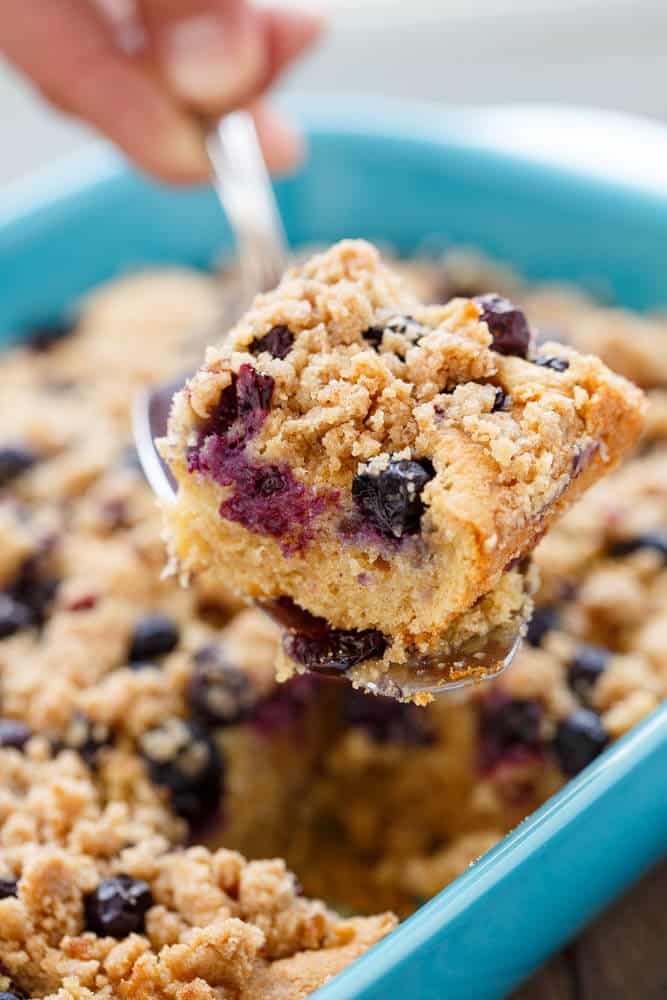 Blueberry Boy Bait Bundt Cake with Toasted Coconut
Total Time:
1 hour
15 minutes
A soft and moist cake that will have you crawling back for seconds!
Ingredients
1 ½ cups all-purpose flour
½ cup cake & pastry flour (or sub in all-purpose)
1 ½ cups brown sugar
¾ cup coconut oil, room temperature (butter can be used!)
2 tsp. baking powder
¼ tsp. salt
1 cup buttermilk (make your own by adding 1 tbsp. vinegar to a measuring cup and filling the rest with regular milk.)
2 eggs, separated, room temperature
½ tsp. almond extract
1 cup toasted coconut , ¼ cup reserved for topping
1 pint blueberries
Glaze
¾ cup confectioners' sugar
¼ tsp. almond extract
1 tbsp. + 1 tsp. milk
Pinch of salt
1 tablespoon butter, melted
¼ cup toasted coconut
Instructions
Preheat oven to 350F. Grease and flour a large bundt pan.
Cream together coconut oil and sugar in a stand mixer until lighter, about 5 minutes.
Sift in flour, salt, and baking powder and mix until combined.
Add almond extract, buttermilk, and egg yolks to the remaining ingredients in the stand mixer. Stir in blueberries and coconut with a spatula.
In a small bowl, beat egg whites until firm (I found using a hand mixer worked great instead of washing out my stand mixer bowl.)
Gently fold the egg whites into the batter and pour into bundt pan. Bake for 50-60 minutes, or until toothpick comes out clean. Cool until able to handle pan, flip cake out onto cooling rack and cool completely. Pour glaze over top and sprinkle with toasted coconut.
Glaze
Combine all the ingredients except the coconut. Whisk until well combined (I needed an extra tsp. of milk but start with 1 tbsp. and see if you need more!)
Nutrition Information:
Yield:

10
Serving Size:

1
Amount Per Serving:
Calories:

542
Total Fat:

24g
Saturated Fat:

17g
Trans Fat:

0g
Unsaturated Fat:

5g
Cholesterol:

54mg
Sodium:

319mg
Carbohydrates:

77g
Fiber:

2g
Sugar:

46g
Protein:

7g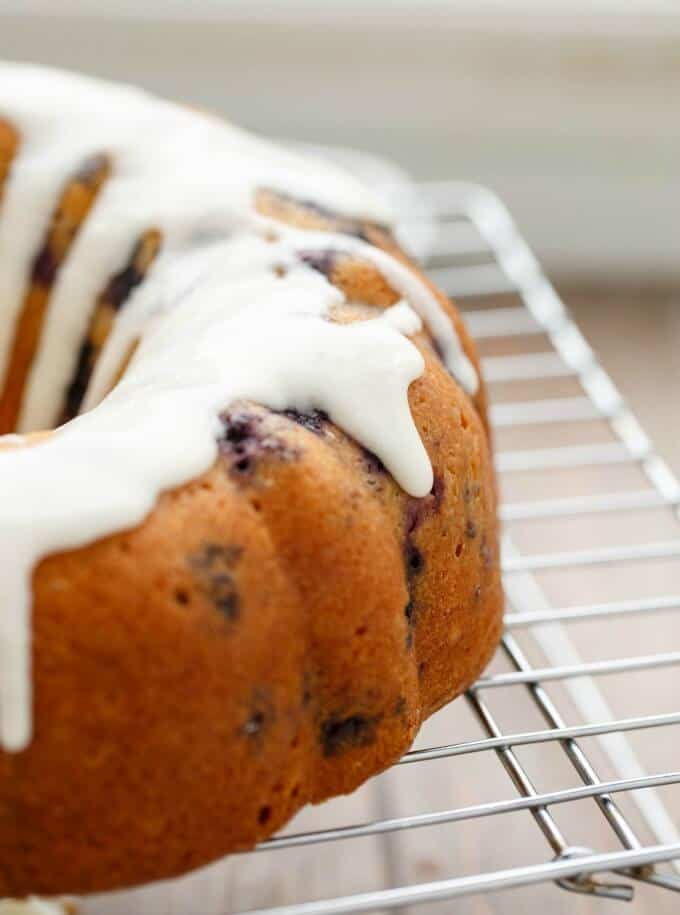 My daughter was my hand model this time around. Trying to sprinkle some coconut on top and catch it in motion myself proved very difficult! No complaints from her because that toasted coconut tasted like delicious sugar to her! We used sweetened toasted coconut because that was all that was on hand, but unsweetened would be preferred in the cake part!
Love this blueberry boy bait bundt cake with toasted coconut?! Try some of these recipes: