With the hot temperatures upon us, it is time to break out these mixed berry mojitos! Easily made family-friendly by omitting the rum!
Let me start off by saying mojitos have to be one of my favorite alcoholic beverages during the summer months. So cool and refreshing, the pitcher does not last the night! Even better, it is a drink that can easily be made family-friendly so I always make some for my daughter (by request!)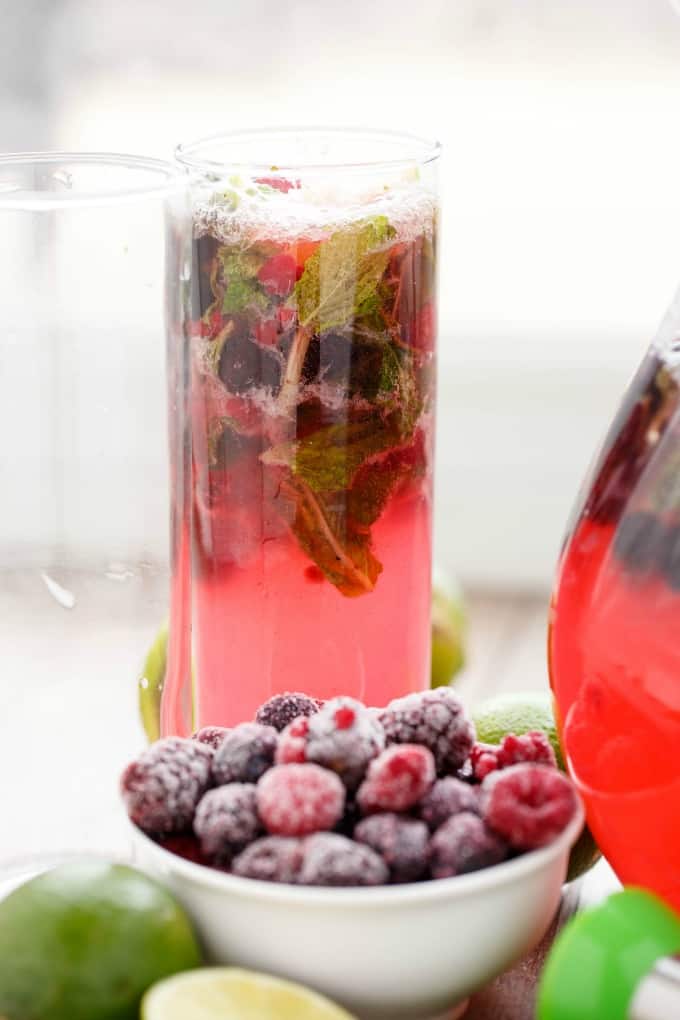 These mixed berry mojitos are a spin on my original mojitos recipe. We are all about the mojitos so adding in some extra flavoring is never a bad thing. Plus, I like all the chewy bits so this just made sense. Mr. TCW has stated he prefers the mixed berry mojitos over the original and I am okay with this. Change is good, especially when you tend to drink the same beverages throughout the summer.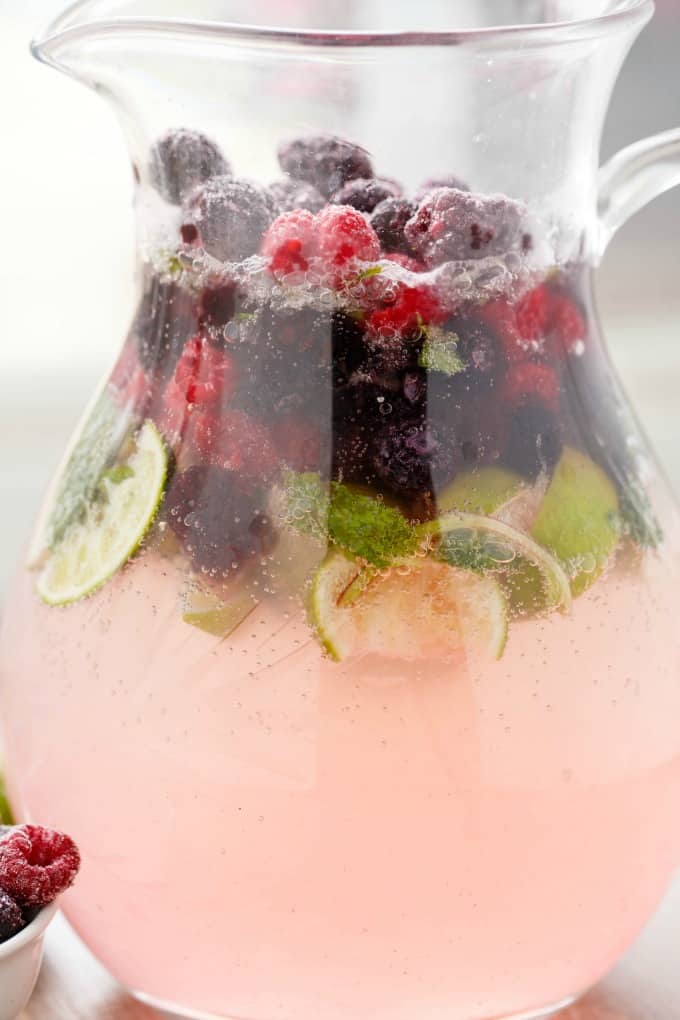 Just want to mention a little tidbit. If you do not finish the pitcher, you will want to strain the mixed berry mojitos before storing for the night. We find the lime rinds let off a bitter flavor that is not too welcoming the next day. You have been warned! Mr. TCW is actually the one who keeps up on this (I admit, I am lazy!)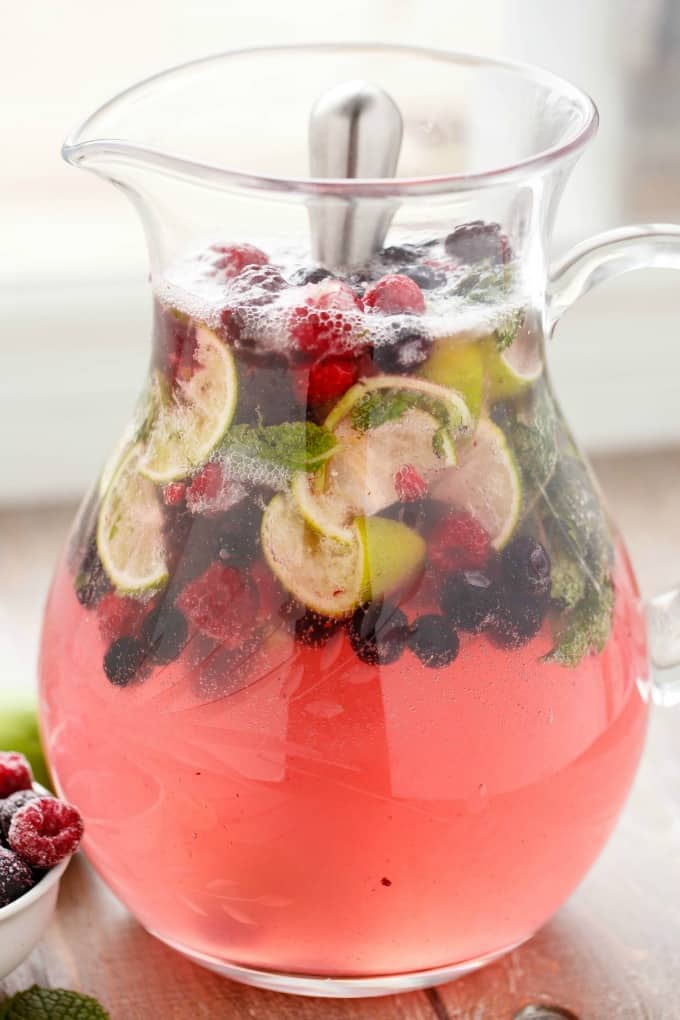 📖 Recipe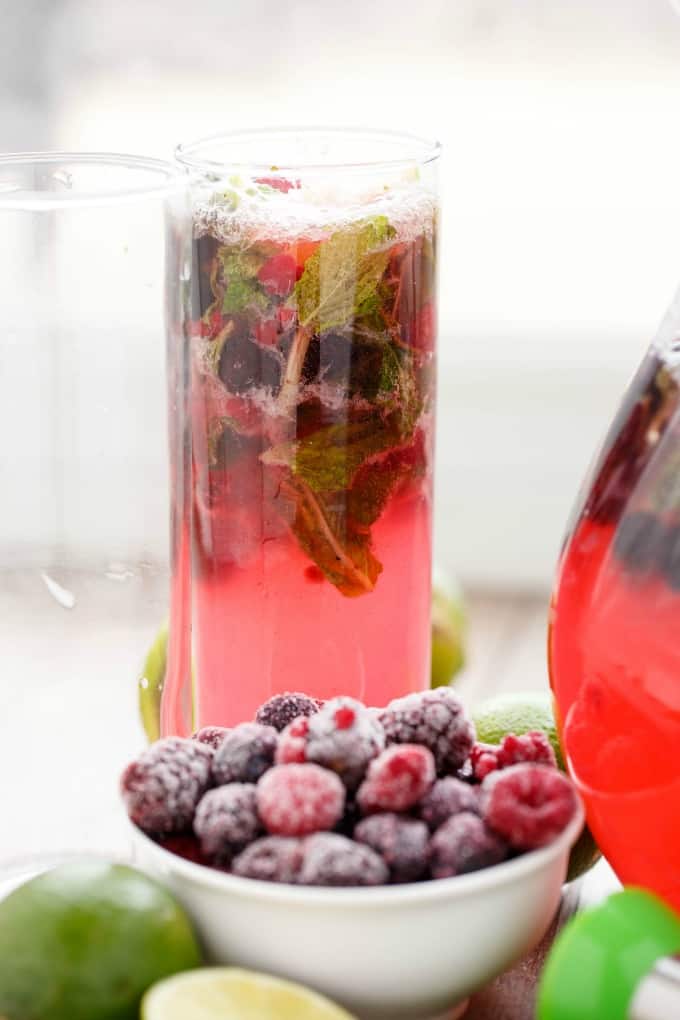 Mixed Berry Mojitos
A fun summer drink that is so easy to make! If you do not plan to drink it all in one sitting, be sure to strain it so the lime rinds don't make the beverage bitter.
Ingredients
1 cup frozen mixed berries (raspberries, blueberries, and blackberries)
1 cup simple syrup
1 cup white rum
1 bunch (30 grams) mint leaves, removed from stems
2 limes, sliced into wedges
3 cups club soda
Instructions
Note: Simple syrup is created by combining equal parts sugar and water in a small saucepan over medium heat until the sugar has dissolved completely (no need to boil!) Remove from heat and allow to cool completely. I usually do 1:1 ratio.
Drink
Add limes and mint to a large pitcher. Using a muddler, crush limes until all juices have been released. Stir in syrup and muddle a bit more.
Pour in club soda, rum, and berries. Mix until combined (you can muddle the berries a bit to break them down if desired.)
Serve over ice in tall glasses!
Nutrition Information:
Yield:

4
Serving Size:

1
Amount Per Serving:
Calories:

272
Total Fat:

0g
Saturated Fat:

0g
Trans Fat:

0g
Unsaturated Fat:

0g
Cholesterol:

0mg
Sodium:

4mg
Carbohydrates:

45g
Fiber:

2g
Sugar:

40g
Protein:

1g
So of course, after I praised my new camera in yesterday's one pan egg breakfast with veggies post, I totally had to exchange it that same day! Same model and all, but the camera and lens were constantly producing errors and it finally got to the point where the camera wouldn't turn on! My heart dropped a little seeing as this is one of the biggest purchases I have ever made, but thankfully Canon and the store I bought it from were SUPER amazing and swapped out the camera with no issues 🙂
Love these mixed berry mojitos?! Try some of these recipes: