Cool and refreshing, this half pitcher of mojitos is my top summer drink! Can be made kid-friendly by omitting the rum!
Awesome temperatures are here, people are outside BBQing, and kids are running around while their parents complete yard work. We have been slowly getting some outdoor work done, as in the patch of weeds at the end of our driveway that now has new grass seedlings growing. I may have a green thumb after all! No, I really don't, it is terrible. But with the nice weather we have been having, it has promoted grass growth 10-fold. We are cutting the grass at least once a week, maybe twice, in the backyard. This results in needing a cool, delicious beverage.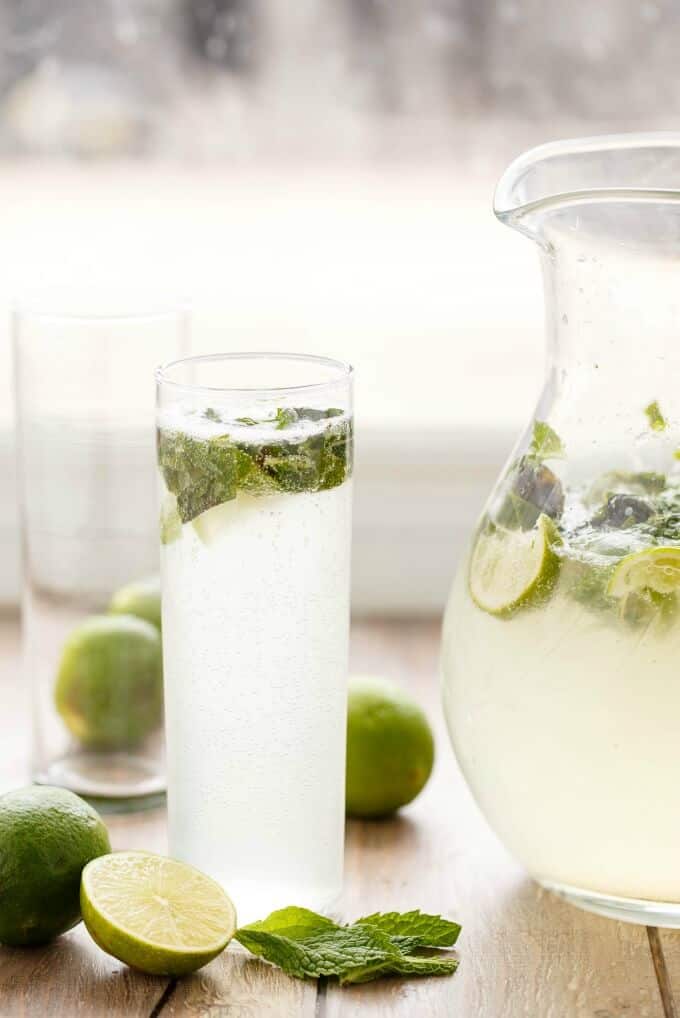 Since I am not a beer or wine fan (unless it is in my cooking,) I result to non-alcoholic drinks or sometimes take the time to create girly drinks. But if you have seen my Bellini recipe, you know it needs the ice cream maker to result in that slushy-like texture. No problem for me unless I have an ice cream recipe planned, and with the temperatures climbing, you bet ice cream is on my mind frequently. So Mr. TCW and I decided to try homemade Mojitos. I have never had them but everyone kept telling me how great and refreshing they were. I was worried about a strong mint flavor but that was not the case! This drink was so refreshing, so light, we kept going back for more. The next time we made them, we made a half-pitcher so we didn't have to keep going and making new drinks. This recipe can easily be doubled to fill your entire pitcher but since it was only the husband and myself, we really didn't need an entire pitcher... Or did we? UPDATE: The photos show a double recipe (full pitcher) as these mojitos are gone before you know it!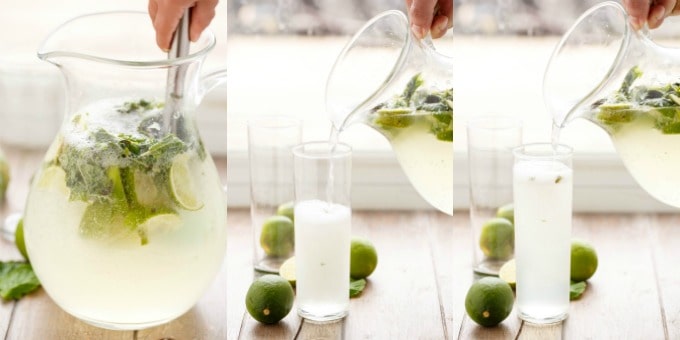 📖 Recipe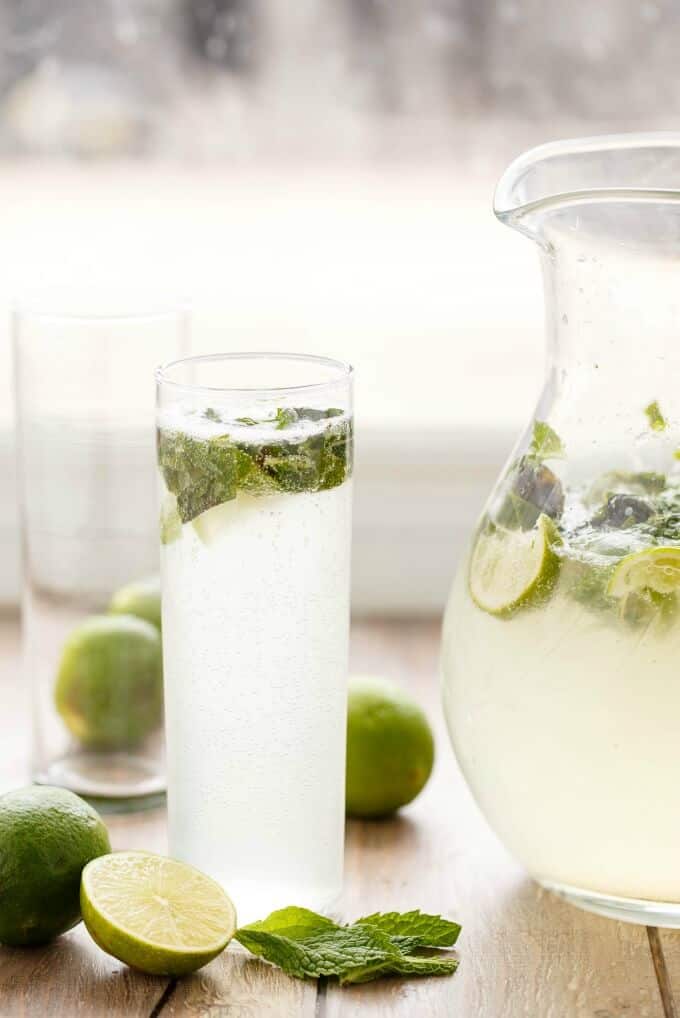 Pitcher of Mojitos
A refreshing summer beverage that can be dangerous if you don't keep count of how many glasses you have had!
Ingredients
1 cup simple syrup
¾ cup (6 oz) white rum
40-45 mint leaves
2 limes (I used 2.5)
3 cups club soda
Ice, fresh mint, and lime wedges for garnish
Instructions
Slice your limes in half, and then each lime half into quarters.
In a large pitcher, add in 1 whole lime of wedges, and the mint leaves. Using a muddler, crush the lime and mint until fragrant and the lime flesh is depleted. Pour in the simple syrup and remaining lime wedges. Muddle again until everything is combined. Add the rum and club soda. Stir to combine.
When it comes time to serve the drinks, place enough ice cubes into each tall, skinny glass, until no more will fit. Pour the mojito mix over the ice cubes and garnish with a wedge of lime and fresh mint. Serve immediately!
Simple Syrup
To make simple syrup, combine equal parts water and granulated sugar into a small pot and heat over medium. Stir occasionally until the sugar is completely dissolved. Remove from heat and allow to come to room temperature.
Nutrition Information:
Yield:

4
Serving Size:

1
Amount Per Serving:
Calories:

236
Total Fat:

1g
Saturated Fat:

0g
Trans Fat:

0g
Unsaturated Fat:

1g
Cholesterol:

0mg
Sodium:

43mg
Carbohydrates:

54g
Fiber:

10g
Sugar:

38g
Protein:

5g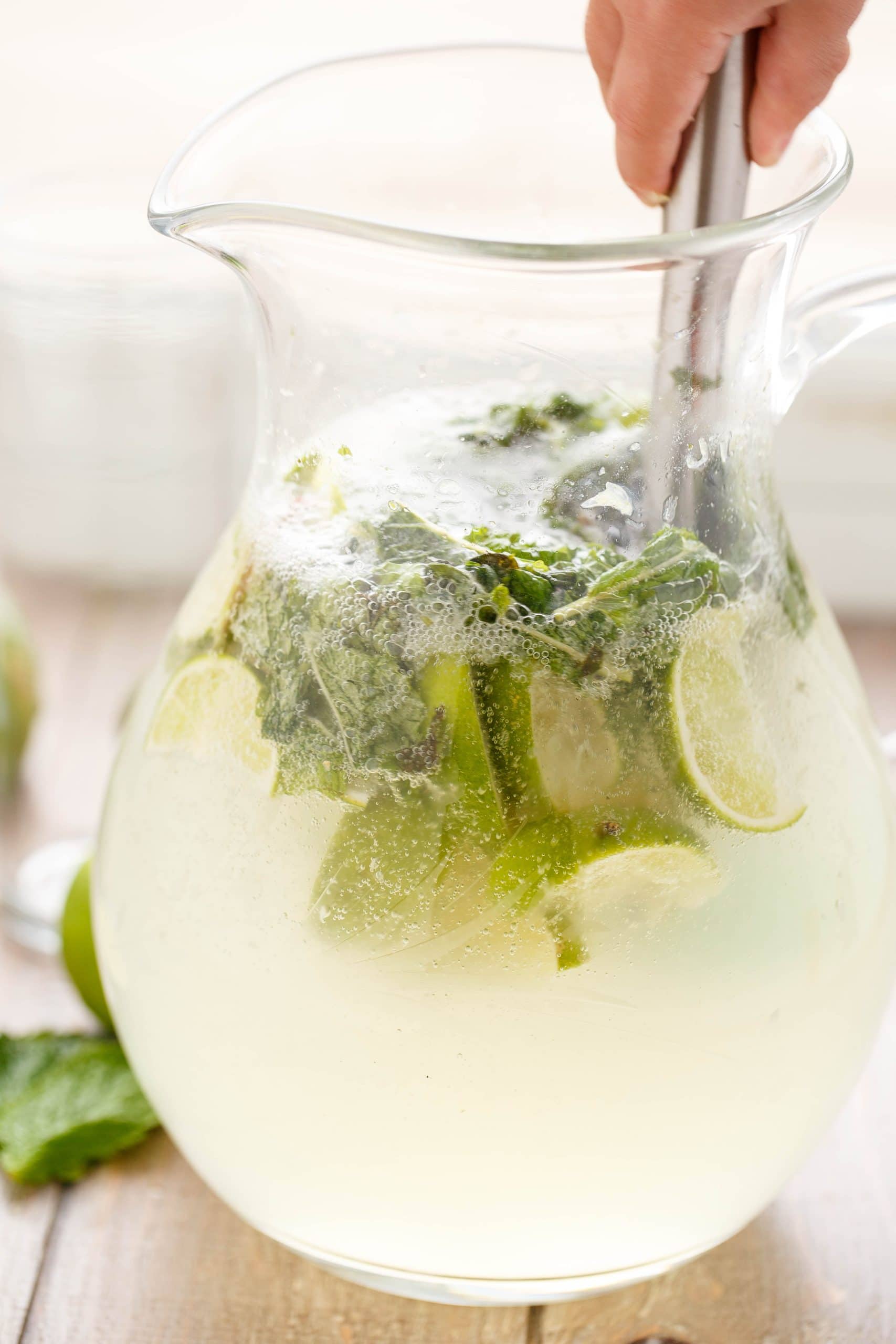 Honestly, out of this world. I love girly drinks and I am always looking for easy recipes. What I like about this recipe is the contents of one type of alcohol, not a mix of 50 different bottles that I never have on hand. We want to try this recipe with raspberry rum. I use to have a bottle on hand for another recipe but no clue what happened to it. I am sure you could make a lemon Mojito or another flavor, but lime is the traditional method. And do not be worried about tasting the alcohol in this drink, we easily flew through the pitcher no problem! Which is kind of dangerous since you cannot taste the booze but it is definitely there. Feel free to add more rum for a stronger flavor, but I find it perfect as is.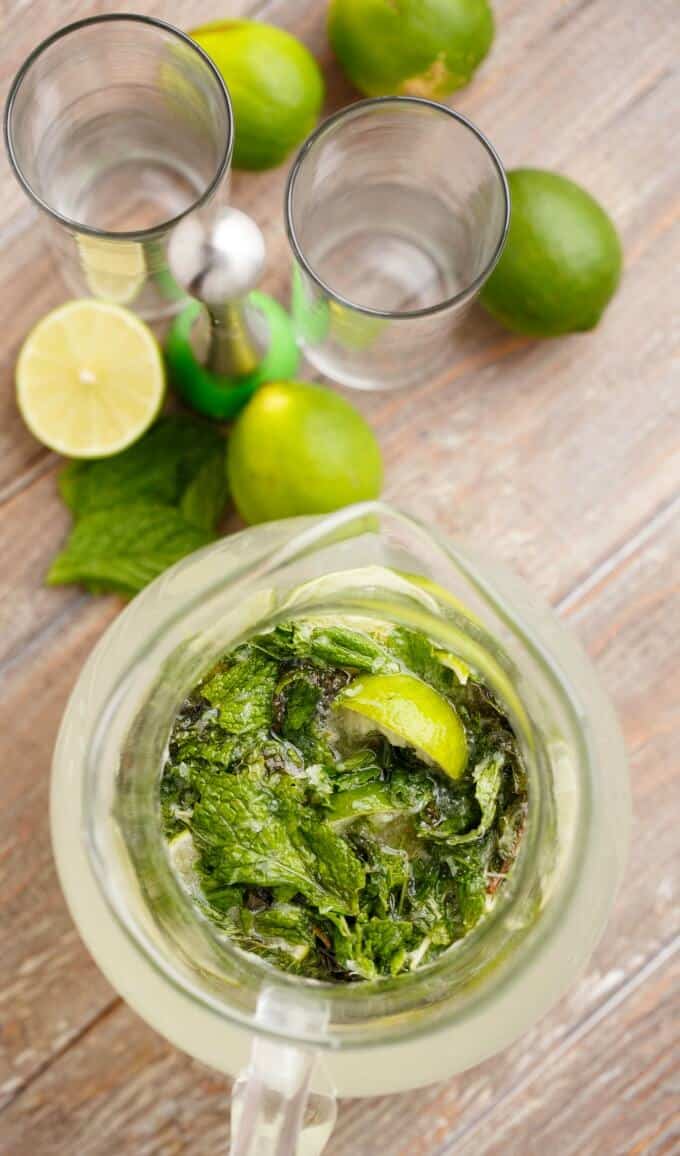 While it does contain a bit of sugar (rum is made from sugarcane after all) it is a lighter and healthier drink compared to some others (heavy beers.) Indulging in a glass here and there throughout the summer shouldn't be too hard on anyone's diet. The aroma of fresh mint and lime is intoxicating in itself, and you can easily make this a non-alcoholic drink with just club soda!
Love this half pitcher to mojitos?! Try some of these recipes: