A blend of fresh fruit makes this strawberry banana ice cream stand out! No need for the store-bought stuff anymore!
I said when I received an ice cream machine my first recipe would be sweet cream, followed by Amaretto ice cream for my husband.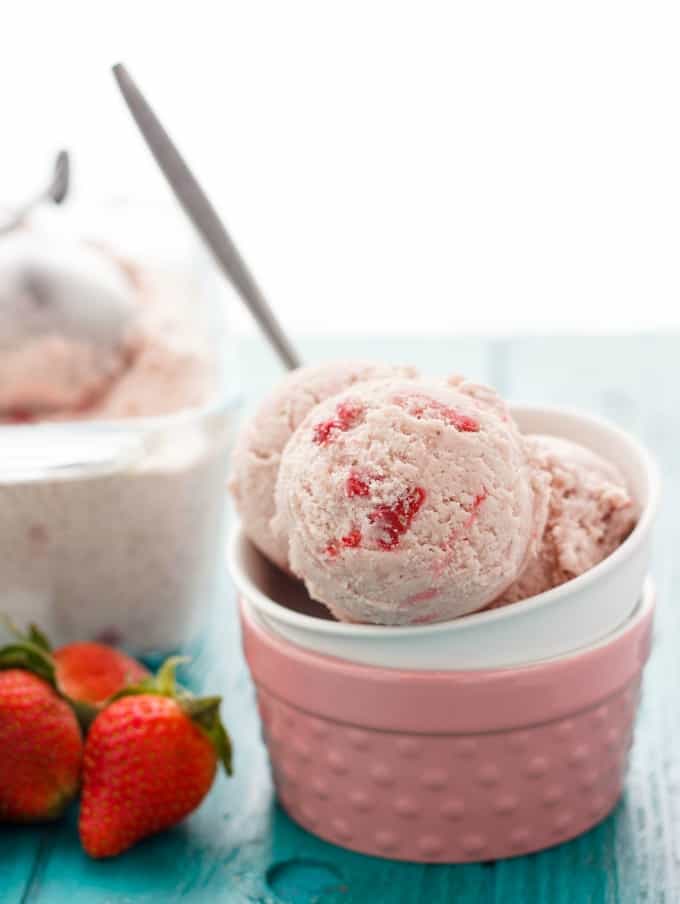 Well, sweet cream was my first and second batches, followed by vegan green tea ice cream, and lastly strawberry banana ice cream. I am a monster! I know Amaretto is Mr. TCW's favorite, but I completely forgot to pick up a bottle from the liquor store when I am out and about. For now though, (the recipe is now up!) I treated my mother-in-law to her favorite flavor combination because she has picked us up endless amounts of cream from Costco (definitely the cheapest place around here for heavy whipping cream.) I love strawberries, but bananas are just "okay" to me. However, this ice cream wowed me! I topped my serving with toasted coconut and even had my neighbor crawling back for more (and she doesn't even like coconut!)

I knew when I went to make this ice cream I would base it off the standard vanilla or sweet cream base. From there, the ice cream was easy to develop. I wanted natural ingredients, not strawberry jam or strawberry syrup. Strawberries are everywhere right now, but even if fresh isn't available, frozen strawberries would work just as well. As for the banana, I used a large ripe one, and personally found the banana a bit overpowering. Medium-sized for me next time, but banana lovers sure won't mind the flavor.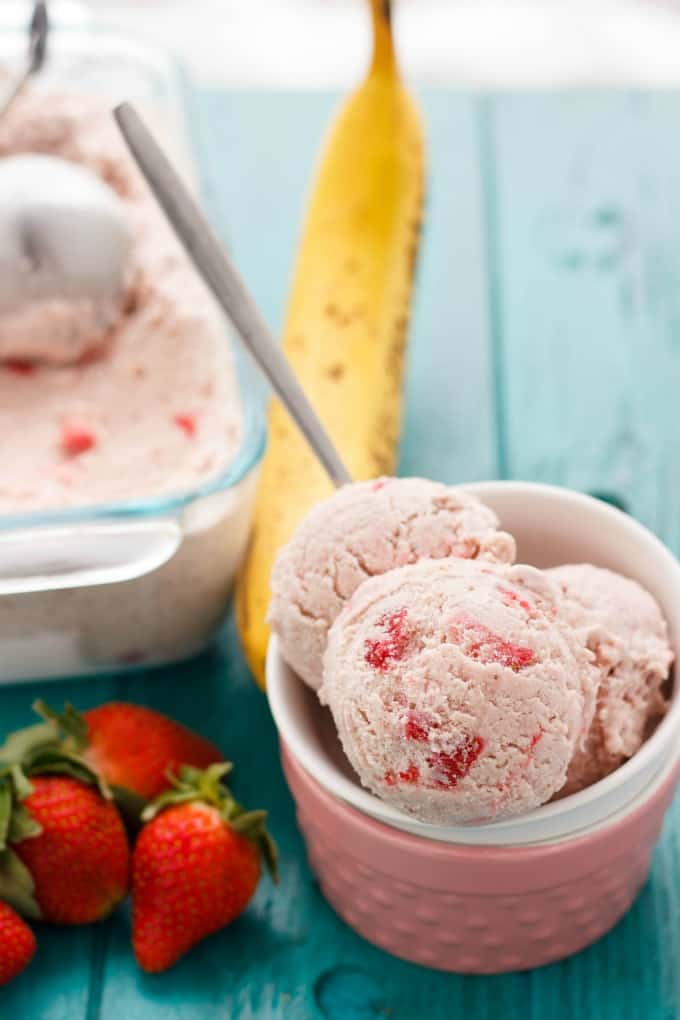 📖 Recipe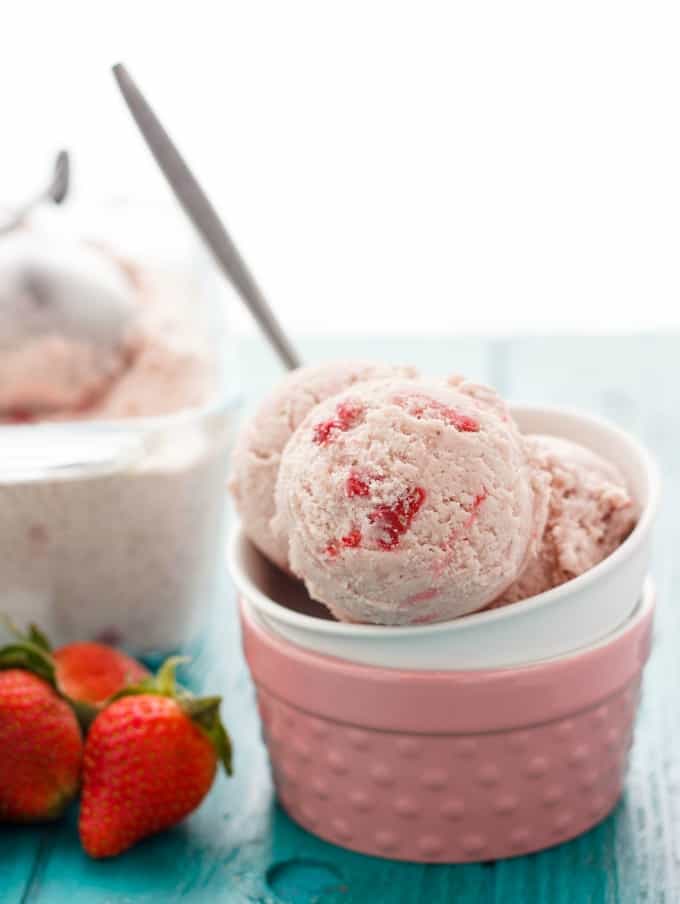 Strawberry Banana Ice Cream
The classic flavor combination of strawberries and bananas make this ice cream the perfect summer treat.
Ingredients
1 lb fresh strawberries, 3 or 4 strawberries set aside
1 medium or large ripe banana
⅛ tsp. almond extract
1 cup milk
2 cups heavy whipping cream
½ cup granulated sugar
5 egg yolks
1 tbsp. cornstarch
Instructions
Wash and remove stems from strawberries. Place all the strawberries (except the removed ones) and banana into a food processor or blender and puree until smooth. Set aside. Place egg yolks into a large mixing bowl and beat until nice and fluffy (they should lighten in color.) Combine milk and cornstarch and mix well.
In a medium saucepan, combine the milk and 1 cup heavy whipping cream with the sugar. Heat over medium-low and stir occasionally until the sugar is dissolved (do not bring to a boil.) Remove from heat and stir in almond extract. Slowly and carefully pour the hot liquid into the egg yolks, whisking constantly so not to scramble the eggs. Pour back into saucepan and add the remaining cream (that has been mixed with cornstarch.) Stir in pureed mixture. Reheat until nice and hot (but never boiling.) Remove from heat and allow to cool to room temperature. Cover and chill in refrigerator overnight.
When ready, prepare according to your ice cream maker's instructions. While the ice cream is mixing, cut the remaining strawberries into small pieces and within the last 5 minutes of mixing, add to your ice cream machine.
Store in an airtight container in the freezer.
Nutrition Information:
Yield:

8
Serving Size:

1
Amount Per Serving:
Calories:

338
Total Fat:

25g
Saturated Fat:

15g
Trans Fat:

1g
Unsaturated Fat:

8g
Cholesterol:

185mg
Sodium:

37mg
Carbohydrates:

25g
Fiber:

2g
Sugar:

21g
Protein:

5g
I gave most of the strawberry banana ice cream to my mother-in-law, but kept a small amount for Girlie. She is, after all, my little taste-tester and helper. Mr. TCW never even got to try a bite since we gobbled down our small portions in no time. No worries though, this flavor combination will be made again!