This Amaretto ice cream is made using Disaronno liqueur and is perfect during the hot summer months, and even great during the winter for a bit of kick 😉
I am not affiliated with Disaronno. I just love their product and use it any chance I get!
Christmas has come and gone. The New Year is upon us and I figured some boozy recipes would be fitting.
This Amaretto ice cream recipe was supposed to be one of the first batches of ice cream made in my ice cream machine. However, with no real reason to pop into the liquor store, I found myself pushing this ice cream aside time and time again until finally I said "no more! Mr. TCW deserves his Amaretto ice cream!" And honestly, my regret was waiting so long to create this recipe! It is so delicious! Soft, flavorful, and not overly sweet. Mr. TCW says some toasted nuts would finish off this ice cream and make it perfect. I suggested almonds, but he thinks walnuts. I will leave that up to my readers to decide.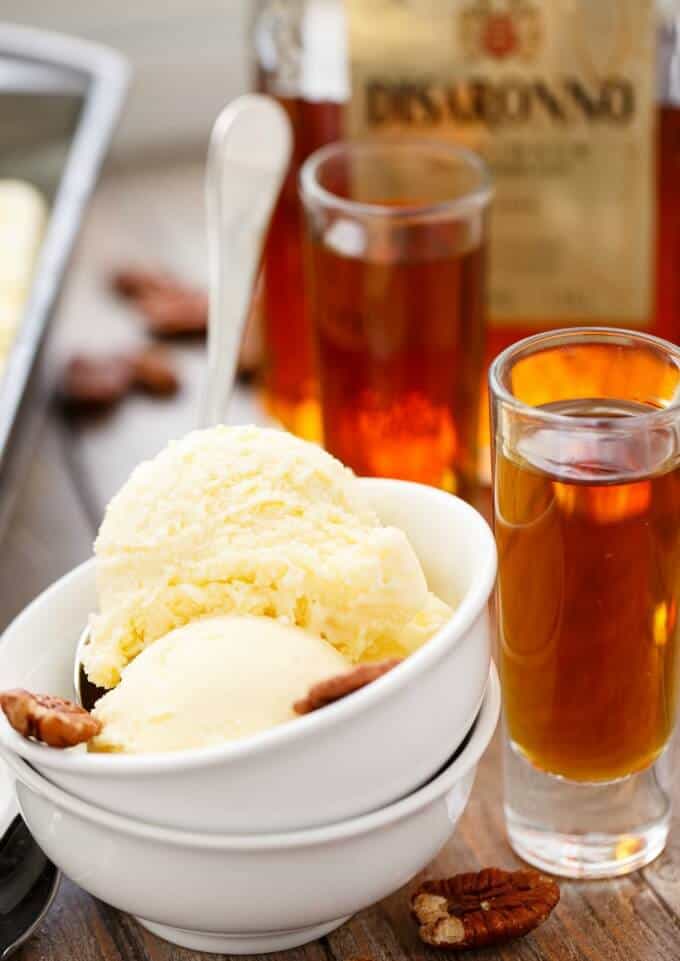 When it comes to alcohol in your ice cream, you really want to be careful about how much you add. It has nothing to do with getting "drunk" (I use quotation marks because most recipes you cook the alcohol out,) but more with the impeding of the ice cream from freezing properly. Too much alcohol and you will find your ice cream lacks binding. What I did was add 1 tbsp. of Amaretto to the mixture that was cooking on the stove. When it came time to place the mixture into the machine, I waited until the ice cream was almost mixed completely before adding in 1 more tablespoon of Amaretto. I know two tablespoons of booze sounds like very little, but the Amaretto flavor really shines here. You may get away with adding one more tablespoon, but I would resist going any further than that unless you want soft serve ice cream!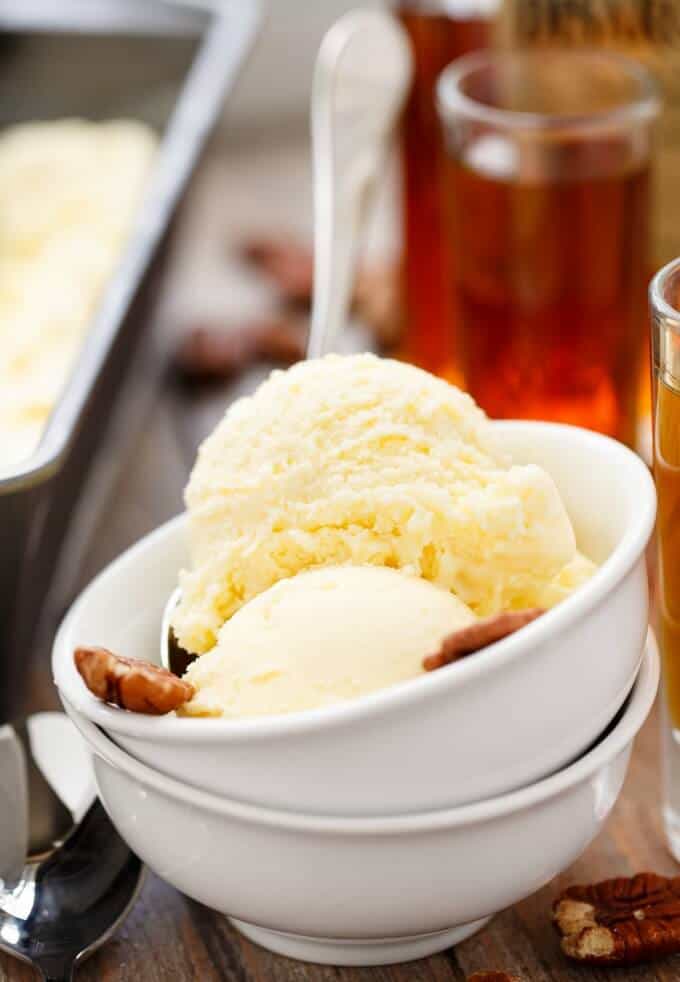 I finally got an ice cream scoop (perfect stocking stuffer!) so my ice cream photography should pick up. I will admit, ice cream is usually seldom seen during the winter months, but we all know alcohol warms us up, right? I will just roll with that idea.
I love the yellow color the ice cream takes on from the egg yolks and liquor. A very simple ice cream recipe that will knock your socks off! This amaretto ice cream only requires a very small amount of Amaretto, so you don't have to worry about spending a fortune. Making a special trip to the liquor store seems like an inconvenience, but for this outstanding ice cream, I would do it any day!
📖 Recipe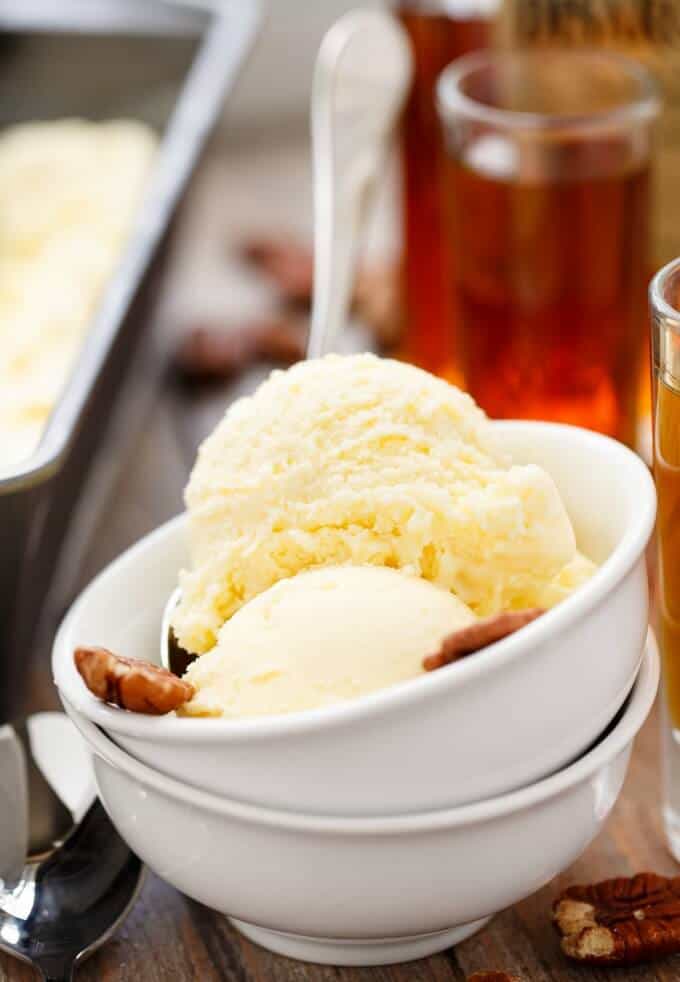 Amaretto Ice Cream
Winter or summer, this Amaretto ice cream is so comforting!
Ingredients
2 cups heavy whipping cream
1 cup milk
4 egg yolks
½ cup granulated sugar
1 tbsp. cornstarch
2 tbsp. Amaretto, divided + more for topping if desired
¼ tsp. salt
1 tsp. almond extract
Instructions
In a medium saucepan, combine 1 cup of cream, milk, and sugar over medium heat. Heat, whisking occasionally, until hot, but do not let boil (and all the sugar has dissolved.).
While the mixture is cooking, whisk egg yolks until paler in color. Combine remaining cream and cornstarch in another bowl.
Carefully and slowly pour the hot cream into the egg yolks, whisking constantly so the eggs do not scramble. Continue whisking until all the cream is blended. Transfer the mixture back into the pan and stir in the almond extract, 1 tbsp. Amaretto, cream, and salt. Bring up to a hot temperature again, stirring occasionally. Turn off heat and allow to cool to room temperature, stirring occasionally to keep film from building up. Cool in refrigerator overnight.
To make the ice cream, follow your machine's instructions. When the ice cream is almost set (usually 20 minutes in my machine) add in the remaining Amaretto.
When the ice cream is finished churning, transfer to a freezer safe storage container. Top with additional Amaretto and pecans when serving if desired!
Nutrition Information:
Yield:

5
Serving Size:

1
Amount Per Serving:
Calories:

499
Total Fat:

39g
Saturated Fat:

24g
Trans Fat:

1g
Unsaturated Fat:

13g
Cholesterol:

259mg
Sodium:

172mg
Carbohydrates:

29g
Fiber:

0g
Sugar:

28g
Protein:

6g
Christmas was really nice this year. My sister and I had to agree it was probably one of the most favourable Christmas celebrations in a very long time! Plus, with kiddo being so much older now, you really get to see the fun in Christmas when a 3 year old opens up gifts. Everyone was spoiled and many surprises were made. I was treated to a brand new Kitchen Aid mixer! I was completely taken off guard when I opened my gift. I thought Mr. TCW had used a Kitchen Aid box to wrap my actual gift in. He knew my Classic model was making weird sounds (and at only 5 years old I don't understand why.) I think the real reason he gave me the new one was because he was sick of the mess I made when my flour or sugar would fly out of the bowl, even with my pouring shield on! I'm only teasing, but I must admit, I am REALLY excited to try out the model. Switching from the Classic to the Professional HD will take some getting used to since one is a tilt head and the other has the bowl lifter. No complaints though! Plus, my sister gets to have my old mixer (which she originally gifted me, so it is kind of strange...) Maybe when kiddo gets a bit older I will steal it back for her!
Love this Amaretto ice cream?! Try some of these recipes: