I love chocolate. Any dessert, I will prefer the chocolate version. I have cutback on my chocolate intake over the years, but there are still some nights where the chocolate craving hit and I find myself in the kitchen baking a batch of chocolate chip cookies.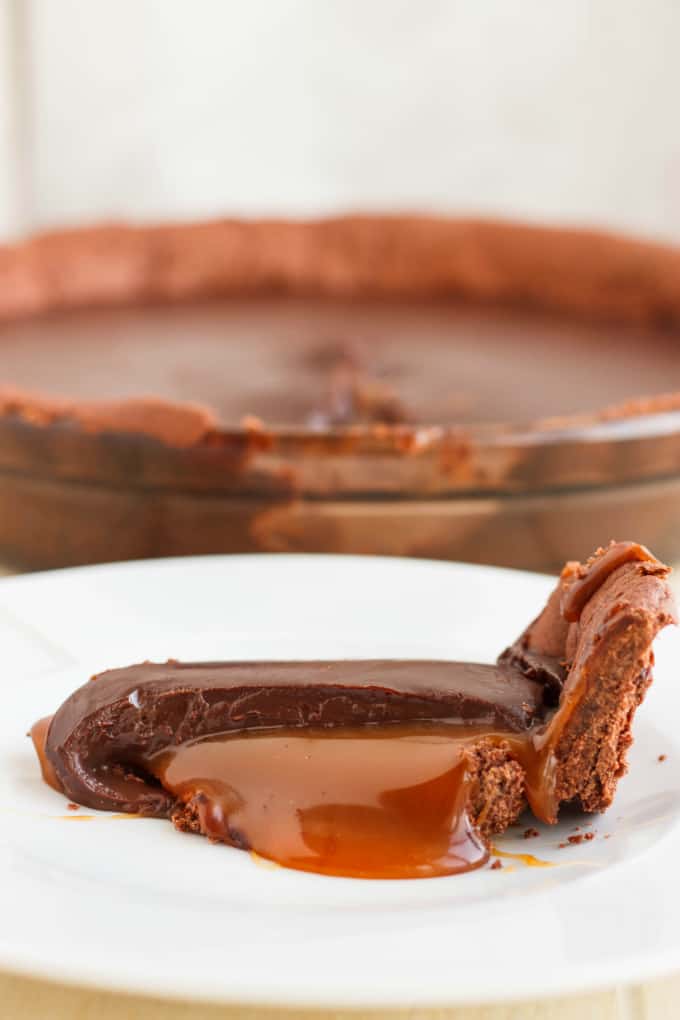 I must say though, this chocolate caramel pie may almost be too much. I love sweet, but this is closing in on "OMG can my body handle this?!" It was super delicious, and the caramel was definitely my favorite part. I made this along with my lemon cheesecake, and even with almost 20 people, we had quite a bit of dessert leftover (more cheesecake though.) I was able to save one piece of chocolate caramel pie for Travis, who you may remember from my red velvet cake covered in buttercream rosettes (yes, he did survive his anniversary.)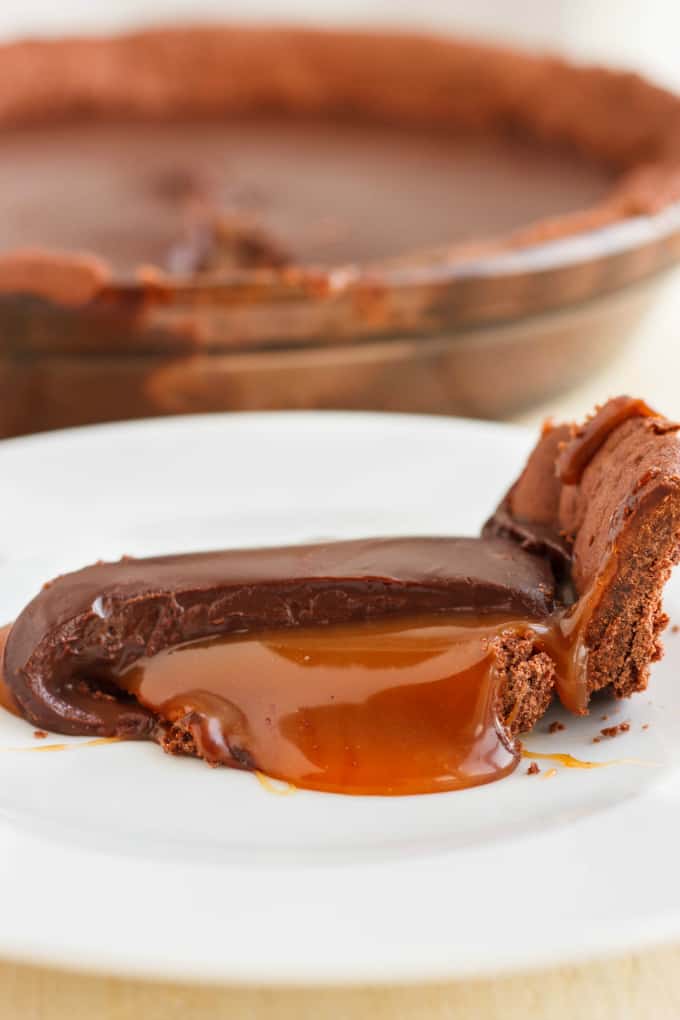 This chocolate caramel pie was originally suppose to be a tart, but I have neither a large tart pan or mini ones. I figured there was no going wrong with a pie. The only downside? Not as pretty looking as a tart! The crust was a bit difficult to work with originally because I did not refrigerate it (if you were making this as a tart, you could just push the dough into the tart pan.) I have included in the recipe instructions a chilling time for the dough if you plan to roll it out as a pie crust. Otherwise, splendid and easy! And homemade caramel? I actually did not burn my batch, but I would have if I had allowed it to cook longer. My candy thermometer must be off because I hit a deep amber color at around 310F and that is way too low for a caramel (you want to hit 340F.) Use a trusted candy thermometer, or go based on color. One second too long and your caramel will burn.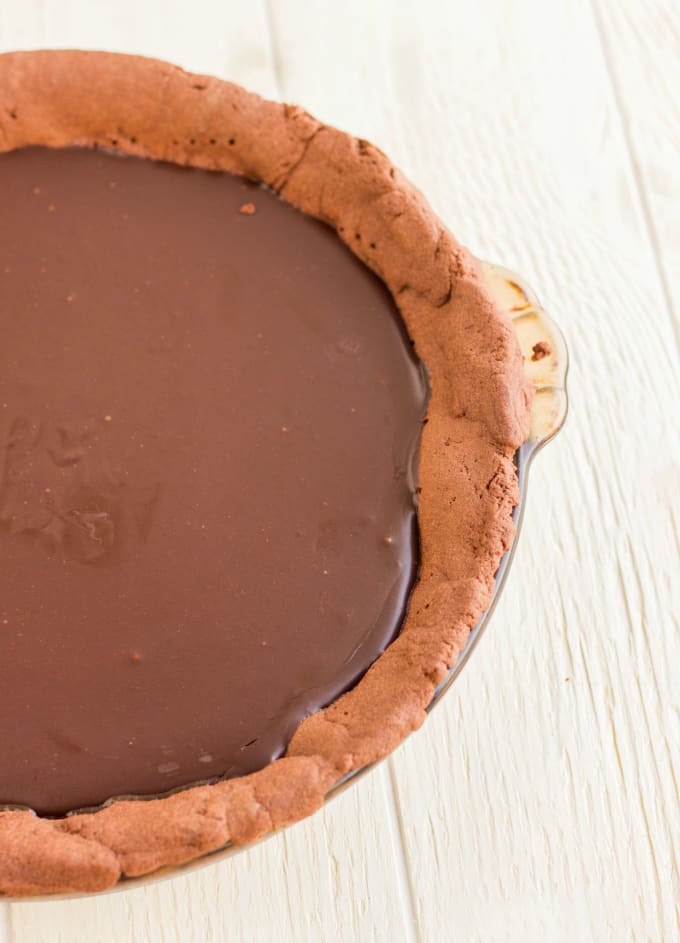 I really thought the caramel and ganache would cover most of my pie crust, so I was kind of disappointed to see my fork holes peeking through the top. Another reason to invest in a tart pan (or seriously, mini tart pans because they look so cute!) Once again, this chocolate caramel pie is sweeeeeeeet. Small portions and a pairing of coffee or tea preferred.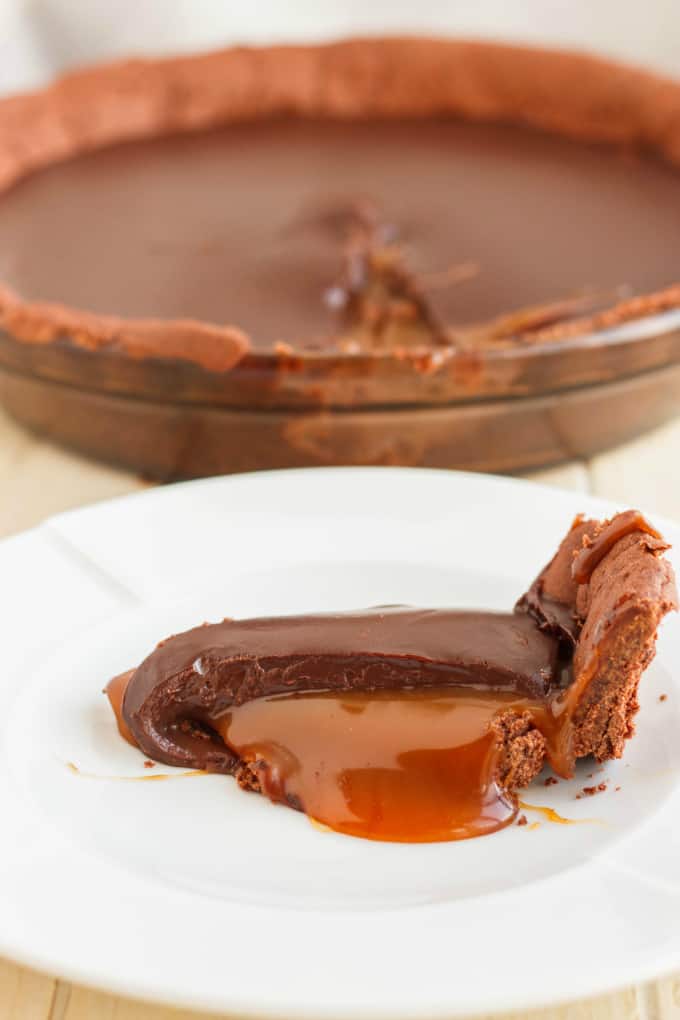 📖 Recipe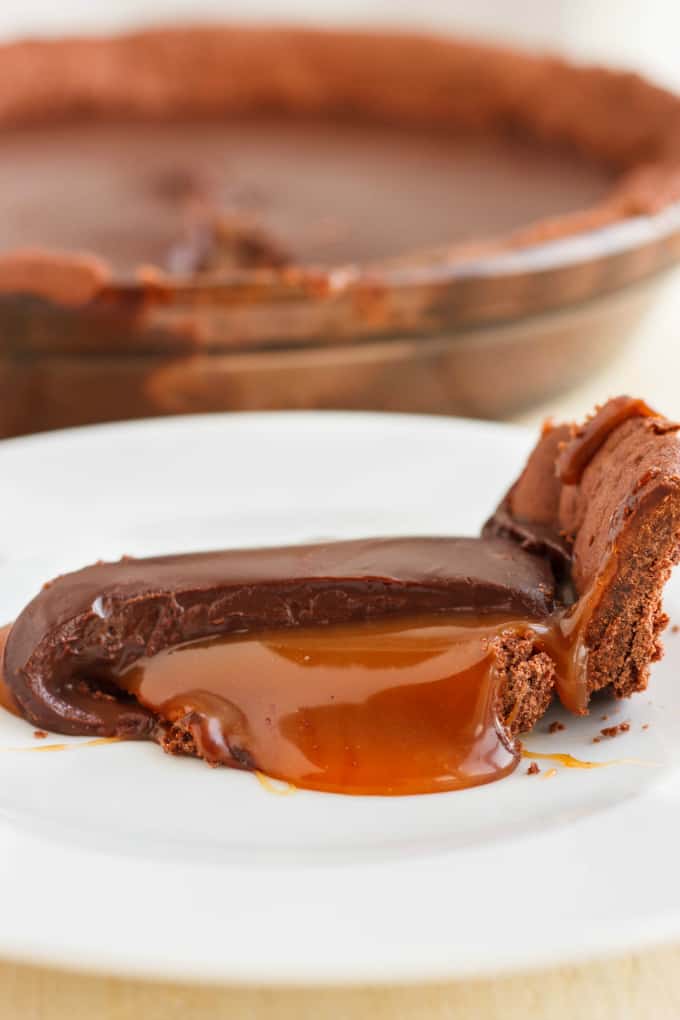 Chocolate Caramel Pie
Total Time:
1 hour
20 minutes
A very rich, yet satisfying, dessert for the holidays. Chocolate caramel pie is so decadent, this little pie can serve at least 20 people.
Ingredients
Crust:
1 ½ cups all-purpose flour
¼ cup unsweetened cocoa powder
½ cup salted butter, room temperature
½ cup confectioners' sugar
1 egg, room temperature
½ tsp. vanilla extract
Caramel:
1 ½ cups granulated sugar
6 tbsp. water
3 tbsp. corn syrup
6 tbsp. salted butter
6 tbsp. heaving whipping cream
1 tbsp. whiskey
Ganache:
½ cup heavy whipping cream
½ cup chocolate chips (I used semi-sweet, but dark chocolate would be nice.)
⅛ cup corn syrup
¼ tsp. vanilla
Instructions
To make the crust, sift together the flour and cocoa. In the bowl of your stand mixer, add the butter and sugar. Cream until light and fluffy, about 5 minutes. Add the egg and mix until well blended. Stir in the vanilla. Add the dry ingredients and mix until combined. Form dough into a ball and wrap in plastic wrap. Allow to chill for 1-2 hours.
Preheat oven to 350F.
Place the ball between two layers of wax paper. Roll out the dough until it is large enough to fit into a 9-inch pie pan (there will be extra dough depending on how thick or thin you roll the crust.) Place into pie pan and decorate crust accordingly. Poke with a fork in random spots and place into the oven for 20 minutes. Remove from oven and cool on wire rack.
To make the caramel, combine the sugar, water, and corn syrup into a small, heavy bottom saucepan. Attach a candy thermometer and place over medium-low heat. Stir occasionally to help dissolve the sugar, but as soon as the mixture begins to boil, LEAVE IT ALONE. Allow to boil untouched until the mixture reaches around 340F (or a deep amber color. My candy thermometer must be broken because I was at a dark amber before 340F.) As soon as the correct temperature is reached, removed from heat and stir in the butter, followed by the cream. Finally, add in the whiskey and mix until blended. Set aside to cool slightly (as well as allowing the mixture to thicken.) Pour into cooled pie crust and set into the fridge for the next 4 hours, or until firm.
For the ganache, heat the whipping cream in a small saucepan over medium-low heat, stirring frequently to avoid a skin. Heat until scalding but not boiling. Add the chocolate to a small mixing bowl and pour the cream over top. DO NOT MIX. Allow to sit for 2-5 minutes. Stir slowly with a spatula until combined, careful not to over-mix. Add in the corn syrup and vanilla and mix.
Pour over firm caramel and return to the fridge. Chill overnight preferably. When ready to serve, remove from refrigerator about 15 minutes before serving so the caramel is easier to cut into (a hot knife will also help.)
Nutrition Information:
Yield:

20
Serving Size:

1
Amount Per Serving:
Calories:

255
Total Fat:

14g
Saturated Fat:

8g
Trans Fat:

0g
Unsaturated Fat:

4g
Cholesterol:

42mg
Sodium:

75mg
Carbohydrates:

33g
Fiber:

1g
Sugar:

25g
Protein:

2g
And there you have it, all my holiday desserts! I am sure I will indulge you with one more decadent treat before the new year, but come January 1st, I am really excited to start going back to some meal recipes (and some healthy, but hearty, recipes.) Then February will hit and we all know the desire to eat healthy will start diminishing! Until then though, Merry Christmas!