It has been quite a while since I wrote about my first ever cheesecake. I went with the traditional New York style cheesecake with a strawberry topping. Making this cheesecake, I was super fearful. I had read about people's cheesecakes falling, not cooking properly (whether overcooked or underdone.) And then there was the worry of the cheesecake cracking. It was such a stressful experience but the cake turned out perfectly, and after all was said and done, I found I really enjoyed making the cheesecake.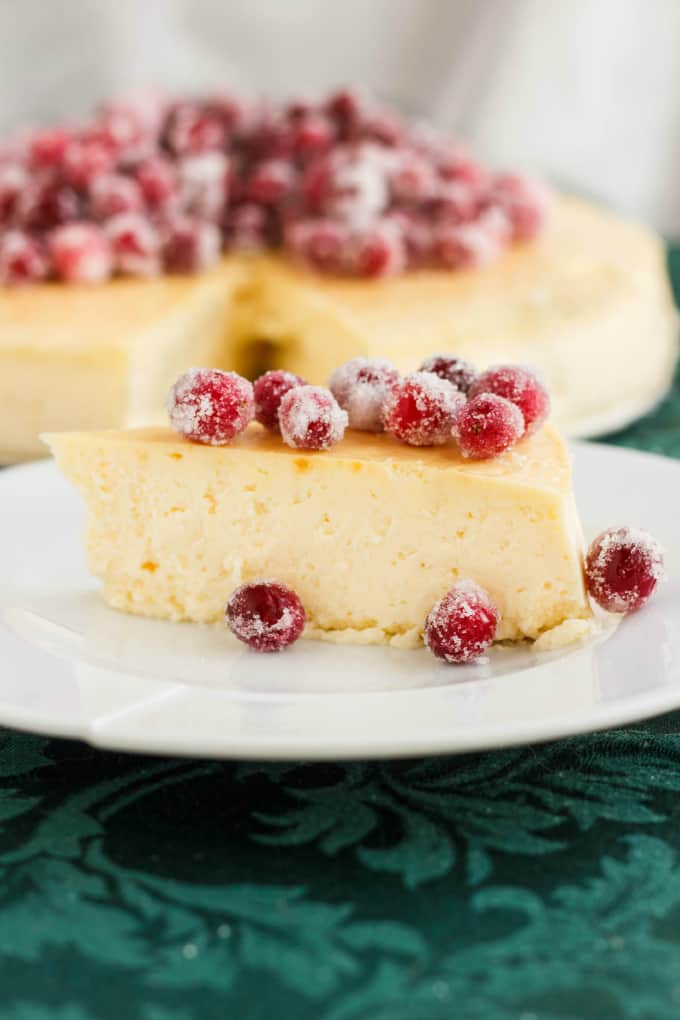 As fun as it was making the cheesecake, I never had an excuse to make another because I do not like cheesecake, and even if Mr. TCW enjoys a slice once in a while, there is no way he can eat the entire cheesecake to himself! When my mother-in-law asked me to make dessert for the family Christmas party, I knew immediately I was going to make a cheesecake. I settled with a crust-less lemon cheesecake with candied cranberries. Crust-less was necessary because we needed the lemon cheesecake to be gluten-free. I thought the candied cranberries paired perfectly with the lemon flavor, and gave it a nice Christmas feeling.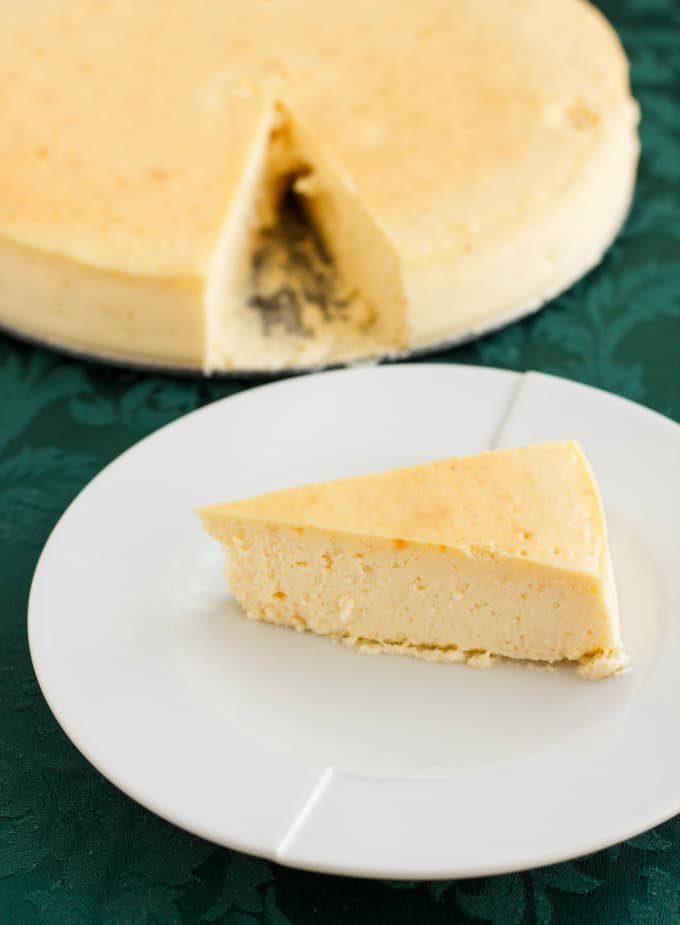 Since my New York style cheesecake turned out so well, I decided to stick with that recipe and adjust it accordingly. Some lemon zest and freshly squeezed lemon juice, and the reduction of sour cream made this lemon cheesecake soft, delicate, and basically perfect! I tried a bit off the knife and was pleasantly surprised about how well the lemon worked in the cheesecake (still not a fan of cheesecake though.)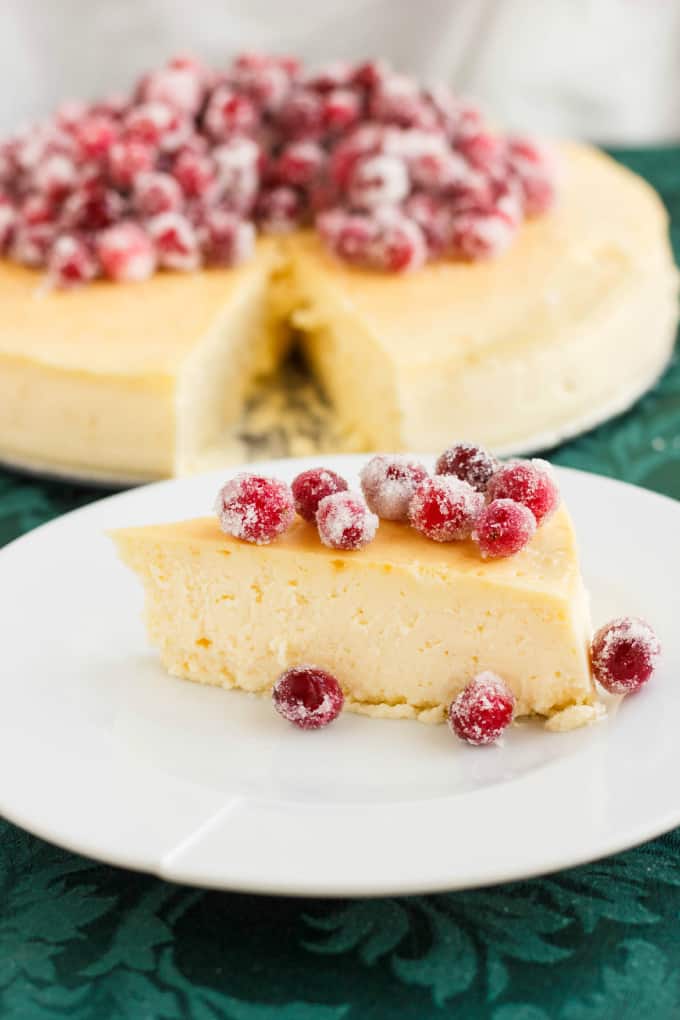 This cheesecake serves a ton. I listed 20 servings, but it would easily be more depending on the slices of cheesecake you hand out. Remember, cheesecake is rich, so don't go overboard! I made a chocolate caramel pie for those who did not care for cheesecake, and was told the two worked well together since one was quite sweet, and the other more mellow. Plus, chocolate and lemon are a winning pair!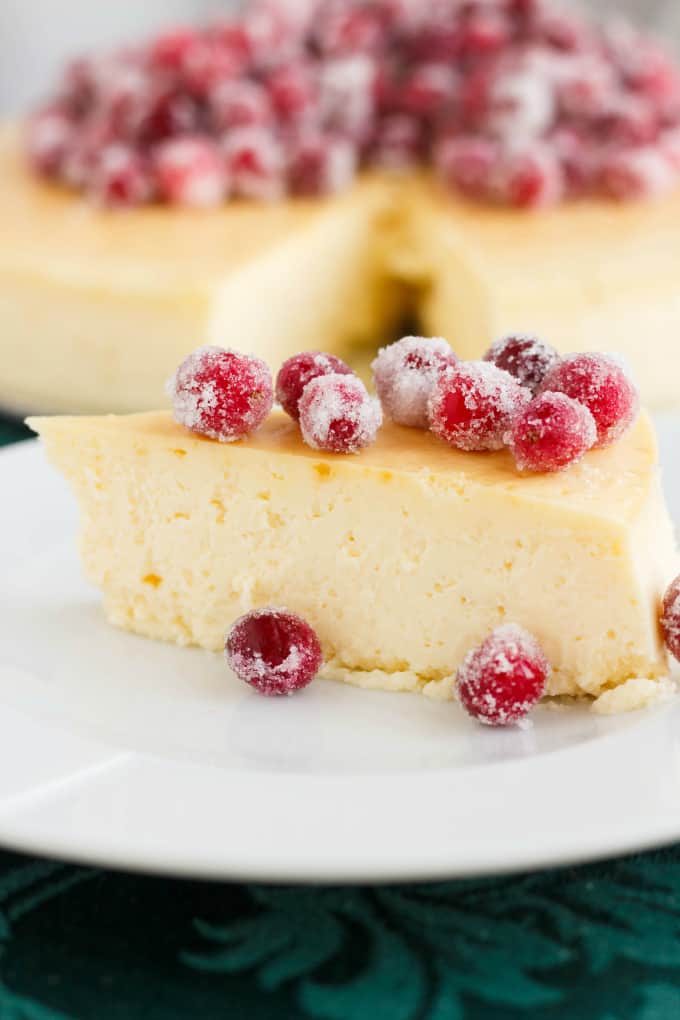 One more note: this lemon cheesecake needs to chill overnight, so if you are making it for an event, remember to work a day in advance.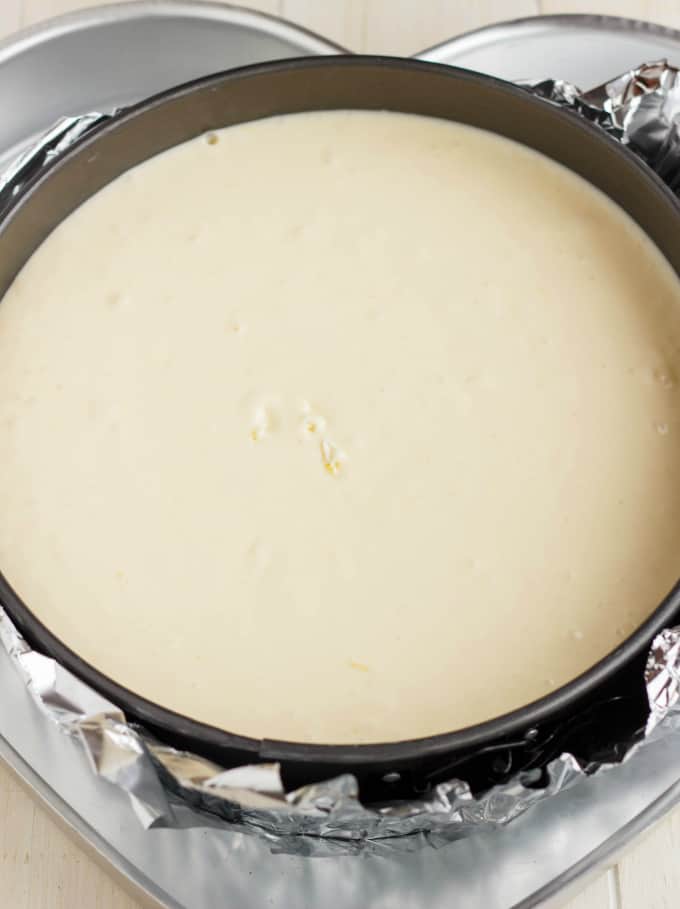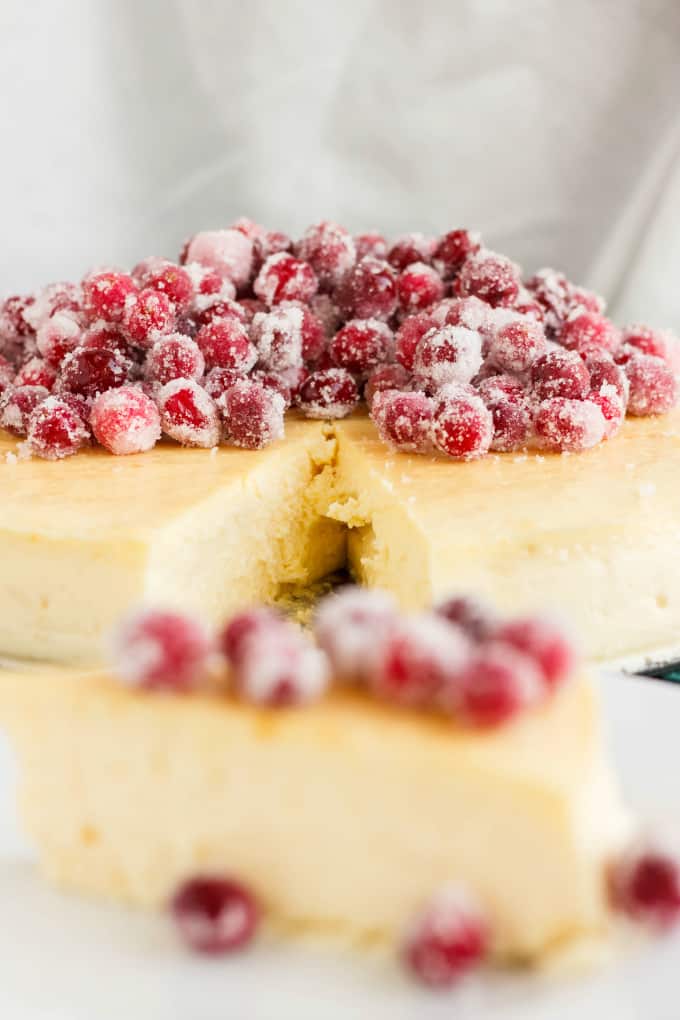 📖 Recipe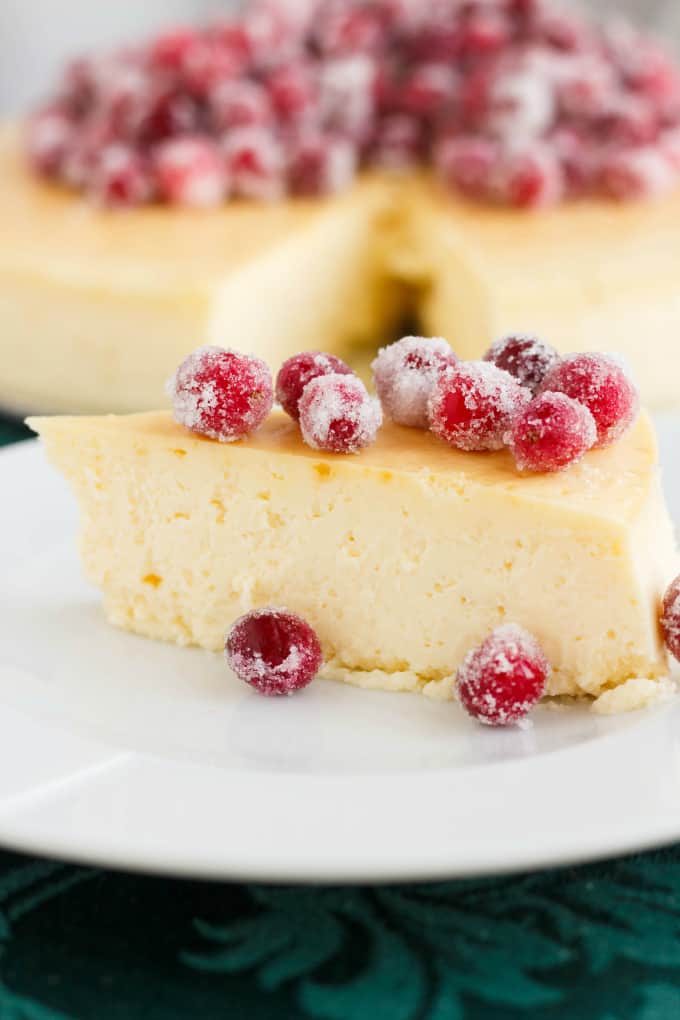 Crust-Less Lemon Cheesecake with Candied Cranberries
Cook Time:
2 hours
15 minutes
Total Time:
2 hours
45 minutes
Perfect for a gluten-free diet, this crust-less lemon cheesecake with candied cranberries is the perfect balance of sweet and sour!
Ingredients
1 recipe of candied cranberries
5 large eggs, room temperature
1 ¾ cups sour cream, room temperature
2 (400g each) containers of cream cheese, room temperature
½ cup butter, room temperature (I used salted.)
1 ½ cups sugar
2 tbsp. cornstarch
1 tsp. almond extract
1 tbsp. lemon zest
1 ½ tbsp. freshly squeezed lemon juice
Instructions
Grease your 10' springform pan with butter. Wrap a couple of layers of aluminum foil around the outside of the bottom of the pan (and about half way up the sides of the pan.) Do not skip this part! Have available another pan that is big enough to hold your 10" springform.
Preheat oven to 300F.
Add the eggs and sour cream into a large bowl and beat well with a hand mixer. *Note, you will see I am not using a stand mixer. You really do not want to over-beat this cheesecake, trust me! In another bowl, add in the cream cheese and butter. Mix with your hand mixer until smooth (no lumps.) Pour this mixture into the sour cream mixture. Beat again until combined and smooth.
Add in the sugar, cornstarch, almond extract, lemon zest and lemon juice. Beat until combined, about 2 minutes (you want a nice, soft batter, but you don't want to over-mix either.) Pour the mixture into your pan and shake/jiggle the tray for a smooth layer. Place into the larger pan. Fill the larger pan up with hot tap water, just about halfway up the springform pan (mine was a bit less than halfway, maybe even only ¼ of the way but it still worked.)
Place into oven and bake for 2 hours and 15 minutes, or until lightly brown (note: start checking the cheesecake around the 2 hour mark.)
Remove the pan from the oven and transfer the cheesecake out of the water and onto a cooling rack. Leave the aluminum foil on for the first 30 minutes to half an hour. Then remove the foil and continue to cool completely. Cover and refrigerate overnight preferably.
Top with the candied cranberries when ready to serve!
Nutrition Information:
Yield:

20
Serving Size:

1
Amount Per Serving:
Calories:

168
Total Fat:

10g
Saturated Fat:

6g
Trans Fat:

0g
Unsaturated Fat:

3g
Cholesterol:

72mg
Sodium:

66mg
Carbohydrates:

18g
Fiber:

0g
Sugar:

16g
Protein:

2g
When it comes time to decorate the lemon cheesecake with the candied cranberries, try and do it just before serving. I found putting the cranberries on a bit in advance led for some of the cranberries to lose their dry, sugary coating. Nothing horrific, but moisture definitely plays a part here.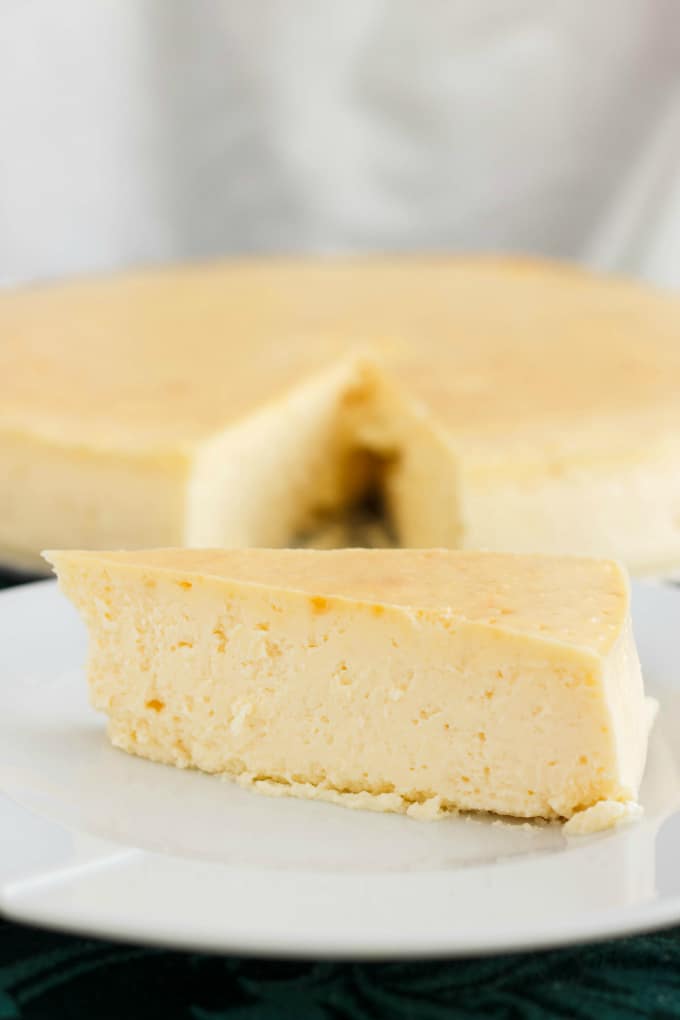 Also, I did totally cut into this lemon cheesecake at my house to take photos for the blog. I carefully placed the sliced piece back in and covered it with cranberries!