I cannot believe August is here!
The summer is flying by and before you know it, school will be starting. This is important for me as it will be my daughter's first year of school!! Ahh!
I will admit though, I am super excited for her. As an only child, I feel she really needs to get out and make friends. She is spoiled at home and I think this will somewhat show at school... No more random snacks/meal times, no more staying up late, and no more "changing her mind 50 thousand times" when it comes to decisions! It may be a bit rough in the beginning, but I know she will pull through. Her excitement for school is undeniable, and once she makes friends, I am sure her parents will not be cool anymore... 🙁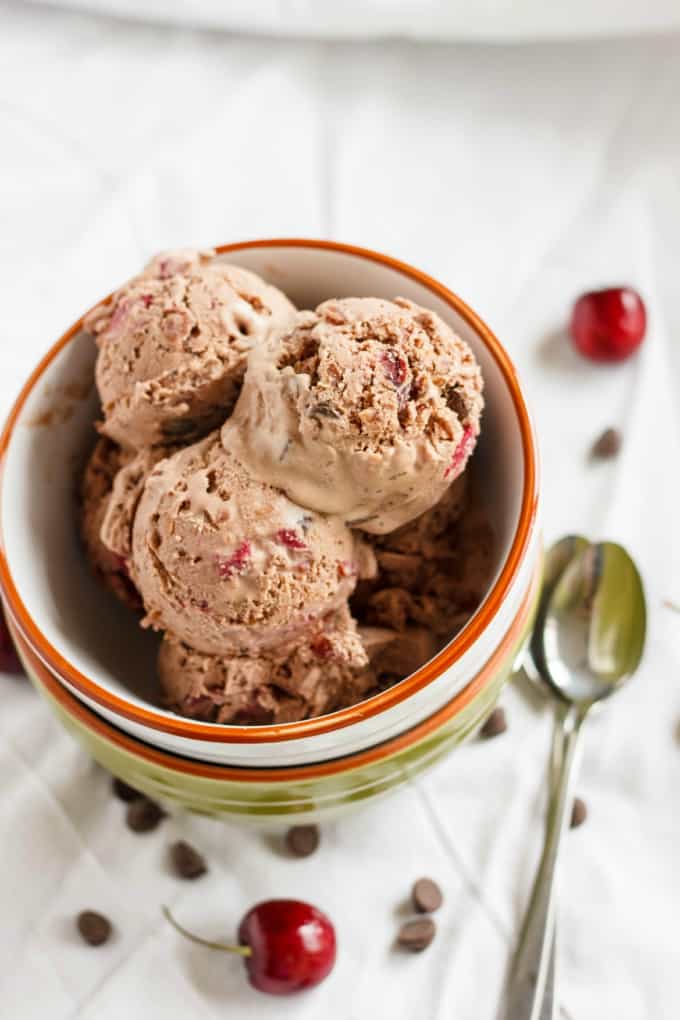 Now you probably wonder how I am taking it. Well, according to most, I am going to cry, miss her to death, and probably have more children! Wrong!! Oh, I will miss her. She is my little mini-me, my taste-tester. But she will be doing her own thing, and I will be doing mine. Focusing on the blog and continuing to perfect my recipes are really important to me. I always wanted to be a writer, and I still do. However, it seems like my writing path has taken a different road. Who knows, maybe I will still consider novels/stories, but for now, The Cookie Writer comes first!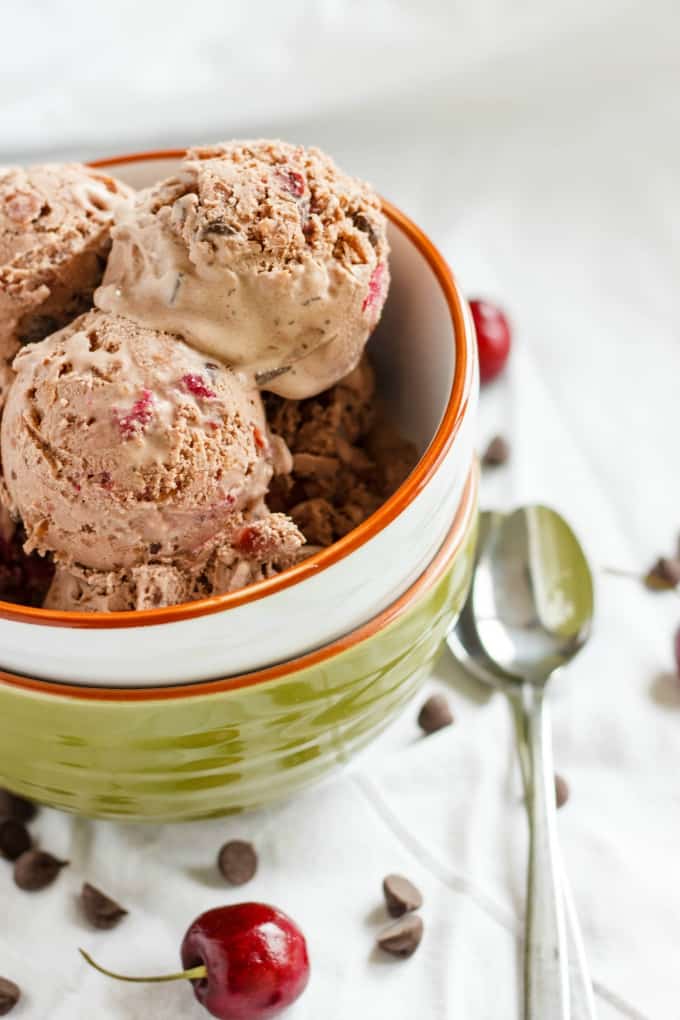 With our summer temperatures finally appearing (and let me tell you, they have been hot!) I have taken the liberty of breaking out cooler recipes. This cherry-chocolate ice cream was inspired by my need to not let fresh cherries go to waste, but also use up the excessive amount of whipping cream my mother-in-law had bestow upon me! I cannot deny my love for fresh cream, but before these past couple of weeks, the temperatures were not what we would say "summer weather." Sure, we had some hot days, but then we had cool weather, and lots of rain. Now... Now we have heat! And what better way to cool down than this cherry-chocolate ice cream!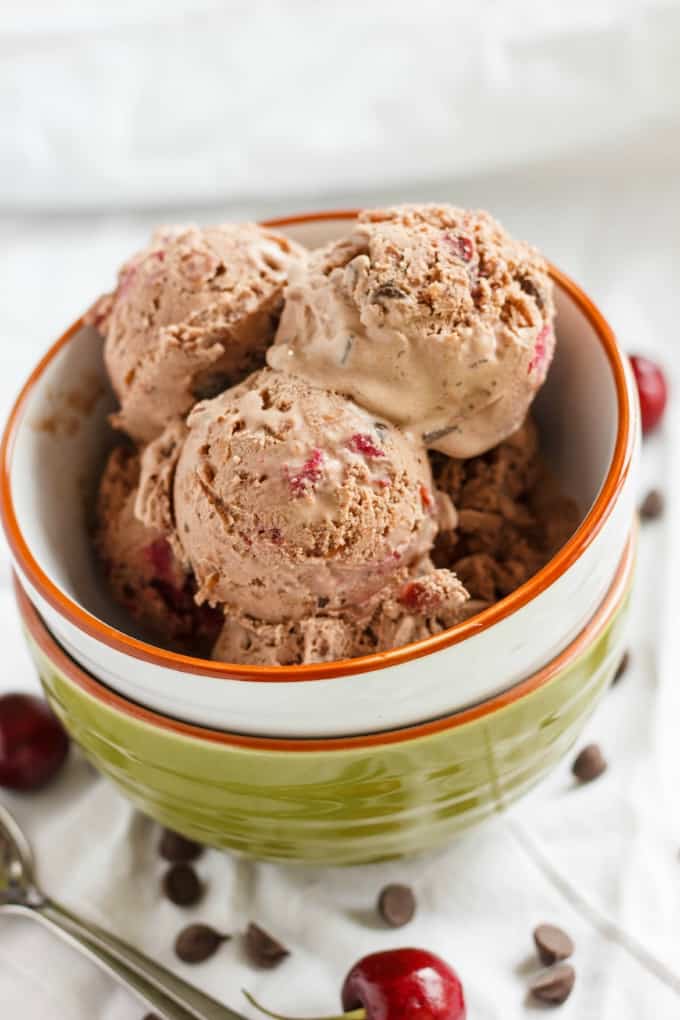 I was a bit worried the texture would be off because of the water from the fresh cherries. Surprisingly, everything held up perfectly. I used some cornstarch along with the egg yolks to help achieve a softer texture. My addition of chocolate came into play because I could not get passed the whole chocolate/cherry combo that everyone loves. I was also reminded of cherry and alcohol, so I decided to add some spiced rum (but you can easily omit that! We are talking about back-to-school after all!)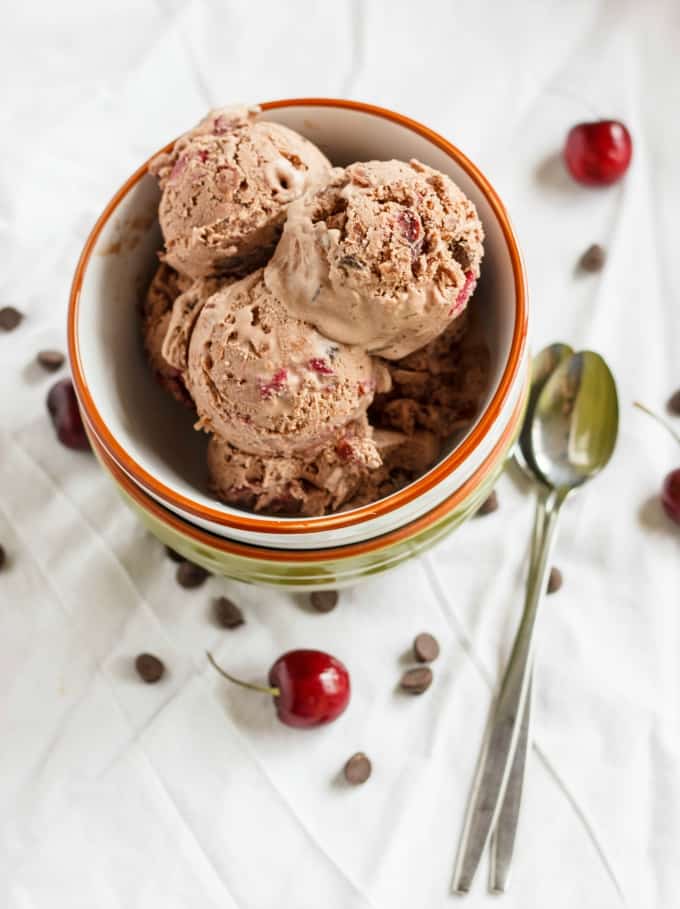 📖 Recipe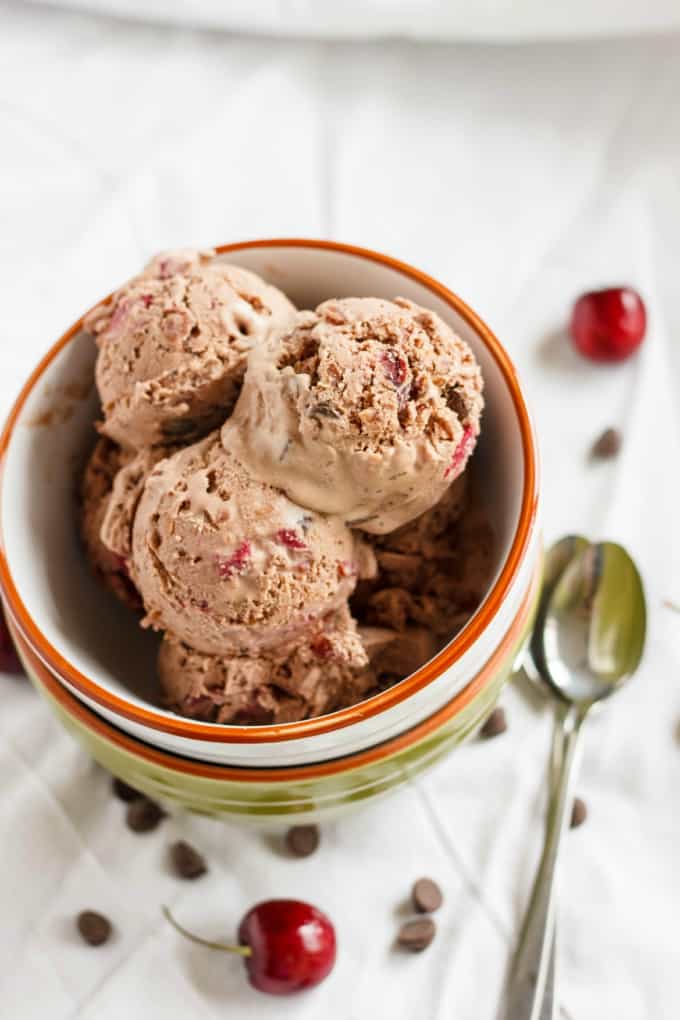 Cherry-Chocolate Ice Cream
A classic pairing as old as time, this cherry-chocolate ice cream is packed full of flavor and uses fresh cherries from the season!
Ingredients
1 lb fresh cherries, pits removed
4 egg yolks
1 tbsp. cornstarch
½ cup brown sugar
1-2 tsp. granulated sugar
2 tsp. spiced rum (optional)
Pinch of salt
3 cups heavy whipping cream
2 tbsp. unsweetened cocoa powder
¼ cup roughly chopped chocolate
Instructions
Place the pitted cherries into a bowl and sprinkle with granulated sugar. Add the spiced rum and allow to sit while you prepare the other ingredients.
Add 2 cups cream, brown sugar, and salt to a small saucepan over medium heat. Stir in cocoa powder and mix frequently until mixture becomes very hot (but not boiling.)
In a medium-sized mixing bowl, whisk your egg yolks. In another bowl. combine the remaining cream and cornstarch and stir well. Pour the hot mixture slowly and carefully into the egg yolks, whisking constantly. Pour the mixture back into the pan and whisk in the cornstarch/cream mixture. Add the cherries (I tried leaving as much as the liquid behind as possible because it will only add ice crystals to your ice cream.) Bring to a hot temperature again (not boiling.)
Remove from heat and allow to come to room temperature. Chill overnight in the refrigerator and make according to your ice cream machine's instructions. In the last 5 minutes of the ice cream cycle, add the chopped chocolate so it blends nicely.
Nutrition Information:
Yield:

6
Serving Size:

1
Amount Per Serving:
Calories:

605
Total Fat:

48g
Saturated Fat:

30g
Trans Fat:

1g
Unsaturated Fat:

15g
Cholesterol:

259mg
Sodium:

70mg
Carbohydrates:

38g
Fiber:

2g
Sugar:

33g
Protein:

7g