One pot meals are great when you are short on time, so enjoy this easy jambalaya recipe! Might not be a true replica of the classic, but it certainly has my family begging for more!
I love when I am browsing food blogs and come across a recipe that the author has tried making for the first time. It shows their interpretation of a recipe (whether it be a classic or something more modern) and makes the reader feel a bit more at home because chances are, they may not have made the recipe before either.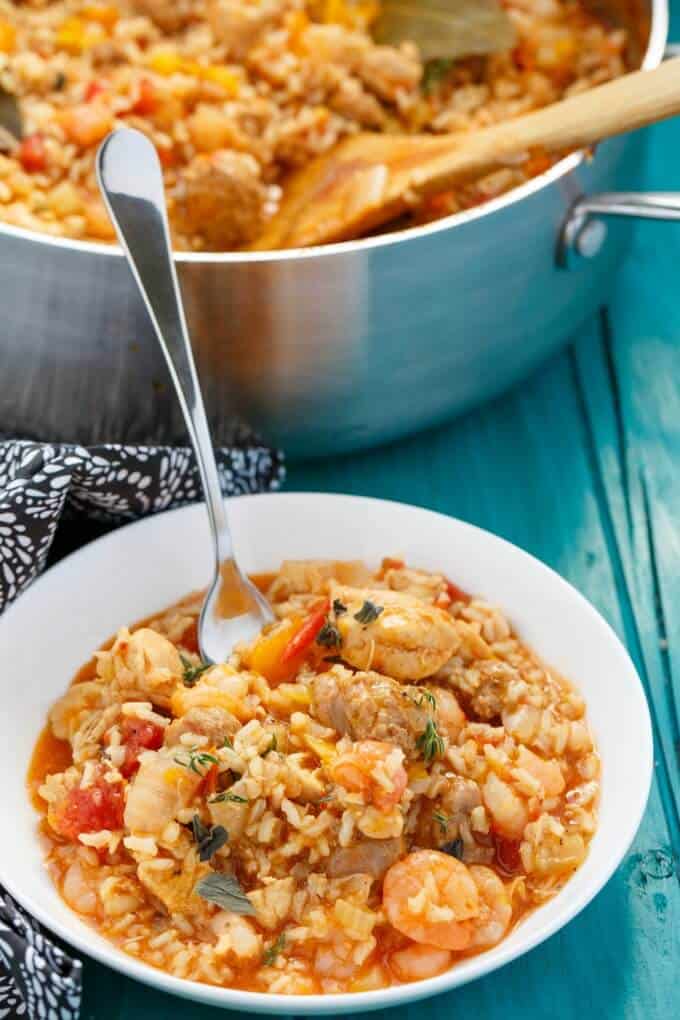 For example, the easy jambalaya recipe I have today is exactly what it states: easy! I have never made one before (at least I do not think so, maybe a gumbo.) My husband was having a craving and for once I had all three meats on hand, so I said "why not?" I knew a bit about jambalaya so I was not too lost in the making, and I feel I really came up with something amazing! Plus, it is all made in one pan and you know those recipes are big these days!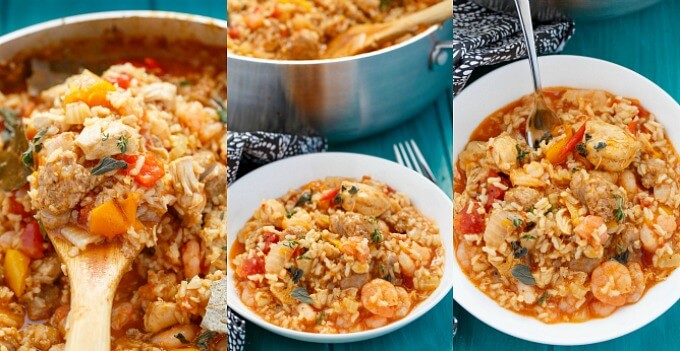 Being from Canada, I find our provinces do not have the same diversity as the States when it comes to food. We have amazing food, and most likely you will have to travel to a larger city to find the fancier restaurants. However, I don't really see "The South" and "Deep-Dish," and "Chowder" cities/states here. Then again, Quebec did invent the poutine... Hmmm, I take it all back! Canada has the poutine and that is all that matters 🙂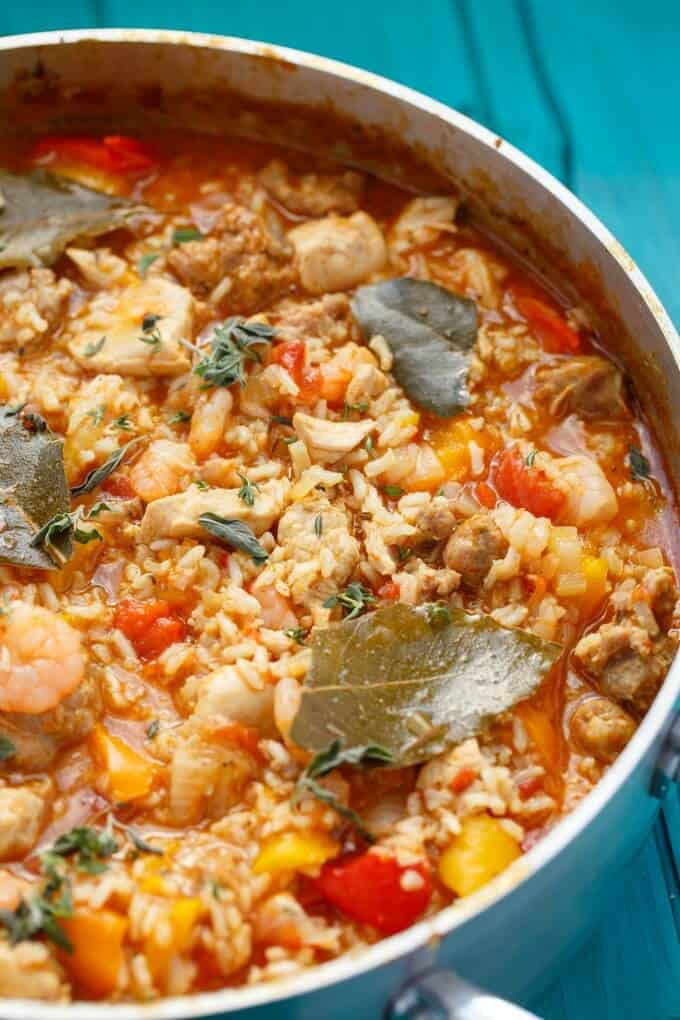 Since I have never had a "real" jambalaya, I cannot say for sure if this is traditional or not when it comes to flavor. But then again, if someone has never had a "real" poutine, they wouldn't be sure of the flavors when they make their own (cheese curds, you need to use real cheese curds for a true poutine!) I like this sense of wonder! It reminds me of the time I made risotto without ever having tried one before. It took FOREVER! And not just that, I was not sure if the rice was suppose to have some bite or not. Since trying risotto at a restaurant, I know the texture and have adjusted my recipes accordingly. So with this jambalaya, it may not be traditional, but it sure was a crowd-pleaser (and my daughter kept requesting more and more!)
📖 Recipe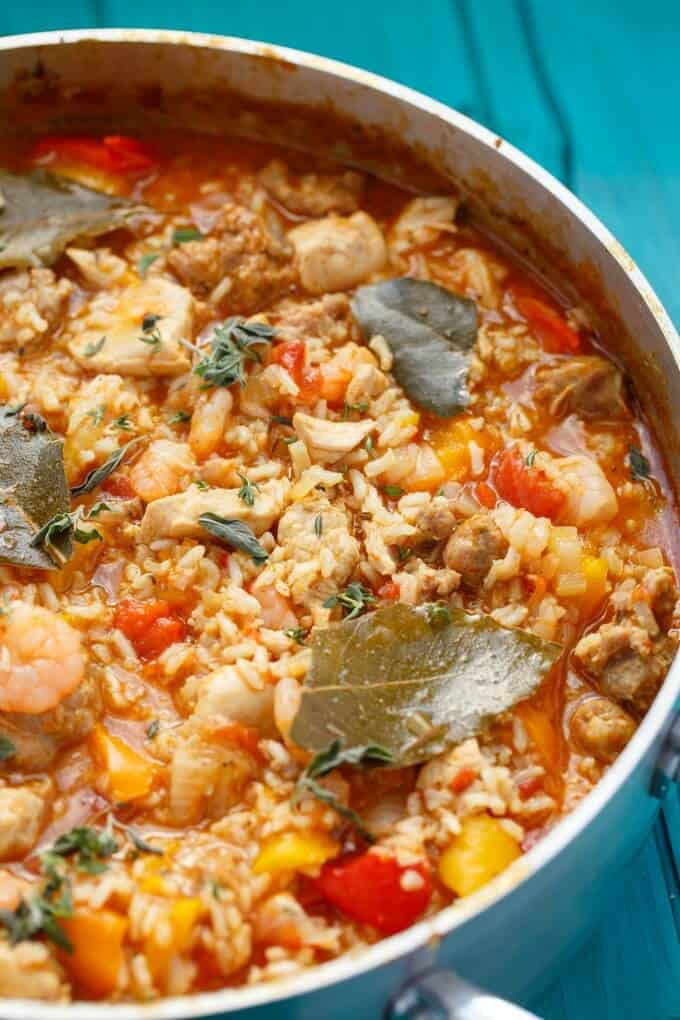 Easy Jambalaya Recipe
A quick one-pan meal that is great for providing leftovers!
Ingredients
1 ¼ lbs boneless, skinless chicken breasts, cut into cubes (about 2 breast pieces)
1 ½ cups frozen shrimp, tails removed
1 lb (about 4) sausages (andouille sausage is most common, but use whatever you like!), sliced
2 tbsp. olive oil
1 onion, chopped
3 sweet bell peppers, chopped
3 celery stalks, sliced
3 garlic cloves, minced
1 (14 oz) can diced tomatoes
3 bay leaves
1 tbsp. Worcestershire
1 ¼ cups uncooked rice (white or brown)
3 cups chicken broth
1 tsp. cayenne powder
1 tsp. paprika
1 tsp. dried oregano
½ tsp. dried thyme
Instructions
In a large saucepan, heat olive oil over medium-high heat. Add onion, peppers, celery, and garlic. Cook for a couple of minutes, or until veggies begin to sweat. Add the chicken and sausage, stirring frequently, using more olive oil if necessary. Cook until meat is browned and chicken is no longer pink. Season with salt, pepper, cayenne, paprika, oregano, and thyme. Cook for 1 more minute.
Stir in tomatoes, broth, Worcestershire, and bay leaves. Bring to a boil and add rice. Reduce heat to a simmer and cook, uncovered, for 30-40 minutes, or until rice is cooked through, stirring occasionally.
Stir in the frozen shrimp. Cook until heated through.
Notes
Stir occasionally so the rice does not stick to the bottom of the pan.
We have made this with both white and brown rice, and each works perfectly!
Nutrition Information:
Yield:

4
Serving Size:

1
Amount Per Serving:
Calories:

651
Total Fat:

14g
Saturated Fat:

3g
Trans Fat:

0g
Unsaturated Fat:

10g
Cholesterol:

239mg
Sodium:

1437mg
Carbohydrates:

64g
Fiber:

3g
Sugar:

6g
Protein:

64g
I was hesitant to post this recipe during the summer months, but it is quite "summery." Shrimp, chicken, sausage: All these meats are summer-time classics. The only time we get seafood is at a local sushi restaurant, so it is nice to change things up at home. As for any changes to the dish, I think next time I would love to add a green pepper for color. I always have green peppers on hand and of course this time around I was all out!
Love this easy jambalaya recipe?! Try some of these recipes: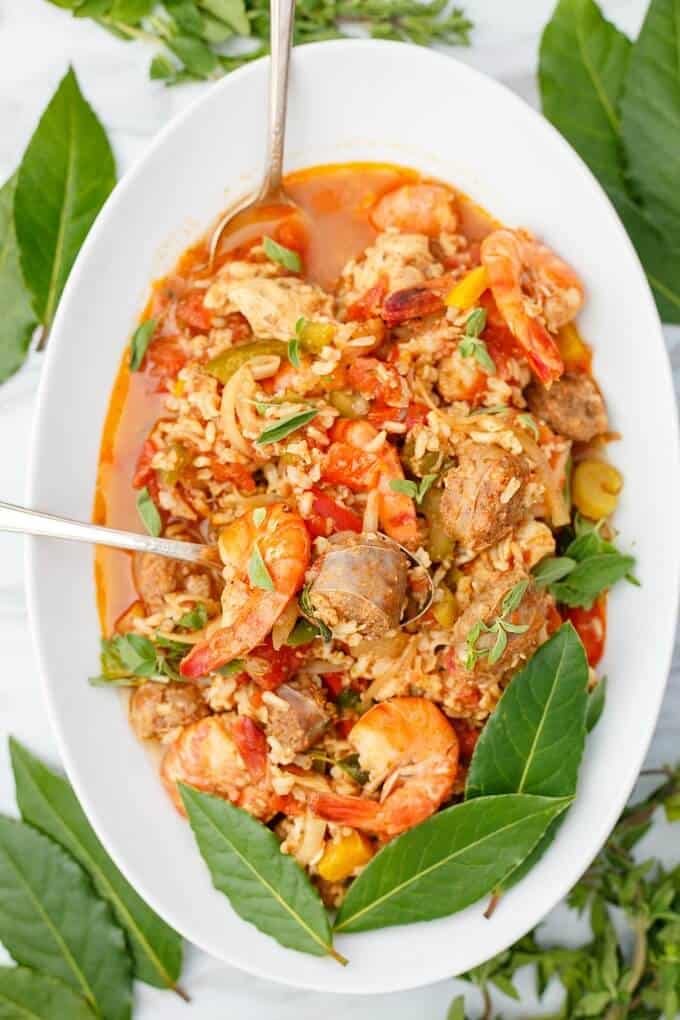 Easy Slow Cooker Jambalaya (Grocery Gateway)