One pot meals are great when you are short on time, so enjoy this easy jambalaya recipe! Might not be a true replica of the classic, but it certainly has my family begging for more!
The photos and recipe for this easy jambalaya recipe have been updated as of September 16th, 2016!
I love when I am browsing food blogs and come across a recipe that the author has tried making for the first time. It shows their interpretation of a recipe (whether it be a classic or something more modern) and makes the reader feel a bit more at home because chances are, they may not have made the recipe before either.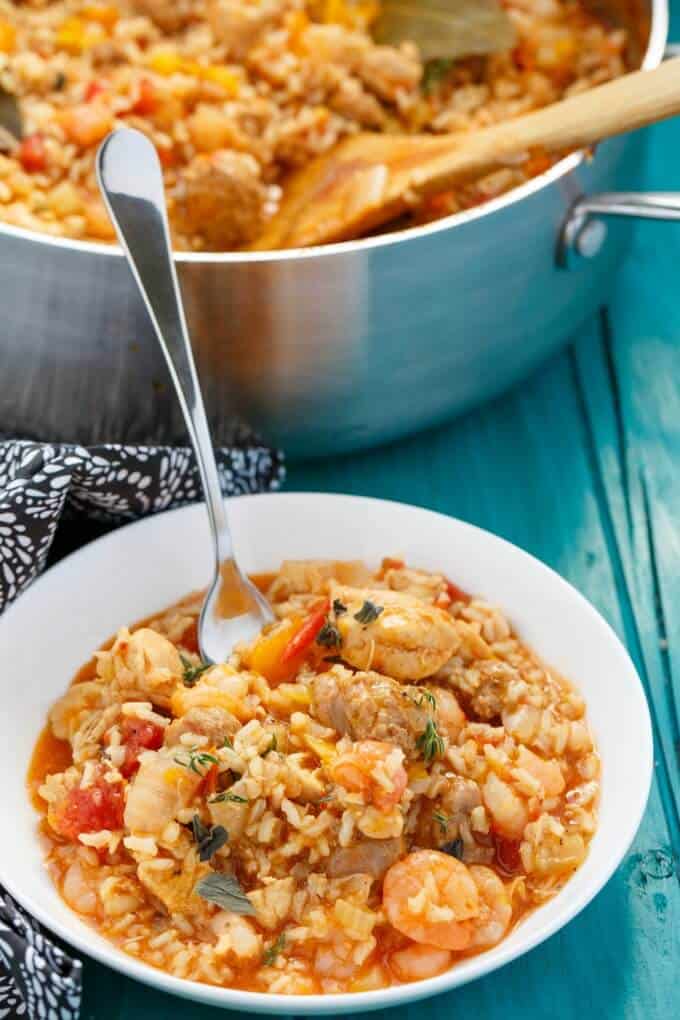 For example, the easy jambalaya recipe I have today is exactly what it states: easy! I have never made one before (at least I do not think so, maybe a gumbo.) My husband was having a craving and for once I had all three meats on hand, so I said "why not?" I knew a bit about jambalaya so I was not too lost in the making, and I feel I really came up with something amazing! Plus, it is all made in one pan and you know those recipes are big these days!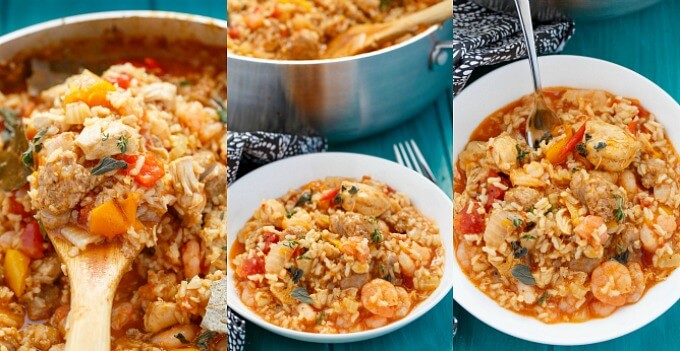 Being from Canada, I find our provinces do not have the same diversity as the States when it comes to food. We have amazing food, and most likely you will have to travel to a larger city to find the fancier restaurants. However, I don't really see "The South" and "Deep-Dish," and "Chowder" cities/states here. Then again, Quebec did invent the poutine… Hmmm, I take it all back! Canada has the poutine and that is all that matters 🙂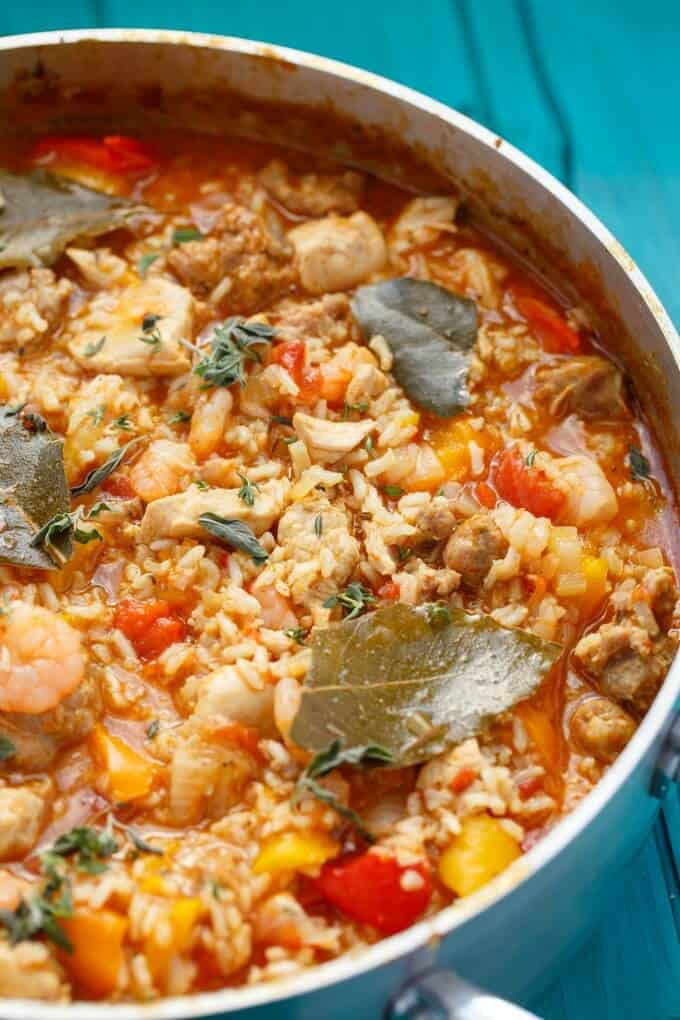 Since I have never had a "real" jambalaya, I cannot say for sure if this is traditional or not when it comes to flavour. But then again, if someone has never had a "real" poutine, they wouldn't be sure of the flavours when they make their own (cheese curds, you need to use real cheese curds for a true poutine!) I like this sense of wonder! It reminds me of the time I made risotto without ever having tried one before. It took FOREVER! And not just that, I was not sure if the rice was suppose to have some bite or not. Since trying risotto at a restaurant, I know the texture and have adjusted my recipes accordingly. So with this jambalaya, it may not be traditional, but it sure was a crowd-pleaser (and my daughter kept requesting more and more!)

I was hesitant to post this recipe during the summer months, but it is quite "summery." Shrimp, chicken, sausage: All these meats are summer-time classics. The only time we get seafood is at a local sushi restaurant, so it is nice to change things up at home. As for any changes to the dish, I think next time I would love to add a green pepper for colour. I always have green peppers on hand and of course this time around I was all out!
Love this easy jambalaya recipe?! Try some of these recipes: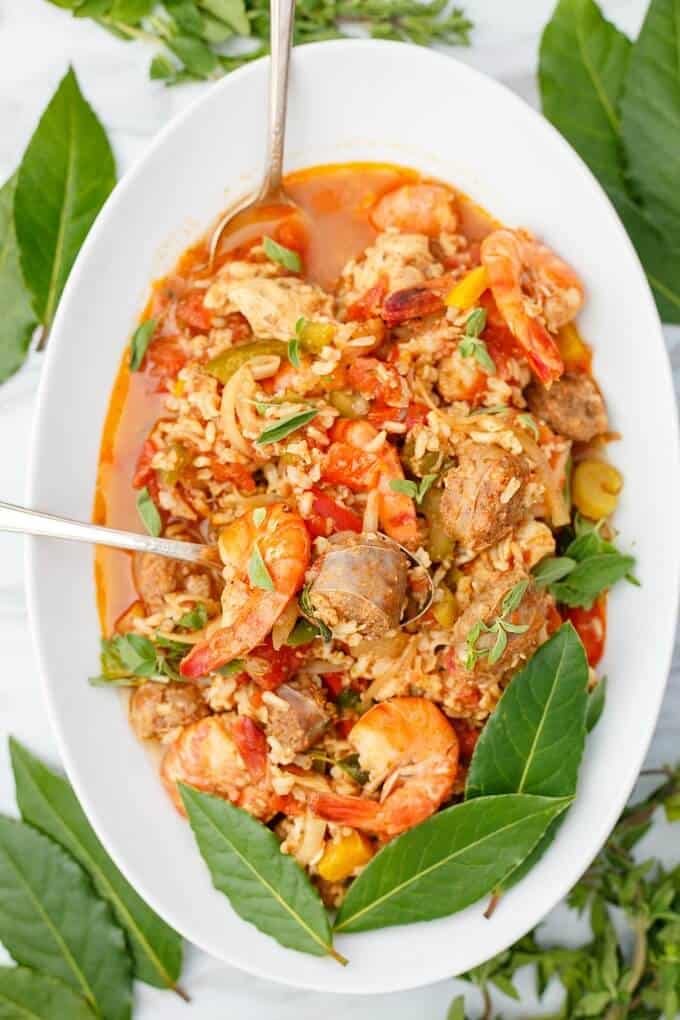 Easy Slow Cooker Jambalaya (Grocery Gateway)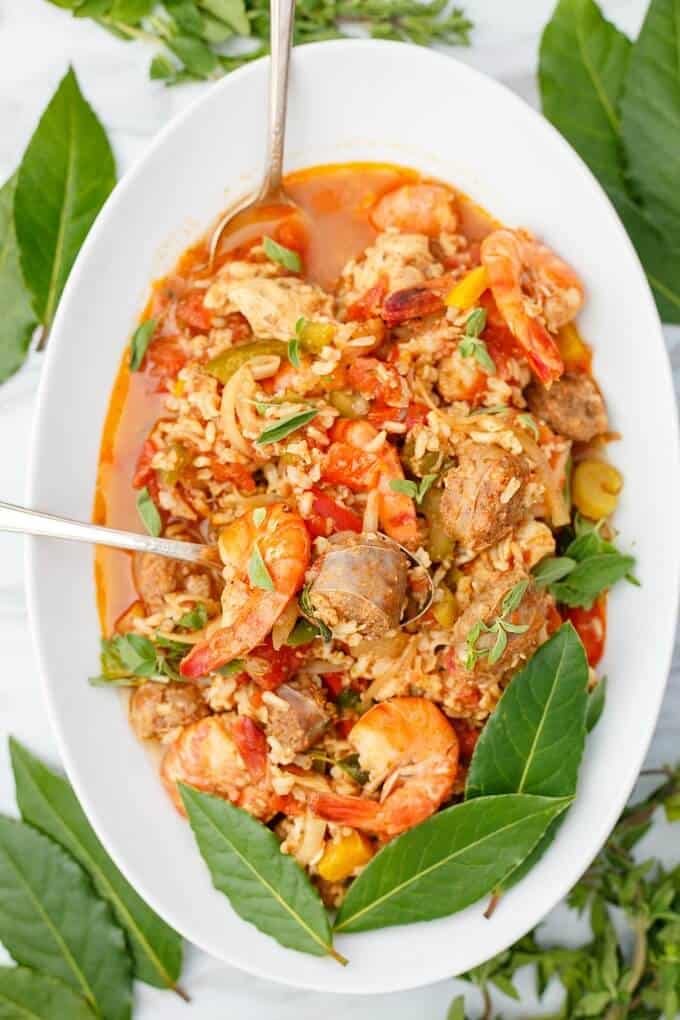 One Pan Chicken Pasta (Barilla Pronto)