Don't heat up your house this summer! Instead, enjoy this BBQ whole chicken with rhubarb BBQ sauce (or your favoutite!) This method is completed with no beer can, and no special tools!
Whoa, let me just say that I have been rocking the grill these past few evenings! Actually, this BBQ whole chicken was made well before noon but hey, I am getting over my fear of the grill!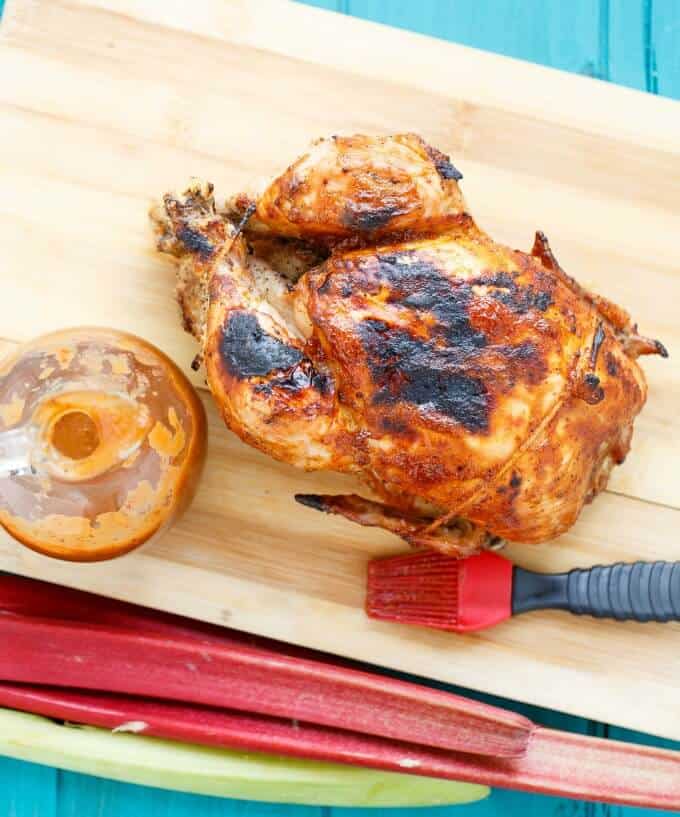 One of my big turn offs when it comes to BBQing is inconsistent heat. In the kitchen, using your oven, you know where you are it. But when it comes to the BBQ, opening and closing the lid constantly lets out a TON of heat. You need those dials just right to ensure steady cooking temps. I guess it all depends on how well you know your BBQ but today I was proud to say that I think I have mastered mine, muahaha!
I thawed out a small fryer chicken and planned to roast it but the temperatures got up there again and no way was I using the oven after I just turned off the AC a couple of days ago. My husband suggested the beer can method but alas, we only had bottled beer. He was going to run to the store but after some research online I actually found that I wanted to stay clear of the can method. Plus, everyone does it and that just isn't fun!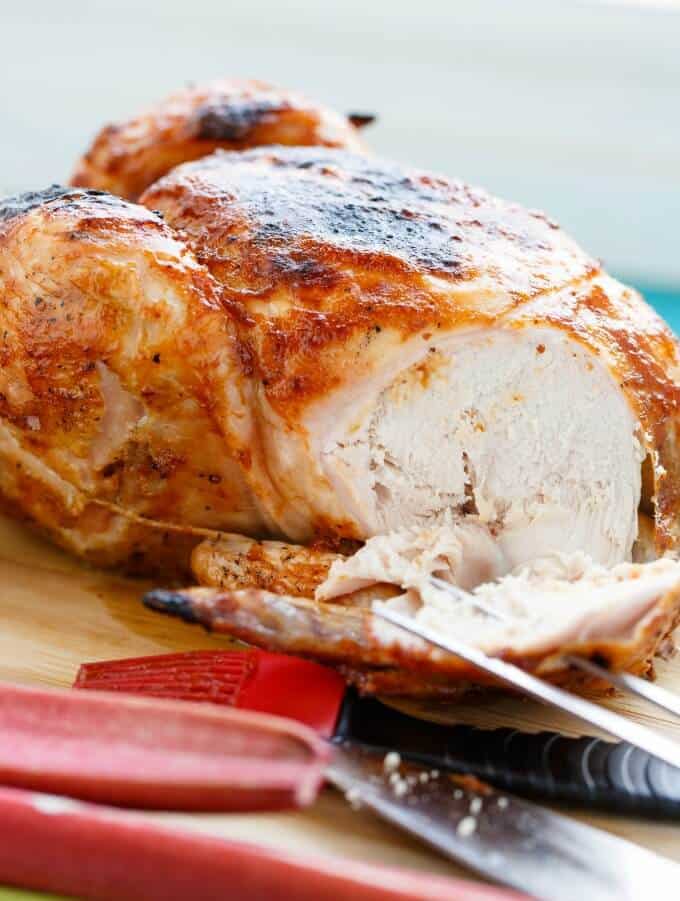 This BBQ whole chicken was cooked on the top rack of my BBQ over indirect heat. What the heck does that mean, Kacey?! Well, I was going to go rotisserie style but my BBQ was not equipped with that. Placing the chicken on the top rack (in the middle for my case) allowed the two side elements in my BBQ to do all the heating, all the while kind of creating a convection oven inside the BBQ. If you placed this chicken over direct heat you would probably result in burnt or dry chicken! Cooking over indirect heat, at a consistent 350F, for 1 hour 10 minutes (depending on the size of your chicken) results in a slow cooked chicken that just melts in your mouth! Oh, and if you want some nice color, you can always move the chicken down directly over the heat, turning every so often to get that beautiful grilled chicken look (I sure did!)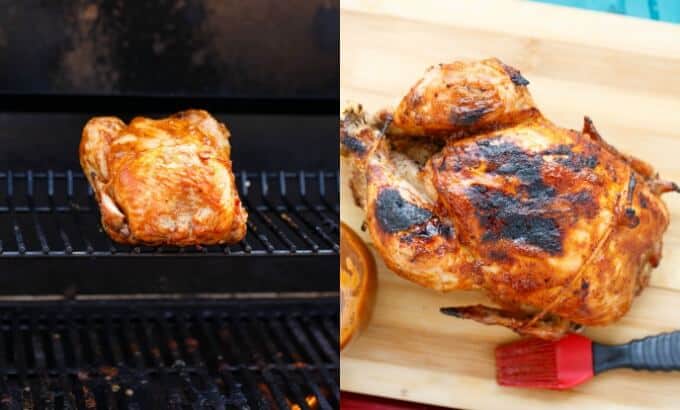 Another perk to this method is the crispy skin it creates! All that fat dripping off just creates the perfect texture. And you do not put your sauce on until the last 10-15 minutes of cooking! This way, no soggy chicken. You can see from the pic on the BBQ that after I put the sauce on I definitely felt like the chicken needed a bit more color 🙂
📖 Recipe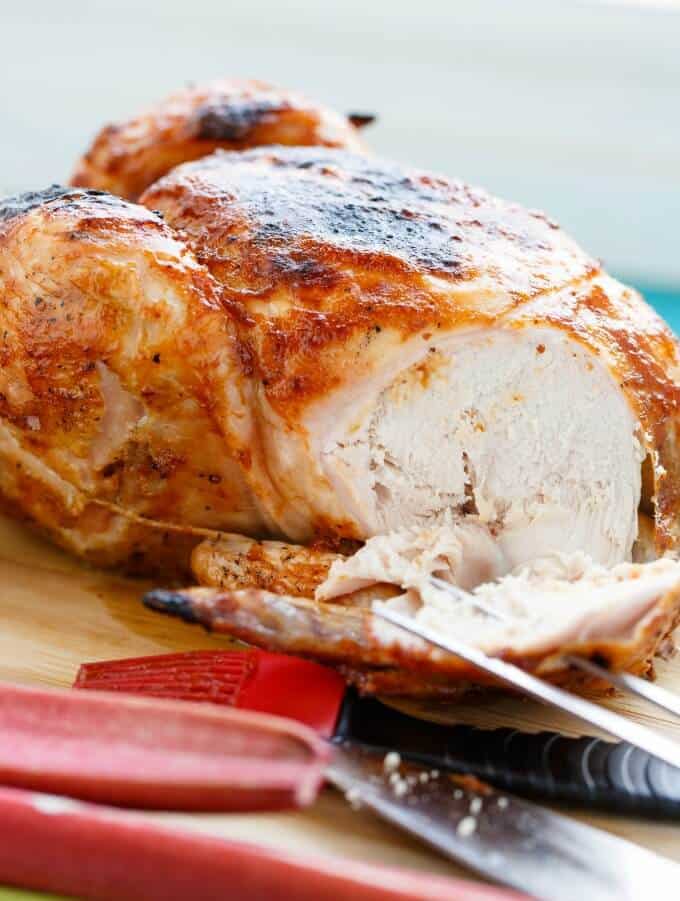 BBQ Whole Chicken with Rhubarb BBQ Sauce (No Beer Can)
Cook Time:
1 hour
20 minutes
Total Time:
1 hour
25 minutes
No you can enjoy BBQ chicken on the grill without using the beer can method!
Ingredients
1 whole chicken (4-5 lbs,) tied and inner pieces removed.
Salt and pepper
1 cup homemade rhubarb BBQ sauce OR your favorite!
Instructions
Preheat BBQ to 350F.
Season inside and outside of chicken generously with salt and pepper.
Place chicken on the upper rack of your BBQ over indirect heat (this means if you have two elements, place your chicken to one side and have the heat coming from the opposite side. My BBQ has three heat sources, so I had my left and right elements on and my middle one turned off where my chicken was sitting.)
Cook, BBQ closed, breast side up for 30 minutes. Flip and cook for another 30 minutes. Douse with half the BBQ sauce and cook for another 5-8 minutes. Flip and use remaining BBQ sauce. Cook for another 5-10 minutes, or until chicken reaches 160F internally.
Allow to rest before serving!
Note: You can place the chicken over direct heat in the last stages of cooking to ensure a nice, colored piece. Just remember to flip every so often so it does not burn!
Nutrition Information:
Yield:

4
Serving Size:

1
Amount Per Serving:
Calories:

379
Total Fat:

20g
Saturated Fat:

6g
Trans Fat:

0g
Unsaturated Fat:

12g
Cholesterol:

132mg
Sodium:

285mg
Carbohydrates:

5g
Fiber:

1g
Sugar:

3g
Protein:

41g
Cook time will vary depending on the size of your chicken (and how well you keep a consistent temperature!) An external meat thermometer would work wonderfully here! Don't be scared to use one (I use thermometers all the time!) Also, if 1 cup of BBQ sauce is not enough for you or you want a second coating, use more! I used my homemade
rhubarb BBQ sauce
because I was redoing some old pictures, plus it just worked perfectly here for summer! I say this is one awesome Father's Day recipe!
Love this BBQ whole chicken with rhubarb BBQ sauce?! Try some of these recipes: