Technically, I would classify this super easy shepherd's pie with Campbell's soup as a 4-ingredient recipe, but making those mashed potatoes so silky and buttery is necessary! Still a great family recipe that takes very little effort!
Just to start off, I am not affiliated with Campbell's! This is a classic recipe from my childhood that I am sharing with you today 🙂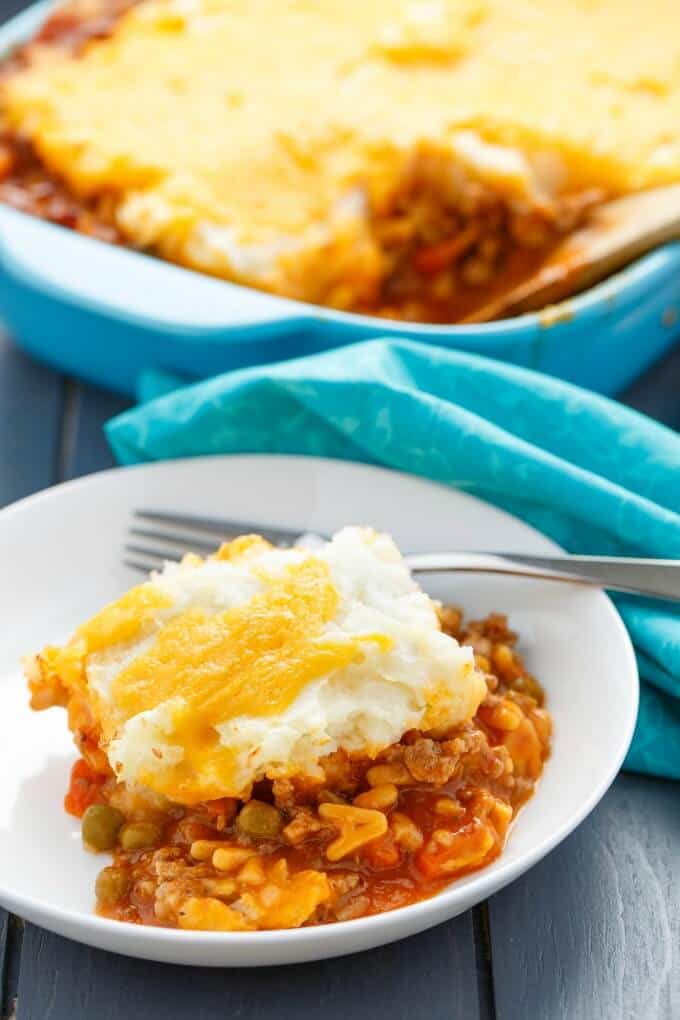 Today's super easy shepherd's pie with Campbell's soup dates back to my childhood. To be honest, I do not know if it was my mom or dad who brought the recipe into the family, but rest assure, we ate this meal a lot! And while it is my siblings' favourite, I had not gotten around to making it until my dad's birthday last month (check out his awesome buttercream Star Trek cake!) This was also the first time my husband had the chance to try it and he really enjoyed it. He marveled at the simplicity so I knew I had to make it again 🙂
If you have mashed potatoes on hand, this recipe would be considered 4-ingredients! But if not, don't stress, as putting this recipe together takes little effort and yields a lot! And there are some vegetables hidden in there from the soup so your kids get their nutrients 🙂
Considering I love to gourmet up my meals, as seen with my smashed potatoes shepherd's pie, this was a nice change. I used ground turkey here but ground beef is what we used in our childhood (though I know traditional shepherd's pie uses lamb!) Beef is just so expensive here right now, and ground turkey is known to be healthier. Whatever you choose, you will be rewarded by this shepherd's pie with Campbell's soup!

Super Easy Shepherd's Pie with Campbell's Soup
---
Kacey
Yields 8-10
4 ingredients are used (if you count mashed potatoes as one ingredient!) to make this awesome and comforting shepherd's pie!
15 minPrep Time
45 minCook Time
1 hrTotal Time
Ingredients
3 lbs potatoes, peeled and cubed
1/4 cup butter (more if desired)
1 1/4 cups milk (more if desired)
2 lbs extra lean ground turkey or beef
5 (10 fl oz each) cans Campbell's® Condensed Homestyle Vegetable Soup (undiluted)
1 cup grated cheddar cheese
Salt and pepper
Instructions
Place turkey into a large frying pan over medium-high heat. Cook until browned. Season with salt and pepper and stir in cans of undiluted soup. Reduce heat and simmer for 5 minutes.

Potatoes

While filling is cooking, bring large pot of salted water and potatoes to a boil. Cook until tender. Drain and mash with butter and milk, adding more or less of the two if necessary.

Assembly

Preheat oven to 375F. Pour filling into bottom of a 9x13 inch casserole pan. Spread mashed potatoes on top and finish with cheddar cheese.
Bake, uncovered, for 20-30 minutes, or until heated through. Allow to cool slightly before serving (so the meal holds together!)
7.8.1.2
430
https://thecookiewriter.com/easy-shepherds-pie-with-campbells-soup/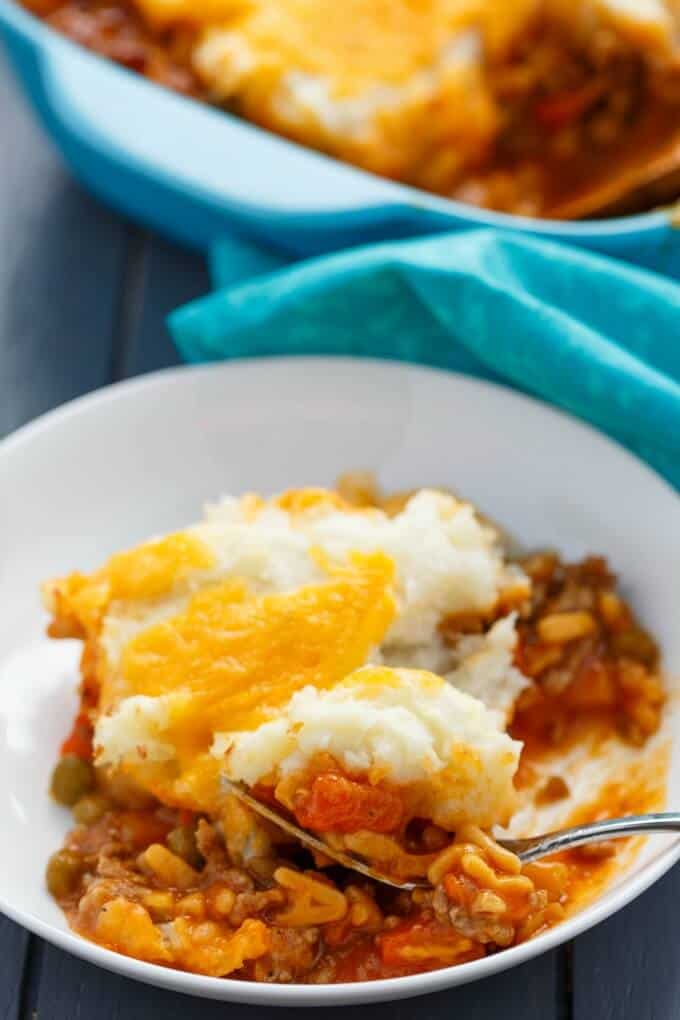 I totally forgot to change up my weekly recommendations yesterday (seen on the right sidebar!) so I am doing them today 🙂 To see last weeks choices, visit my one pan egg breakfast with veggies post.
Song: Roulette by System of a Down. (Would love to link the actual song but they do not have it on their YouTube channel!) I cannot say enough about SOAD! My husband and I are both huge fans, and since we got married in our house with no big ceremony, we have dubbed this song our wedding jam. Trust me, it was hard recommending one song because they are all great (especially Old School Hollywood.)
TV Show: Psych. (Keeping my recommendation the same as last week.) Hands down one of the best shows ever. I highly recommend it not only for the humour, but how great the cast is. I do not think there was ever an episode I did not like (and soooo many favourites, inducing the one based off Twin Peaks.)
Movie: Airplane! I almost considered leaving my husband when he told me he did not enjoy Airplane! How?! It is a classic that I have watched 100 times and still laugh every time. Seriously, Leslie Nielsen is the best and as far as cult classics go, this is one of my top contenders!
Book: Jane Eyre by Charlotte Bronte. During university, professors always had their specialty when it came to books. Some preferred the 1920's, others, the 1960's, but I have to say my favourite books come from the 1700 and 1800's (and many medieval classics like Chaucer!) My daughter is actually named after Jane Eyre as I loved the book so much. I get it, the whole secret of Mr. Rochester is strange but we can push that aside 🙂
Video Game: Can't believe I did not do this category last week! I am going to recommend Hearthstone right now as I cannot get enough of it! Instead of doing blog posts in the evening, I find myself playing this. Actually, as I write this post I am playing Hearthstone… But don't worry, you can play it on your PC or phone 🙂 Blizzard knows what they are doing!
Love this super easy shepherd's pie with Campbell's soup?! Try some of these recipes: