To boldly go where no cake decorator has gone before! Okay, probably not, but this buttercream Star Trek cake is perfect for the truest of fans (aka, my Dad!) Oh, and I guess this continues my Cookie Geek project!
I hope everyone had a wonderful Mother's Day! While I did not have the chance to sleep in, my daughter did surprise me with breakfast in bed. Remember, she is only four but she put a lot of heart into the meal 🙂 Don't mind the random treadmill: I like to run and then collapse onto a nice surface!
Besides the normal of me not being able to sit still, I think I had a pretty darn good Mother's Day. Got some trim painted (finalllllly) and worked on some posts. It may not sound relaxing to most but doing housework while no one is around is fantastic! However, let's be real, this buttercream Star Trek cake would elate the geekiest of Mothers and I know I would love cake any time of the year 🙂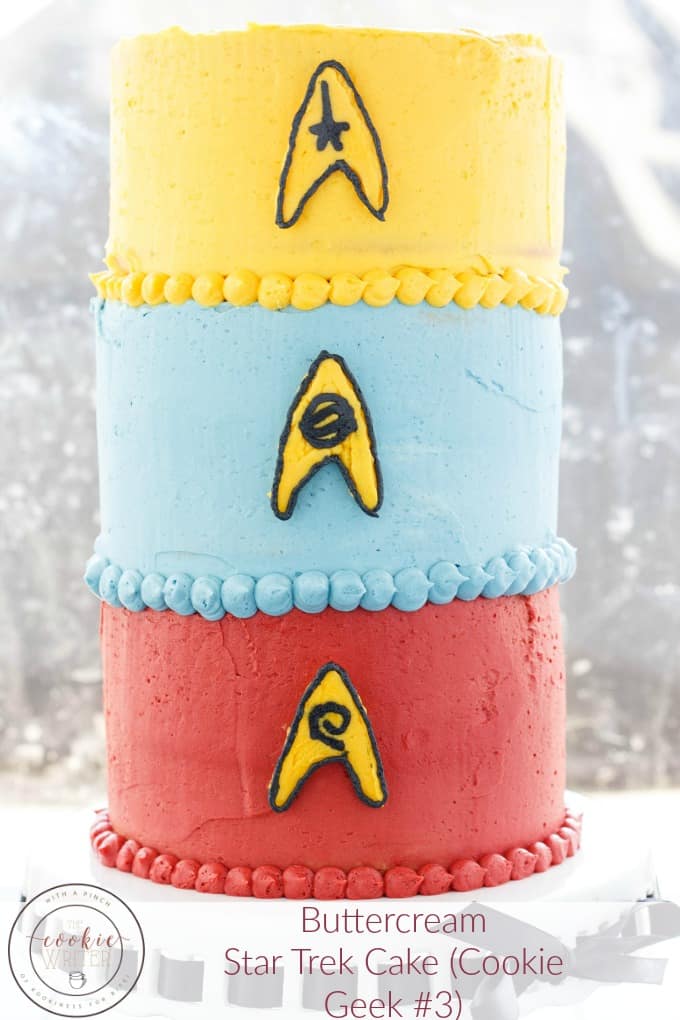 Today's buttercream Star Trek cake is the third addition to my Cookie Geek project. While it is not a cookie, it fits the bill of being geeky, and was the star of my Dad's birthday! I have gained all my geekiness from him and thank him every day for my love of sci-fi! It is my favourite genre whether it be books, movies, or TV shows. Dad always joked that when we were kids he would leave us for William Shatner. While he is not serious (maybe?) it always reminds us of just how nerdy our dad is. And that stereotypical Star Trek fan without all the craziness.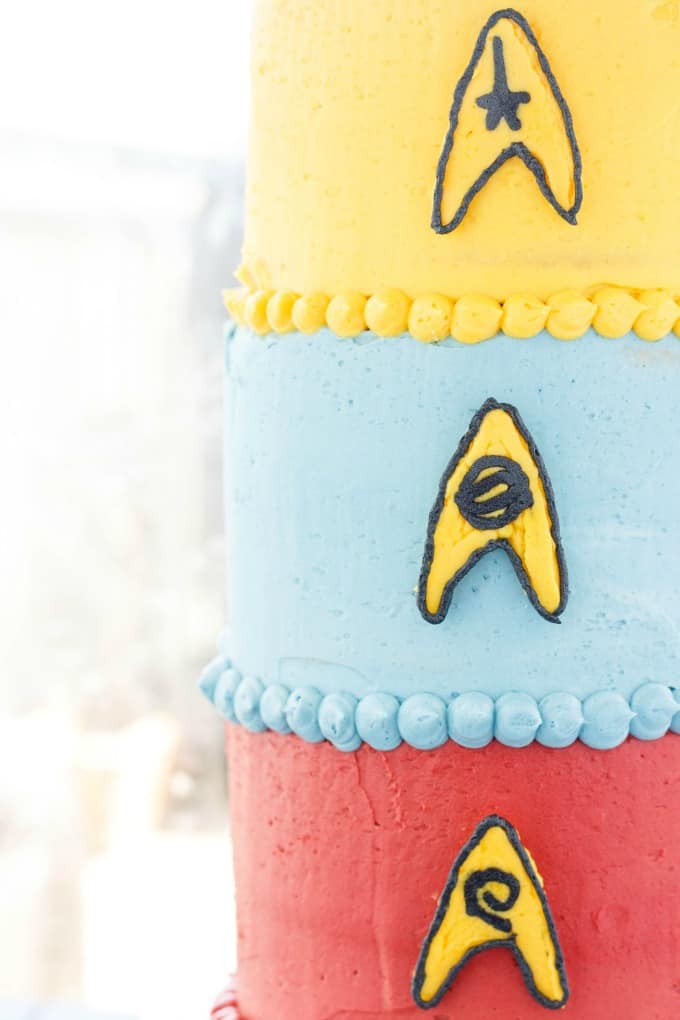 I decided to go with buttercream with this cake for a couple of reasons. First: taste. Buttercream is just superior to fondant in the taste department. Secondly, people tend to have more skills when it comes to buttercream. I feel more people would tackle this cake with the buttercream as opposed to fondant. But don't get me wrong, fondant would work perfectly here and definitely be much cleaner (still working on those skills!) Of course, I see many imperfections but I totally love how my design came out and would love to master this. Dad did not care two bits about any flaws, and could only laugh at my cake choice 🙂
The cake is actually a double batch of my coconut cake recipe because Dad loves coconut! I only have two 6-inch pans so I had to re-use them multiple times which sucked but hey, beats buying more pans! Each layer was cooked for 30-40 minutes (start checking around 30 minutes with a toothpick.) I made the cake a day in advance (cooking and decorating!) and found the cake moisture was still good. Not outstanding like how chocolate holds up but hey, it worked! Baking a cake and decorating it all in one day is A LOT OF WORK! I really need to start freezing my cakes so I can take a break in between. Would probably help those icing skills, too! Oh, and two batches of vanilla buttercream because there was a lot of cake!!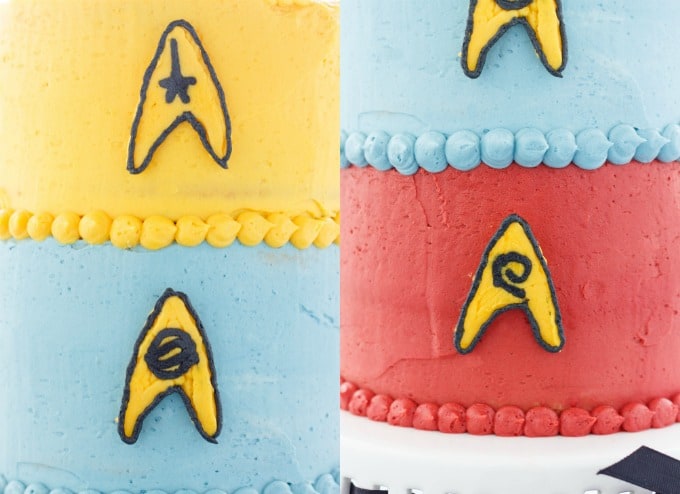 Sweet jeez, as I look at the pictures now it totally appears like I was drinking when I put the borders around each cake… I mean that yellow starts off straight then whoops! Maybe I was drinking… Oh, man, never a good sign, haha. Oh well, it happens!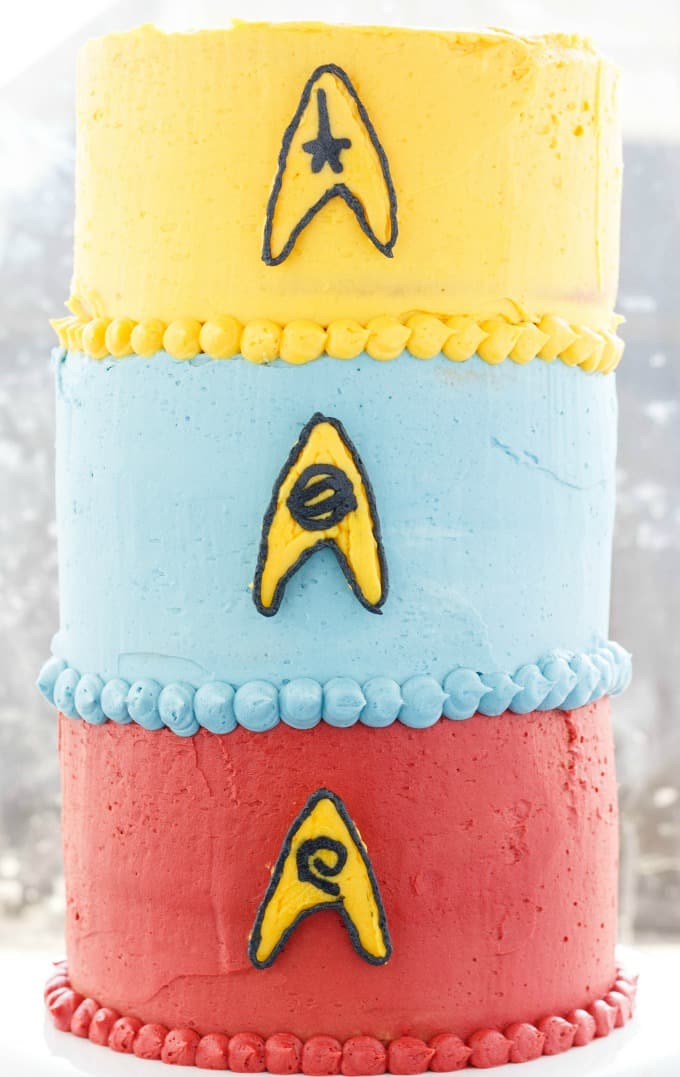 Details:
This is a three-tier, 2-layer (6-inches each) cake.
I used two batches of vanilla buttercream to decorate it.
For the yellow I used a combination of Wilton Golden Yellow (just a bit) and Lemon Yellow. For the blue I used Delphinium Blue (my fav!) with a touch of Royal Blue. And the red was a mix of cocoa powder and No-Taste Red (red is sooooo hard to get right!)
For the insignia's I printed off one of each class and inverted them. Place the inverted images under wax paper and pipe the black buttercream on first, followed by the yellow. Place into freezer until hardened. When firm, carefully remove from wax paper and place onto cake! Now you know why I inverted the images to begin with: no backwards art! I actually did the black outline around the edges after I stuck the insignia's to the cake.
Ohh, lastly, each layer is held up by dowels and a cake tray. You can research more about this online but do not even think about placing layers upon layers on one another without some support! This cake was tallllll. Just look at it next to my dad (and he is a big guy!)
I hope I did not leave anything out on this "tutorial" for the buttercream Star Trek cake. I did not colour the actual cake batter but that would have been really awesome to cut into 🙂 The next Star Trek movie comes out this summer so keep your eyes peeled!
Cookie Geek is a project created by The Cookie Writer that brings together all things geeky! The creations will not always be cookie-based, but rest assure I will try and keep the projects simple in respect that you should not have to buy special tools such as custom cookie cutters. Feel free to share what creations you would like to see be a part of Cookie Geek!
Love this buttercream Star Trek Cake?! Try some of these recipes: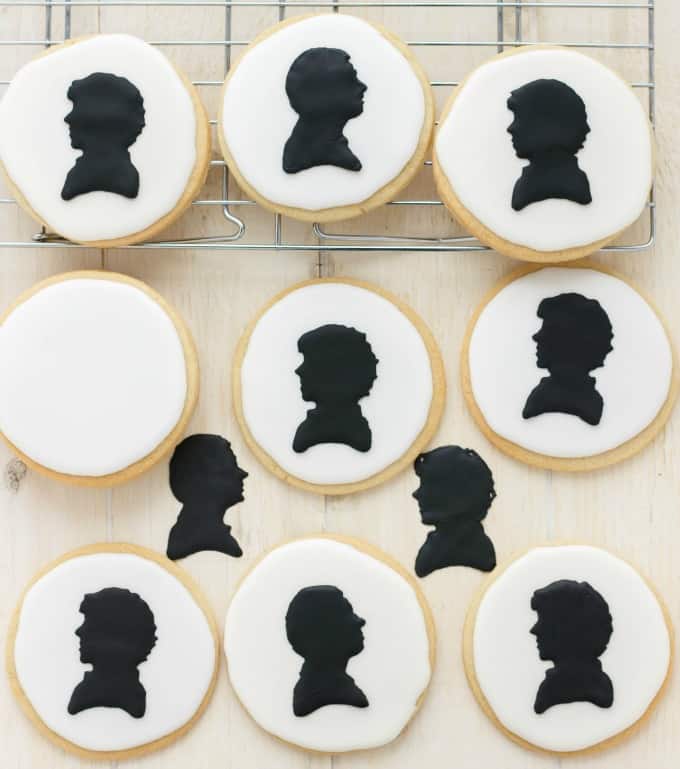 Royal Icing Sherlock Cookies (Cookie Geek #1)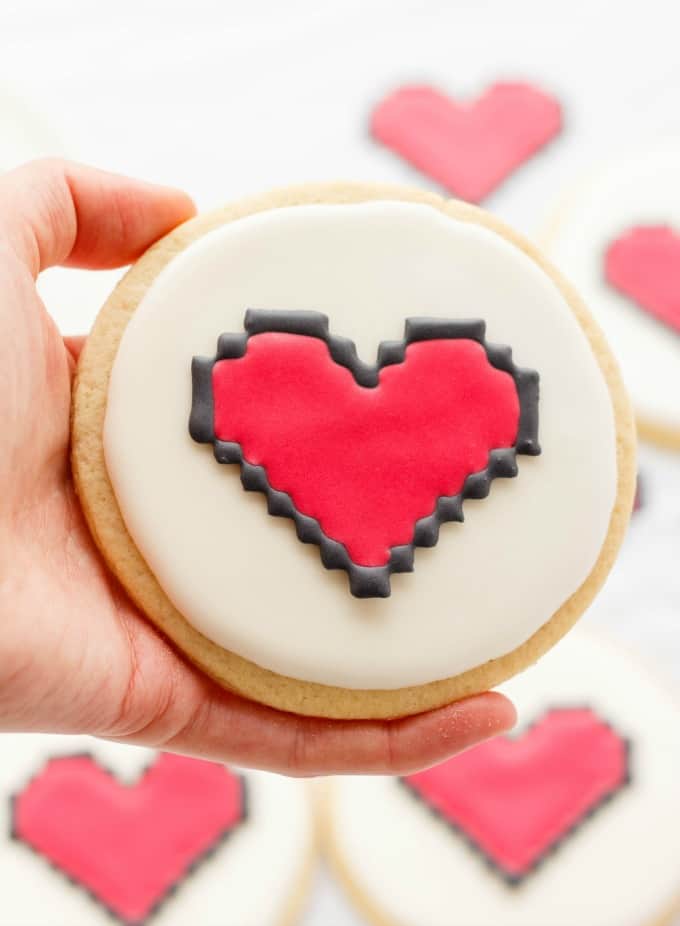 8 Bit Heart Cookies (No Special Cookie Cutter Necessary!) (Cookie Geek #2)