Who says BBQ needs to be expensive?! Try these BBQ chicken thighs with rhubarb BBQ sauce (or your favorite variety!) Summer is almost here, but first, let's enjoy Father's Day!
Nice weather is here and people have already been utilizing their BBQ's! Personally, I am all about the cooler temps and it was nice to have the cooler weather the past few days. Makes the dog walk a bit more tolerable as some of the routes I take have little to no shade.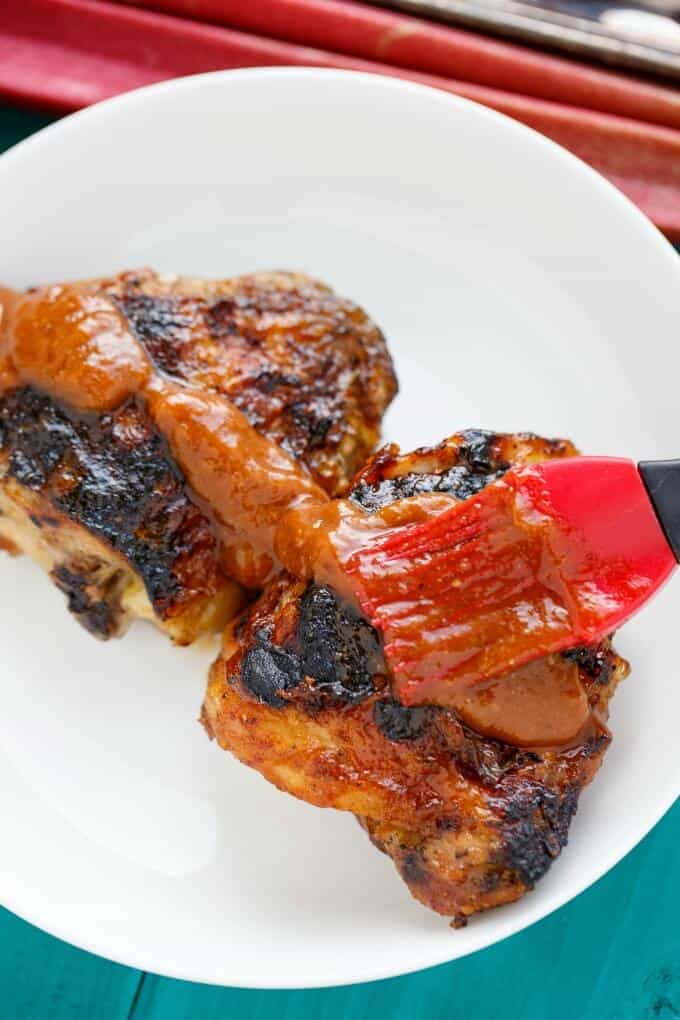 Since it has been so nice, I have decided to get to know my BBQ better and actually take over the cooking duties on it. Usually it is my husband who does the grilling while I fix up the marinades, but with his crazy schedule we often don't want to be waiting until 7PM when he gets home to start cooking. I must say, I am definitely loving the grill and today's BBQ chicken thighs with rhubarb BBQ sauce were a big hit! Great way to use up leftover BBQ sauce, all the while preparing a cheap cut of meat for dinner.
This isn't the first time I have cooked meat on the BBQ this year, nor is it the first time to use that homemade rhubarb BBQ sauce. In case you missed it, I made a BBQ whole chicken with rhubarb BBQ sauce and it was completed with no beer can (which seems to be the go-to method on the grill.) Both whole chickens and chicken thighs are cheap here in Canada right now, so we utilize them as much as possible. Heck, I have a Barilla post coming up next week that once again uses chicken thighs because they are that simple, and that cost effective.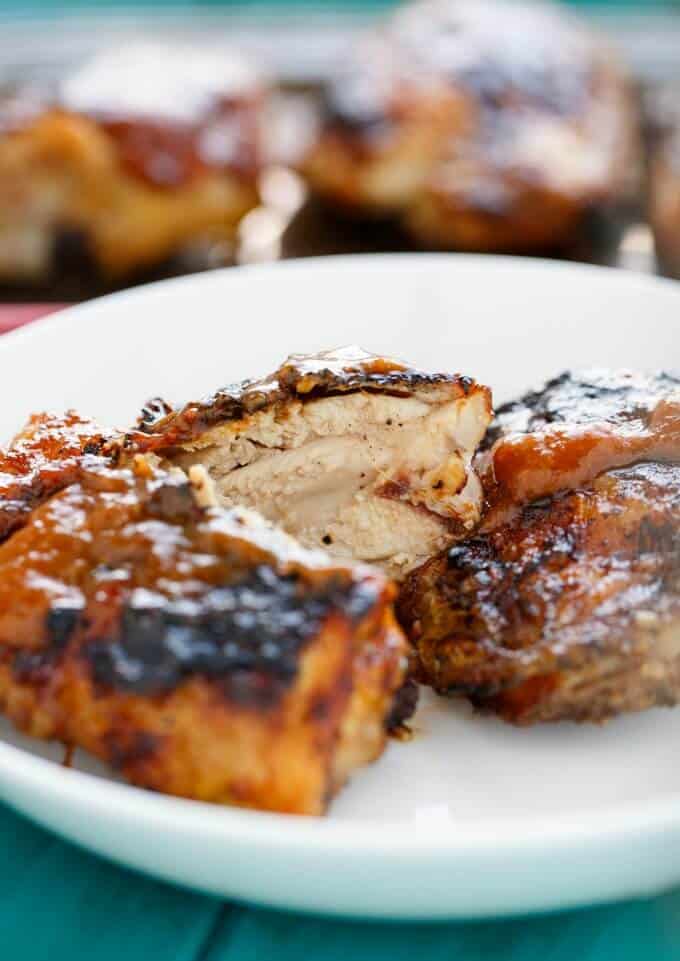 As always, cook time varies depending how consistant you keep your BBQ temperature and the size of the chicken. These BBQ chicken thighs can easily be completed in under 30 minutes and would be great served with corn on the cob and a side salad.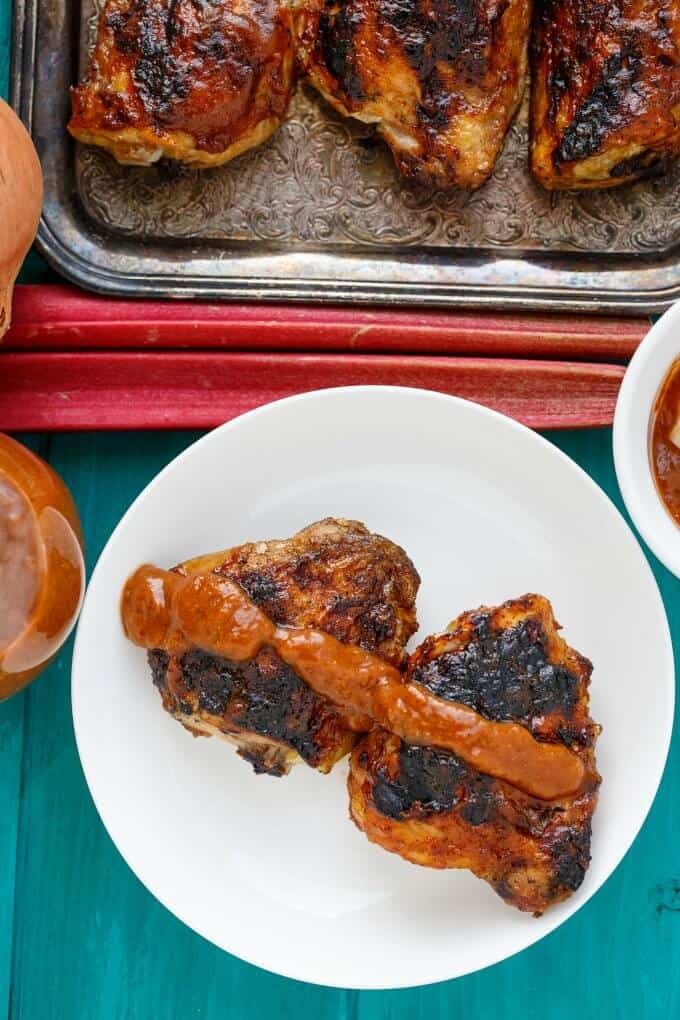 📖 Recipe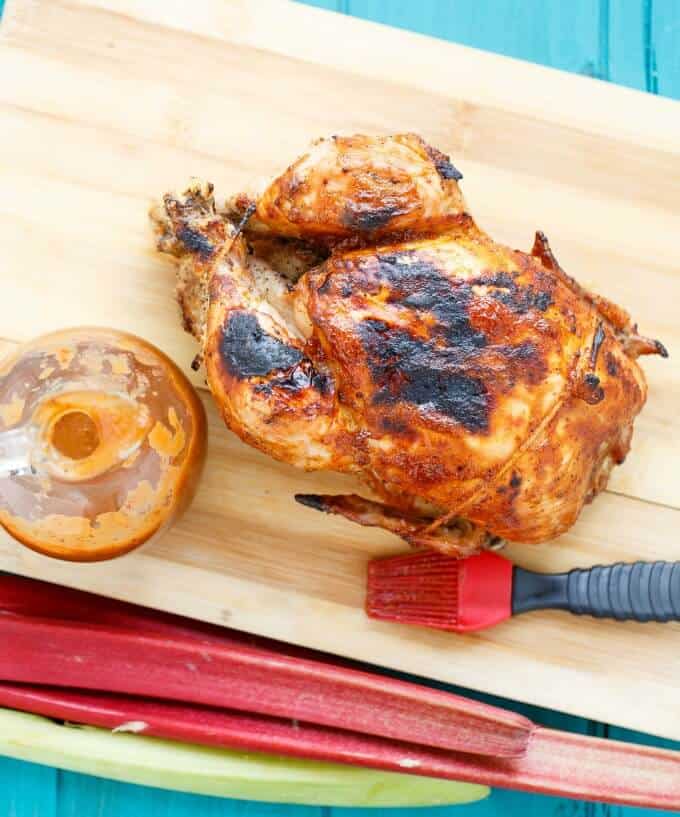 BBQ Chicken Thighs with Rhubarb BBQ Sauce
A quick and simple dinner option on those hot summer nights.
Ingredients
2 lbs bone-in, skin-on chicken thighs, pat dry
1 ½ cups homemade rhubarb BBQ sauce OR your favorite
Salt and pepper
1 tbsp. olive oil for brushing chicken
Instructions
Preheat BBQ to medium-high heat (I stayed around 400F.)
Brush chicken with a bit of oil per piece and sprinkle with salt and pepper.
Place thighs onto grill, over direct heat, skin side down, and cook for 8 minutes, covered, or until skin is crispy and browned.
Flip and cook for another 8 minutes. Flip chicken so it is skin side down.
Baste with BBQ sauce and cook for 2-3 minutes: flip and repeat, or until chicken reaches 165F internally.
Serve with additional sauce if necessary!
Nutrition Information:
Yield:

4
Serving Size:

1
Amount Per Serving:
Calories:

586
Total Fat:

38g
Saturated Fat:

11g
Trans Fat:

0g
Unsaturated Fat:

27g
Cholesterol:

310mg
Sodium:

573mg
Carbohydrates:

6g
Fiber:

1g
Sugar:

3g
Protein:

59g
If you haven't had the chance, be sure to check out my strawberry kiwi popsicles over on Belle of the Kitchen! Been getting around doing some contributions to other food blogging sites and really loving it 🙂 Plus, these popsicles would be the perfect dessert after grilling! If you can hold off (which, come on, I am sure you can't!) the recipe will be up on my blog in a couple of weeks 🙂
Love these BBQ chicken thighs with rhubarb BBQ sauce?! Try some of these recipes: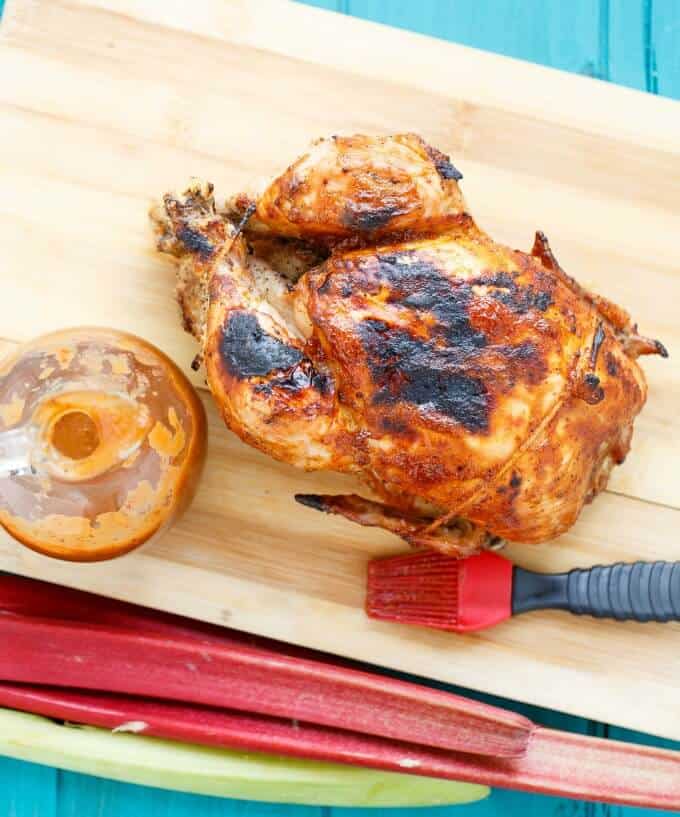 BBQ Whole Chicken with Rhubarb BBQ Sauce (No Beer Can)