A recipe that utilizes leftovers and transforms a classic recipe?! These eggs Benedict over potato pancakes are part of my continued brand ambassadorship with The Little Potato Company!

I am so excited for today's post!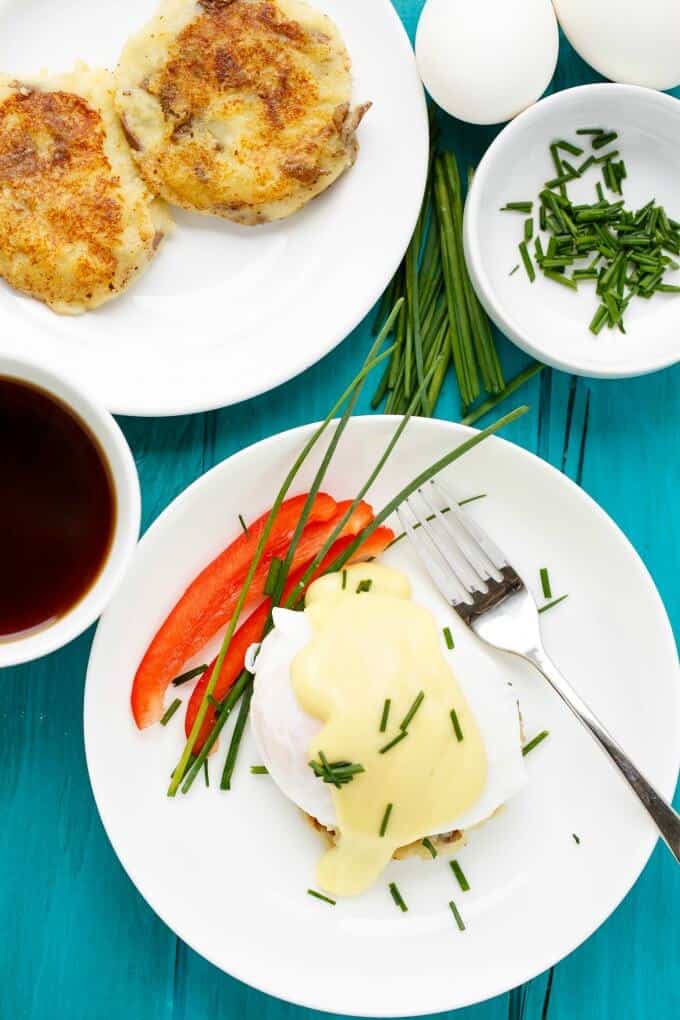 Much like my french onion soup with potatoes, today's recipe takes a classic recipe and makes it modern. I know not everyone cares for modernizing old recipes, but I am all over it! I love food, and flavor, and what better than taking a meal you love to the next level?! Eggs Benedict is a staple here, but eggs Benedict over potato pancakes?! Well, my husband, much like the french onion soup with potatoes recipe, has stated he prefers this version over the original! I AM AWESOME! Haha 🙂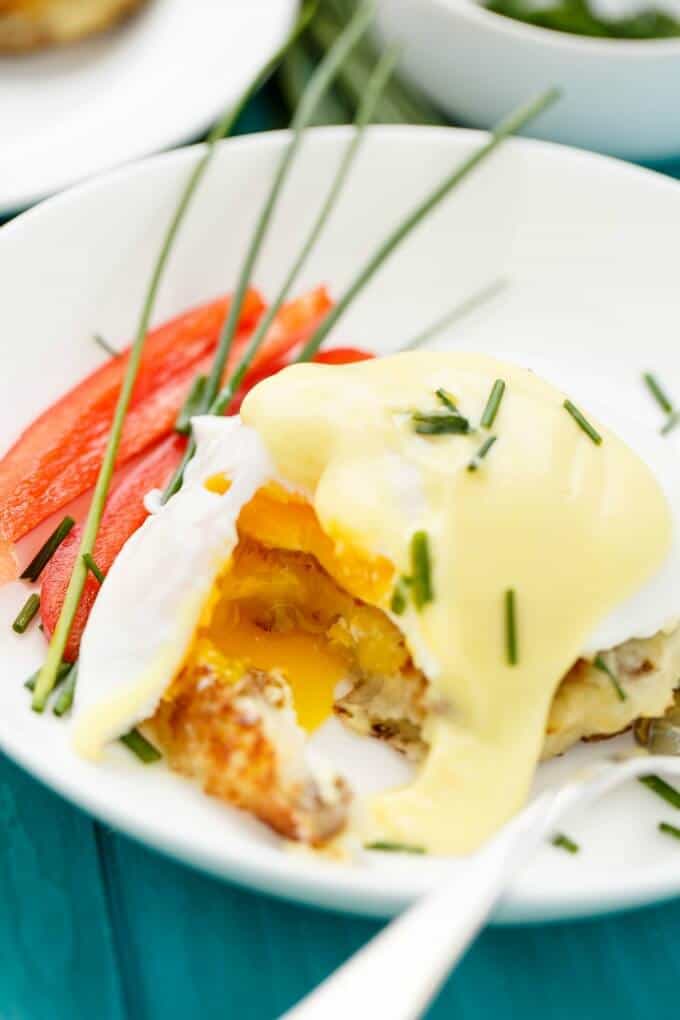 Let's state all the things I love about this recipe:
The recipe is completely gluten-free, especially if you go the homemade hollandaise sauce route. Otherwise, I suggest checking your packaged sauce. All other recipes for potato pancakes mix in flour and eggs, but I just molded together ordinary mashed potatoes and had no issues.
You use up leftovers! That's right, those potato pancakes are just leftover mashed potatoes. I boiled up a bag of The Little Potato Company's Blushing Belle varietal and prepared them how I like my mashed potatoes. I then took their leftovers and created the patties!
So simple! Yes, a little bit of work molding the patties as opposed to using English muffins, but hey, healthier and sooooo tasty!
The list goes on! I was so happy with how these eggs Benedict over potato pancakes turned out! I think I ate 4... So worth it! Like any eggs Benedict, you can customize your toppings as you see fit. At our local breakfast restaurant they have some really awesome ideas, and I cannot wait to bring them to the blog. Until then, we can enjoy these!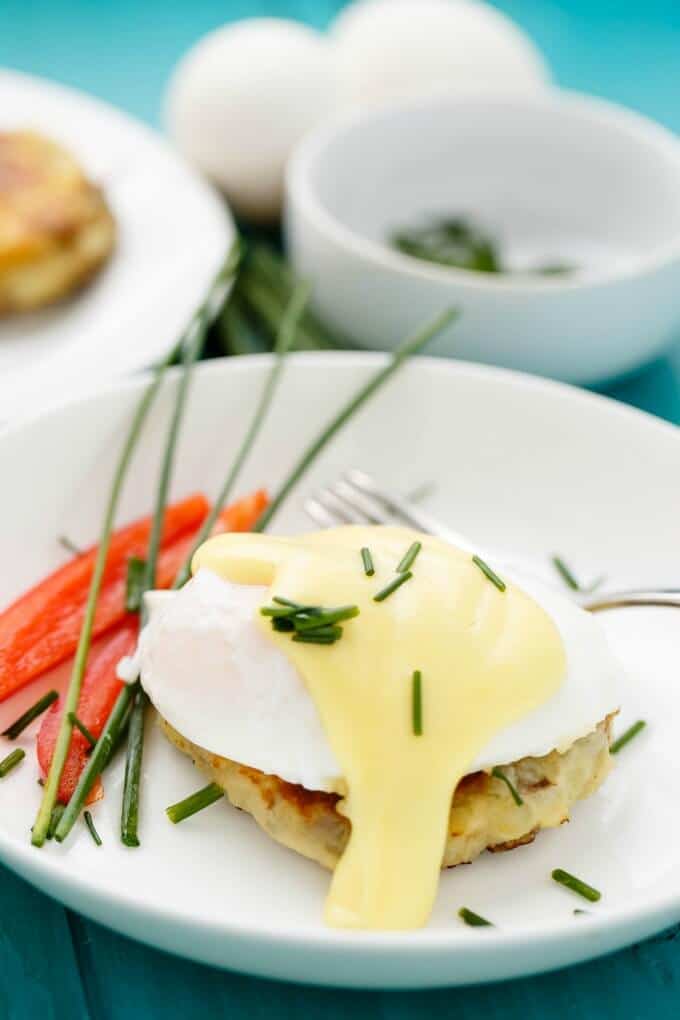 📖 Recipe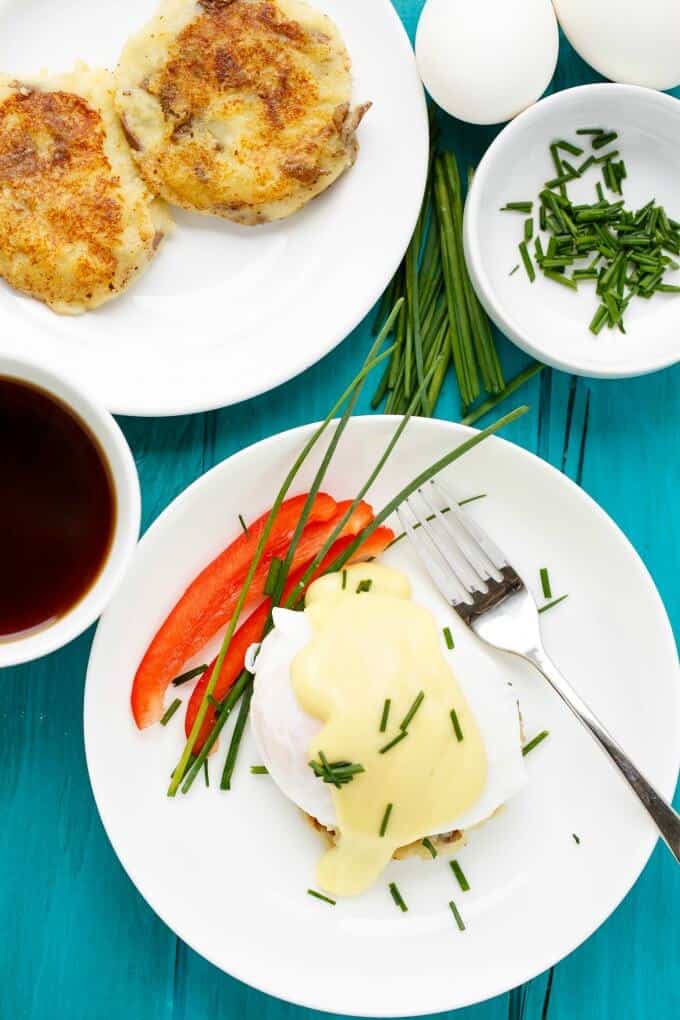 Eggs Benedict over Potato Pancakes
A fun and creative way to eat breakfast!
Ingredients
1.5 lb bag of Little Potato Company's Blushing Belle varietal (or any you desire!)
¼ cup butter
¼ cup milk
Salt and pepper
Sauce
1 package of store-bought hollandaise sauce, prepared as directed OR 1 batch of homemade hollandaise sauce.
Topping
8-10 eggs, prepared for poaching
¼ cup chives, finely chopped
Any meats or veggies that you would like to add to your eggs Benedict 🙂
Butter for greasing pan.
Instructions
Bring a large pot of salted water and potatoes to a boil. Cook for 10-15 minutes, or until soft enough where they can be easily mashed. Drain completely. Add in butter, milk, salt, and pepper and mash until desired consistency is reached.
Measure out ¼ cup portions of potatoes and form into patties. Heat a large frying pan over medium-high heat. Add some butter and fry potato patties until both sides are nicely browned (about 5-7 minutes total.) Store on a plate.
Eggs Benedict
Place potato patties onto plates. Garnish with any meats or veggies you like. Poach eggs and top onto patties. Finish with hollandaise sauce and chives.
Serve immediately!
Nutrition Information:
Yield:

8
Serving Size:

1
Amount Per Serving:
Calories:

348
Total Fat:

26g
Saturated Fat:

14g
Trans Fat:

1g
Unsaturated Fat:

11g
Cholesterol:

393mg
Sodium:

577mg
Carbohydrates:

11g
Fiber:

1g
Sugar:

2g
Protein:

17g
Another perk to using Creamer potatoes: no need to remove the skins! That's right. The skin is so thin that you won't even notice it is there. I used to always remove the skins for my mashed potatoes, but it was actually my brother who said why bother? It adds nutritional value and honestly, I am one of those weirdos who really loves skins on my potatoes 🙂
This is a sponsored post. I was fortunate enough to receive products and monetary compensation from The Little Potato Company. Though products were received, all opinions are my own and I would not recommend a product that I did not enjoy.
Love these eggs Benedict over potato pancakes?! Try some of these recipes: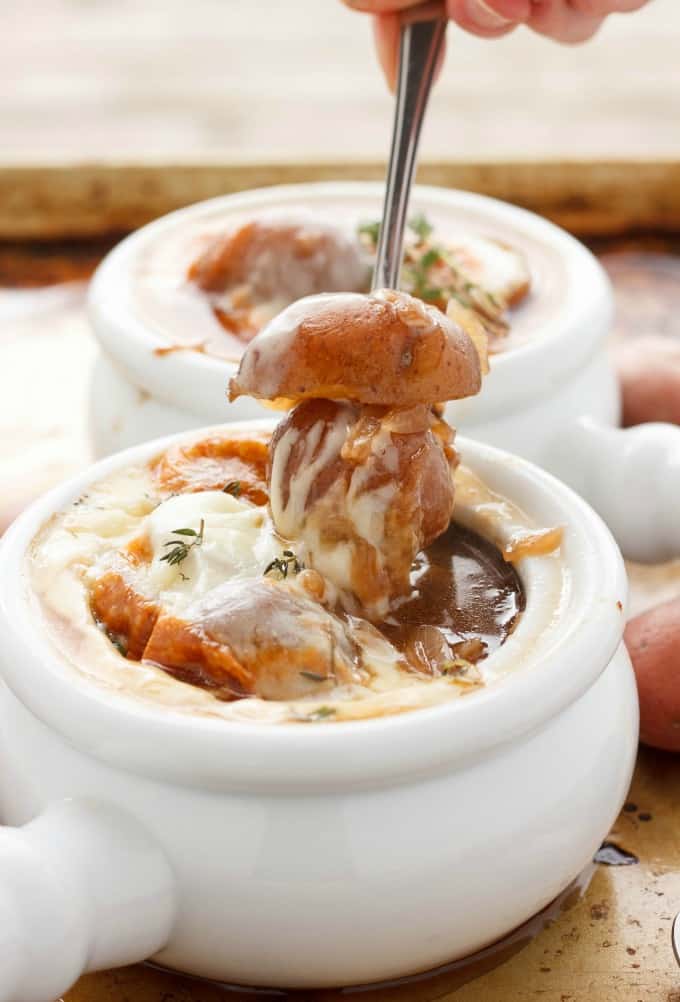 French Onion Soup with Potatoes