I always joke to Dan that I don't get sick because of my vegetarian diet. He states it is because I never leave the house… True, I could stay inside all day, every day! But with a 3 and a half year old, staying indoors is not really an option. When Dan got sick with a cough, fever, and sinus stuff (let's not go into the gross stuff,) I thought Éowyn and I would not to catch anything since we managed to live with him through the worst of his illness. Then it happened.
I got a sore throat. I loathe sore throats. I hate them more than anything. We do not promote the word "hate" in this house, but when Éowyn stated she hated sore throats, I was not going to correct her at all because it is true. They suck. The worst part was that Dan never even got a sore throat so why did I get one?! Then the following day both kiddo and I woke up with fevers. Sigh. Dan was all better at that point so he was left to take care of us, but there was the scheduled dentist appointment he needed to dash out to. This left Éowyn and myself alone. And then the requests began.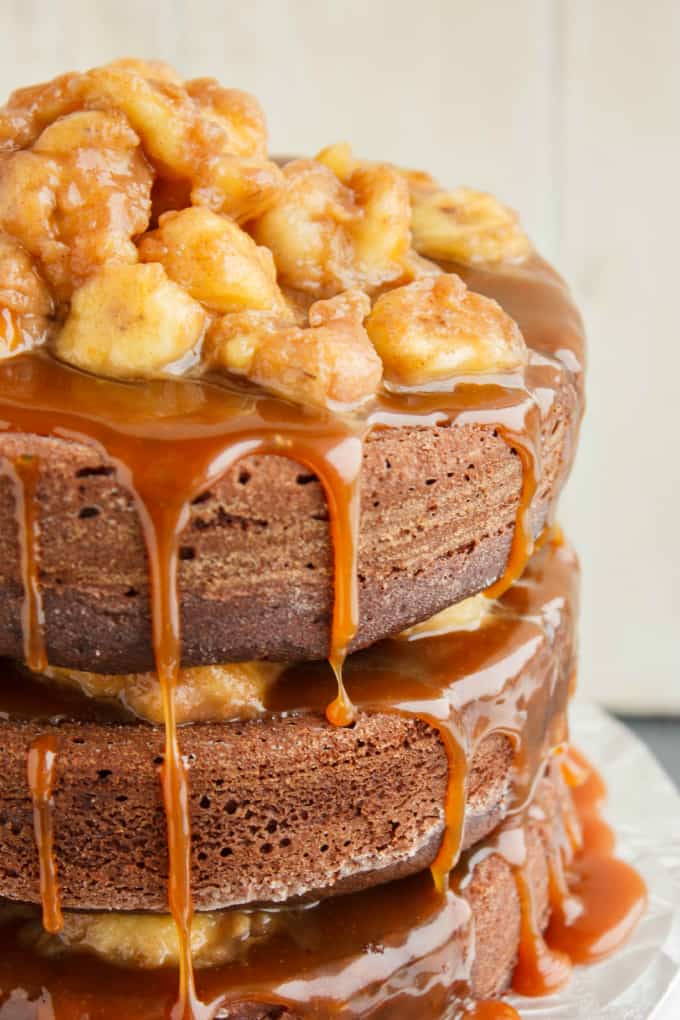 She wanted to make a cake. Yes, that is right, my 3.5 year old daughter, with a fever, wanted to bake a cake. At first I was saying no, but then I remembered Dan mentioning a coworker's birthday the following day and I thought, why not? So we got to it, and began the cake! The best part was her smile. She had been miserable all day from the fever and this was the first time she was really showing signs of improvement (though it was only about noon at this point.) I thought our naked chocolate cake with cinnamon-rum bananas turned out quite well considering our illness. I can definitely see the lopsidedness to the cake (that is what happens when you cut the tops off the cake incorrectly!) But in a weird way it all worked. I really like how the cake turned out, even if slightly wonky. And being sick I knew I did not want to ice the cake. No thank you.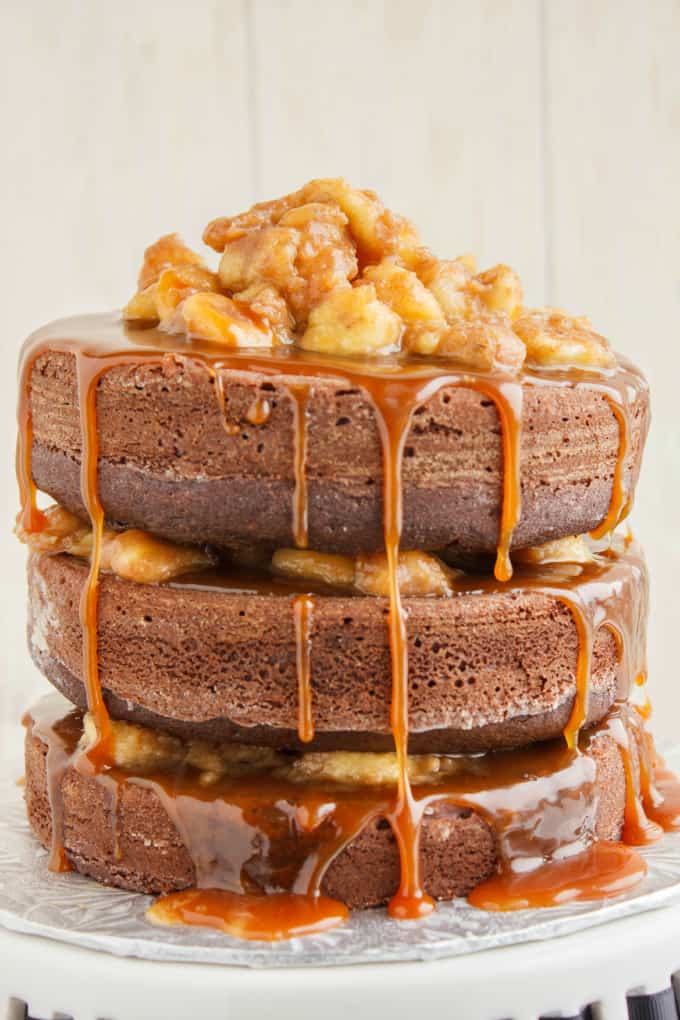 The idea for the naked chocolate cake came from Dan's coworker herself. She mentioned to Dan she wanted a chocolate cake with bananas. I was concerned with the bananas would not hold up well for the next 12-24 hours, so I decided to cook them. This way, the cinnamon browned the bananas a bit and stopped them from going that oxidation-brown colour that exposed bananas are prone to doing. I left the cake naked because I wanted to show off those bananas, and caramel sauce.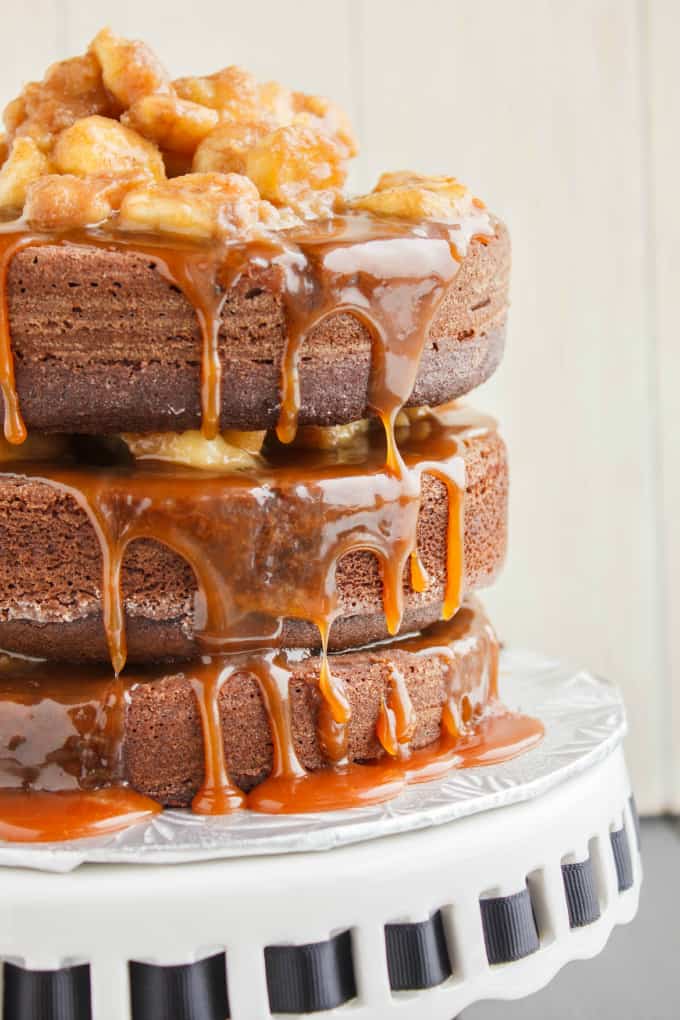 For the caramel sauce I actually tried the dry caramel method and you know what? I prefer it over the wet method. What is the difference you ask? The wet method involves boiling the water and sugar together, and then adding butter and whipping cream when it reaches the desired amber colour. Most people experience their caramel crystallizing or burning with this method. The dry method involves pouring the sugar into a pan and cooking it over medium heat until it actually melted and turned a deep amber colour. Then you slowly add in the butter followed by the cream. I loved how easy this method was. I really do not know why I did not try it before! I will make a step-by-step tutorial for it in the future.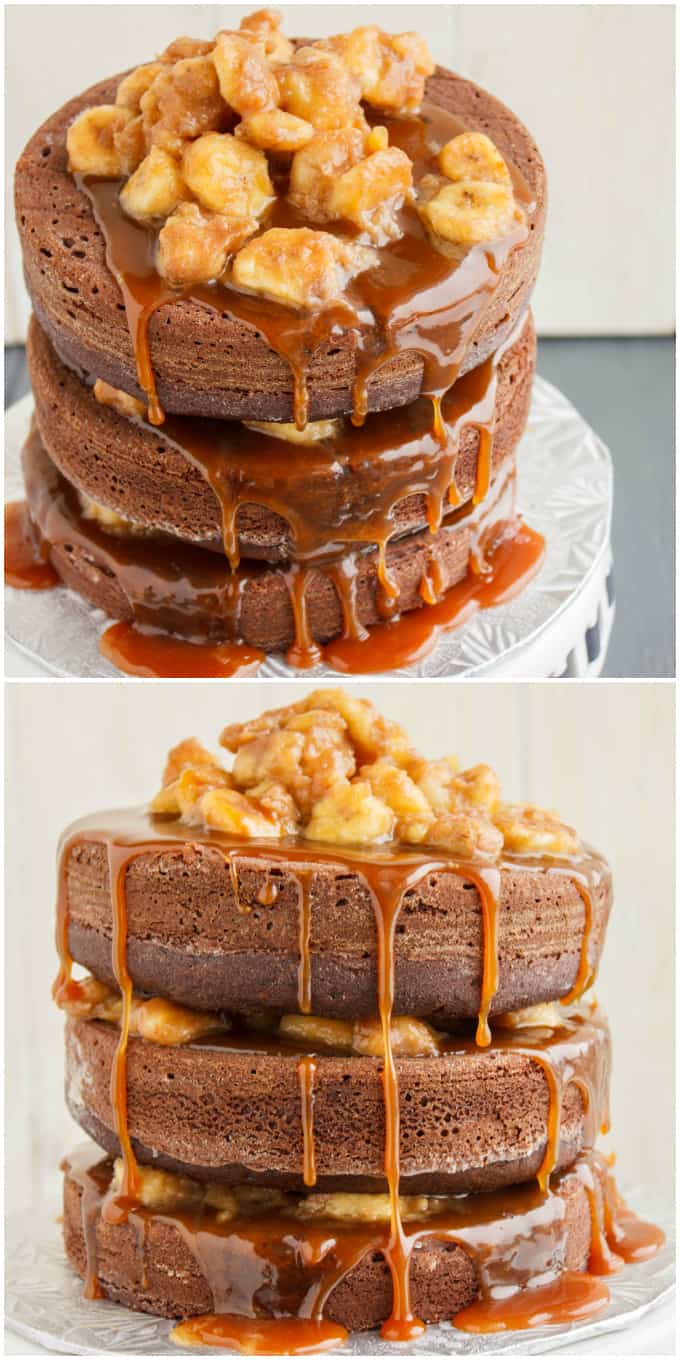 Naked Chocolate Cake with Cinnamon-Rum Bananas and Caramel Sauce
---
Kacey
Yields 1
40 minPrep Time
1 hrCook Time
1 hr, 40 Total Time
Ingredients
1 cup all-purpose flour
1/2 cup cake and pastry flour
1 cup granulated sugar
1/4 cup brown sugar
1/2 tbsp. baking soda
1/2 cup unsweetened cocoa powder
1/2 cup melted coconut oil
3/4 cup buttermilk
1 egg
3/4 cup hot coffee
1 tsp. vanilla
Pinch of salt
1/3 cup peanut butter
Caramel:
2 cups granulated sugar
12 tbsp. butter, room temperature
1 cup heavy whipping cream
Pinch of salt
Cinnamon-Rum Bananas:
5-6 ripe bananas, peeled
1/2 tsp. ground cinnamon
1 tbsp. rum
Instructions
Preheat oven to 350F. Grease three 6-inch cake pans and set aside.
In the bowl of a stand mixer, sift in the flours, baking soda, salt, and cocoa powder. Pour in the sugars. Combine, using the paddle attachment. While the mixer is on low, add in the coconut oil, buttermilk, peanut butter, and egg.
Gently, and slowly, pour in the hot coffee. The batter appears really liquidity but do not panic! Stir in vanilla until combined.
Pour equally into each pan. I find this cake made small layers. You could use my full recipe (double the contents listed above,) but I find it is then way too much batter, so there is no winning!
Bake for 30-35 minutes, or until toothpick comes out clean. Place pans onto cooling rack and wait until the pans are cool enough for you to handle. Flip cakes out and allow them to finish cooling on rack. Once cool, slice off top for an even surface.
Caramel:
Add the sugar to a large pan over medium heat. Stir frequently until the sugar begins to brown and melt. Then stir constantly, making sure to scrape the bottom of the pan to keep the sugar moving. Once all the sugar is melted and a nice amber colour, begin adding the butter one tablespoon at a time. Make sure each butter slice is melted before you add the next one.
When no butter remains, allow to cook for 3-5 more seconds and then pour in the cream. Stir and sprinkle with salt if desired. Allow to cool to room temperature (sometimes all the sugar will not melt down, but do not fret! Just strain your sauce to get out any big chunks if necessary.)
Bananas:
Slice the bananas into desired chunks. Heat a frying pan over medium-low heat (about a 4 on my stove.) While pan is heating, mix together the bananas, cinnamon, and rum. Toss to combine. Add to pan and cook until syrupy, about 5 minutes. Season with some salt and remove from heat. Allow to cool.
Assembly:
Drizzle some caramel onto the bottom layer of the cake. Add some bananas and top with another cake layer. Repeat until no layers remain. On the top of the cake, drizzle some caramel and top with remaining bananas. Pour more caramel on for a desired effect. Stick into the refrigerator to firm up the caramel.
When serving, have some extra caramel sauce to serve with the cake!
7.8.1.2
264
https://thecookiewriter.com/naked-chocolate-cake-cinnamon-rum-bananas-caramel-sauce/
(Caramel adapted from
Foods of our Lives
)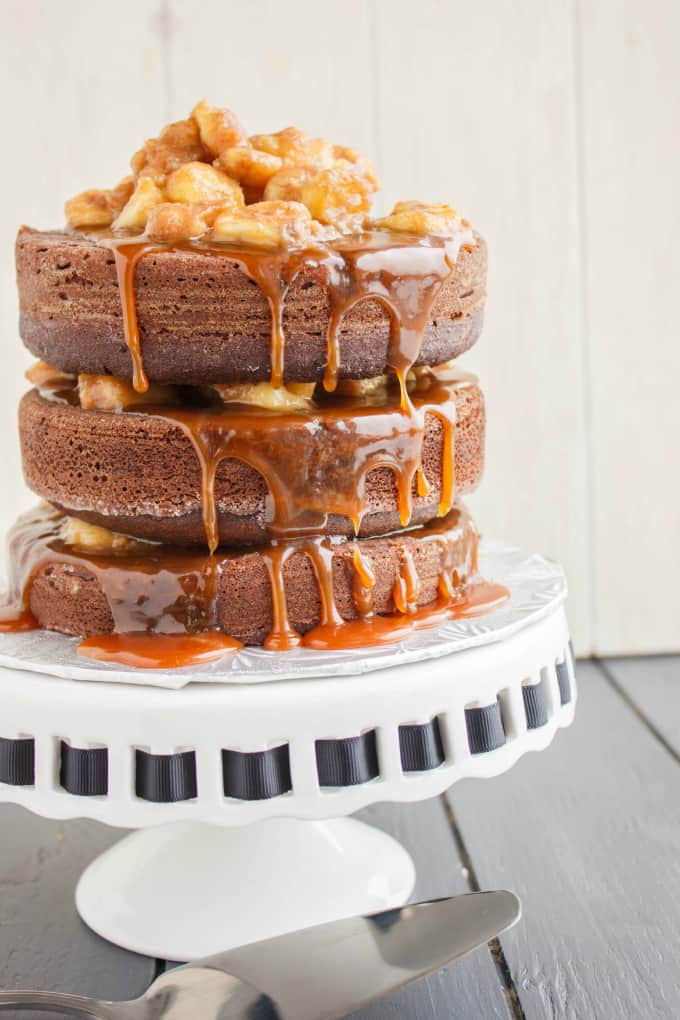 So easy, so delicious! Omg, I almost forgot! I added peanut butter into the chocolate cake to bring together all the flavours. I figured peanut butter, chocolate, and bananas all worked nicely together. The peanut butter is not very powerful, and that is what I was going for since the focus was on the bananas and chocolate. You could add some more peanut butter, but I would be concerned about too much oils in the cake.