As a Canadian, I can say I fully support those who love poutines! I am doing a spin on a classic here for my continued brand ambassadorship with The Little Potato Company: Jalapeno popper potato poutine! And why not drool over this recipe while you enter the giveaway to win one month's worth of free potatoes!
This is a sponsored post. I was fortunate enough to receive products and monetary compensation from The Little Potato Company. Though products were received, all opinions are my own and I would not recommend a product that I did not enjoy.
I had all intentions to post this recipe last week, but then I thought to myself, why not make a video showing how amazing this jalapeno popper potato poutine is?! Definitely needed some extra hands around (thank you, Dan!) But it was worth the wait!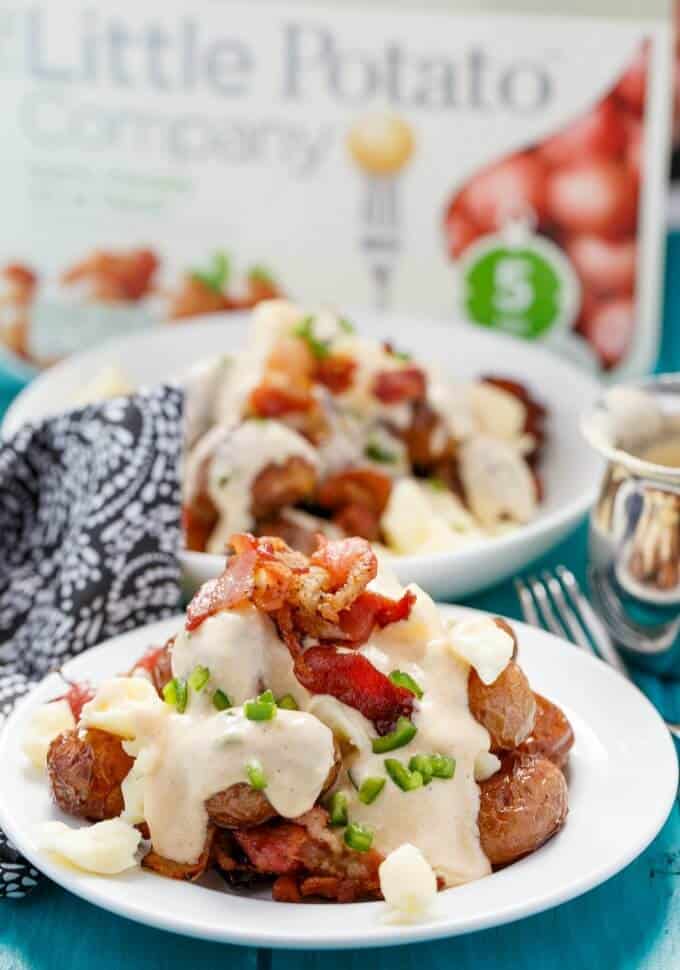 There are times when I make a recipe with the intentions of photographing it for the blog, but starvation takes over and I cannot wait any longer. Then that recipe gets pushed aside again and the cycle repeats. Thankfully in this case I could not eat the meal, but my husband was the one suffering this time around! And why wouldn't he?! You can see for yourself in the video how creamy and delicious that sauce looks pouring over the potatoes… Yum!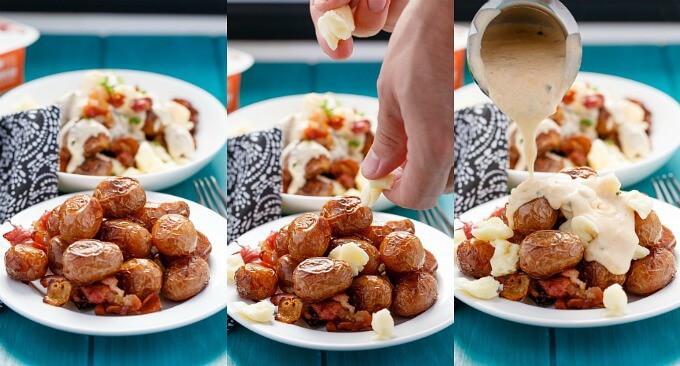 Much like my French onion soup with potatoes, and general tso's potatoes, I took a classic recipe and spun my own tale. This jalapeno popper potato poutine came to light as I tried to think about an easy appetizer to produce, all the while dealing with a major hankering for poutine (we have found the perfect spot for vegetarian poutines and you can just imagine how often I eat there!) It was fun changing out the gravy for a jalapeno popper sauce. It is definitely our thing right now, so don't be too surprised if a jalapeno popper week arises at some point!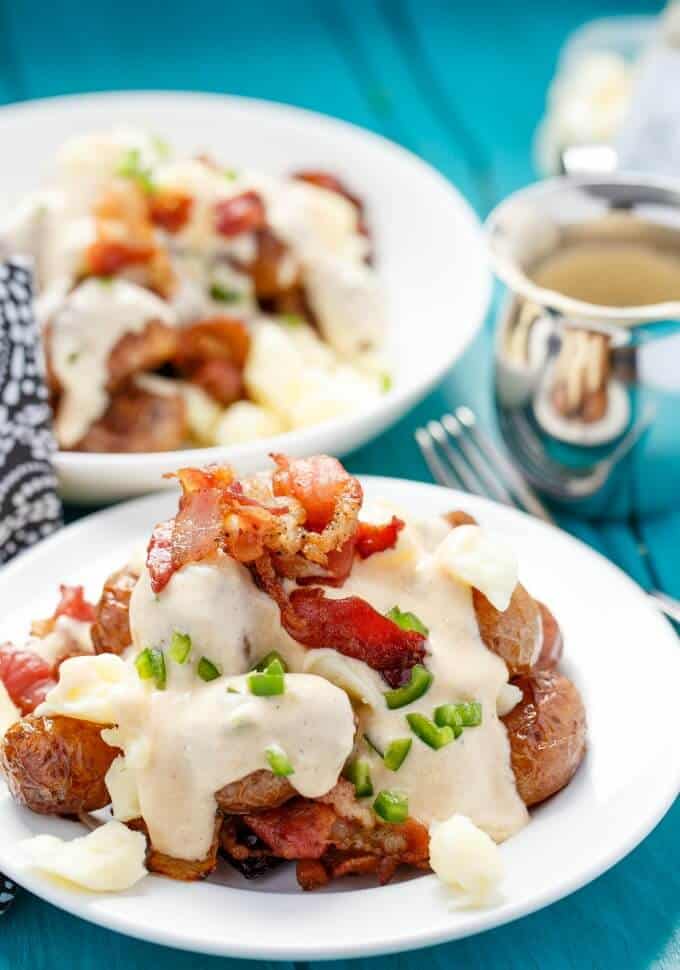 And as always, I am letting you know that this recipe can easily be made vegetarian by omitting the bacon. A gluten-free jalapeno popper sauce can be made as well (take a look at my leftover ham macaroni and cheese recipe.) For this photo shoot we only made a half batch of potatoes and bacon, and a full batch of sauce. Since there was so much sauce leftover, I have decided to adjust the other ratios accordingly in the recipe so you don't have mismatch of random ingredients (though, I would have no issue pouring that sauce over pasta!)
Jalapeno Popper Potato Poutine + Giveaway
---
A fun and truly Canadian main course or appetizer! You can omit the bacon for a vegetarian alternative!
10 minPrep Time
25 minCook Time
35 minTotal Time
Ingredients
3 lbs Little Potato Company Creamer Potatoes (I used two microwave ready packages which allots to 2 lbs, but you can use their 1.5 lb bag varietals, too.)
3/4 lb (375 g package) bacon, sliced large
2 onions, chopped
Salt and pepper
1/4 tsp. cayenne powder
1/2 lb cheese curds

Sauce

1/8 cup butter
1/8 cup all-purpose flour
2 garlic cloves, minced
1 1/2 cups milk
4 oz plain cream cheese
1/4 cup grated cheddar cheese
2 jalapenos, seeds removed and minced
1/2 tbsp. coarse whole grain mustard
1/8 tsp. cumin
1/2 tsp. paprika
Salt and pepper
Instructions
Microwave potatoes until fork tender (5-10 minutes: see note.)
Preheat oven to 425F. Place potatoes, onions, bacon, cayenne, salt, and pepper onto baking sheet. Toss until well combined.
Roast for 15-20 minutes, or until bacon is cooked through and potatoes and nicely browned, tossing every so often.

Sauce

In a large saucepan over medium heat, add the butter. When melted, add in garlic and jalapenos. Cook for 1 minute. Whisk in flour and continue cooking until the roux browns, about 4-5 minutes, stirring almost constantly.
Combine milk, mustard, salt, pepper, cumin, and paprika. Pour into pan, whisking constantly. Add cream cheese and heat until sauce has begun to thicken. Stir in cheddar cheese and cook until melted.

Assembly

Place potatoes onto plate. Add cheese curds, and pour "gravy" on top. Garnish with extra bacon and jalapeno if desired!
Notes
If using The Little Potato Company's microwave ready packages, just follow their directions. If using the bagged varietal, you can still microwave your creamer potatoes on a plate to speed up cooking time.
7.8.1.2
465
https://thecookiewriter.com/jalapeno-popper-potato-poutine/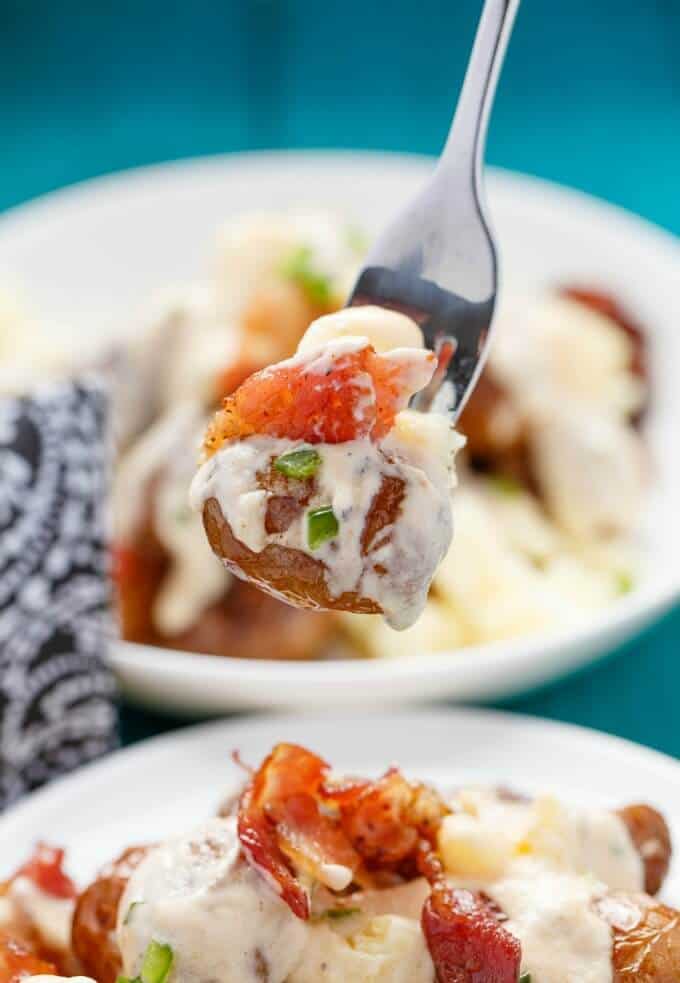 When it comes to many of my recipes, I love to multitask. So while the potatoes are roasting in the oven, I am making the sauce. This way the meal is completed all at once instead of waiting for one part to be completed before starting the next (this is really easy if you actually prep everything in advance!)
You can also use any varietal from The Little Potato Company (but the microwave ready makes the recipe a breeze!)
GIVEAWAY TIME!
This giveaway will start on Monday, September 19th, 2016 at 12:00 AM EST. It will run until Friday, September 30th, 2016 11:59 PM EST. The prize is one month's worth of free Little Potatoes from The Little Potato Company! The giveaway is open to residents of Canada and the US. Dig into this giveaway because you know you really want these potatoes! The winner will be notified by email and will have 48 hours to respond. If they do not come forward, I will redraw a name. The winner will be announced the week of October 3rd, 2016!
This is a sponsored post. I was fortunate enough to receive products and monetary compensation from The Little Potato Company. Though products were received, all opinions are my own and I would not recommend a product that I did not enjoy.
Love this jalapeno popper potato poutine?! Try some of these recipes: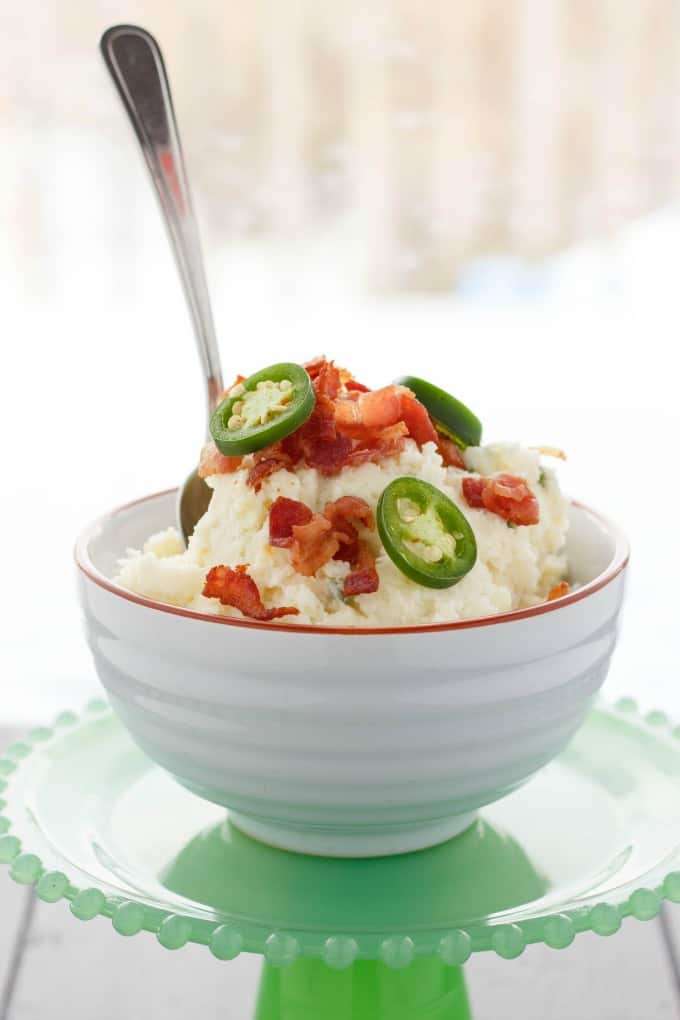 Jalapeno Popper Mashed Potatoes