Bored with the usual pizza night? Why not change up the crust with this ranch pizza dough recipe! Fun, kid-friendly, and something different from the norm!
I am at the point where I have a lot of recipes I want to share but have not had the time to write up a post. Kiddo is back in school now and this homemade ranch pizza dough recipe was created with her in mind. Who would not want homemade pizza for school?! That was her request this year so I figured, why not?! My sister finally found some powdered ranch seasoning and I knew this recipe had to be created. It is our new favorite! Something about adding that very little amount of ranch powder seems to transform the texture of the pizza dough and make it even more tender. I just don't know how to describe it but I feel I always need to add ranch seasoning to my pizza dough recipes now 🙂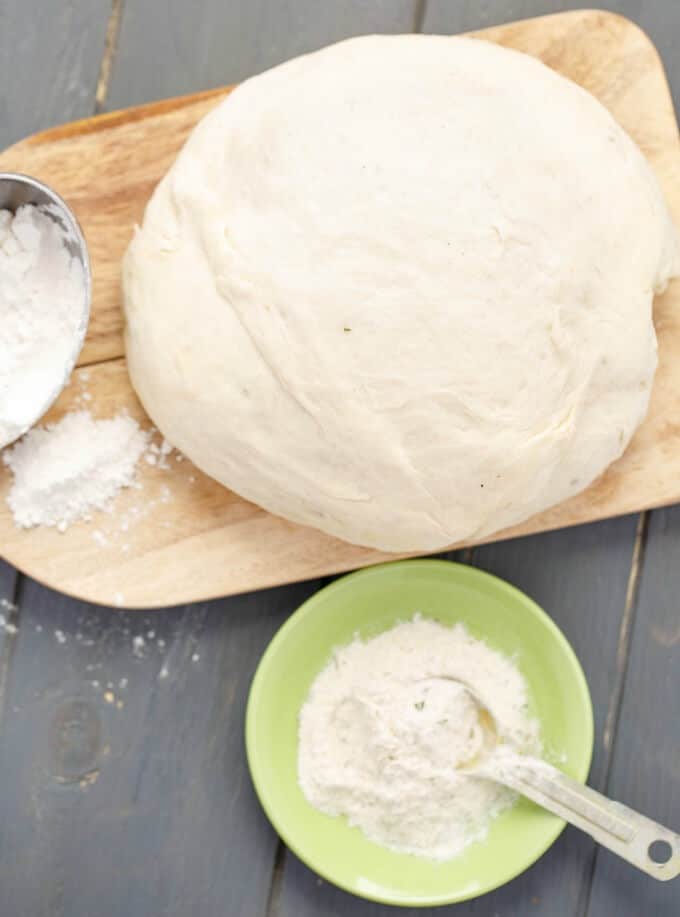 I have no affiliation with Fleischmann's yeast, but it is the only brand I use and I have never had a problem with it. I find 110F is the perfect temperature to activate the yeast. Aside from that, I cannot see this ranch pizza dough recipe not working. Take your time, measure correctly, and allow it to rise. When it comes to kneading on the counter top, I generally dump the pizza dough out and lightly roll it in the flour. I then knead a few times and move directly to rolling. The dough is already soft and pliable from rising that it barely needs any attention.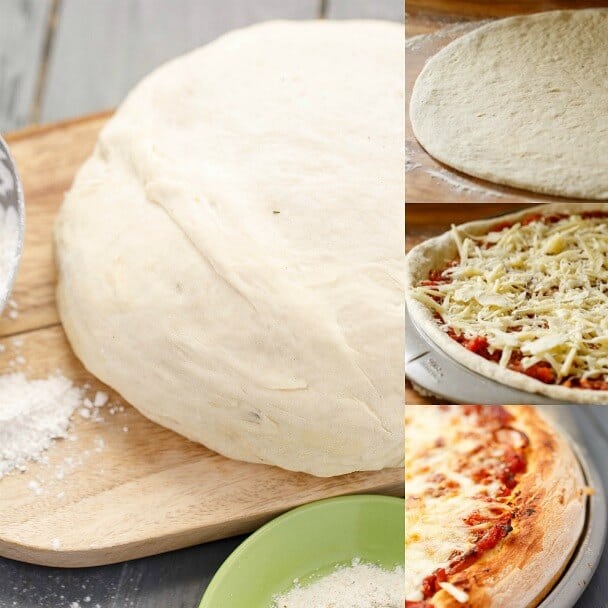 When it comes to cook time, I use a high heat (475F.) I used to bake the dough for 17-20 minutes but I am finding that is a little long now. Sometimes my dough is done in as little as 12 minutes! Basically when you have a nice, golden crust, you are good to go! Top this ranch pizza dough as you see fit (we went really simple here!) but trust me, this will be your new fav!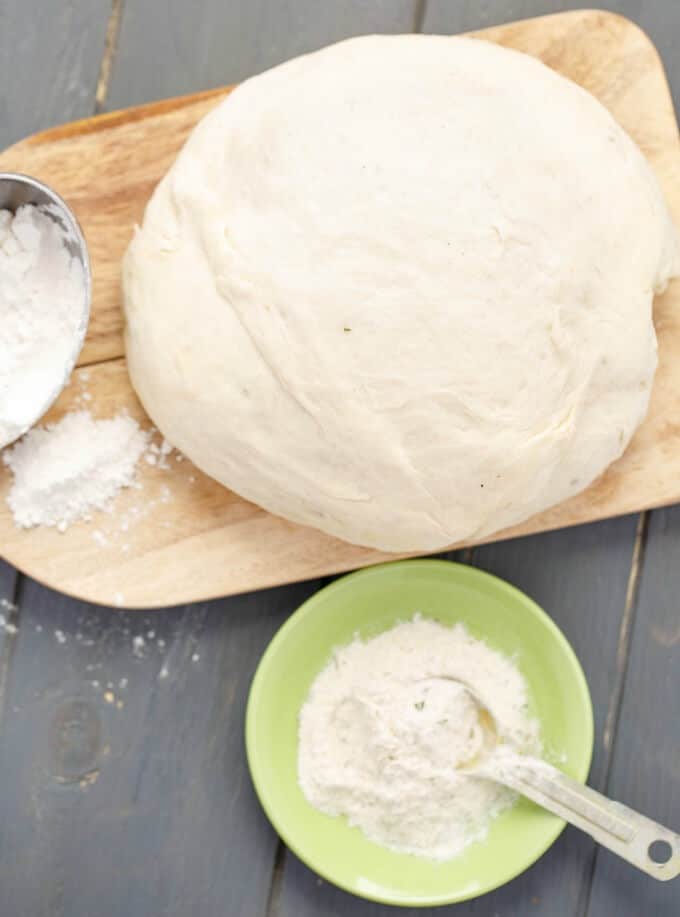 Ranch Pizza Dough
Ranch seasoning is added to traditional pizza dough for bold new flavors!
Ingredients
2 tsp. Fleischmann's instant yeast quick rise (or brand of your choice.)
1 ⅓ cup warm water (approx. 110F)
3 tsp. ranch powder seasoning (I used Hidden Valley Ranch)
2 tsp. salt
2 tsp.granulated sugar
⅛ cup olive oil
3 ½ cups all-purpose flour + more for kneading
Instructions
Add yeast and water to the bowl of your stand mixer. Agitate and allow to sit for 10 minutes, waiting for the yeast to bubble and get foamy. Add the salt, sugar, ranch seasoning, and olive oil. With the dough hook, add the flour ½ cup at a time, mixing until just combined. Dough will still be somewhat tacky/sticky.
Grease a large mixing bowl with some oil and dump dough into bowl. Cover and allow to rise until doubled in size (can take about 1 hour depending on the temperature in your house.) Generously flour your counter and pour dough on top. Knead until dough is still elastic-like, but not too sticky. Begin to roll out with rolling pin. If dough is sticking, flour top of dough as needed.
Place onto pizza pan or stone and assemble with appropriate toppings. Bake at 475F until nicely browned, anywhere between 13 and 17 minutes!
Note: You can mix in some extra ranch seasoning with the flour on the counter-top for even more ranch flavor!
Nutrition Information:
Yield:

1
Serving Size:

1
Amount Per Serving:
Calories:

1945
Total Fat:

38g
Saturated Fat:

5g
Trans Fat:

0g
Unsaturated Fat:

29g
Cholesterol:

4mg
Sodium:

5192mg
Carbohydrates:

347g
Fiber:

14g
Sugar:

10g
Protein:

49g
You can also divide the dough up and make small, personal pizzas. I did the smaller version for my daughter's first day of school and she loved it! Just wrap up the extra dough and store it in the refrigerator (you can also freeze it!)
Love this homemade ranch pizza dough recipe?! Try some of these recipes: