What is homemade pizza without an awesome sauce?! Try this herb pizza sauce on your next pizza night for a change (and the bold punch of flavour!)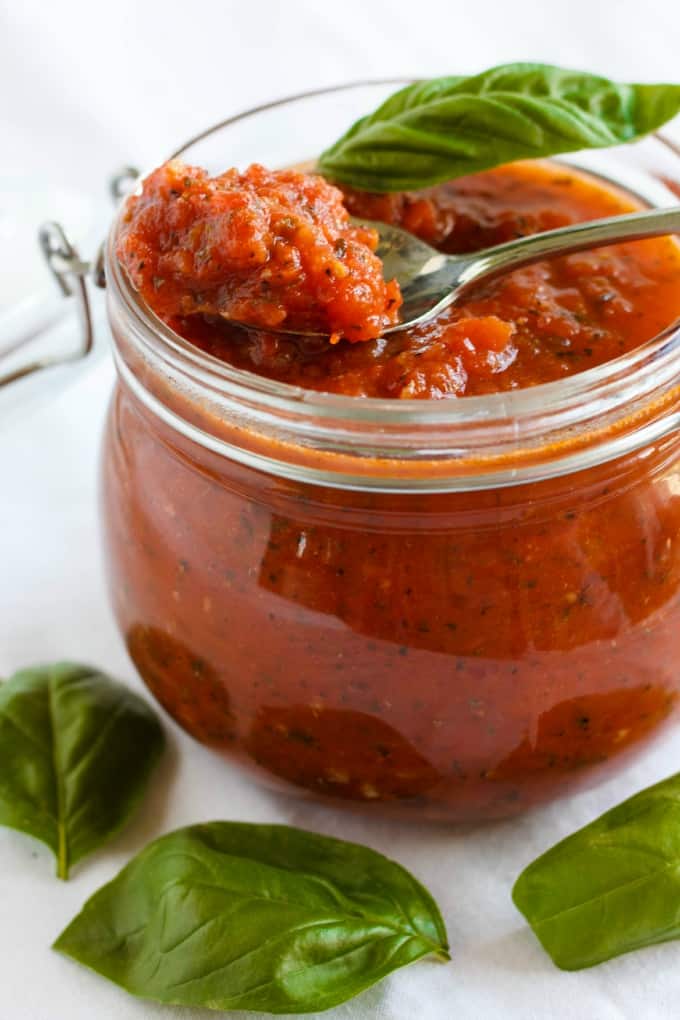 Ever since I began making my own pizza dough and pizza sauce, I have not been able to go back to jarred/store-bought. Pizza dough is super easy to make as long as you remember to give yourself enough time for the dough to rise. And pizza sauce itself is even easier since you just dump the ingredients into a pan and simmer away until the sauce is melded. I have introduced my brother to the ways of homemade pizza sauce, and my sister does really enjoy it but still doesn't lean towards making it herself (and I am going to cry laziness here but she may hurt me!)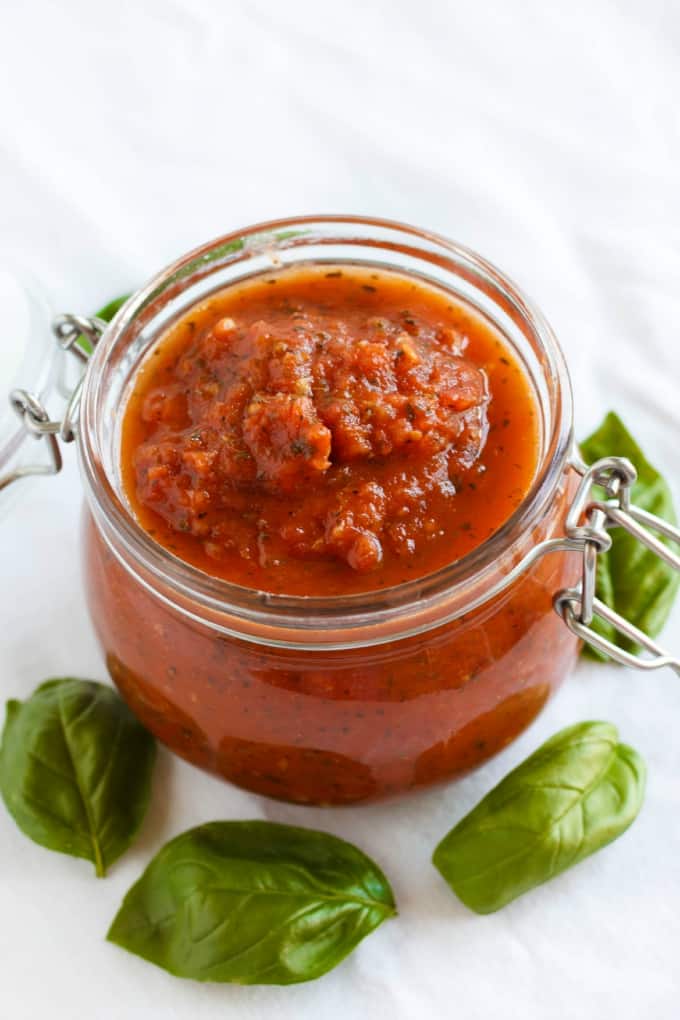 I published a pizza sauce in the past and it is fantastic. I love how easy it is and all the flavours tie together. Today's herb pizza sauce was a bit of an accidental creation. I usually only use basil and oregano, but accidentally put in some parsley. Well, what an awesome mistake because it just heightened the flavours even more! I feel I cannot make a pizza sauce without parsley now, and whether it is traditional or not, it is our new favourite. I still want to make a batch of sauce with fresh ingredients only, and that time will come, but for now, and especially during the winter months, this herb pizza sauce will work perfectly (I always have a crate of canned tomatoes hanging around.)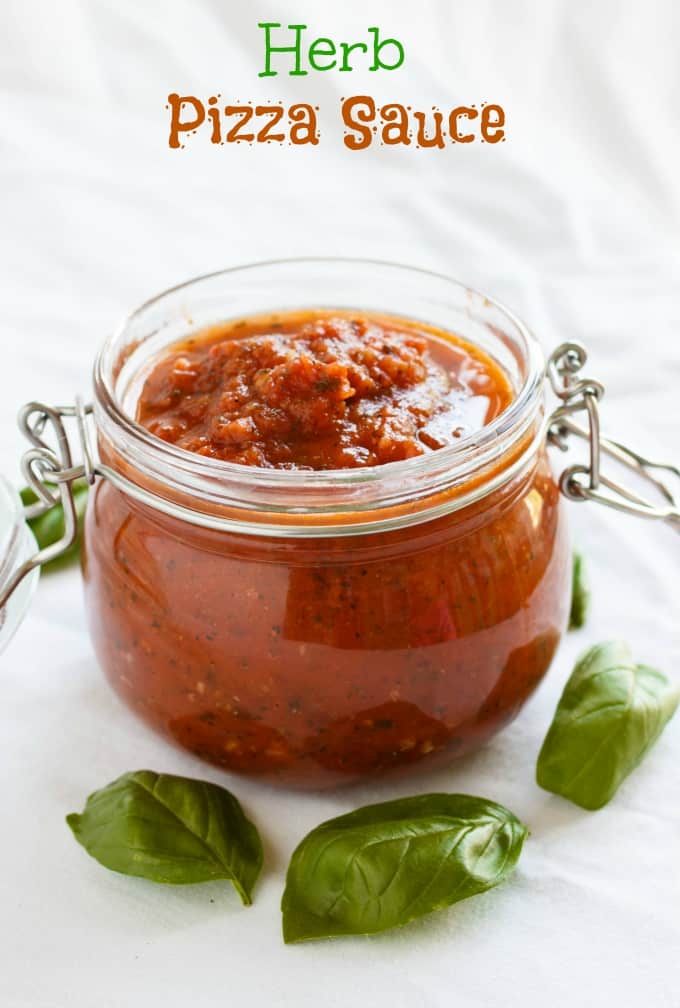 Is "homemade" pizza sauce really that much better? Heck yeah! I guess homemade would be using fresh tomatoes, but like I said, the canned variety work perfectly here and come the winter season, I like making pizza more often because it is comforting and hearty. Even so, you know what is going into your sauce and you can adjust it to suit your tastes. I know some people prefer a tangy sauce, where others prefer a sweeter blend. It is kind of like pizza restaurants, everyone's sauce is different!

Herb Pizza Sauce
---
Kacey
Yields 1
5 minPrep Time
25 minCook Time
30 minTotal Time
Ingredients
1 (28 oz can) diced tomatoes
3 garlic cloves, minced
2 tbsp. olive oil
1 tsp. dried parsley
1 tsp. dried oregano
1 1/2 tsp. dried basil
2 dry bay leaves
1/4 tsp. crushed red pepper flakes
1 tsp. granulated sugar
Salt and pepper
Instructions
Place a saucepan over medium heat. Combine all the ingredients and bring to a boil. Reduce heat and simmer for 20-25 minutes (I find the longer you go, the more robust the flavour.)
Carefully pour the mixture into your blender and puree until you reach your desired consistency. Sometimes I make the sauce smooth, sometimes I leave a chunky element to it.
Use on your favourite pizza crust or store in a sealed container until ready to use.
7.8.1.2
350
https://thecookiewriter.com/herb-pizza-sauce/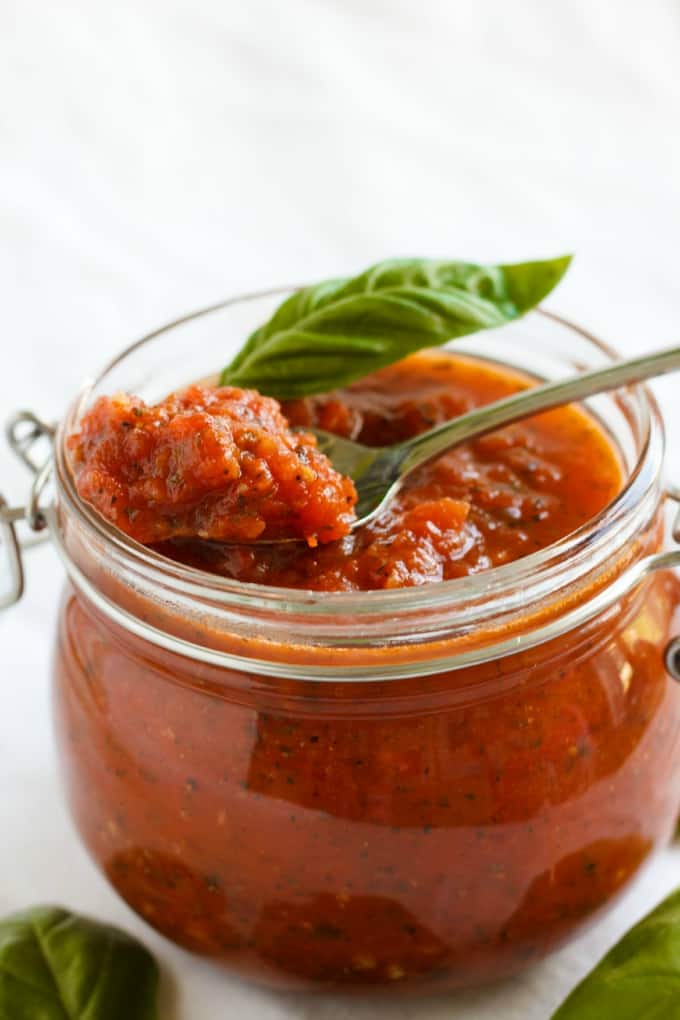 School has been going for a couple of weeks now and it seems like Éowyn has adjusted like a natural. And she eats her lunch 90% of the time (the problem I have is her telling me she wants "strawberries" and when I pack them for her she doesn't eat them and says "I want oranges instead." …) Walking each day has been a joy but I am starting to think about our Canadian winters and what we have in store for this year…
I don't mind snow; I don't mind the cold; I mind when it is SUPER cold for days on end and the light never seems near! Plus, I cannot combine my dog walk with her school walk because dogs are not allowed on school property (making me dread winter coming even more and I love winter!) Let's just say I imagine a lot of soup recipes coming soon 🙂