Roasted cauliflower soup is probably my favorite winter meal! So hearty, and packed full of flavor, you will not want to pass up a bowl of this! And if you are looking for a vegan recipe, don't go further because I provide a great alternative below 🙂
If I had to choose a favorite soup, I would probably say it is my roasted cauliflower soup.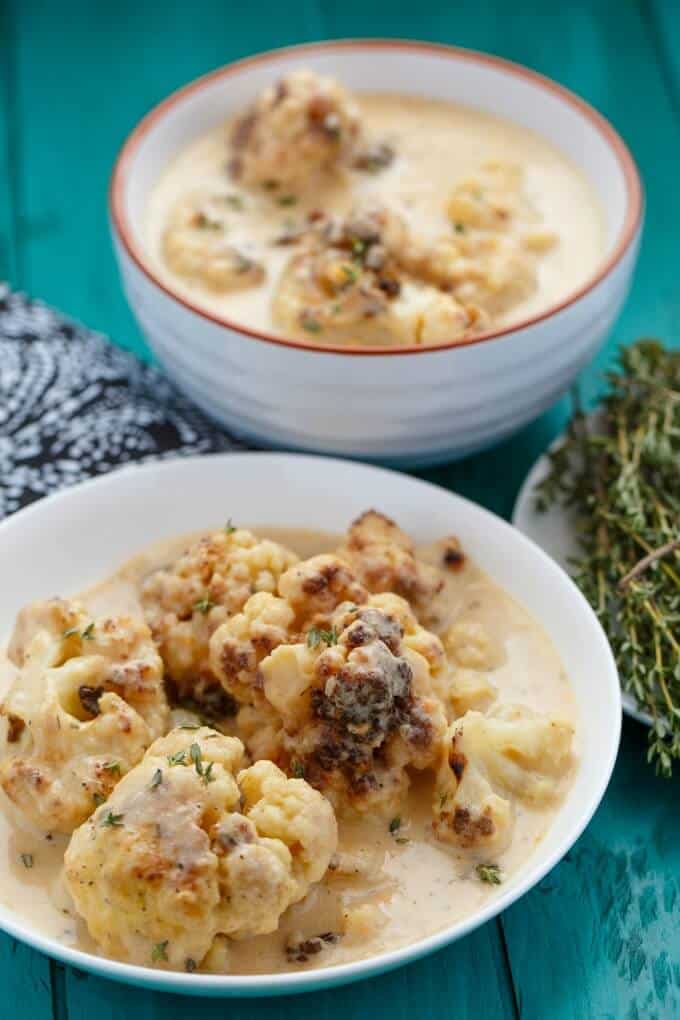 Rich, creamy, and sooooo delicious! I absolutely love it, especially during the cold months! One of the biggest problems with this soup is the fact it is so good, you go back for seconds but kind of regret it later. It is really rich, and one bowl should be enough, but you want more because it tastes so good! But then I get an overly full feeling, and that is no fun. So try one bowl first, wait, and THEN go back for seconds!
I personally have no troubles eating multiple bowls of this roasted cauliflower soup. However, lactose intolerant people like my husband, they love the soup, but can only have so much of it. My advice? Serve it with a sandwich and take a smaller portion size of soup. This way you can enjoy the soup without feeling upset later on. But for you vegans and very serious lactose intolerant individuals, I have actually begun working on a dairy-free version of this soup and I think I have created something dangerous! And better yet, it tastes exactly like this soup without all the heavy cream and cheese! I cannot wait to share it, so keep an eye on my blog in the next couple of weeks. UPDATE: I have TWO vegan soups up: creamy vegan cauliflower soup with cashew milk and roasted vegan cauliflower soup.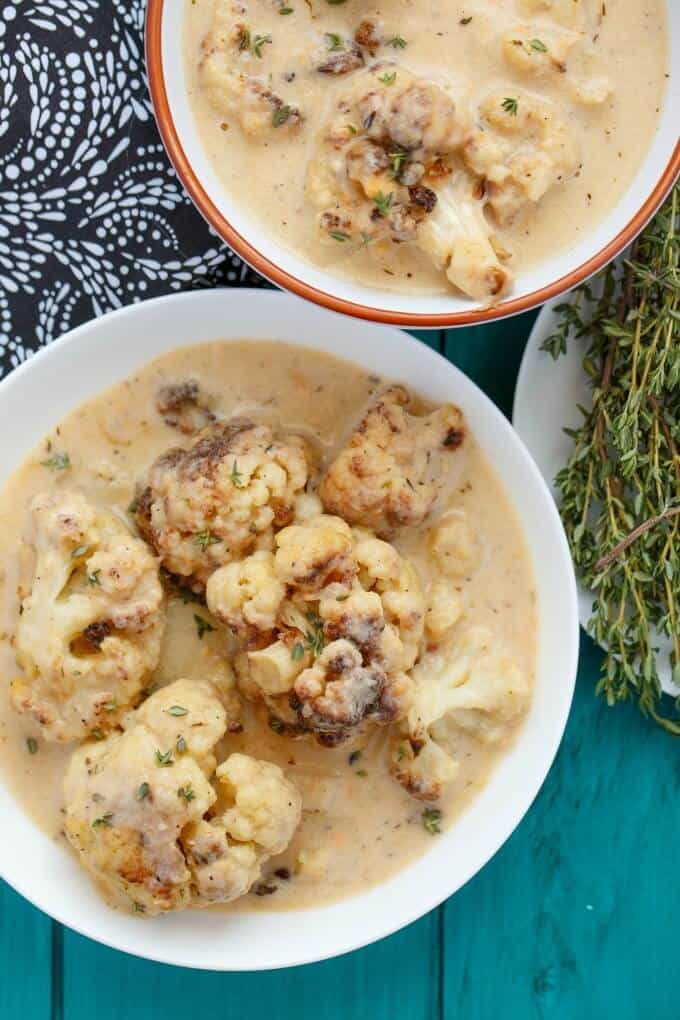 For now though, please enjoy this soup on a cold winter day because it is honestly so rich and delicious, it will warm you up in no time!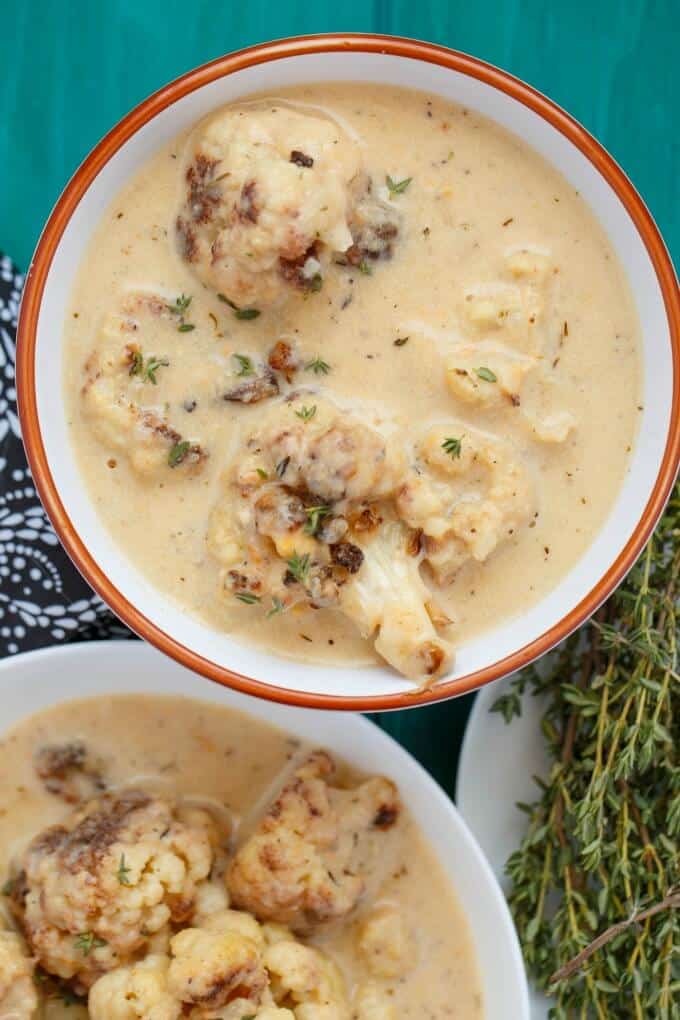 📖 Recipe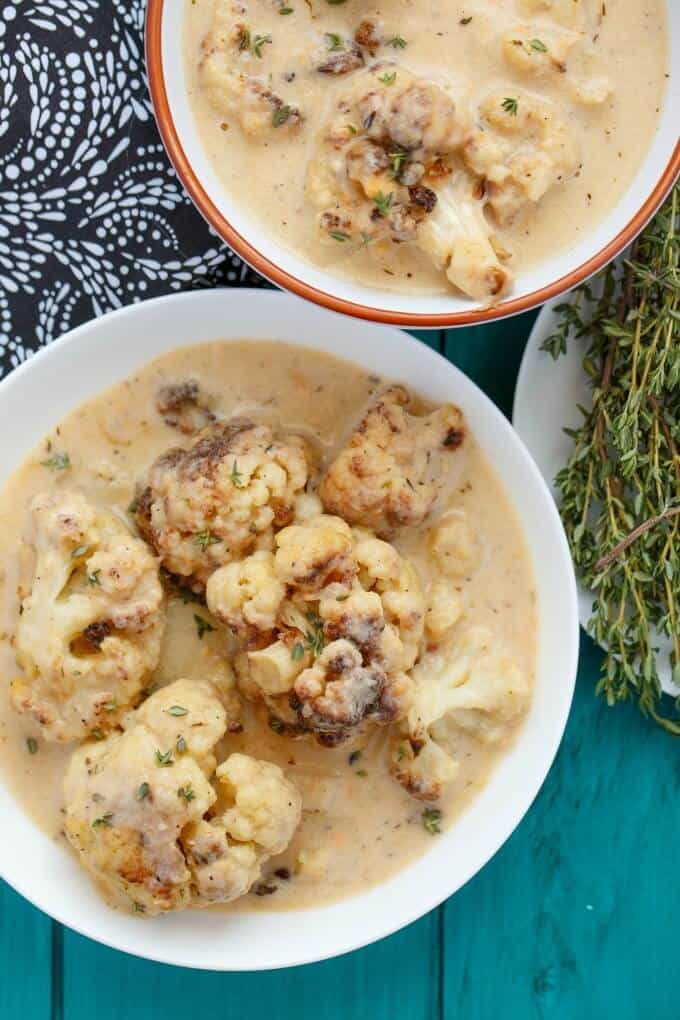 Roasted Cauliflower Soup
A super easy soup that has great depth with the roasted cauliflower!
Ingredients
1 oven roasted cauliflower with garlic recipe
1 tbsp. olive oil
1 large onion, diced
1 medium potato, peeled and cubed
2 cups vegetable broth
¼ cup white wine (or use all veggie broth instead.)
1 cup milk
½ cup heavy whipping cream
½ tsp. dried thyme leaves
¼ cup grated Parmesan or cheddar cheese
Salt and pepper
Instructions
Prepare the oven roasted cauliflower with garlic and set aside.
In a large pot, heat 1 tbsp. olive oil over medium. Stir in onion and sweat until translucent, about 5 minutes. Add the potatoes; season with salt and pepper. Cook for a couple of minutes, stirring occasionally as the potatoes will begin to stick. Deglaze pan with wine (or vegetable broth if omitting wine.) Simmer the wine for a couple of minutes. Pour in the vegetable broth, thyme, and bring the soup to a boil. Reduce heat, cover, and simmer for 10 minutes, or until potatoes are soft enough to puree.
Puree potatoes in broth with a hand blender until smooth. Pour in the cauliflower, milk, and heavy whipping cream. Simmer for another 10 minutes. Stir in the cheese and cook until melted and combined. Serve!
Notes
If your cauliflower is small, you may want to use two heads!
Nutrition Information:
Yield:

4
Serving Size:

1
Amount Per Serving:
Calories:

344
Total Fat:

24g
Saturated Fat:

11g
Trans Fat:

1g
Unsaturated Fat:

11g
Cholesterol:

51mg
Sodium:

982mg
Carbohydrates:

22g
Fiber:

3g
Sugar:

8g
Protein:

9g
When I make this recipe, I switch between red and white wine. I always have red wine on hand, but tend to forget to pick up white wine on account that once you open the bottle, white wine has to stay in the refrigerator. Since neither Mr. TCW or I like wine, we only have it around for cooking and I don't want to buy too much and see it go to waste. For this recipe though, I do find the white wine pairs better. And if you are not a wine drinker or do not keep alcohol in your house, omit the white and deglaze your pan with additional vegetable broth. It won't make a big difference.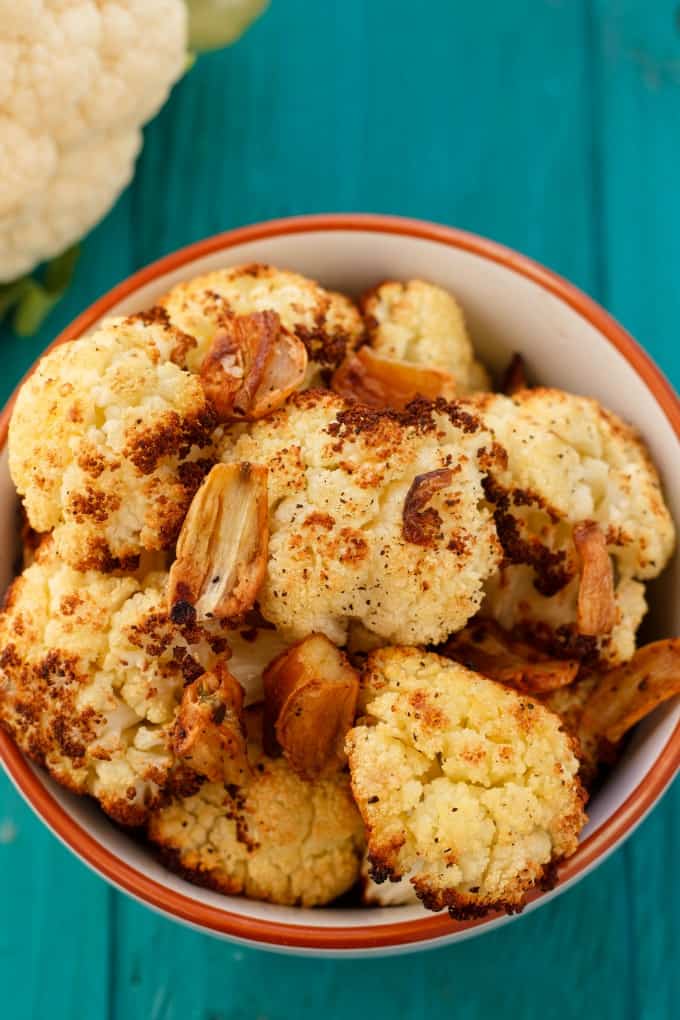 Another note; you don't necessarily have to roast the cauliflower but this is roasted cauliflower soup! When I first began with this soup, I didn't roast the cauliflower. But one day I thought to myself, "roasted cauliflower would take this soup to a whole new level!" And it has. The above image is from my oven roasted cauliflower with garlic recipe! I always put in the extra effort to roast the cauliflower, and so should you! Especially when it comes to my vegan roasted cauliflower soup, the roasted cauliflower is necessary to bring out all the flavors.
Love this roasted cauliflower soup?! Try some of these recipes: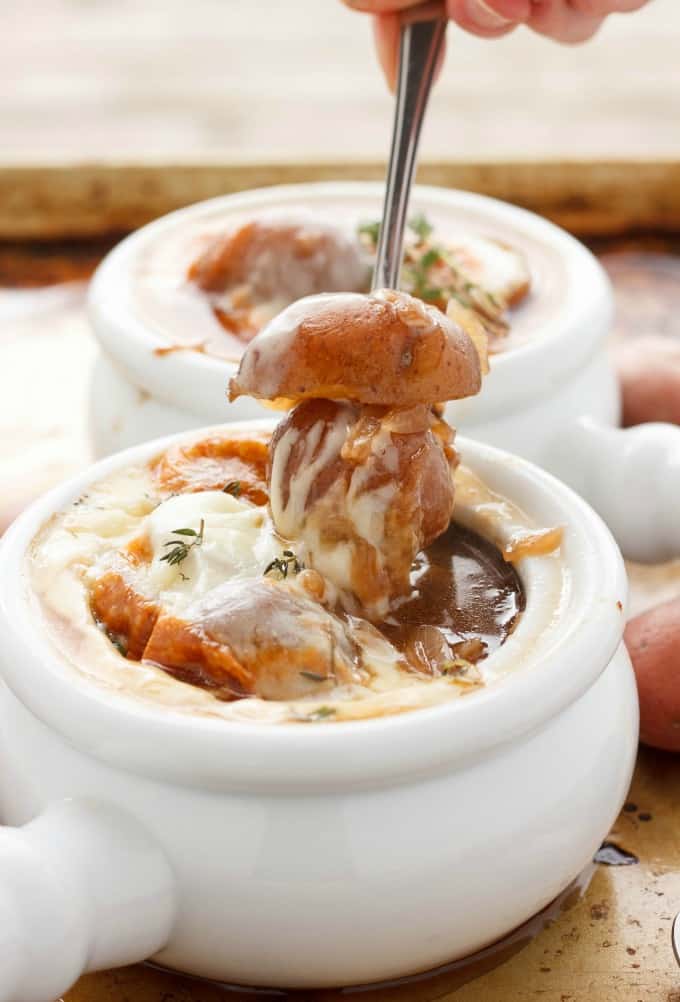 French Onion Soup with Potatoes