Warm and comforting, this cream of broccoli soup is so worth the effort, and it won't last long! Vegetarian, cheesy, and perfect for winter!
Okay, I know I said I loved my roasted cauliflower soup recipe and how it is my favorite soup ever. But can I really pick only one favorite?! I mean, for a cream-based soup, it is really good. I mean REALLY delicious. However, there are times I don't want a cream soup (usually when I am sick in bed.) Then I turn to a nice vegetable soup (thank you Alton Brown for creating such an awesome recipe!) However, I must say, more often than not, I turn to cream-based soups. They are my weakness!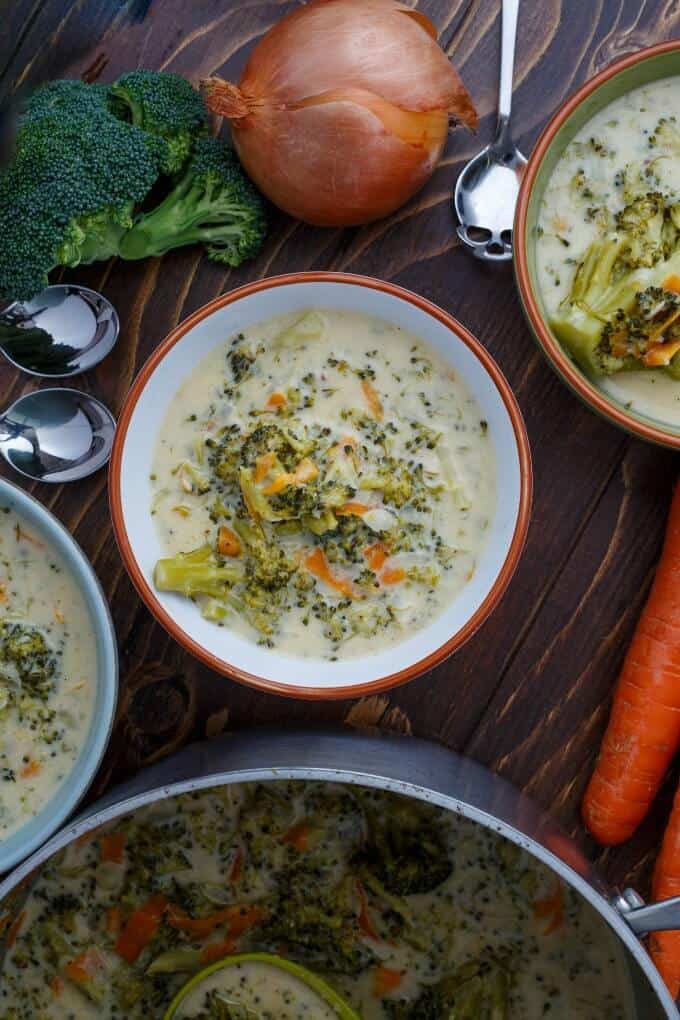 This cream of broccoli soup has been a tradition every year, multiple times throughout the cold months. We all love it with its rich, creamy taste, but full of so much broccoli you cannot miss that distinct flavor. I cannot get enough of this soup! Over the years I have added ingredients, as well as learning not to be too precise with the recipe. I pour the ingredients in without measuring, and I don't care how much broccoli goes in this recipe, as long as it is jammed packed! I usually use two or three broccoli crowns, depending on the size. So don't go worrying about measuring out 2 cups of broccoli florets. Throw whatever you have on hand in and prepare to be mesmerized!
📖 Recipe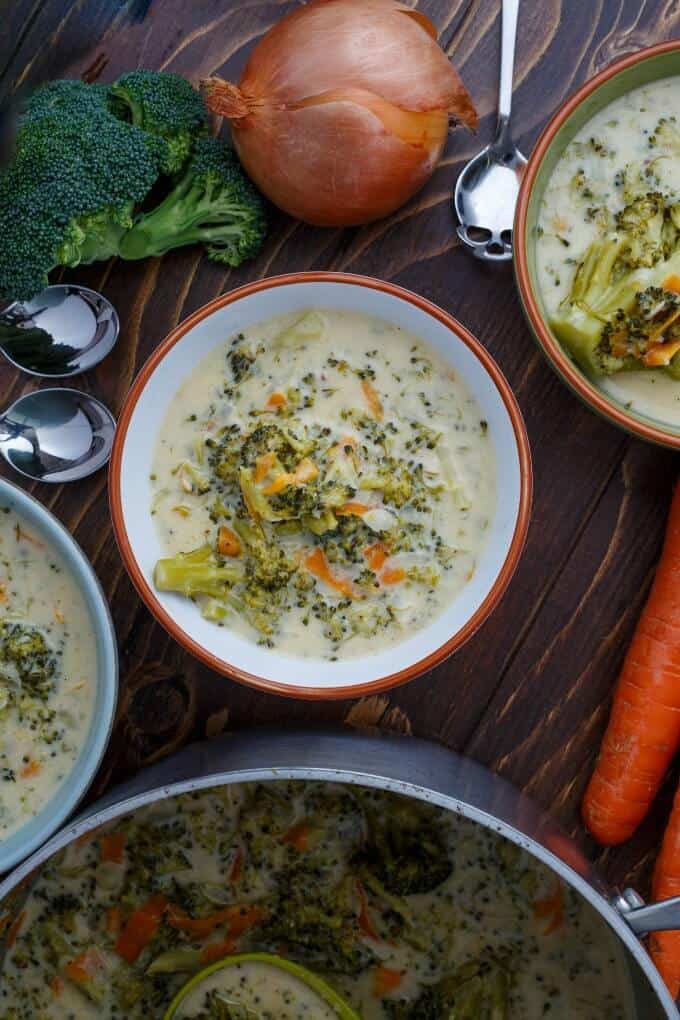 Cream of Broccoli Soup
Not the healthiest soup, but it sure is delicious!
Ingredients
¼ cup butter
1 onion, diced
3 cloves garlic, minced
¼ cup all-purpose flour
1 cup heavy whipping cream
1 cup milk
2 cups vegetable broth
¼ cup white wine
2 lbs broccoli crowns, cut into florets (about 2 large crowns)
1 lb carrots, shredded with vegetable peeler and chopped
2 cups mozzarella cheese (or your preference.)
1 tbsp. coarse whole grain mustard
¼ tsp. cayenne powder
¼ tsp. nutmeg
Salt and pepper
Instructions
In a large pot, melt butter over medium heat. Add the onions and cook until translucent, about 5 minutes. Stir in garlic and cook for about 1 minute, or until aromatic. Pour in the flour and create your roux. You want to cook this for 5-7 minutes, or until the roux darkens in color (stirring very frequently to prevent sticking.) Deglaze pan with white wine and simmer away for a few minutes.
Pour in your broth, milk, and cream. Add the broccoli, carrots, nutmeg, mustard and cayenne powder. Season with salt and pepper. Bring to a boil, cover, and reduce to a simmer. Cook for about 20 minutes, stirring occasionally.
Stir in the cheese and continue to cook until all the cheese has melted. Serve in a bread bowl or paired with your favorite bread!
Nutrition Information:
Yield:

4
Serving Size:

1
Amount Per Serving:
Calories:

685
Total Fat:

48g
Saturated Fat:

29g
Trans Fat:

1g
Unsaturated Fat:

15g
Cholesterol:

147mg
Sodium:

1073mg
Carbohydrates:

41g
Fiber:

10g
Sugar:

15g
Protein:

26g
I know the traditional approach seems to be to serve this cream of broccoli soup in a bread bowl, but I never get around to it. Once the soup is made I am already pouring it into my bowl and heading off to eat it! I told you cream soups are my weakness!
As I already hinted before, I have made a vegan version of my roasted cauliflower soup recipe that I should be posting very soon (my vegan roasted cauliflower soup recipe is now up!) I would love to make a vegan version of this soup, but the cheese is a very important factor in the recipe. I finally found nutritional yeast flakes at the store but they were all sold out! I cannot wait to grab a bag because I hear great things about them, especially when it comes to cheese sauces. Maybe they will help me come up with a vegan version of cream of broccoli soup!
Love this cream of broccoli soup?! Try some of these recipes: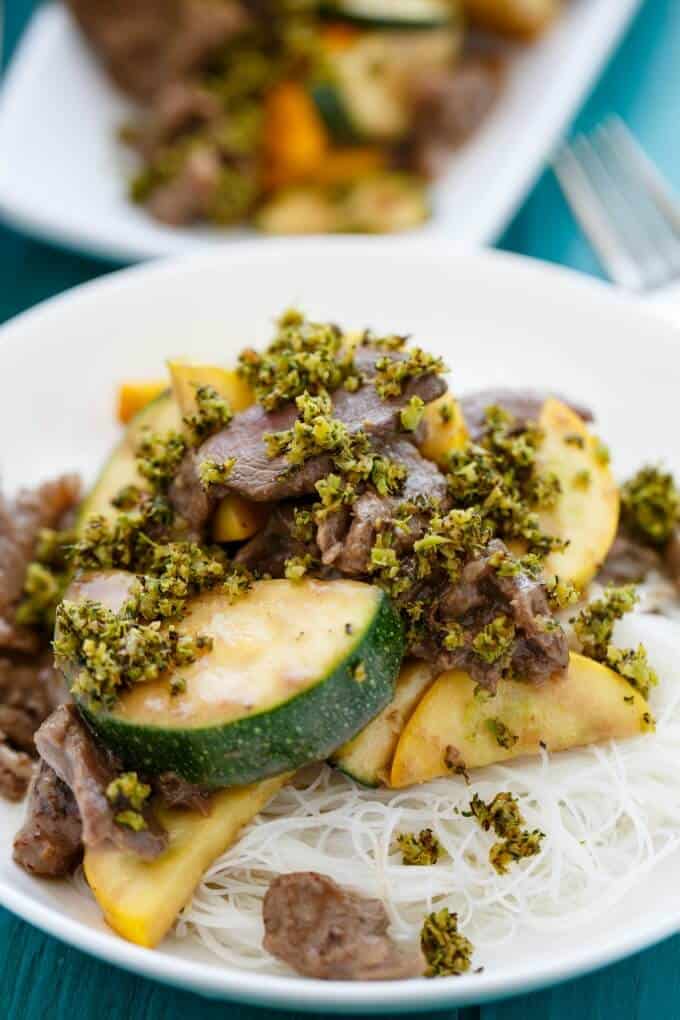 Beef and Zucchini Stir Fry with Roasted Broccoli