We LOVE pizza, especially the homemade variety! This BBQ chicken pizza with mushrooms and onions is perfect for the summer (grilling anyone?!) You can also roast the chicken if BBQing is not your thing!
You know when you go to restaurants and you have that specific dish you order? Everyone has a favorite. I love risotto. If risotto is on the menu, I am getting it, no doubts about it. I am also partial to anything with balsamic vinegar. Don't ask.
My sister is so predictable. I could order for her no problem at any restaurant. Chicken bacon ranch wrap? Chicken salad? Or maybe a BBQ chicken pizza? Yeah, you see a pattern here. If it has chicken, BBQ sauce, bacon, and/or ranch, she is getting it. That's her thing, unless of course, she is feeling very boring and gets her standard chicken fingers and fries...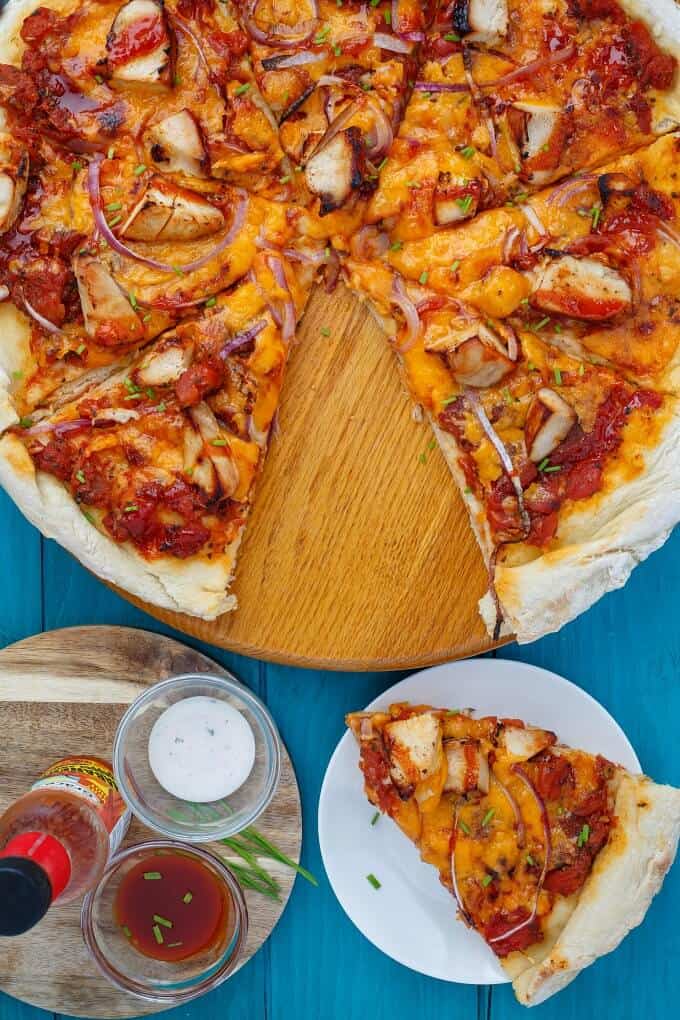 So when she came out on her traditional Tuesday get-together with me, she insisted I help her make a BBQ chicken pizza. And guess what? It turned out amazing! It was quite funny, two girls who don't BBQ, one being vegetarian, cooking chicken. My sister is terrible. She used to make me cut her chicken for her, even though I am the vegetarian and she isn't! Her reasoning? The chicken feels gross! Sigh.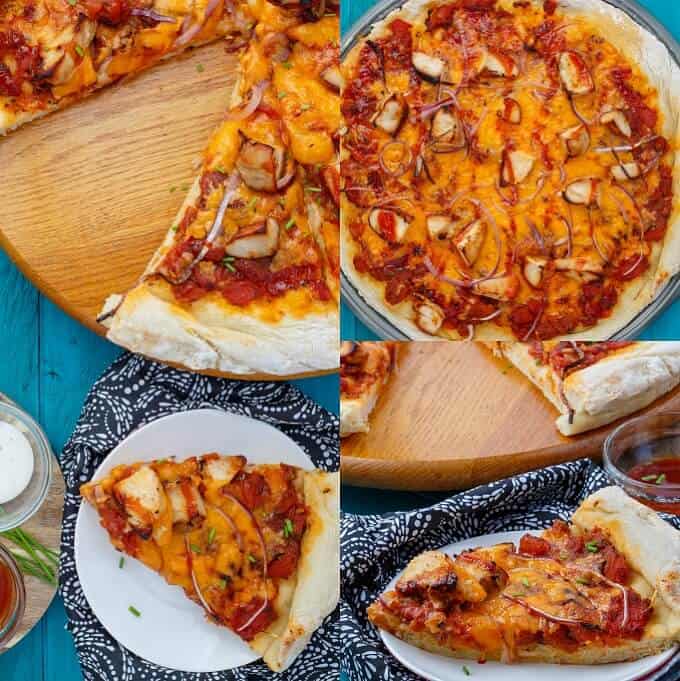 I was super impressed with her bbqing skills. The starter on my BBQ is broken so we were literally throwing matches into it because the BBQ lighter was out of fluid. I left her to the chicken will I prepared the dough. And just to be even more daring, we stuffed the pizza crust with cheese! Stuffed crust BBQ chicken pizza with mushrooms and onions... My sister was in heaven! She was nice enough to save a slice for Mr. TCW when he got home. Since they both stated how great the pizza was, I trust it was up to par with my other recipes (without me actually trying it though!)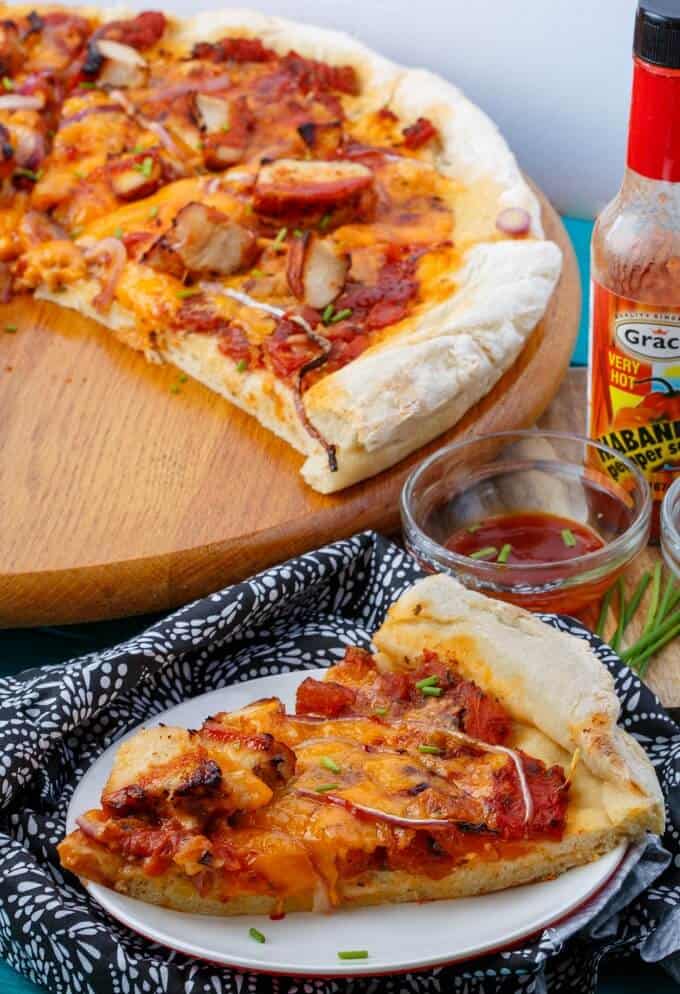 📖 Recipe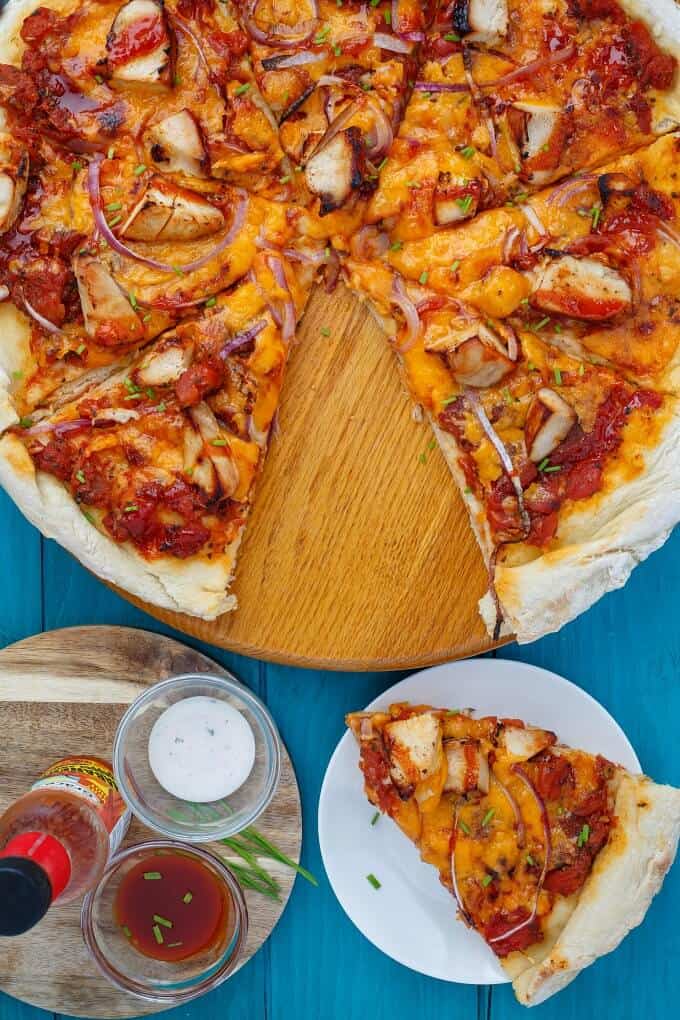 BBQ Chicken Pizza with Mushrooms and Onions
Total Time:
1 hour
15 minutes
Quick, simple, and a great way to use up leftover chicken if need be!
Ingredients
1 pre-made homemade pizza dough recipe or store-bought pizza dough.
2 boneless, skinless chicken breasts (about 1 ¼ lb)
Your favorite BBQ Sauce
Salt and pepper
1 onion, sliced into rings
8 oz mushrooms, sliced
1 ½ cups grated cheddar cheese + more if you want to stuff your crust!
1 batch homemade herb pizza sauce or store-bought
Instructions
Prepare your chicken with salt and pepper and cook until the internal temperature reaches 160F. We cooked our chicken at around 375-400F over direct heat. It wasn't very long per side as our chicken wasn't too thick, maybe 20 minutes max. Baste with BBQ sauce in last 5 minutes of cook time.
Remove from BBQ and allow to cool a bit. Slice into desired chunks.
Preheat oven to 475F. Place pizza dough onto pizza pan.
Pour the desired amount of sauce onto your dough.
Layer with cheese, veggies and chicken. Drizzle with BBQ sauce. Place into oven and bake for 12-15 minutes, or until crust is golden. Allow to cool slightly before slicing.
Notes
Don't have a BBQ? Roast your chicken at 400F for 20-25 minutes, basting in BBQ sauce in the last 5 minutes of cook time!
Nutrition Information:
Yield:

1
Serving Size:

1
Amount Per Serving:
Calories:

1432
Total Fat:

70g
Saturated Fat:

35g
Trans Fat:

2g
Unsaturated Fat:

26g
Cholesterol:

372mg
Sodium:

2366mg
Carbohydrates:

74g
Fiber:

10g
Sugar:

26g
Protein:

125g
I will admit, the pizza looked really, REALLY good. I can only imagine what bacon would do to this pizza. Since BBQ season is basically over, I see no problems subbing in oven-roasted chicken. We happened to have a nice day to BBQ, so that is why we chose that method. Also, don't allow a 3 year old to roll out the pizza dough. We ended up with such a big pizza round (it was HUGE) that we had really no choice but to stuff the crust to use up all the dough. With Girlie rolling it out so thin, it also resulted in a very thin crust to hold all those ingredients.
Love this BBQ chicken pizza with mushrooms and onions?! Try some of these recipes: