I made a mistake the other day that actually worked to my benefit.
Mr. TCW brought home a bunch of homegrown hot peppers from a coworkers garden and left me with the task of working with them. I was super excited because we love spicy meals and he had happened to bring home a ghost pepper. If you don't know what a ghost pepper is, I will explain it to you. The ghost pepper is one of the hottest peppers on the Scoville scale. We were first introduced to it at a common Mexican cuisine franchise here in Canada. It is super spicy and we love it! However, I had never actually worked with a fresh ghost pepper.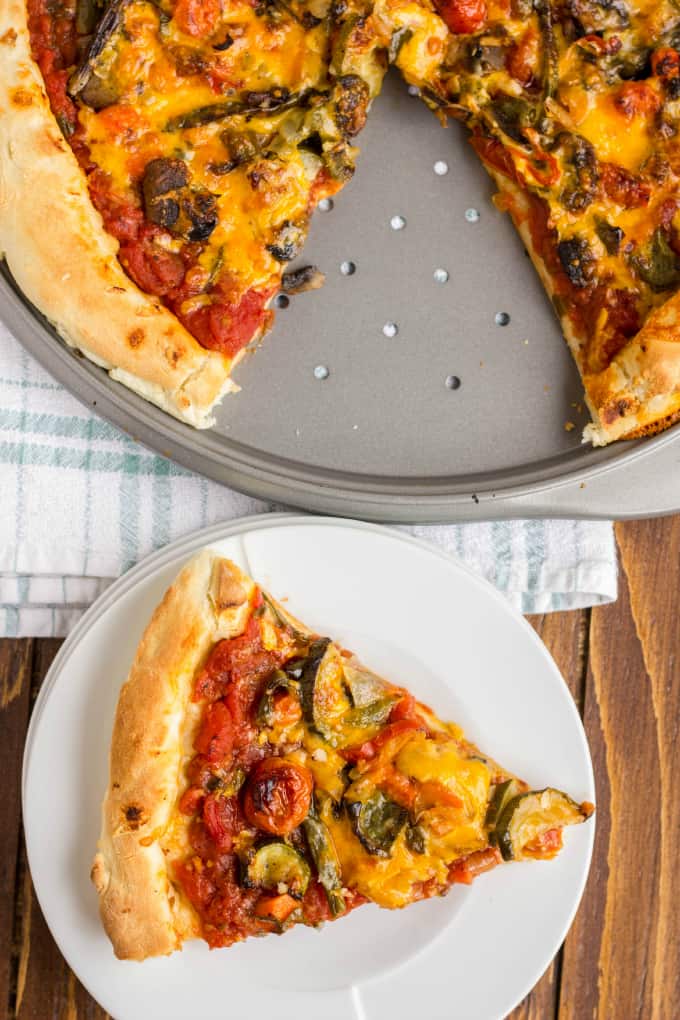 I was saving the ghost pepper for another meal and decided to use up some of the other peppers in the bag. I had already used the "7-pot chili pepper" as well as another type that I cannot remember. I decided to use the Peter Pepper, aka penis pepper, as it didn't appear as spicy to me (and we were sharing this pizza with Girlie.) So I get to work, make the sauce and throw in the pepper. I taste the sauce a long the way and find a bit of heat but nothing too overwhelming. Finally, I put together the pizza and bake it just in time for dinner. I immediately took pictures and within seconds of completing that task, I inhaled the slice of pizza. It was outstanding! Loved it from the very first bite! The sauce had a kick to it, but nothing too extreme. I even got Girlie a slice and her reaction was "it's good, spicy, need water, but good." It made me laugh.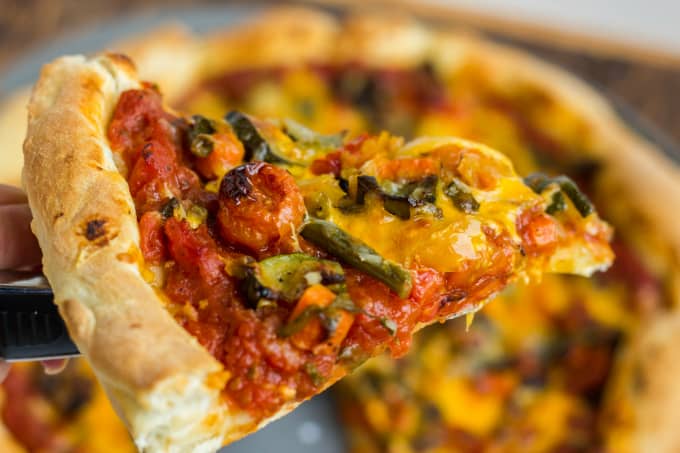 Then Mr. TCW tried the pizza and I showed him how I still had the ghost pepper left to make another dish and that's when he hit me with the fact that no ghost pepper remained in the bag. I said "impossible, it is right here." And he told me that was the Peter pepper and not the ghost pepper... I even doubled checked online, but sure enough, I had used the ghost pepper!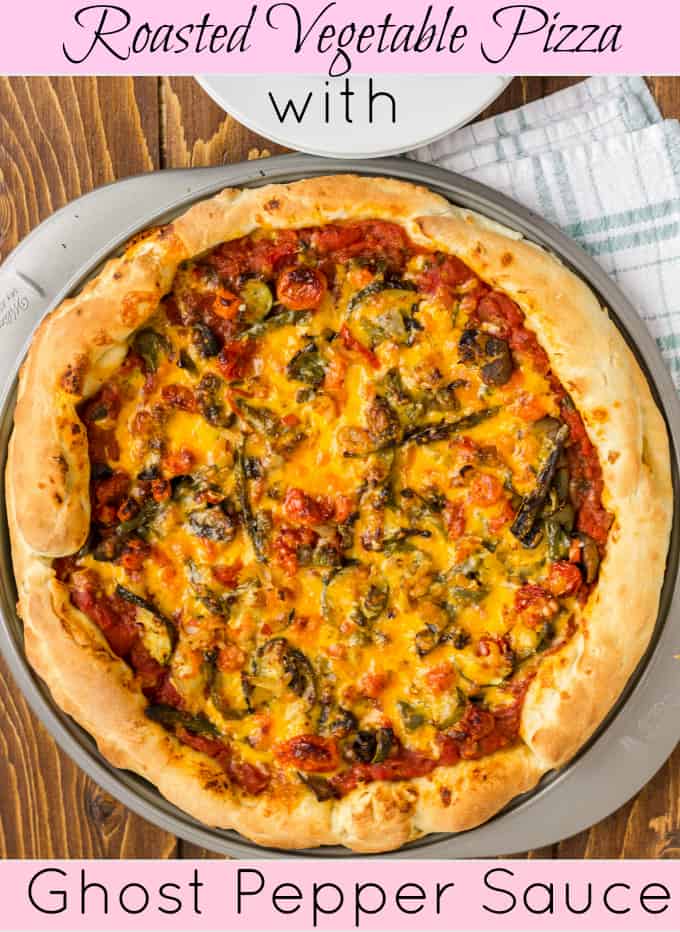 And that brings us to our roasted vegetable pizza with ghost pepper sauce! See, sometimes mistakes workout to our benefit. I am not sure if I would have ever used the ghost pepper in a pizza sauce, but now that I have, there is no going back! I am actually sad we don't have more because this ghost pepper sauce was so good, I can't imagine making the sauce without it!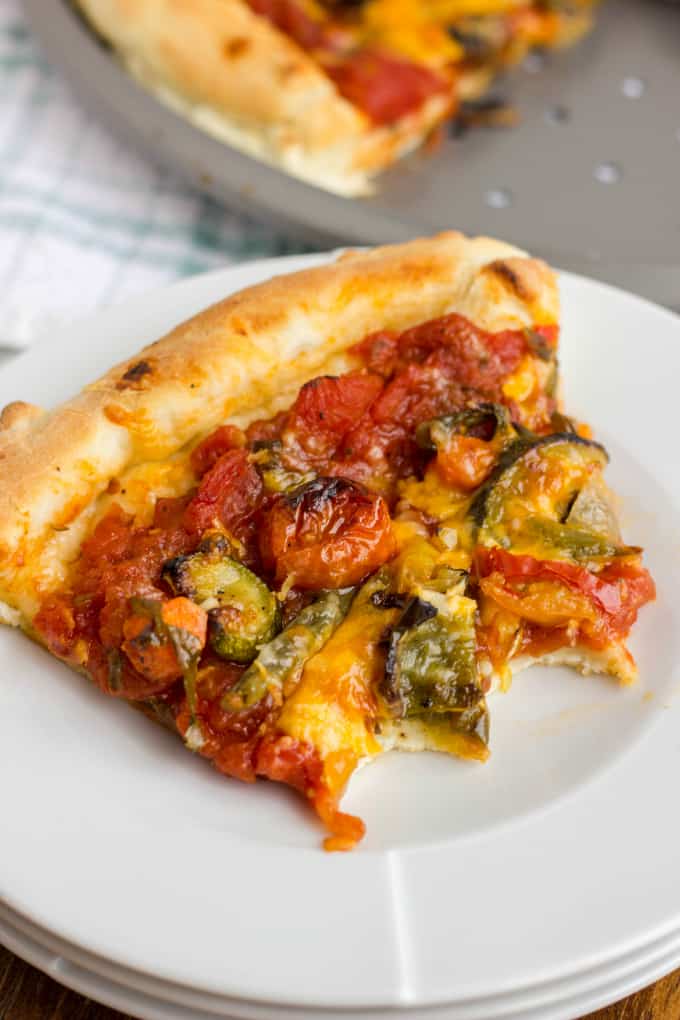 📖 Recipe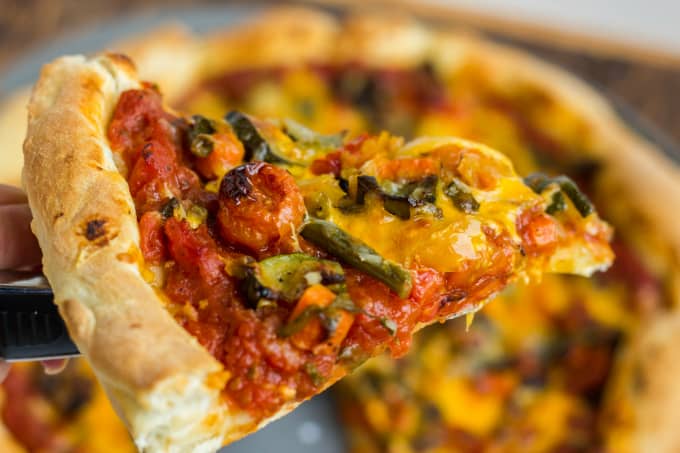 Roasted Vegetable Pizza with Ghost Pepper Sauce
Total Time:
1 hour
30 minutes
Homemade roasted vegetable pizza with a ghost pepper sauce that will knock off your socks (without being too spicy!)
Ingredients
1 large store-bought dough or your own homemade recipe (link found below recipe.)
1 cup cheddar cheese (omit for vegan)
Fresh Parmesan cheese (omit for vegan)
¼ cup jarred hot pepper rings, chopped
Sauce:
1 ghost pepper, halved, seeded, and minced
1 can of diced tomatoes
2 tbsp. olive oil
¼-1/2 tsp. dried oregano
¼-1/2 cup fresh basil, chiffonade
¼ tsp. black pepper
3 garlic cloves, minced
1 tsp. sugar
Roasted Veggies:
1 large zucchini, halved and then sliced
1 large onion, chopped
8 oz mushrooms, sliced
1 pint cherry tomatoes
1 green pepper, chopped
5 small, thin carrots (or 1 large carrot)
Handful of fresh green beans, trimmed (I cannot remember how many I used!)
Salt and pepper
½ tsp. garlic powder
Olive oil
Instructions
Preheat oven to 425F. Line two baking sheets with parchment paper.
Mix together all of the veggie mixture, adding just enough olive oil to nicely cover the veggies. Spread evenly onto two pans. Two pans ensures roasting and not steaming of the veggies. Roast for 20 minutes and then toss the veggies. Cook for another 10 minutes and remove from oven. Set aside. (I made mine the day before and added them to the pizza when I was ready.)
Combine all the sauce ingredients into a medium saute pan. Bring to a boil over medium heat and reduce to a simmer. Simmer, uncovered, for a good 20-30 minutes, making sure you see much of a reduction in liquid. Remove from heat and blend if you prefer a smoother sauce. I left the sauce as is because it adds depth to the pizza.
Preheat oven to 475F.
Roll out your dough and place onto pizza pan (you can use a pizza stone instead.) Pour on the sauce, followed by the veggies. Top with cheddar cheese and grate on some fresh Parmesan. Sprinkle the top with the marinaded hot pepper rings. Place into the oven and bake for about 12 minutes, or until your crust is cooked through.
Nutrition Information:
Yield:

1
Serving Size:

1
Amount Per Serving:
Calories:

2338
Total Fat:

146g
Saturated Fat:

52g
Trans Fat:

1g
Unsaturated Fat:

81g
Cholesterol:

126mg
Sodium:

2521mg
Carbohydrates:

218g
Fiber:

33g
Sugar:

50g
Protein:

57g
(Here is my
homemade pizza dough
recipe.)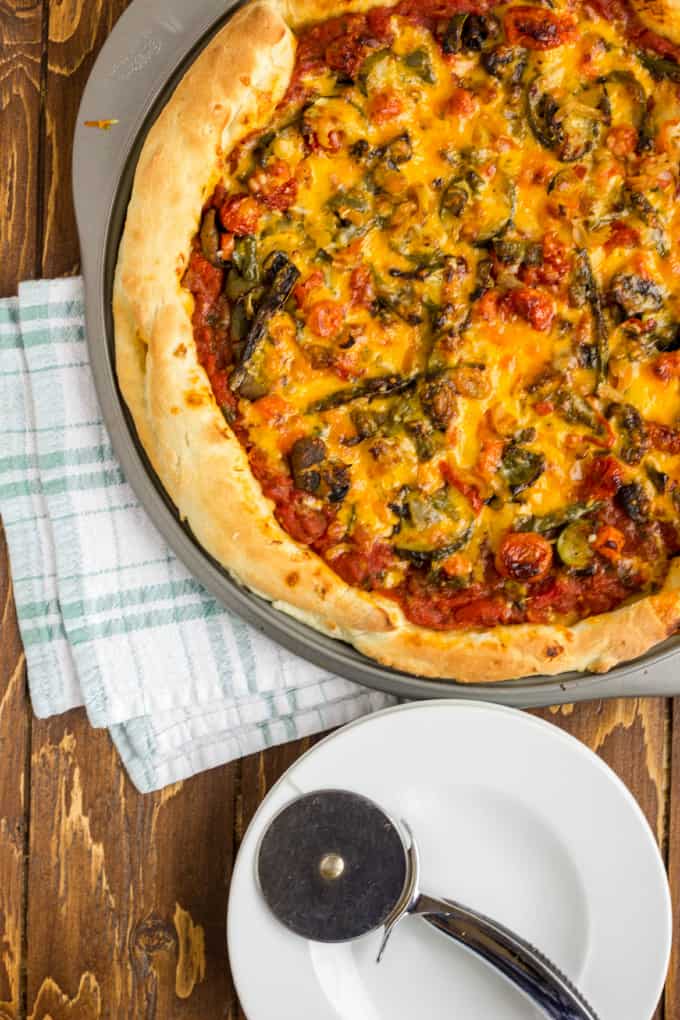 As for the pizza itself, the roasted veggies were initially going to be for a pasta sauce. I cooked the veggies and before I went ahead to make the sauce, Mr. TCW surprised us with dinner. I didn't want the vegetables to go to waste, so I used them for the pizza the next day. I did only use half the above recipe for my pizza, but for an extra-loaded pizza, you can use the whole batch!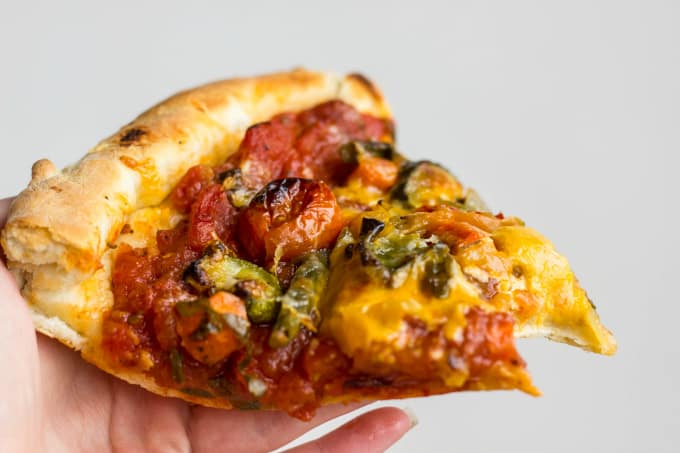 If spice is not your thing, I would advice against the ghost pepper. This roasted vegetable pizza is perfect without the spicy sauce (where you can just omit the hot peppers.) Or feel free to use a less spicy hot pepper. Personally, the ghost pepper sauce makes this pizza for me, but then again, I have not tried other hot peppers with it! I cannot wait to make it again, and trust me, there will be an again!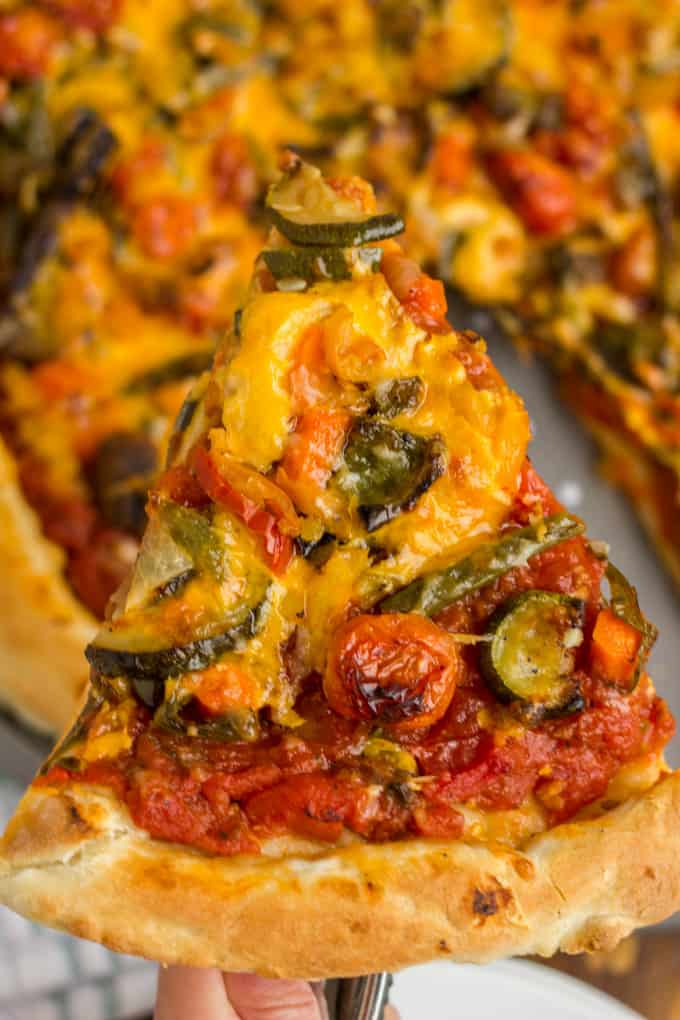 *I have classified this pizza as vegan and gluten-free because more or less I am referring to the awesome sauce! Be sure to use a gluten-free and/or vegan pizza dough, as well as omitting the cheese if needed.